Table of contents: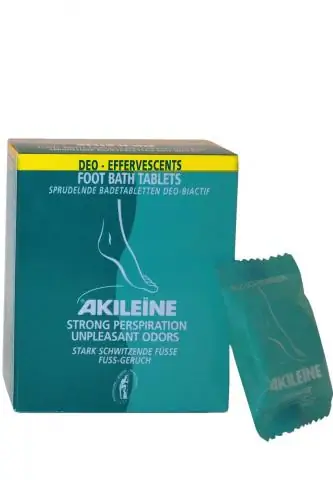 Video: Methionine - Instructions For The Use Of Tablets, Price, Reviews, Analogues
Methionine
Methionine: instructions for use and reviews
1. Release form and composition
2. Pharmacological properties
3. Indications for use
4. Contraindications
5. Method of application and dosage
6. Side effects
7. Overdose
8. Special instructions
9. Application during pregnancy and lactation
10. Use in childhood
11. In case of impaired renal function
12. For violations of liver function
13. Drug interactions
14. Analogs
15. Terms and conditions of storage
16. Terms of dispensing from pharmacies
17. Reviews
18. Price in pharmacies
Latin name: Methionine
ATX code: V03AB26
Active ingredient: methionine (methionine)
Producer: LLC "OZON", AVVA-RUS (Russia), Kiev Vitamin Plant (Ukraine)
Description and photo update: 2019-13-08
Prices in pharmacies: from 33 rubles.
Buy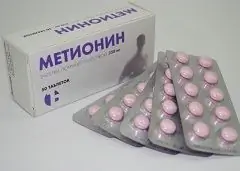 Methionine is a hepatoprotective agent with metabolic and detoxifying effects.
Release form and composition
Dosage form - film-coated tablets: they have a round biconvex shape, pink color with minor blotches, in cross-section - two different layers (10 pieces in a blister strip, in a cardboard box 1, 2 or 5 packages).
The active ingredient is methionine, in 1 tablet - 250 mg.
Auxiliary components: potato starch, methylcellulose, stearic acid, wheat flour, sucrose, magnesium carbonate, talc, refined sunflower oil, beeswax, azorubin dye.
Pharmacological properties
Pharmacodynamics
Methionine is an irreplaceable amino acid - a donor of mobile methyl groups, has a hepatoprotective and metabolic effect on the body. It is necessary for the synthesis of choline, a deficiency of which causes a violation of the synthesis of phospholipids and the deposition of neutral fat in the liver. Takes part in the exchange of sulfur-containing amino acids, the synthesis of creatinine, epinephrine, and other biologically important compounds. It also activates the action of vitamins (folic and ascorbic acids, B 12), proteins, enzymes, hormones, participates in the reactions of deamination, peremethylation, decarboxylation, etc.
Essential for detoxification of xenobiotics.
In atherosclerosis, methionine lowers cholesterol and increases the concentration of phospholipids in the blood.
Pharmacokinetics
Methionine is easily absorbed from the intestines, and a small amount is excreted in the urine.
Indications for use
Treatment of liver diseases (including hepatosis, hepatitis, cirrhosis) occurring with fatty infiltration of hepatocytes;
Prevention of toxic liver pathologies (due to exposure to alcohol, chloroform, arsenic, benzene);
Combined therapy of protein deficiency of various origins.
Contraindications
Hepatic encephalopathy;
Viral hepatitis;
Severe liver failure;
Age up to 6 years;
Hypersensitivity to drug components.
According to the instructions, Methionine is recommended to be prescribed with caution to patients with renal insufficiency (due to the risk of hyperazotemia).
Instructions for the use of Methionine: method and dosage
Methionine tablets are taken orally 30-60 minutes before meals.
Recommended single dose of the drug:
Adults: 2-6 tablets each;
Children over 6 years old: 1-2 tablets.
The frequency of taking the drug is 3-4 times a day, the duration of therapy is from 10 to 30 days.
An alternative use of the drug is to alternate 10 days of taking tablets with ten-day breaks.
Side effects
When taking Methionine, nausea, vomiting (against the background of an unpleasant taste and smell), the development of allergic reactions are possible; in case of overdose - tachycardia, lowering blood pressure, disorientation (symptomatic therapy is indicated).
Overdose
Symptoms: tachycardia, disorientation, decreased blood pressure.
Symptomatic treatment is recommended.
special instructions
The dosage regimen of Methionine tablets must be coordinated with the dose of simultaneously used amino acids, since unbalanced use of the drug can cause damage to the cells of the digestive system, including the liver.
The effect of the drug does not affect the patient's ability to drive vehicles and mechanisms.
Application during pregnancy and lactation
The use of Methionine during pregnancy requires strict adherence to the dosage.
During breastfeeding, the use of the drug should be refrained from, since there are no updated data on its safety.
Pediatric use
It is forbidden to use the drug for the treatment of patients under the age of 6 years.
With impaired renal function
Due to the danger of an increase in hyperazotemia in renal failure, the drug should be used with caution.
For violations of liver function
It is forbidden to use methionine in severe liver failure.
Drug interactions
The interaction of methionine with other drugs has not been established.
Analogs
Methionine analogs are: Hepa-Merz, Hepatosan, Hepaphor, Heptrong, Glutargin, Dipana, Potassium orotat, Karsil, Cryomelt, Legalon, Ropren, Silibinin, Tykveol, Phosphogliv, Holenol.
Terms and conditions of storage
Store in a dry, dark place at temperatures up to 25 ° C. Keep out of the reach of children.
The shelf life is 5 years.
Terms of dispensing from pharmacies
Available without a prescription.
Reviews about Methionine
Most often, there are reviews of Methionine from pregnant women and bodybuilding athletes. Both categories of users note the availability of the product and draw attention to the fact that when taking it, it is necessary to strictly observe the dosage and treatment regimen.
According to doctors, Methionine can significantly improve the condition of patients with atherosclerosis or impaired liver function. Doctors do not recommend taking this drug for weight loss (with the exception of the patient following a vegetarian diet or eating too little protein).
Price for Methionine in pharmacies
The price of Methionine is approximately 55 rubles. for 50 tablets 250 mg.
Methionine: prices in online pharmacies
Drug name
Price
Pharmacy
Methionine 250 mg film-coated tablets 50 pcs.
RUB 33
Buy
Methionine 250 mg film-coated tablets 50 pcs.
RUB 37
Buy
Methionine 250 mg film-coated tablets 50 pcs.
43 rbl.
Buy
Methionine 250 mg film-coated tablets 50 pcs.
RUB 44
Buy
Methionine tablets p.p. 250mg 50 pcs. Ozone
RUB 95
Buy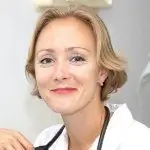 Anna Kozlova Medical journalist About the author
Education: Rostov State Medical University, specialty "General Medicine".
Information about the drug is generalized, provided for informational purposes only and does not replace the official instructions. Self-medication is hazardous to health!
Popular by topic