Table of contents: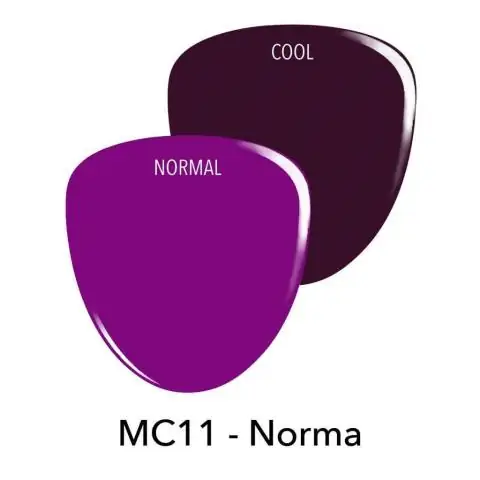 Video: Mensa - Instructions For Use, Reviews, Price, Capsule Analogues
Mensa
Mensa: instructions for use and reviews
1. Release form and composition
2. Pharmacological properties
3. Indications for use
4. Contraindications
5. Method of application and dosage
6. Side effects
7. Overdose
8. Special instructions
9. Application during pregnancy and lactation
10. Drug interactions
11. Analogs
12. Terms and conditions of storage
13. Terms of dispensing from pharmacies
14. Reviews
15. Price in pharmacies
Latin name: Mense
Active ingredient: pantothenic acid (vitamin B5) [Pantothenic Acid (Vitamin B5)] + pyridoxine (vitamin B6) [Pyridoxinum (Vitamin B6)] + folic acid (vitamin B9) [Folic acid (Vitamin B9)] + cyanocobalamin (vitamin B12) [Cyanocobalamin (Vitamin B12)] + ascorbic acid (vitamin C) [Ascorbic acid (Vitamin C)] + tocopherol acetate (vitamin E) [Tocopheroli acetas (Vitamin E)] + beta-alanine (Beta-Alanine) + soy isoflavones (Soy Isoflavones) + 5-Hydroxytryptophan [5-Hydroxytryptophan (5-HTP)]
Manufacturer: Vneshtorg Pharma (Russia)
Description and photo updated: 2018-11-07
Prices in pharmacies: from 332 rubles.
Buy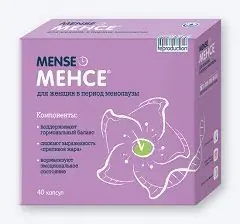 Mensa is a biologically active food additive (BAA), a source of B vitamins, vitamins C and E, beta-alanine, isoflavones, 5-hydroxytryptophan; for women during menopause, it helps prevent its manifestations or reduces their severity.
Release form and composition
Mensa is produced in the form of capsules weighing 500 mg, an error of ± 10% is allowed (10 pcs. In a blister, 4 blisters in a cardboard box).
1 capsule contains:
active ingredients: vitamin B 5 (D-calcium pantothenate) - 2.5 mg, vitamin B 6 (pyridoxine hydrochloride) - 1 mg, vitamin B 9 (folic acid) - 0.26 mg, vitamin B 12 (cyanocobalamin) - 0, 0015 mg, vitamin E (tocopherol acetate) - 7.5 mg, vitamin C (ascorbic acid) - 60 mg, soybean extract (isoflavones) - 25 mg, griffonia extract (5-hydroxytryptophan) - 25 mg, beta-alanine - 200 mg;
excipients: magnesium stearate (E470), silicon dioxide (E551), microcrystalline cellulose (E460i);
composition of the capsule body and cap: gelatin, dye - titanium dioxide (E171).
Pharmacological properties
The properties of the supplement are due to the action of the active components that make up its composition:
soy isoflavones: reduce the manifestations of negative symptoms of menopause, normalize hormonal balance, replenishing the lack of estrogen in the body. Reduce the incidence of hot flashes, the risk of osteoporosis, urogenital disorders. They potentiate the synthesis of collagen and elastin, which provide skin strength and elasticity, slow down the appearance of wrinkles;
vitamin B 5: reduces the feeling of fatigue, during menopause is involved in the synthesis of estrogen by the adrenal glands, reduces the likelihood of hot flashes, is necessary to maintain skin tone;
vitamins B 6 and B 12: strengthen the nervous system, increase vitality, normalize sleep, stimulate energy production;
beta-alanine: reduces the likelihood of hot flashes, when they appear, it stops them within 0.5 hours after ingestion and has a long-term protective effect. Improves memory and concentration;
vitamin B 9: helps maintain a higher level of estrogen during menopause, maintains hormonal balance. Activates renewal processes in the body, having a positive effect on the condition of the skin and hair;
5-hydroxytryptophan (obtained from natural raw materials, griffonia extract): improves sleep, is a moderate antidepressant, reduces depression, tension, feelings of depression and anxiety, normalizes biorhythms;
vitamin C: participates in the synthesis of estrogens and other steroid hormones, increases the body's ability to assimilate calcium, folic acid, reduces the likelihood of developing infections of the genitourinary system, normalizes the heartbeat, reduces nervousness and fatigue;
vitamin E: improves thermoregulation and skin hydration. By promoting vasoconstriction, it reduces the risk of hot flushes and their severity. Reduces muscle pain, helps to reduce nervousness and fatigue, and normalizes the heartbeat.
The use of Mensa, replenishing the deficiency of vitamins and biologically active substances in the body of a woman during menopause, can prevent or reduce the manifestation of her symptoms. The content of active substances does not exceed the upper permissible limit of their daily intake, so the product can be taken during the entire period of menopause.
Indications for use
According to the instructions, Mensa in the form of capsules is indicated for women as a dietary supplement to food containing beta-alanine, isoflavones, 5-hydroxytryptophan, vitamins B 5, B 6, B 9, B 12, C, E.
Indications for the use of dietary supplements are the following conditions (symptoms of menopause):
hot flashes: a sudden feeling of heat, increased heart rate, redness of the skin of the face, chest, neck, hyperhidrosis;
emotional instability: a sharp change in mood, a tendency to depression;
low estrogen levels: vaginal dryness and decreased libido, which can result in frequent cystitis;
external changes: deterioration of the condition of the skin and hair, the appearance of wrinkles, reduction in size and loss of shape of the breast;
increased appetite: the result is excess weight gain.
Contraindications
period of pregnancy;
breast-feeding;
individual hypersensitivity to product components.
Instructions for use Mensa: method and dosage
Mensa capsules are taken orally with meals.
Recommended dosage: 1 pc. 1-2 times a day. The duration of the course is 30 days.
The woman independently determines how many capsules should be taken during the day, depending on the state of health and the degree of climacteric syndrome:
light degree: 1 pc. 1 per day;
medium and severe: 1 pc. 2 times a day;
improvement of the condition: 1 pc. 1 per day.
If necessary, you can repeat the intake of the supplement. During menopause, the number of Mensa courses is not limited.
Side effects
Against the background of Mensa's use, hypersensitivity reactions may develop.
Overdose
Overdose symptoms have not been established.
special instructions
The use of capsules must be started after consulting a doctor.
Mensa is not a drug.
Application during pregnancy and lactation
The use of Mensa is contraindicated during the gestation period and during breastfeeding.
Drug interactions
There is no data.
Analogs
The counterpart of Mensa is Beta-Alanine.
Terms and conditions of storage
Keep out of the reach of children.
Store at temperatures up to 25 ° C, protected from moisture and light.
Shelf life is 2 years.
Terms of dispensing from pharmacies
Available without a prescription.
Reviews about Mensa
Reviews about Mensa are mostly positive. Many women note the effectiveness of the product for menopause. Its use allows them to normalize sleep, reduces the number of hot flashes, accompanied by fever and increased sweating, returns interest in intimate life, normalizes the nervous system, relieves irritability, improves mood, and strengthens the immune system. Taking dietary supplements has a beneficial effect on the appearance, improving the condition of the skin and hair. They note a rather stable effect, good tolerance, non-hormonal composition, and ease of use.
The price of Mensa in pharmacies
The price for Mensa for a package containing 40 capsules can range from 354 to 460 rubles.
Mensa: prices in online pharmacies
Drug name
Price
Pharmacy
Mensa capsules 500 mg 40 pcs.
332 RUB
Buy
Mensa 500 ± 10% mg capsules 40 pcs.
332 RUB
Buy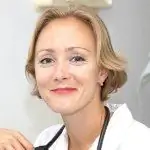 Anna Kozlova Medical journalist About the author
Education: Rostov State Medical University, specialty "General Medicine".
Information about the drug is generalized, provided for informational purposes only and does not replace the official instructions. Self-medication is hazardous to health!
Recommended: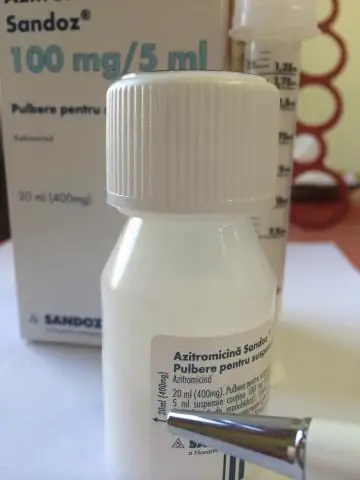 Instructions for use Azitrox suspension and capsules. Information on dosing for children, contraindications, reviews, analogues and the price of the drug in pharmacies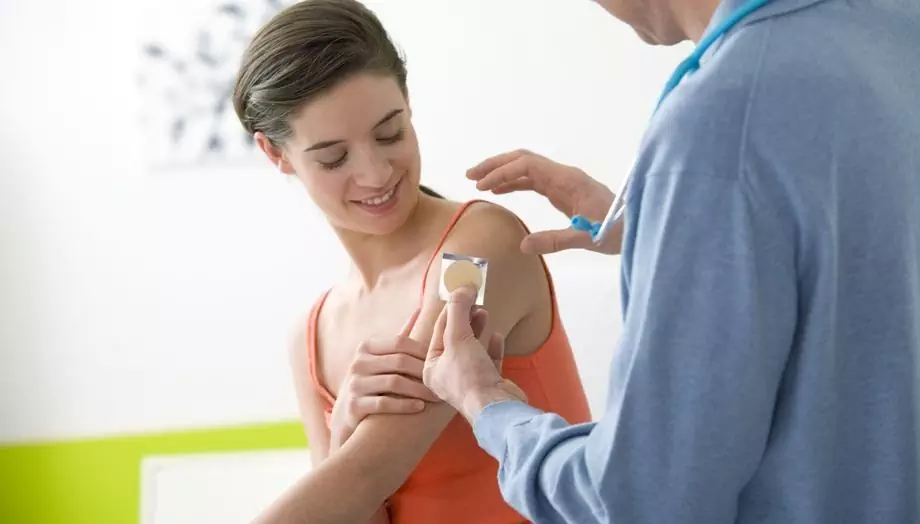 Nicotine patch is an effective remedy for weaning from nicotine addiction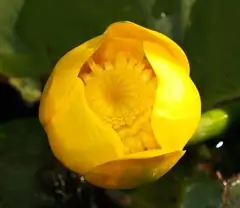 The water lily is a perennial plant of the water lily family, found in shallow waters along the shores of lakes, ponds and rivers with a slow current. The egg capsule is used in folk medicine as a raw material for the preparation of drugs with bactericidal, choleretic, analgesic and sedative effects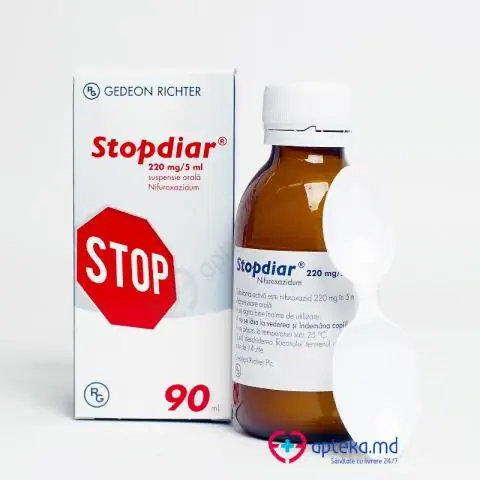 Instructions for use of Stopdiar in the form of a suspension, capsules and tablets. Information on doses for children, contraindications, reviews, analogues and the price of the drug in pharmacies

Capsule endoscopy is essentially that very cherished magic pill that can do almost everything, not only in treatment, but in the diagnosis of diseases of the gastrointestinal tract. What is capsule endoscopy?