Table of contents: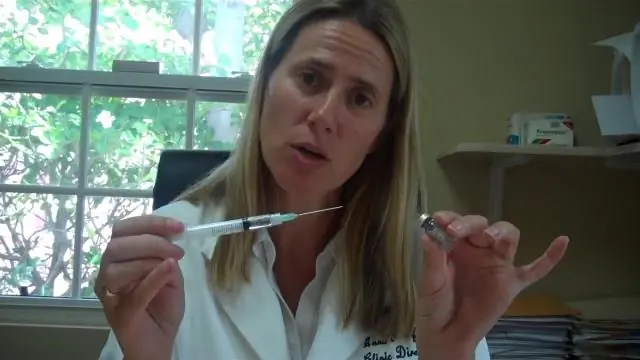 Video: Menopur - Instructions For Use, 75 IU, Price, Reviews, Analogues
Menopur
Menopur: instructions for use and reviews
1. Release form and composition
2. Pharmacological properties
3. Indications for use
4. Contraindications
5. Method of application and dosage
6. Side effects
7. Overdose
8. Special instructions
9. Application during pregnancy and lactation
10. Drug interactions
11. Analogs
12. Terms and conditions of storage
13. Terms of dispensing from pharmacies
14. Reviews
15. Price in pharmacies
Latin name: Menopur
ATX code: G03GA02
Active ingredient: menotropins
Manufacturer: Ferring (Germany)
Description and photo updated: 28.08.
Prices in pharmacies: from 12 120 rubles.
Buy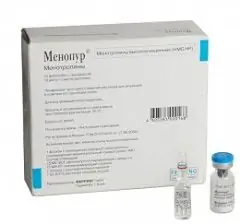 Menopur is a preparation of the menopausal human gonadotropin belonging to the group of menotropins.
Release form and composition
Dosage form - lyophilisate for the preparation of a solution for injection, which is an almost white or white briquette (in 2 ml vials, 5 vials complete with 5 ampoules of solvent (1 ml each) in a cell contour packaging, in a cardboard box 1 or 2 packs and instructions for the use of Menopur).
Active ingredients:
Luteinizing hormone - 75 IU (international units);
Follicle-stimulating hormone - 75 IU.
Additional components: sodium hydroxide, hydrochloric acid, polysorbate 20, lactose monohydrate.
Solvent (colorless transparent solution): isotonic sodium chloride solution.
Pharmacological properties
Pharmacodynamics
Menopur is a highly purified human menopausal gonadotropin (hMG) drug. Refers to the group of menotropins. The preparation contains FSH (follicle-stimulating hormone) and LH (luteinizing hormone) in a 1: 1 ratio. The drug is obtained from the urine of postmenopausal women.
Main effects of Menopur:
Women: promotes an increase in the level of estrogen in the blood and the growth and maturation of ovarian follicles, endometrial proliferation;
Men: increases the concentration of testosterone in the blood and stimulates spermatogenesis (due to the effect on the Sertoli cells of the seminiferous tubules).
Pharmacokinetics
The maximum plasma concentration of FSH in the blood is reached within 6-24 hours after intramuscular administration, then the concentration level gradually decreases. The half-life of menotropins is 4 to 12 hours.
Indications for use
For women:
Infertility due to hypothalamic-pituitary disorders (the purpose of the drug is to stimulate the growth of one dominant follicle);
Conducting assisted reproductive technologies (the purpose of prescribing the drug is to stimulate the growth of multiple follicles and the onset of conception).
For men: stimulation of spermatogenesis in oligoasthenospermia or azoospermia, which developed as a result of primary or secondary hypogonadotropic hypogonadism (in combination with drugs of human chorionic gonadotropin (hCG), for example, Choragon).
Contraindications
Absolute for patients of both sexes:
Hyperprolactinemia;
Tumors of the hypothalamic-pituitary region;
Diseases of the thyroid gland and adrenal glands;
Hypersensitivity to the components of Menopur or other menotropins (drugs containing follicle-stimulating and / or luteinizing hormone).
Additionally for women:
Pregnancy;
Fibroids or genital anomalies incompatible with pregnancy;
Vaginal bleeding of unknown etiology;
Primary ovarian failure;
Cyst formation or persistent ovarian enlargement not associated with polycystic ovary syndrome;
Cancer of the breast, ovaries, uterus;
Lactation period.
Additionally for men: prostate cancer or the presence of other androgen-dependent tumors.
Menopur, instructions for use: method and dosage
Menopur is administered subcutaneously (s / c) or intramuscularly (i / m). The lyophilisate is dissolved with the solvent supplied in the package immediately before injection.
Unless otherwise prescribed by a doctor, the dosage regimens described below are usually used.
For women:
Infertility due to hypothalamic-pituitary disorders: the dose and duration of treatment are determined individually, depending on the ultrasound data, the level of estrogen in the blood and clinical observation. The initial daily dose is usually 75-150 IU. In the absence of an ovarian response, the dose is gradually increased until an increase in the level of estrogen in the blood or growth of follicles is noted. Further, the selected dose is applied until the concentration of estrogen reaches the preovulatory level. With a rapid increase in estrogen levels at the beginning of stimulation, the dose is reduced;
Ovulation induction: 1-2 days after the end of the course of therapy with Menopur, human chorionic gonadotropin is injected once at a dose of 5000-10,000 IU.
To stimulate spermatogenesis, men are injected with 1000-3000 IU of hCG 3 times a week until the testosterone level in the blood normalizes. Then Menopur is administered 3 times a week at a dose of 75-150 IU for several months.
Side effects
Gastrointestinal tract: sometimes - colicky pains, nausea, vomiting;
Allergic reactions: arthralgia; in rare cases - hypersensitivity reactions (including fever, skin rashes); in some cases, with long-term treatment - the formation of antibodies and, as a result, a decrease in the effectiveness of the drug;
Endocrine system: in men - gynecomastia; in women - a sharp increase in the excretion of estrogen in the urine, mastalgia, the formation of ovarian cysts, a moderate (uncomplicated) increase in the ovaries;
Local reactions: itching, swelling, redness at the injection site;
Others: lowering blood pressure, reducing the amount of urine excreted by the kidneys, increasing body weight, multiple pregnancies;
Ovarian hyperstimulation syndrome: early symptoms - weight gain, nausea, vomiting, severe pain in the lower abdomen, an increase in the number of red blood cells in the plasma, electrolyte imbalance, hypovolemia, ascites, hydrothorax, hemoperitoneum (presence of blood in the abdominal cavity), thromboembolic syndrome.
Overdose
There is no information.
special instructions
Before prescribing Menopur, it is recommended to correct hemoconcentration, as well as appropriate treatment in the presence of concomitant diseases such as tumors of the hypothalamic-pituitary region, hyperprolactinemia, hypothyroidism, adrenal cortex insufficiency.
The drug is usually ineffective in men with primary testicular failure, as evidenced by high levels of follicle-stimulating hormone.
Before you start using Menopur for infertility in women, you should assess the condition of the ovaries: conduct an ultrasound examination and determine the level of estradiol in the blood plasma. The same measures must be taken systematically and throughout the course of treatment, daily or every other day.
It should be borne in mind that preparations of menopausal human gonadotropin can cause ovarian hyperstimulation in women, which is manifested by clinical signs after the administration of hCG preparations for the purpose of ovulation and is expressed in the form of the formation of large ovarian cysts. This process may be accompanied by thromboembolic syndrome, ascites, arterial hypotension and hydrothorax with oliguria.
When the first signs appear (abdominal pain and / or formation in the lower abdomen, palpable or detected by ultrasound), which may indicate ovarian hyperstimulation, Menopur should be immediately canceled.
If ovarian hyperstimulation develops, hCG should not be administered for the purpose of ovulation.
Application during pregnancy and lactation
Menopur 75 IU is not indicated during pregnancy / lactation.
Drug interactions
If necessary, Menopur can be used in combination with Horagon (hCG drug) to induce ovulation in women (after stimulating follicular growth) and to stimulate spermatogenesis in men.
Analogs
Analogues of Menopur are: Alterpur, Gonal-F, Ovitrel, Luveris, Pregnil, Follitrop, Puregon, Horagon, Pergoveris, Ecostimulin, Bravell, Elonva, Menopausal gonadotropin, Merional, Menogon, HuMoG.
Terms and conditions of storage
Store at temperatures up to 25 ° C, protected from light. Keep out of the reach of children.
Shelf life is 2 years.
Terms of dispensing from pharmacies
Dispensed by prescription.
Reviews of Menopur
Reviews of Menopur are mostly positive. It is noted that the drug has the claimed therapeutic effect, and also indicates the painlessness of the injections. The main disadvantage is the high cost.
Menopur price in pharmacies
The approximate price for Menopur 75 IU (10 vials of 2 ml) is 12,600-13,500 rubles.
Menopur: prices in online pharmacies
Drug name
Price
Pharmacy
Menopur 75MEFSG + 75MELG lyophilisate for preparation of a solution for intramuscular administration complete with a solvent 10 pcs.
12 120 RUB
Buy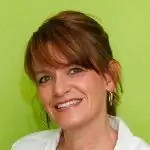 Maria Kulkes Medical journalist About the author
Education: First Moscow State Medical University named after I. M. Sechenov, specialty "General Medicine".
Information about the drug is generalized, provided for informational purposes only and does not replace the official instructions. Self-medication is hazardous to health!
Popular by topic