Table of contents: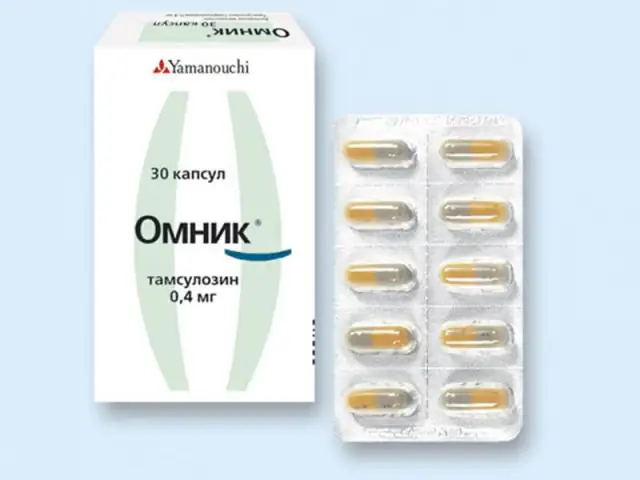 Mebespalin retard
Mebespalin retard: instructions for use and reviews
1. Release form and composition
2. Pharmacological properties
3. Indications for use
4. Contraindications
5. Method of application and dosage
6. Side effects
7. Overdose
8. Special instructions
9. Application during pregnancy and lactation
10. Use in childhood
11. Drug interactions
12. Analogs
13. Terms and conditions of storage
14. Terms of dispensing from pharmacies
15. Reviews
16. Price in pharmacies
Latin name: Mebespalin retard
ATX code: A03AA04
Active ingredient: mebeverine (Mebeverine)
Manufacturer: Ozone LLC (Russia)
Description and photo update: 2019-10-07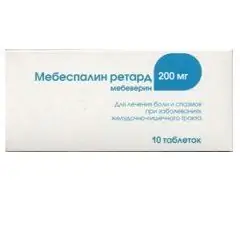 Mebespalin retard is an antispasmodic drug.
Release form and composition
Dosage form - tablets with prolonged release, film-coated: biconvex, round, almost white or white; the cross section shows a yellowish-white or white core [7, 10, 15, 20, 25 or 30 pcs. in a cell contour packaging; 10, 20, 30, 40, 50, 60, 70, 80, 90 or 100 pcs. in a polyethylene terephthalate / polypropylene jar, sealed with a tamper-evident pull cap / tamper-evident screw cap / push-and-turn screw cap; in a cardboard box 1 can or 1-10 contour packs and instructions for use of Mebespalin retard; it is possible to complete 2–3 cardboard packs in a shipping container (group packing) made of cardboard].
Composition of 1 tablet:
active substance: mebeverine hydrochloride - 200 mg;
auxiliary components: magnesium stearate, microcrystalline cellulose, cellacephate, hypromellose, polysorbate-80, colloidal silicon dioxide, castor bean seed oil;
film shell: macrogol-4000, titanium dioxide, hypromellose.
Pharmacological properties
Pharmacodynamics
Mebeverine hydrochloride - the active substance of the drug - is a myotropic spasmolytic that has a direct effect on the smooth muscles of the gastrointestinal tract (GIT).
Mebespalin retard eliminates gastrointestinal spasm without affecting normal intestinal peristalsis.
Due to the prolonged dosage form, the drug can be taken according to the scheme with two doses per day.
Mebeverine hydrochloride has no anticholinergic effect.
Pharmacokinetics
After oral administration, mebeverine hydrochloride is rapidly and completely absorbed in the gastrointestinal tract.
With repeated use, it largely does not accumulate in the body. Completely metabolized. The first stage of metabolism is hydrolysis, resulting in the formation of mebeverine alcohol and veratric acid.
The main metabolite that circulates in plasma is demethylated carboxylic acid. Its maximum concentration in the blood (C max) with repeated administration of Mebespalin retard at a dose of 200 mg 2 times a day is 804 ng / ml and is reached within about 3 hours.
In the equilibrium state, the half-life (T 1/2) of demethylated carboxylic acid is about 5.77 hours.
The dosage form of Mebespalin retard provides a long-term release of the active substance, which is evident from the relatively low C max value, the longer time to reach it, as well as the long T 1/2 with optimal bioavailability.
Mebeverine metabolites (mebeverine alcohol and veratric acid) are excreted by the kidneys. Mebeverine alcohol is partly excreted as demethylated carboxylic acid and partly as carboxylic acid.
Indications for use
Mebespalina retard is recommended for the symptomatic treatment of the following diseases / conditions:
spasms, pain, discomfort and dysfunction in the intestinal region due to irritable bowel syndrome;
spasms of the digestive tract, including due to organic diseases.
Contraindications
pregnancy;
lactation;
age up to 18 years;
hypersensitivity to any component of Mebespalin retard tablets.
Mebespalin retard, instructions for use: method and dosage
Mebespalin retard tablets should be taken orally: swallow whole, without chewing, with a sufficient amount of water (at least 100 ml), 20 minutes before meals.
Adults are prescribed 1 tablet 2 times a day - morning and evening.
The duration of treatment is not limited.
If the next dose is missed, you should not take a double dose, you must adhere to the usual therapy regimen.
Side effects
from the gastrointestinal tract: stomach irritation, diarrhea (due to the presence of castor oil in the tablets);
from the immune system: hypersensitivity reactions (anaphylactic);
reactions from the skin: urticaria, exanthema, angioedema (including the face).
The reports of the above adverse reactions were received during the post-marketing study and were spontaneous in nature, therefore it is not possible to fully assess the frequency of their development.
Overdose
It is assumed that after taking an excessive dose, it is possible to increase the excitability of the central nervous system. In reports of overdose, either there were no complaints of the development of side effects, or it was reported that the adverse reactions were mild and reversible. Violations were noted on the part of the cardiovascular and central nervous system.
There is no specific antidote for mebeverine hydrochloride. Treatment is symptomatic. If no more than 1 hour has passed after taking a high dose of Mebespalin retard, it is recommended to perform gastric lavage. Carrying out specific measures to reduce the absorption of the drug is not required.
special instructions
Clinical studies on the effect of mebeverine hydrochloride on human fertility have not been conducted. However, in experiments carried out on animals, a negative effect on the reproductive function of both females and males was not revealed.
Influence on the ability to drive vehicles and complex mechanisms
Special studies on the effect of mebeverine hydrochloride on human psychophysical functions have not been carried out. Given the pharmacological properties of the drug and the experience of its use, there is no reason to assume the negative effects of Mebespalin retard in patients who perform potentially hazardous work or drive vehicles during the treatment period.
Application during pregnancy and lactation
Data on the use of the drug during pregnancy are extremely limited. The results of animal studies are not sufficient to reliably assess the reproductive toxicity of mebeverine. In this regard, the appointment of Mebespalin retard is contraindicated for pregnant women.
Due to the insufficient amount of information on the excretion of the drug and its metabolites in mother's milk, it is recommended not to use Mebespalin retard during lactation or to refuse breastfeeding.
Pediatric use
Mebespalin retard is contraindicated for use in children and adolescents (up to 18 years).
Drug interactions
Studies of mebeverine hydrochloride were carried out only for its drug interaction with ethanol. According to the results of experiments on animals, no negative reactions were observed in the case of joint administration of Mebespalin retard and alcohol.
Analogs
Analogs of Mebespaline retard are Bekarbon, Bellastezin, Veremed, Galidor, Drotaverin, Duspatalin, Meteospazmil, No-shpa, Papaverin, Spazmonet, Trigan, Trimedat forte, Enablex and others.
Terms and conditions of storage
Store out of the reach of children, protected from light, at a temperature not exceeding 25 ° C.
The shelf life is 3 years.
Terms of dispensing from pharmacies
Dispensed by prescription.
Reviews about Mebespalin retard
According to reviews, Mebespalin retard is a good and inexpensive antispasmodic that helps with various pains and spasms caused by intestinal dysfunction. The drug is well tolerated, has no restrictions on the duration of use.
Of the shortcomings, they indicate the presence of contraindications to the use of the drug in children and adolescents (under 18 years of age), as well as prescription sales.
The price of Mebespalin retard in pharmacies
For a package of 10 tablets with prolonged release, film-coated, 200 mg each, the price for Mebespalin retard is approximately 178-235 rubles.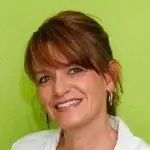 Maria Kulkes Medical journalist About the author
Education: First Moscow State Medical University named after I. M. Sechenov, specialty "General Medicine".
Information about the drug is generalized, provided for informational purposes only and does not replace the official instructions. Self-medication is hazardous to health!
Recommended: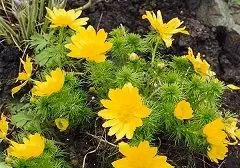 Adonis is a herbaceous plant from the genus of buttercups. The pharmaceutical industry produces on the basis of adonis tincture and tablets of Adonizid, which are prescribed for cardiac neurosis, vegetative vascular dystonia, etc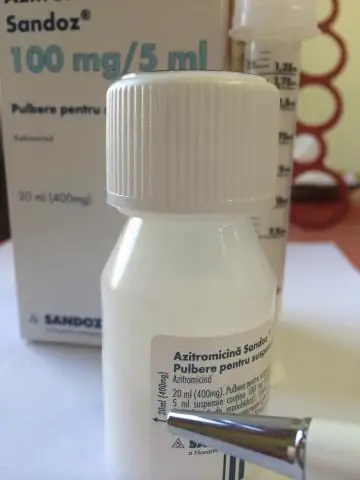 Instructions for use Azitrox suspension and capsules. Information on dosing for children, contraindications, reviews, analogues and the price of the drug in pharmacies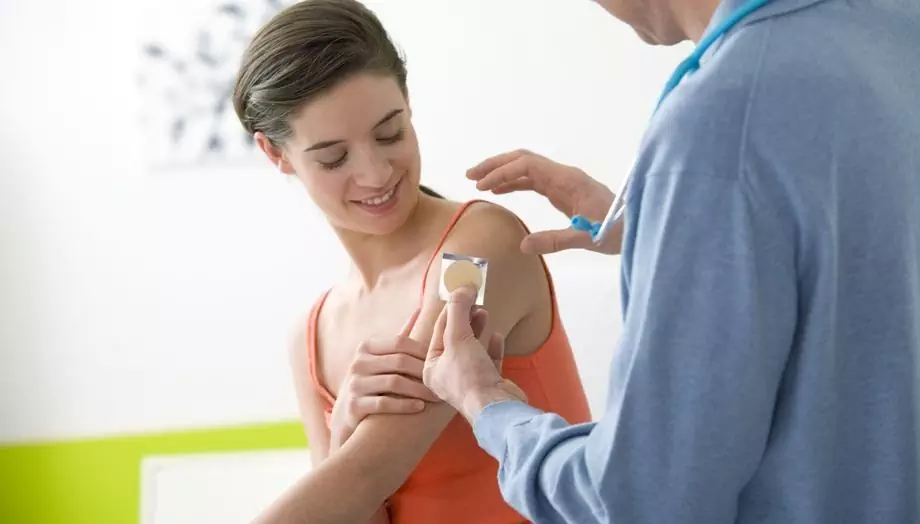 Nicotine patch is an effective remedy for weaning from nicotine addiction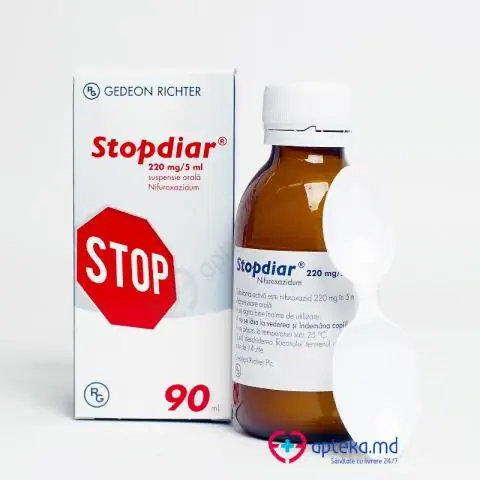 Instructions for use of Stopdiar in the form of a suspension, capsules and tablets. Information on doses for children, contraindications, reviews, analogues and the price of the drug in pharmacies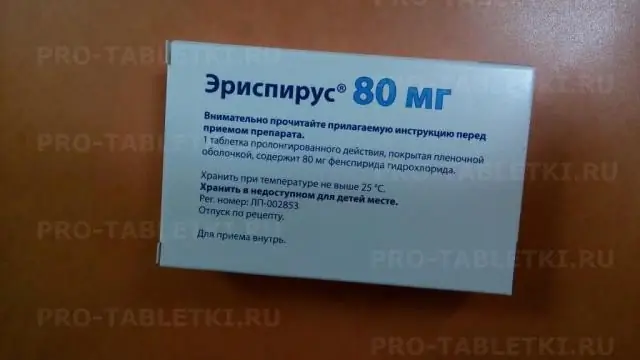 Instructions for use Erispirus tablets and syrup. Information on the dosage for children, contraindications, reviews, analogues and the price of the drug in pharmacies