Table of contents:
Video: Lyudiomil - Instructions For Use, Reviews, Price, Analogues
Peoplemil
Lyudiomil: instructions for use and reviews
1. Release form and composition
2. Pharmacodynamics and pharmacokinetics
3. Indications for use
4. Contraindications
5. Method of application and dosage
6. Side effects
7. Overdose
8. Special instructions
9. Application with alcohol
10. Drug interactions
11. Analogs
12. Terms and conditions of storage
13. Terms of dispensing from pharmacies
14. Reviews
15. Price in pharmacies
Latin name: Ludiomil
ATX code: N06AA21
Active ingredient: Maprotiline (Maprotiline)
Manufacturer: Novartis Pharma AG (Switzerland)
Description and photo update: 2019-05-08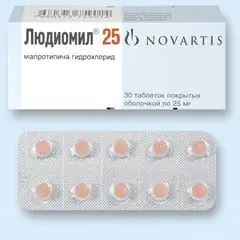 Lyudiomil is a tetracyclic psychotropic drug with a well-balanced antidepressant effect, which improves mood, eliminates agitation, anxiety and psychomotor retardation.
Release form and composition
Film-coated tablets, 10 mg: round, with beveled edges, slightly biconvex, light yellow in color, the core is white; engraving "CG" on one side, "CO" on the other (10 pcs. in blisters, 5 blisters in a cardboard box);
Film-coated tablets, 25 mg: round, with beveled edges, slightly biconvex, gray-orange, white core; engraving "CG" on one side, "DP" on the other (10 pcs. in blisters, 3 or 10 blisters in a cardboard box);
Concentrate for the preparation of solution for infusion: clear, colorless liquid (5 ml in ampoules, 10 ampoules in a cardboard box).
Composition of 1 film-coated tablet:
Active ingredient: maprotiline hydrochloride - 10 or 25 mg;
Auxiliary components: lactose monohydrate, pregelatinized corn starch, calcium phosphate, anhydrous colloidal silicon dioxide, magnesium stearate, talc, stearic acid;
Sheath: hypromellose, talc, polysorbate, titanium dioxide, iron dye yellow oxide; additionally in the composition of 25 mg tablets - iron oxide red dye.
Composition of 1 ml of concentrate for preparation of solution for infusion:
Active ingredient: maprotiline methanesulfonate - 5 mg;
Auxiliary components: methanesulfonic acid, mannitol, water for injection.
Pharmacodynamics and pharmacokinetics
Lyudiomil is a tetracyclic antidepressant belonging to the group of non-selective monoamine reuptake inhibitors. At the same time, the active component of the drug, maprotiline, also has the therapeutic properties inherent in tricyclic antidepressants. The drug is characterized by a balanced spectrum of action, which is expressed in the elimination of psychomotor retardation, anxiety and agitation, as well as improving mood. With masked depression, Lyudiomil has a beneficial effect on somatic manifestations.
Maprotiline has a pronounced inhibitory effect on the reuptake of norepinephrine by presynaptic neurons of the cerebral cortex, accompanied by an extremely slight inhibition of serotonin reuptake. The compound is characterized by a weak or moderate affinity for central alpha1-adrenergic receptors, a significant inhibitory effect on histamine Hi-receptors and m-anticholinergic blocking action to a moderate extent.
Long-term therapy with Lyudiomil can lead to changes in the functional state of the neuroendocrine system (endorphinergic system, melatonin, growth hormone) and / or the neurotransmitter system (gamma-aminobutyric acid, serotonin, norepinephrine).
With a single oral administration of film-coated tablets, the active substance of the drug is absorbed completely, but at a low rate. The average absolute bioavailability is 66–70%. After a single dose of Lyudiomil at a dose of 50 mg, the maximum level of maprotiline in the blood plasma is 48–150 nmol / l (13–47 ng / ml) and is recorded within 8 hours.
If the daily dose of Lyudimil with repeated oral administration or intravenous administration is 150 mg, the equilibrium concentration of its active component in the blood is reached during the second week of treatment and is equal to 320-1270 nmol / l (100-400 ng / ml). This indicator does not depend on whether the entire daily dose was taken once or it was divided into 3 doses. The values of the equilibrium concentration linearly depend on the taken Lyudomil dose, although in some patients significant deviations from this rule are observed.
The distribution coefficient of maprotiline between plasma and blood is 1.7. The average value of the apparent volume of distribution reaches 23–27 l / kg. Maprotiline binds to plasma proteins by 88–90%, regardless of the nature of the disease and the patient's age. The content of this substance in the cerebrospinal fluid is 2-13% of its content in the blood serum.
Maprotiline is predominantly metabolized; only 2–4% of the active substance of the drug is excreted unchanged through the kidneys. The main metabolite is a desmethyl derivative with pharmacological activity. During hydroxylation and / or methoxylation, several metabolites are formed that are of secondary importance and are excreted through the kidneys in the form of conjugates.
The half-life of maprotiline is on average 43–45 hours. The average value of the total clearance is in the range of 510-570 ml / min. After taking a single dose, the active substance is excreted over 21 days: 2/3 of the dose is excreted through the kidneys (in the form of conjugates or unchanged) and approximately 1/3 of the dose is excreted in the feces.
When taking maprotiline, the pharmacokinetic parameters change depending on the dose in the range of 25–150 mg.
In elderly patients, an increase in the level of maprotiline in plasma is observed due to a decrease in the metabolic activity of this compound and a weakening of renal function. In patients of this category (over 60 years of age), in contrast to young patients, taking the same dose of Lyudiomil leads to higher equilibrium concentrations of the active component in the blood and a longer half-life. For this reason, the daily dose must be reduced by 2 times.
Patients with mild to moderate renal dysfunction do not need to adjust the dose of maprotiline (provided that liver function is preserved). The excretion of metabolites through the kidneys is inhibited, but this process is compensated by their more intensive excretion in the bile. Sexual and national differences do not affect the metabolism of maprotiline, but individual differences due to genetic characteristics of metabolism cannot be ruled out.
Indications for use
Depression: involutional and endogenous, reactive, psychogenic and neurotic (including depletion depression), masked, somatogenic, as well as menopausal (climacteric) depression;
Depressive mood disorders characterized by dysphoria, irritability, or anxiety;
A state of apathy (especially for elderly patients);
Complaints of a somatic or psychosomatic nature in patients with anxiety and / or depression.
Contraindications
Severe renal dysfunction;
Severe liver dysfunction;
Delay in urination (for example, as a result of prostate disease);
Pathologies accompanied by a reduced threshold of convulsive readiness or convulsive syndrome (alcoholism, brain injury of any origin);
Closed-angle glaucoma;
Intracardiac blockade, acute (second) stage of myocardial infarction;
Concomitant therapy with monoamine oxidase (MAO) inhibitors;
Acute intoxication with sleeping pills, psychotropic substances or alcohol;
Hypersensitivity to the components of the drug;
Cross-hypersensitivity to tricyclic antidepressants.
During pregnancy, Lyudiomil is used when the expected benefits of therapy significantly outweigh the risks to the fetus. When prescribing the drug to pregnant women, it must be canceled at least 7 weeks before possible delivery (if the condition of the pregnant woman allows it) in order to avoid the development of shortness of breath, lethargy, irritability, tachycardia, arterial hypotension, seizures, nervous excitement and hypothermia in newborns.
Due to the penetration of maprotiline into breast milk, during lactation it is necessary to discontinue either the use of the drug or breastfeeding.
Instructions for use of Lyudiomil: method and dosage
In the course of therapy with Lyudomil, the patient must be under the supervision of a doctor.
The dosage regimen is selected individually, taking into account the patient's condition and his reaction to maprotiline. For example, it is allowed to increase the evening dose by simultaneously reducing the daily dose, or to prescribe the entire daily dose for 1 dose during the day.
After registering a significant decrease in the severity of symptoms, you can try to reduce the dose of the drug. But if the patient's condition worsens because of this, the dose should be immediately increased to the original.
Lyudiomil tablets are taken orally, swallowed whole and washed down with a sufficient amount of liquid.
Recommended dosage regimen:
Depression of moderate and moderate severity (mainly in outpatient treatment): 25 mg 1-3 times a day or 25-75 mg 1 time a day, depending on the symptoms and effectiveness of treatment;
Severe depression (mainly in hospital treatment): 25 mg 3 times a day or 75 mg 1 time a day; if necessary, the daily dose is recommended to be gradually increased to a maximum of 150 mg taken at a time or divided into several doses, depending on the effectiveness of treatment and the tolerability of the drug;
Other depressive mood disorders, as well as for children, adolescents and elderly patients: 10 mg 3 times a day or 25 mg 1 time a day; if necessary, the daily dose can be gradually (with each dose by a small amount) increased to 25 mg 3 times a day or up to 75 mg 1 time a day, depending on the effectiveness of treatment and the tolerability of the drug.
The maximum daily dose (150 mg) must not be exceeded.
A concentrate for the preparation of a solution for infusion Lyudiomil can be prescribed in case of insufficient effect from taking the drug inside, or in case of depression, refractory to oral therapy. As an intravenous infusion, maprotiline is recommended in a daily dose of 25 mg to 100 mg.
To prepare an infusion solution, 25-50 mg of maprotiline (from 5 to 10 ml of concentrate (1-2 ampoules)) is diluted in 250 ml of glucose or isotonic sodium chloride solution, the infusion time is 1.5-2 hours; for a higher dose, 75-150 mg of maprotiline (from 15 to 30 ml of concentrate (3-6 ampoules)) is diluted in 500 ml of glucose or isotonic sodium chloride solution, the infusion time is 2-3 hours.
Upon reaching a confident positive dynamics of symptoms, as a rule, within 1-2 weeks, you should switch to the oral form of the drug.
For elderly patients (over 60 years old), an initial dose of 25 mg (1 ampoule) diluted in 250 ml of glucose or saline is recommended for infusion, the administration time is 1.5-2 hours. With further therapy, if necessary, depending on the response to treatment and the tolerability of the drug, the daily dose may be gradually increased to 50-75 mg (2-3 ampoules) diluted in 250-500 ml of glucose or saline, the time of administration is 2 -3 hours.
In the case of a sharp dose reduction or sudden discontinuation of the drug, undesirable side reactions may develop, including withdrawal syndrome.
Clinical experience of using Lyudiomil in childhood is limited, therefore the dosage regimen should be considered as rough recommendations. If necessary, adolescents are allowed to use the drug in the same dose as adults.
Side effects
According to the instructions, Lyudiomil, like other tricyclic antidepressants, can cause the following side effects:
Mental status (central and peripheral nervous system): often - feeling tired, sleepy; sometimes - anxiety, increased appetite, drowsiness in the daytime, a feeling of tension, anxiety, manic state, aggressiveness, hypomania, memory impairment, insomnia, sleep disturbances, nightmares, impaired concentration, increased depression; rarely - confusion, delirium, nervousness, hallucinations (mainly in old age); in some cases - depersonalization, activation of signs of psychosis;
Neurological status (central and peripheral nervous system): often - headache, slight dizziness, myoclonus, shallow tremor; sometimes - dysarthria, paresthesia (tingling sensation, numbness), muscle weakness, dizziness; rarely - ataxia, convulsions, akathisia; in some cases - dyskinesia, changes in electroencephalogram indices, movement coordination disorders;
Anticholinergic reactions: often - dry mouth; sometimes - sweating, hot flashes, constipation, blurred vision, urinary disturbances, accommodation disturbances; in some cases - caries, stomatitis;
Cardiovascular system: sometimes - palpitations, sinus tachycardia, orthostatic hypotension, clinically insignificant ECG changes (ST interval or T wave) in patients who have not previously had heart abnormalities; rarely - increased blood pressure, arrhythmias; in some cases - fainting, intracardiac conduction disturbances (bundle branch block, expansion of the QRS complex, changes in the PQ interval);
Digestive system: sometimes - abdominal discomfort, nausea, vomiting; rarely - an increase in the level of liver enzymes (transaminases, alkaline phosphatases), diarrhea; in some cases - hepatitis with or without jaundice;
Dermatological reactions: sometimes - photosensitivity, allergic skin responses (urticaria, rash), occasionally with fever; in some cases - purpura, edema (general or local), itching, cutaneous vasculitis, erythema multiforme, alopecia;
Endocrine system and metabolism: sometimes - an increase in body weight, impaired potency and libido; in some cases - galactorrhea, enlargement of the mammary glands, syndrome of inadequate secretion of vasopressin;
Respiratory system: in some cases - bronchospasm, allergic alveolitis with or without eosinophilia;
Hematopoietic system: in some cases - agranulocytosis, eosinophilia, leukopenia, thrombocytopenia;
Sense organs: in some cases - disturbances in taste, tinnitus, nasal congestion;
Other: sometimes due to sudden withdrawal or rapid dose reduction - abdominal pain, nausea, vomiting, diarrhea, anxiety, headache, insomnia, irritability, increased depression or depressive mood disorders for which treatment was carried out (usually the effects are transient, mild and are not always clearly related to the dose of the drug and its level in the blood plasma, disappear after stopping taking maprotiline or reducing the dose; it is often difficult to distinguish adverse reactions from signs of depression, such as sleep disturbances, general weakness, anxiety, anxiety, dry mouth, constipation).
With the development of serious side effects, for example, from the central and peripheral nervous system, Lyudiomil must be canceled.
Overdose
An overdose of Lyudiomil is characterized by the same symptoms and complaints as in the case of tricyclic antidepressants. The main complications are cardiac disorders and neurological disorders. In children, accidental oral administration of the drug is considered a very serious and fatal event, regardless of the amount of the dose taken.
Complaints about feeling unwell in case of an overdose usually occur within 4 hours after taking Lyudiomil and are most pronounced after 24 hours. Since maprotiline is absorbed at a low rate (due to the anticholinergic effect of the drug), has a long half-life and is involved in hepatoenteric recirculation, the risk to the patient's life remains significant for 4-6 days.
Symptoms of an overdose of Lyudiomil are expressed as follows:
CNS: convulsions, choreoathetoid movements, muscle stiffness, coma, stupor, ataxia, drowsiness, increased reflexes, agitation, anxiety;
cardiovascular system: heart failure, shock, arterial hypotension, intracardiac conduction disorders, tachycardia, arrhythmias; very rarely - cardiac arrest;
others: anuria or oliguria, respiratory depression, sweating, cyanosis, mydriasis, fever, vomiting.
There is no specific antidote, so symptomatic and supportive therapy is prescribed. Patients who have signs of an overdose of Lyudiomil, especially children, should be in the hospital under the close supervision of a doctor for at least 72 hours.
It is necessary to rinse the stomach as soon as possible, and if the patient remains conscious, induce vomiting. If the patient has lost consciousness, tracheal intubation is performed before gastric lavage; it is impossible to provoke vomiting in this case. The above measures should be carried out if up to 12 hours or more have passed since the time of taking the drug, since the anticholinergic effect of Lyudiomil inhibits the rate of absorption of its active substance. To reduce the rate of absorption of maprotiline, activated carbon is used.
In the treatment of overdose, modern methods of intensive care are used, which consist in constant monitoring of electrolytes and blood gas composition, as well as heart functions. If necessary, resort to anticonvulsant therapy, mechanical ventilation and other resuscitation methods. Physostigmine with an overdose of Lyudiomil is now not used, since there is reliable information confirming its ability to cause convulsive seizures, asystole and severe bradycardia. The effectiveness of hemodialysis and peritoneal dialysis is very low due to the low concentrations of maprotiline in the blood plasma.
special instructions
According to the standard classification of mental illness in the Diagnostic and Statistical Manual of Mental Illness - DSM-IV and the International Statistical Classification of Diseases - ICD-10, the conditions listed in the Indications section are defined as: depressive episode, recurrent depressive disorder, or major depression.
In patients with schizophrenia during treatment with tricyclic antidepressants, psychotic symptoms may worsen, and in cyclic bipolar disorders in the depressive phase of the disease (against the background of therapy with tricyclic antidepressants), manic or hypomanic episodes were observed. With the development of such complications, it may be necessary to reduce the dose of maprotiline, up to cancellation, and the appointment of neuroleptics.
The increased likelihood of suicidal action in severe depression may persist until significant remission occurs. In both children and adults, depression can present with suicidal behavior and / or increased depression and other psychopathological symptoms, whether or not they receive antidepressants. In short-term studies of children and adolescents diagnosed with depression and other psychiatric disorders, it has been found that taking antidepressants can increase the risk of suicidal behavior and suicidal thoughts. Rarely, antidepressants can exacerbate suicidal tendencies (intentions).
At all stages of therapy, careful monitoring of patients taking the drug for any of the indications is required. You should also study the clinical picture for deterioration of the condition, suicidal actions and other psychopathological symptoms, especially at the beginning of the course or when adjusting the dosage. It is necessary to consider the possibility of changing the therapy regimen, up to the cancellation of Lyudiomil, especially if such changes appeared suddenly, pronounced or were not noted before taking the drug.
The main task when using Lyudiomil is to achieve a therapeutic effect using the drug in the lowest effective dose. This is especially important for adolescents, patients over 18 years of age with incomplete growth processes and the elderly. In these categories of patients, the autonomic nervous system is usually unstable and the reaction to maprotiline is more pronounced.
Electroconvulsive therapy during the use of Lyudiomil can be carried out exclusively under close medical supervision.
There are some data on changes in the peripheral blood of the number of leukocytes during therapy with Lyudiomil, in connection with which periodic monitoring of this indicator is necessary, and special attention is also required with respect to symptoms such as sore throat or fever. The most important thing is the implementation of these recommendations in the first months of therapy and with prolonged treatment, during which the indicators of kidney and liver function should be monitored additionally.
If there is a history of increased intraocular pressure, severe chronic constipation or delayed outflow of urine, especially in the case of prostatic hypertrophy, maprotiline is recommended to be used with caution. Since Lyudiomil has some effect characteristic of tricyclic antidepressants, which can, for example, contribute to the development of paralytic intestinal obstruction (especially in old age or in hospital patients), it must be used with caution, and appropriate measures should be taken if constipation occurs. The anticholinergic effect inherent in tricyclic antidepressants cannot be ruled out: a decrease in lacrimation and a relative increase in the amount of mucus in the lacrimal fluid, which can contribute to damage to the corneal epithelium when wearing contact lenses.
In hyperthyroidism, as well as in patients taking thyroid hormone preparations, due to the possibility of an increase in the frequency of side effects from the cardiovascular system, the drug should be used with caution.
Long-term antidepressant therapy can be the cause of dental caries, therefore, in the process of treatment with Lyudiomil, it is recommended to systematically undergo sanitation at the dentist.
It is necessary to warn the anesthesiologist about the use of Lyudiomil before performing local or general anesthesia. Continuing the course of therapy with maprotiline is safer in comparison with the problems that may arise due to abrupt withdrawal of the drug immediately before surgery. Relatives and caregivers, both children and adults, who are taking antidepressants (regardless of indication), should be warned that patients require constant monitoring due to the risk of other psychopathological symptoms, including suicidal behavior, which should be immediately notified to the treating physician.
Application with alcohol
The combination of Lyudiomil with drugs containing ethanol or alcoholic beverages can lead to depression of the nervous system.
Drug interactions
Monoamine oxidase (MAO) inhibitors - there is a possibility of pronounced drug interactions leading to the development of hyperpyrexia, tremor, generalized clonic seizures, delirium, up to death (it is important to observe an interval of at least 2 weeks between the use of MAO inhibitors and Lyudiomil);
Substances affecting the transmission of excitation in adrenergic synapses: betanidine, reserpine, guanethidine, clonidine and alpha-methyldopa - maprotiline can reduce or even completely block their antihypertensive effect (if it is necessary to treat hypertension with Lyudomil therapy, substances / other drugs should be used type (vasodilators, diuretics or β-blockers) that do not undergo pronounced biotransformation; in addition, it must be borne in mind that a sudden refusal to take Lyudiomil can provoke severe arterial hypotension);
Sympathomimetics: norepinephrine or norepinephrine, epinephrine or epinephrine, ephedrine, isoprenaline and phenylephrine (including when they are part of local anesthetics, such as those used in dentistry, or nasal drops) - maprotiline can potentiate cardiovascular reactions (monitoring of patients is necessary, including control of blood pressure and heart rate, as well as careful dose selection);
Anticholinergic drugs: phenothiazines, antiparkinsonian drugs, atropine, biperiden, antihistamines - it is possible to potentiate their effect on the pupil of the eye, central nervous system, bladder and intestines;
Antiarrhythmic drugs (quinidine, etc.) - their anticholinergic effect may be synergistic with maprotiline with a dose-dependent severity (this combination is not recommended);
The main groups of tranquilizers - an increase in the concentration of maprotiline in the plasma, a decrease in the threshold of convulsive readiness and the development of seizures is possible; maprotiline with thioridazine can cause severe arrhythmias;
Medicines / substances that activate microsomal liver enzymes: carbamazepine, oral contraceptives, barbiturates - it is possible to increase the metabolism of maprotiline and, accordingly, reduce the effectiveness of the drug (if necessary, it is recommended to revise the dosage of these drugs); in addition, an increase in the concentration of carbamazepine or phenytoin in the blood serum, and an increase in their inherent side effects, which may require dose adjustment, are possible;
Methylphenidate - can lead to an increase in the concentration of tricyclic antidepressants in the blood plasma and an increase in their effect;
β-blockers characterized by significant biotransformation (propranolol, etc.) - an increase in the concentration of maprotiline in the blood plasma is possible (if such a combination is necessary, it is important to regularly determine the level of maprotiline in the plasma and adjust its dose);
Coumarin derivatives - an increase in the anticoagulant effect is possible due to inhibition of their metabolism in the liver (it is recommended to monitor the prothrombin time, and, if necessary, to reduce the dose of the anticoagulant);
Sulfonylurea derivatives or insulin - it is possible to potentiate their hypoglycemic effect (patients with diabetes mellitus require regular monitoring of blood glucose levels, both at the beginning of the course of treatment and at the end of it);
Fluoxetine or fluvoxamine - can lead to a significant increase in the level of maprotiline in the blood and to the development of corresponding side effects (due to the long half-life of selective serotonin reuptake inhibitors, these side effects can persist for a long time);
Alcohol, barbiturates and other drugs that have a depressing effect on the central nervous system - their effect on the body may be more pronounced;
Benzodiazepines - their sedative effect may increase;
Cimetidine - inhibits the metabolism of some tricyclic antidepressants, as a result of which their concentration in the blood increases and the frequency of adverse reactions (visual impairment, dry mouth) increases (such an interaction with maprotiline has not been reported, but it cannot be ruled out that with their simultaneous use, a dose reduction may be required Lyudiomila).
Analogs
Lyudiomil's analogues are: Maprotibene, Maprotiline.
Terms and conditions of storage
Store out of the reach of children at a temperature not exceeding 30 ° C.
The shelf life is 5 years.
Terms of dispensing from pharmacies
Dispensed by prescription.
Reviews about Lyudiomil
According to reviews, Lyudiomil has a positive effect on human health. According to many patients, it is an effective drug, in the treatment of which a feeling of lightness, vigor, and improved mood are noted. Taking it leads to the complete disappearance of most of the symptoms of somatic disorders that cause depression.
However, some patients note a number of side effects, including headache, drowsiness, weakness, lethargy. Often in the course of treatment with Ludiomil, body weight increases in both men and women, which is very worrisome for patients with the overall effectiveness of therapy.
The drug is well tolerated and has a beneficial effect on the state of the central nervous system. However, as an antidepressant, it has a strong effect on the body, so it is not recommended to change the dosage and treatment regimen prescribed by the doctor. Many patients claim that it is very difficult to find Lyudomil in pharmacies.
Price for Lyudiomil in pharmacies
At the moment, the drug is not available for sale in all pharmacies. Previously, the price for Lyudiomil was 650–850 rubles.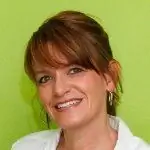 Maria Kulkes Medical journalist About the author
Education: First Moscow State Medical University named after I. M. Sechenov, specialty "General Medicine".
Information about the drug is generalized, provided for informational purposes only and does not replace the official instructions. Self-medication is hazardous to health!
Popular by topic