Table of contents: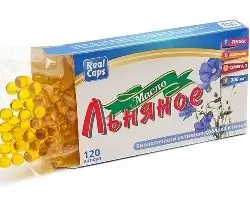 Video: Linseed Oil - Instructions For Use, Indications, Doses
Linseed oil
Instructions for use:
1. Release form and composition
2. Indications for use
3. Contraindications
4. Method of application and dosage
5. Side effects
6. Special instructions
7. Drug interactions
8. Terms and conditions of storage
Prices in online pharmacies:
from 43 rub.
Buy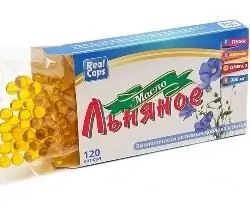 Flaxseed oil is a biologically active food additive (BAA), has a positive effect on protein metabolism, the condition of the mucous membranes and skin, increases blood coagulation, has anti-inflammatory, diuretic, emollient, enveloping, mild laxative, bactericidal, strong antioxidant effect, is a source of energy and minerals.
Release form and composition
The dietary supplement is produced in the form of soft gelatin capsules (in a package: 0.3 g - 120 pcs., 0.75 g - 30 pcs., 1.35 g - 60 pcs.).
The active ingredient is flax seed oil, in 100 g:
Polyunsaturated fatty acids Omega-3 (linolenic, linoleic, arachidonic (Omega-6) - vitamin F, oleic) - 50 g or more (up to 90 g);
Vitamin E - not less than 0.02 g, as well as vitamins A, K, group B and minerals.
Indications for use
The use of flaxseed oil is indicated for the prevention and treatment of diseases arising from metabolic disorders:
Diabetes;
Atherosclerosis of the blood vessels;
Hormonal pathologies.
In addition, the drug is prescribed as a prophylaxis and as part of a combination therapy for cardiovascular diseases, for patients with kidney stones, for inflammation of the urinary system, and significant skin damage.
Contraindications
During pregnancy and breastfeeding;
Age under 14;
Individual intolerance to the components of the drug.
Method of administration and dosage
The capsules are taken orally with meals.
Recommended dosage: 4 pcs. 0.3 g each, or 2 pcs. 0.7 g each, or 1 pc. 1.35 g 2 times a day for 1-2 months.
Reception of the drug can be repeated.
Side effects
Allergic reactions may develop with the use of the drug.
special instructions
It is recommended to start using capsules after consulting your doctor.
Drug interactions
Linseed oil is not a drug.
Terms and conditions of storage
Keep out of reach of children, protected from light, cool, dry place.
The shelf life is 1.5 years.
Linseed oil: prices in online pharmacies
Drug name
Price
Pharmacy
Linseed oil 250 mg capsules 120 pcs.
43 rbl.
Buy
Linseed oil 340 mg capsules 60 pcs.
RUB 53
Buy
Oleos Linseed oil oil 200 ml 1 pc.
RUB 72
Buy
Vitateca Linseed oil for oral administration 250 ml 1 pc.
RUB 75
Buy
Oleos Linseed oil oil 350 ml 1 pc.
RUB 80
Buy
Linseed oil Mirrolla 250 ml 1 pc.
RUB 88
Buy
Oleos Linseed oil oil 500 ml 1 pc.
120 RUB
Buy
Flaxseed oil 1000 mg capsules 60 pcs.
126 RUB
Buy
Linseed oil Mirrola oral liquid 500 ml 1 pc.
179 r
Buy
See all offers from pharmacies
Information about the drug is generalized, provided for informational purposes only and does not replace the official instructions. Self-medication is hazardous to health!
Popular by topic