Table of contents: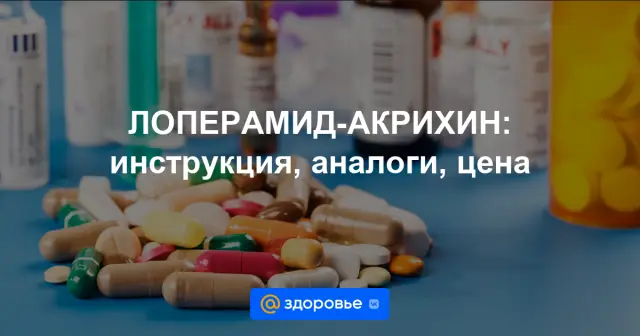 Video: Loperamide-Akrikhin - Instructions For Use, Price, Reviews, Analogues
Loperamide-Akrikhin
Loperamide-Akrikhin: instructions for use and reviews
1. Release form and composition
2. Pharmacological properties
3. Indications for use
4. Contraindications
5. Method of application and dosage
6. Side effects
7. Overdose
8. Special instructions
9. Application during pregnancy and lactation
10. Use in childhood
11. For violations of liver function
12. Drug interactions
13. Analogs
14. Terms and conditions of storage
15. Terms of dispensing from pharmacies
16. Reviews Loperamide-Akrikhin
17. Price in pharmacies
Latin name: Loperamide-Akrikhin
ATX code: A07DA03
Active ingredient: loperamide (loperamide)
Producer: AKRIKHIN KhFK, JSC (Russia)
Description and photo update: 2018-22-10
Prices in pharmacies: from 27 rubles.
Buy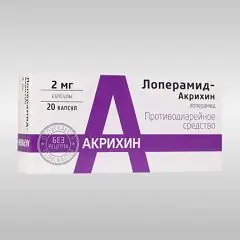 Loperamide-Akrikhin is a symptomatic drug with an antidiarrheal effect.
Release form and composition
Dosage form of Loperamide-Akrikhin - capsules: yellow, size No. 4; the capsules contain white with a yellowish tinge or white powder (10 pcs. in blisters, in a cardboard box 1 or 2 packages).
Composition of 1 capsule:
active substance: loperamide hydrochloride - 2 mg;
auxiliary components: talc - 1.4 mg; colloidal silicon dioxide - 0.7 mg; lactose monohydrate - 104.5 mg; magnesium stearate - 1.4 mg; corn starch - 30 mg;
shell: gelatinous hard capsule (titanium dioxide - 1.3333%; sunset yellow dye - 0.0044%; quinoline yellow dye - 0.9197%; gelatin - up to 100%) - 38 mg.
Pharmacological properties
Pharmacodynamics
Loperamide binds to opioid receptors in the intestinal wall, thereby reducing the tone and motility of intestinal smooth muscles (due to inhibition of the release of prostaglandins and acetylcholine).
The action of the drug develops rapidly and lasts for 4-6 hours.
Loperamide Effects:
an increase in the transit time of intestinal contents;
slowing down of peristalsis;
increased tone of the anal sphincter;
contributing to the reduction of the urge to defecate and the retention of feces.
Pharmacokinetics
Oral absorption of loperamide is 40%. The maximum concentration of the substance in the plasma is reached after 2.5 hours. The connection with plasma proteins is 97% (mainly with albumin).
It does not penetrate the blood-brain barrier. It is metabolized by the liver almost completely by conjugation. The half-life averages 9.8 hours (from 9 to 14 hours).
Excretion occurs mainly with bile; a small part is excreted by the kidneys (in the form of conjugated metabolites).
Indications for use
acute / chronic diarrhea of various etiologies - allergic, emotional, drug, radiation (symptomatic therapy);
diarrhea of infectious origin (as an additional remedy);
changes in diet and quality composition of food, disorders of absorption and metabolism;
ileostomy (for stool regulation).
Contraindications
diarrhea associated with acute pseudomembranous enterocolitis, dysentery and other infections of the gastrointestinal tract;
intestinal obstruction;
diverticulosis;
acute ulcerative colitis;
I trimester of pregnancy and lactation,
age up to 6 years;
individual intolerance to the active or additional components of the drug.
In liver failure Loperamide-Akrikhin should be used with caution.
Instructions for use Loperamide-Akrikhin: method and dosage
Loperamide-Akrikhin is taken orally with water without chewing.
Recommended dosage regimen:
acute diarrhea: initial dose - 1 or 2 capsules (children / adults), then in case of loose stools, after each act of defecation, 1 capsule is prescribed; the maximum daily dose for children is 4 capsules, for adults - 8 capsules;
chronic diarrhea - 1 or 2 capsules a day (children / adults); the maximum daily dose for children is 0.3 mg / kg, for adults - 8 capsules.
The therapy is canceled after stool normalization or absence of stool for more than 12 hours.
Side effects
Possible side reactions: dry mouth, electrolyte disturbances, hypovolemia, allergic reactions (skin rash), dizziness, drowsiness, flatulence, intestinal colic, gastralgia, abdominal discomfort or pain, vomiting, nausea.
In rare cases, urinary retention may develop, in extremely rare cases - intestinal obstruction.
These violations, as a rule, are observed only with prolonged use of Loperamide-Akrikhin.
Overdose
The main symptoms: intestinal obstruction, signs of suppression of the function of the central nervous system (in the form of stupor, respiratory depression, impaired coordination of movements, drowsiness, miosis, increased tone of skeletal muscles).
Therapy: a specific antidote - naloxone (it may need to be re-administered, due to the difference in the duration of the drugs). Symptomatic treatment is also shown, including gastric lavage, taking activated charcoal in the first 3 hours after taking Loperamide-Akrihin, and artificial ventilation.
special instructions
In cases where there is no effect after 2 days of taking Loperamide-Akrikhin, it is necessary to clarify the diagnosis and exclude diarrhea of infectious etiology.
With the development of constipation or bloating, therapy is canceled.
Patients with impaired hepatic function require careful monitoring of signs of toxic damage to the central nervous system. During the period of diarrhea treatment, it is necessary to monitor the replacement of electrolyte and fluid loss.
Influence on the ability to drive vehicles and complex mechanisms
Patients should be careful while driving Loperamide-Akrikhin while driving.
Application during pregnancy and lactation
According to the instructions, Loperamide-Akrikhin is contraindicated for use in the first trimester of pregnancy and during lactation.
Pediatric use
The drug is not prescribed for children under 6 years of age.
For violations of liver function
In liver failure, the appointment of Loperamide-Akrikhin requires caution.
Drug interactions
Information on the interaction of Loperamide-Akrikhin with other drugs is not provided.
Analogs
Loperamide-Akrikhin analogs are Diara, Vero-Loperamide, Imodium, Superilop, Lopeedium, Loperamide.
Terms and conditions of storage
Store in a place protected from light and moisture at temperatures up to 25 ° C. Keep out of the reach of children.
Shelf life is 4 years.
Terms of dispensing from pharmacies
Available without a prescription.
Reviews about Loperamide-Akrikhin
According to reviews, Loperamide-Akrikhin is an affordable and effective drug that quickly relieves the symptoms of diarrhea. It is noted that during the use of the drug, it is necessary to follow the recommended dosage regimen, which will avoid constipation.
The price of Loperamide-Akrikhin in pharmacies
The approximate price for Loperamide-Akrikhin (10 or 20 capsules per pack) is 23–25 or 43–50 rubles.
Loperamide-Akrikhin: prices in online pharmacies
Drug name
Price
Pharmacy
Loperamide-Akrikhin 2 mg capsules 10 pcs.
RUB 27
Buy
Loperamide-Akrikhin 2 mg capsules 20 pcs.
42 RUB
Buy
Loperamide-Akrikhin capsules 2mg 20 pcs.
RUB 55
Buy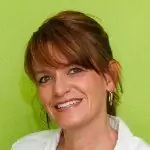 Maria Kulkes Medical journalist About the author
Education: First Moscow State Medical University named after I. M. Sechenov, specialty "General Medicine".
Information about the drug is generalized, provided for informational purposes only and does not replace the official instructions. Self-medication is hazardous to health!
Popular by topic