Table of contents: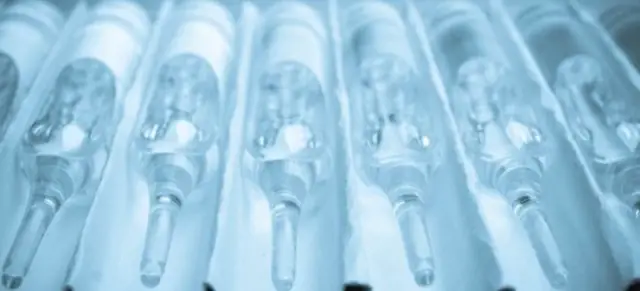 Video: Lifaxon - Instructions For Use, Price, Antibiotic Analogues, Reviews
Lifaxon
Lifaxon: instructions for use and reviews
1. Release form and composition
2. Pharmacological properties
3. Indications for use
4. Contraindications
5. Method of application and dosage
6. Side effects
7. Overdose
8. Special instructions
9. Application during pregnancy and lactation
10. Use in childhood
11. In case of impaired renal function
12. For violations of liver function
13. Use in the elderly
14. Drug interactions
15. Analogs
16. Terms and conditions of storage
17. Terms of dispensing from pharmacies
18. Reviews
19. Price in pharmacies
Latin name: Lifaxon
ATX code: J01DD04
Active ingredient: ceftriaxone (Ceftriaxone)
Manufacturer: Pharmasintez OJSC (Russia); Laika Labs, Ltd. (Lyka Labs, Ltd.) (India)
Description and photo update: 2020-17-08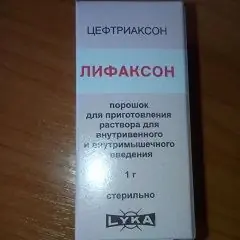 Lifaxon is an antibiotic cephalosporin.
Release form and composition
The drug is produced in the form of a powder for the preparation of a solution for intravenous (intravenous) and intramuscular (intramuscular) administration: crystalline powder, color - white or white with a yellowish tinge [1 g each in a transparent colorless glass vial of 10 ml, sealed with a rubber a cork rolled in with an aluminum cap with a plastic cap; in a cardboard box with partitions 1 bottle with an active substance, 1 ampoule with a solvent (water for injection is used as a solvent) and instructions for the use of Lifaxon].
1 bottle contains the active substance - sodium ceftriaxone, in an amount of 1 g (in terms of ceftriaxone).
Pharmacological properties
Pharmacodynamics
Ceftriaxone is a third-generation cephalosporin antibiotic with a bactericidal effect, capable of inhibiting cell wall synthesis, in vitro suppressing the growth of many gram-positive and gram-negative bacteria. It is used parenterally. Shows resistance to the action of β-lactamase enzymes (penicillinase and cephalosporinase produced by most gram-negative and gram-positive bacteria).
Lifaxon demonstrates effectiveness against the following microorganisms:
gram-negative aerobes: Serratia spp. (including Serratia marcescens), Neisseria meningitidis, Neisseria gonorrhoeae (including strains forming penicillinase), Acinetobacter calcoaceticus, Haemophilus parainfluenzae, Haemophilus influenzae, Borrelia burgdorferi, Klebsiella (including Klebsiella pneumoniae), Escherichia coli, Enterobacter cloacae, Enterobacter aerogenes, Morganella morganii, Moraxella catarrhalis (including strains producing penicillinase), Proteus vulgaris, Proteus mirabilis; some Pseudomonas aeruginosa strains are also susceptible;
gram-positive aerobes: Streptococcus spp. viridans groups, Streptococcus pyogenes, Streptococcus pneumoniae, Staphylococcus epidermidis, Staphylococcus aureus (including strains that produce penicillinase);
anaerobes: Peptostreptococcus spp., Clostridium spp. (exception - Clostridium difficile), Bacteroides fragilis.
Ceftriaxone is active in vitro against most strains of the following microorganisms (there is currently no data on the clinical significance of this effect): Bacteroides melaninogenicus, Bacteroides bivius, Citrobacter freundii, Citrobacter diversus, Streptococcus agalactiae, Salmonella spp., (including Salmonella typhi), Providencia rettgeri, Providencia spp.
Staphylococcus spp., Showing resistance to methicillin, are also resistant to cephalosporins, including ceftriaxone. In addition, most strains of enterococci (for example, Enterococcus faecalis) and group D streptococci show resistance to the active substance of Lifaxon.
Pharmacokinetics
The maximum concentration (C max) of ceftriaxone in plasma after intramuscular (i / m) administration at a dose of 0.5 g is 38 μg / ml, at a dose of 1 g - 76 μg / ml, observed 2-3 hours after injection. C max with intravenous (iv) administration at a dose of 0.5 g - 82 mcg / ml, at a dose of 1 g –151 mcg / ml, at a dose of 2 g - 257 mcg / ml, is noted at the end of the infusion.
The bioavailability of ceftriaxone is 100%. The substance binds to plasma proteins by 83–96%. The volume of distribution varies within the range of 0.12-0.14 l / kg (from 5.78 to 13.5 l), in children - 0.3 l / kg; renal clearance - from 0.32 to 0.73 l / h, plasma - from 0.58 to 1.45 l / h. Penetration into body fluids and tissues is fast. In bactericidal concentrations, ceftriaxone persists for more than a day in the following fluids and tissues: bone tissue, myocardium, lungs, middle ear and nasal mucosa, palatine tonsils, liver, biliary tract, prostate secretions, synovial and pleural fluids.
Intravenously administered ceftriaxone penetrates into the cerebrospinal fluid (including inflammation of the meninges), where it remains in bactericidal concentrations against microorganisms sensitive to it throughout the day.
After intramuscular administration, the half-life (T 1/2) ranges from 5.8 to 8.7 hours. After intravenous administration at a dose of 50–75 mg / kg in children with meningitis, T 1/2 varies from 4.3 up to 4.6 hours. In patients with impaired renal function, this indicator depends on creatinine clearance (CC): with CC 31-60 ml / min T 1/2 is 12.4 hours; with CC 16-30 ml / min - 11.4 h; with CC 5-15 ml / min - 15.7 hours. In patients on hemodialysis with CC 0-5 ml / min T 1/2 = 14.7 hours.
Ceftriaxone is excreted unchanged: by the kidneys - from 33 to 67%; with bile into the intestine, where it is inactivated - from 40 to 50%. In newborns, approximately 70% of the drug is excreted in the urine. Hemodialysis is ineffective for removing ceftriaxone.
Indications for use
Lifaxon is used in the treatment of bacterial infections of the following localization caused by microorganisms sensitive to ceftriaxone:
abdominal organs: peritonitis, inflammatory diseases of the gastrointestinal tract (gastrointestinal tract), infections of the biliary tract (including empyema of the gallbladder, cholangitis);
bone tissue and joints, skin and soft tissues: infected wounds and burns;
lower respiratory tract: pleural empyema, lung abscess, pneumonia;
pelvic organs: adnexitis, prostatitis;
kidneys and urinary tract (both uncomplicated and complicated infections).
In addition, Lifaxon is effective in the treatment of acute otitis media, bacterial septicemia, bacterial meningitis, uncomplicated gonorrhea, Lyme disease, infectious diseases in patients with weakened immunity, as well as for use to prevent infection in the postoperative period.
Contraindications
Absolute:
hyperbilirubinemia in newborns;
intravenous administration of solutions containing calcium to newborns;
breast-feeding;
hypersensitivity to ceftriaxone, as well as other cephalosporins, carbapenems and penicillins.
Relative (Lifaxon should be used with precautions):
hepatic / renal failure;
enteritis, ulcerative colitis (ulcerative colitis) and colitis, which developed against the background of the use of antibacterial drugs;
pregnancy (only if the intended benefit to the mother outweighs the potential risks to the fetus).
Also, extreme caution should be used with the antibiotic Lifaxon in premature infants.
Lifaxon, instructions for use: method and dosage
A solution prepared from Lifaxon powder is applied i / v (jet or drip) and i / m. Doses over 50 mg / kg should be administered as an intravenous infusion lasting 30 minutes.
In adult patients, depending on the type and severity of the infection, the daily dose is 1–2 g, it is administered either once a day, or divided into 2 injections (the interval between injections is 12 hours).
The recommended dose of Lifaxone for the treatment of infections in children is 50–75 mg / kg, divided into 2 administrations, with a 12-hour interval between them. With a child's body weight of 50 kg or more, doses for adults are used. The dose for newborns is 20-50 mg / kg once a day.
Do not exceed the total daily dose of 4 g for adults and 2 g for children.
After the disappearance of symptoms and signs of infection, Lifaxone therapy should be continued for at least 2 more days. Typically, the therapeutic course lasts no more than 2 weeks, however, in case of complicated infections, a longer administration is possible. For infections caused by Streptococcus pyogenes, the duration of treatment should not be less than 10 days.
The recommended dosage regimen of Lifaxon for adults and children, depending on the disease:
infections of the skin and soft tissues: 50–75 mg / kg once a day, the dose can also be divided into 2 injections, observing a 12-hour interval between them;
Lyme disease: 50 mg / kg (maximum 2 g) once a day for 2 weeks;
uncomplicated gonorrhea: 250 mg IM once;
acute otitis media in children: 50 mg / kg (maximum 1 g) IM once;
bacterial meningitis in children: initial dose - 100 mg / kg (maximum 4 g) once a day, then 100 mg / kg (maximum 4 g) once a day or divided into 2 injections with a 12-hour interval between them … The duration of therapy is 1–2 weeks;
postoperative complications (prevention): 1 g once a half hour to an hour before the start of the surgical intervention. When carrying out operations on the colon and rectum, additional administration of a drug from the 5-nitroimidazole group is recommended.
In patients with chronic renal failure (chronic renal failure) with CC less than 10 ml / min, the daily dose of Lifaxone is no more than 2 g. Patients on hemodialysis do not need to additionally administer a dose of ceftriaxone at the end of the hemodialysis session, but in such patients it is necessary to control the concentration of the substance in plasma, as it may slow down its excretion from the body (dose adjustment may be required).
In the presence of renal-hepatic insufficiency, the daily dose should not exceed 2 g without determining the concentration of ceftriaxone in the blood plasma.
Method of preparation and administration of solutions:
intravenous infusion: 2 g of the drug is dissolved in a solution that does not contain calcium ions in a volume of 40 ml. As a rule, 0.9% sodium chloride solution, 5% levulose (fructose) solution, 5 or 10% dextrose solution are used for this. Doses of 50 mg / kg or more are administered intravenously drip for 30 minutes;
i / m injection: 1 g of the drug is dissolved in 3.5 ml of 1% lidocaine solution and injected deep into a relatively large muscle. It is recommended to inject no more than 1 g of the drug into one muscle. Prohibited in / in the introduction of solutions containing lidocaine;
intravenous injection: water for injection is used as a solvent, for this 1 g of the drug is dissolved in 10 ml of water for injection and injected intravenously slowly over 2-4 minutes.
Only freshly prepared solutions should be used.
To dilute Lifaxon, it is forbidden to use solutions containing calcium.
Side effects
During Lifaxon therapy, the following undesirable reactions may occur:
from the digestive system: vomiting / nausea, diarrhea, pseudomembranous colitis, taste disturbance;
from the hematopoietic system: eosinophilia, thrombocytopenia, leukopenia, anemia (including hemolytic), thrombocytosis, neutropenia, lymphopenia;
from the nervous system: dizziness, headache;
from the genitourinary system: vaginitis, vaginal candidiasis;
from the immune system: allergic reactions (chills or fever, itching, rash);
local reactions: with intravenous administration - soreness, phlebitis, induration along the vein; with intramuscular injection (at the site of intramuscular injection) - soreness, feeling of warmth, induration or feeling of tightness;
laboratory parameters: hypercreatininemia, hyperbilirubinemia, decrease / increase in prothrombin time, increased activity of alkaline phosphatase (ALP) and hepatic transaminases, an increase in urea concentration, the presence of sediment in the urine;
others: hot flushes, increased sweating.
Adverse events occurring with a frequency of less than 0.1%: serum sickness, palpitations, monocytosis, leukocytosis, lymphocytosis, abdominal pain, colitis, abdominal distention, allergic pneumonitis, agranulocytosis, hematuria, glucosuria, basophilia, jaundice, sludge gallbladder syndrome, dyspepsia, cholelithiasis, anaphylaxis, bronchospasm, epistaxis, nephrolithiasis, convulsions.
The data obtained in the post-marketing study indicate the development of such adverse reactions when using Lifaxone, such as allergic dermatitis, edema, urticaria, oliguria, glossitis, stomatitis, Lyell's syndrome (toxic epidermal necrolysis), Stevens-Johnson syndrome, erythema multiforme.
Overdose
When excessively high concentrations of ceftriaxone enter the plasma, they cannot be reduced by hemodialysis or peritoneal dialysis. In case of an overdose of Lifaxon, symptomatic therapy is indicated.
special instructions
Ceftriaxone is used exclusively in a hospital setting.
Patients who have both severe hepatic and renal impairment require regular monitoring of the concentration of the drug in plasma. A similar diagnosis is necessary for patients on hemodialysis.
In the case of a long course of therapy with Lifaxon, it is necessary to systematically monitor the indicators of the functional state of the kidneys and liver, the picture of peripheral blood.
It is known about isolated episodes of gallbladder blackout (precipitates of the calcium salt of ceftriaxone) during ultrasound (ultrasound), this phenomenon disappears after the end of drug therapy. If symptoms or signs appear that indicate the development of a possible gallbladder disease, or ultrasound signs of sludge syndrome, it is necessary to cancel Lifaxon therapy.
There is evidence of rare cases of pancreatitis against the background of the use of Lifaxon, which developed, possibly due to obstruction of the biliary tract. Most patients had risk factors for biliary tract congestion such as total parenteral nutrition, severe comorbidities, or previous drug therapy. At the same time, it is also impossible to exclude the triggering role of the formation of precipitates in the biliary tract under the influence of ceftriaxone.
There are reports of rare cases of changes in prothrombin time when using Lifaxon. Patients with vitamin K deficiency due to malnutrition or impaired synthesis may require prothrombin time control and vitamin K administration (10 mg per week) with an increase in prothrombin time before or during therapy.
Cases of development of fatal reactions as a result of the deposition of ceftriaxone-calcium precipitates in the kidneys and lungs of newborns have been reported. Theoretically, there is a possibility of interaction of calcium-containing solutions for intravenous administration with ceftriaxone and in patients of other age groups. In this regard, it is prohibited to mix Lifaxon with calcium-containing solutions (for parenteral nutrition inclusively) or to inject it with such solutions simultaneously, including through separate infusion access points at different sites. Theoretically, based on the five half-lives of ceftriaxone, the interval between the administration of solutions containing calcium and Lifaxone should not be less than 48 hours. There is no data on the possible interaction of ceftriaxone with calcium-containing drugs taken orally.as well as ceftriaxone for intramuscular administration with calcium-containing drugs used intravenously and orally.
Against the background of the use of Lifaxon, false positive results are possible when determining glucose in urine, Coombs' test or a test for galactosemia. For the determination of glucosuria, only the enzymatic method should be used.
Influence on the ability to drive vehicles and complex mechanisms
There is no information on the effect of Lifaxon on a person's ability to perform work that requires the speed of psychomotor reactions and increased concentration of attention, including driving a car or any other means of transport and complex mechanisms.
Application during pregnancy and lactation
For pregnant women, the antibiotic Lifaxone is allowed to be prescribed in exceptional cases, when the intended benefit to the mother is guaranteed to outweigh the potential risk to the fetus.
Lactation is a contraindication to the use of the drug. If a breastfeeding woman needs Lifaxon therapy, the child should be transferred to artificial feeding.
Pediatric use
The use of Lifaxon is contraindicated in newborns with hyperbilirubinemia, as well as in newborns who are shown intravenous administration of solutions containing calcium.
In infants born prematurely (premature babies), Lifaxon is used with caution.
With impaired renal function
Caution should be exercised when using Lifaxon for the treatment of patients with impaired renal function.
For violations of liver function
Caution should be exercised when using Lifaxon for the treatment of patients with impaired liver function.
Use in the elderly
For elderly patients, there are no special recommendations for the use of Lifaxon.
Drug interactions
Possible pharmacological interaction of ceftriaxone with concomitantly used substances / drugs:
salicylates, NSAIDs (non-steroidal anti-inflammatory drugs), sulfinpyrazone and other drugs that reduce platelet aggregation: increase the risk of bleeding when combined with ceftriaxone, since the latter, suppressing the intestinal flora, interferes with the synthesis of vitamin K;
anticoagulants: there is an increase in the anticoagulant effect;
loop diuretics (for example, furosemide): the likelihood of developing renal dysfunction increases;
bacteriostatic antibiotics: with combined use, the bactericidal effect of ceftriaxone decreases;
chloramphenicol: there is an antagonism with ceftriaxone;
ethanol: when used simultaneously with Lifaxon, it does not cause the development of disulfiram-like reactions (which is characteristic of some cephalosporins), since ceftriaxone does not contain the N-methylthiotetrazole group.
Ceftriaxone solution is pharmaceutically incompatible with solutions containing aminoglycosides, calcium (including Ringer's and Hartman's solutions), vancomycin, amsacrine and fluconazole.
Analogs
Lifaxon's analogs are Azarexon, Azaran, Axone, Broadsef-S, Biotraxon, Betasporin, IFICEF, Intrasef, Lendacin, Movigip, Medaxon, Oframax, Torotsef, Tercef, Stericsef, Rocefin, Tornaxon, Triaxon, Cefaxone, Cefatrin Xafatrin, Ceftriaxone, Ceftriabol, Ceftriaxone Danson, Ceftriaxone-AKOS, Ceftriaxone Kabi, Ceftriaxone Protekh, Ceftriaxone-Vial, Ceftriaxone Elfa, etc.
Terms and conditions of storage
Store in a place inaccessible to children, protected from sunlight and moisture, at a temperature not exceeding + 25 ° C.
The shelf life of Lifaxon is 3 years.
The manufacturer is prohibited from using the medicinal product after the expiry of the shelf life indicated on the package.
Terms of dispensing from pharmacies
Dispensed by prescription.
Reviews about Lifaxon
Currently, there are not enough reviews about Lifaxone on the Internet to assess the degree of effectiveness of the drug and its positive or negative sides. Some patients note a convenient dosing regimen of the drug, since it can be administered only once a day. But they complain of diarrhea after using it.
Price for Lifaxon in pharmacies
The price of Lifaxone registered in the VED (vital drugs) list is 162.53 rubles. for a package containing 1 bottle of the drug and 1 ampoule with a solvent. The cost of a package with 5 bottles is 812.65 rubles, with 10 bottles - 1625.30 rubles, with 25 bottles (for hospitals) - 4063.25 rubles.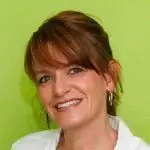 Maria Kulkes Medical journalist About the author
Education: First Moscow State Medical University named after I. M. Sechenov, specialty "General Medicine".
Information about the drug is generalized, provided for informational purposes only and does not replace the official instructions. Self-medication is hazardous to health!
Popular by topic