Table of contents: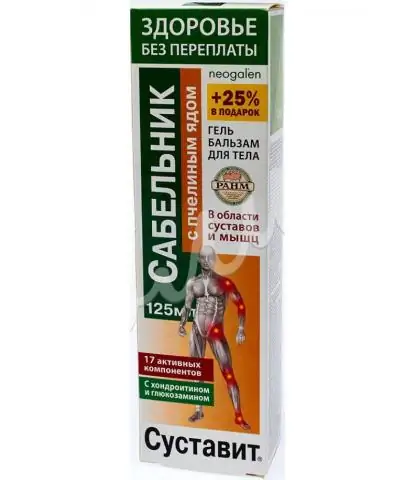 Video: Sabelnik Tincture - Instructions For Use, Reviews, Indications, Price
Sabelnik tincture
Sabelnik tincture: instructions for use and reviews
1. Release form and composition
2. Pharmacological properties
3. Indications for use
4. Contraindications
5. Method of application and dosage
6. Side effects
7. Overdose
8. Special instructions
9. Application during pregnancy and lactation
10. Use in childhood
11. For violations of liver function
12. Drug interactions
13. Analogs
14. Terms and conditions of storage
15. Terms of dispensing from pharmacies
16. Reviews
17. Price rack in pharmacies
Latin name: Tinktura comarum palustre
ATX code: N05CM09
Active ingredient: tincture of marsh cinquefoil (tinktura palustre comarum)
Manufacturer: EVALAR (Russia)
Description and photo update: 2018-21-11
Prices in pharmacies: from 134 rubles.
Buy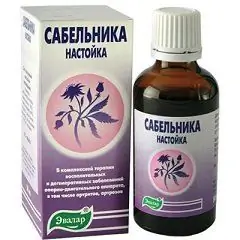 Sabelnik tincture is a herbal anti-inflammatory agent.
Release form and composition
A phytopreparation is produced in the form of a tincture: from red-brown to yellow-brown color, a transparent liquid with a specific smell, with the possible appearance of opalescence; during storage, precipitation is allowed (25, 50 or 100 ml in glass brown bottles / vials or orange dropper bottles, 1 bottle / bottle or dropper bottle in a cardboard box).
Composition of 100 ml tincture:
active ingredient: crushed rhizomes of marsh cinquefoil - 10 g;
additional component: ethanol 40% (ethyl alcohol).
Pharmacological properties
Pharmacodynamics
Sabelnik tincture is a herbal remedy that has a pronounced anti-inflammatory and analgesic effect. The drug reduces pain syndrome, reduces muscle tension, swelling in the joints.
Indications for use
According to the instructions, Sabelnik tincture is recommended for use as part of the combined treatment of inflammatory and degenerative diseases of the musculoskeletal system (including arthrosis and arthritis).
Contraindications
Absolute:
age up to 18 years;
pregnancy and lactation;
individual sensitivity to the components of the drug.
Relative (due to the ethyl alcohol included in the composition, the tincture should be used with caution in the following diseases):
epilepsy;
diseases and injuries of the brain;
severe functional disorders of the liver;
chronic alcoholism.
In the presence of chronic diseases, before using Sabelnik tincture, according to indications, it is necessary to consult a doctor.
Instructions for use of Sabelnik tincture: method and dosage
The drug is taken orally 2 times a day before meals. The recommended single dose is 1 teaspoon of the tincture, previously diluted in ⅓ glass of water. The duration of therapy is 2 months, after consultation with a specialist, a repeated course is allowed, if necessary.
Side effects
While taking the drug, in rare cases, the appearance of such undesirable effects as diarrhea, nausea, allergic reactions is possible.
Overdose
Using the product in excessively high doses may cause alcohol poisoning. Treatment for this condition is prescribed symptomatic.
special instructions
During therapy, there may be a short-term aggravation of the pain syndrome, which passes on its own and does not require discontinuation of the drug.
Considering that a single dose of the drug contains 1.58 g, and in a daily dose - 3.16 g of 96% ethanol, you should not exceed the recommended daily dose.
Influence on the ability to drive vehicles and complex mechanisms
Patients driving vehicles and other potentially dangerous, complex mechanisms need to be careful during therapy.
Application during pregnancy and lactation
The phytopreparation is contraindicated to use during pregnancy and lactation.
Pediatric use
Taking Sabelnik tincture according to indications is contraindicated in patients under 18 years of age.
For violations of liver function
The drug should be used with extreme caution in severe liver functional disorders.
Drug interactions
Against the background of the combined use of the tincture with non-steroidal anti-inflammatory drugs (NSAIDs), there is a mutual increase in the therapeutic effect of these drugs, which may allow reducing the dosage of NSAIDs.
Analogs
Analogs of Sabelnik tincture are: Sabelnik Mertsana, Sabelnik 911, Sabelnik-Evalar.
Terms and conditions of storage
Store out of the reach of children at a temperature not exceeding 25 ° C.
Shelf life is 2 years.
Terms of dispensing from pharmacies
Available without a prescription.
Reviews about Sabelnik tincture
Reviews of Sabelnik tincture are mostly positive. Patients note the effectiveness of the drug in relieving pain attacks characteristic of diseases of the musculoskeletal system. According to most reviews, the drug is an inexpensive, affordable agent that has a pronounced anti-inflammatory effect and helps to improve joint mobility. There are no reports of the development of adverse reactions.
At the same time, many patients cannot accurately determine the degree of effectiveness of the herbal remedy, since it is often used in combination with NSAIDs.
Price for Sabelnik tincture in pharmacies
The average price for Sabelnik tincture per bottle containing 50 ml is 150 rubles, a bottle with a capacity of 100 ml can be purchased for 220 rubles.
Sabelnik tincture: prices in online pharmacies
Drug name
Price
Pharmacy
Sabelnik tincture 50ml
134 r
Buy
Sabelnik tincture 50 ml tincture 1 pc.
134 r
Buy
Sabelnik tincture 100 ml 1 pc.
229 r
Buy
Sabelnik tincture 100ml
276 r
Buy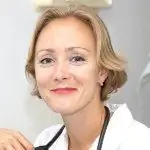 Anna Kozlova Medical journalist About the author
Education: Rostov State Medical University, specialty "General Medicine".
Information about the drug is generalized, provided for informational purposes only and does not replace the official instructions. Self-medication is hazardous to health!
Popular by topic