Table of contents:
Video: Oftadek - Instructions For The Use Of Eye Drops, Price, Reviews, Analogues
Oftadek
Oftadek: instructions for use and reviews
1. Release form and composition
2. Pharmacological properties
3. Indications for use
4. Contraindications
5. Method of application and dosage
6. Side effects
7. Overdose
8. Special instructions
9. Application during pregnancy and lactation
10. Drug interactions
11. Analogs
12. Terms and conditions of storage
13. Terms of dispensing from pharmacies
14. Reviews
15. Price in pharmacies
Latin name: Oftadek
ATX code: S01AX
Active ingredient: decamethoxin (decamethoxin)
Producer: Experimental plant GNTSLS, LLC (Ukraine)
Description and photo update: 2018-07-06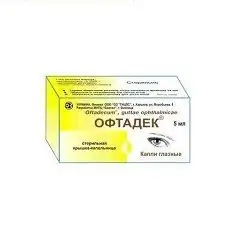 Oftadek is a local bactericidal preparation used in ophthalmology.
Release form and composition
Dosage form - eye drops: colorless, transparent (in vials of 5 ml, in a cardboard box 1 polyethylene bottle complete with a dispensing cap).
Composition of 1 ml drops:
active substance: decamethoxin - 0.2 mg;
additional components: sodium chloride, purified water.
Pharmacological properties
Pharmacodynamics
Oftadek has a broad antimicrobial and antiseptic effect against gram-positive and gram-negative microflora (staphylococci, pneumococci, streptococci, meningococci, gonococci, pseudomonads, enterobacteria), as well as dermatophytes, corynebacteria, protozoa and fungi.
When using the drug, resistant organisms form slowly. In the course of complex therapy, along with traditional antibiotics, Oftadek can potentiate their action.
Indications for use
conjunctivitis in acute and chronic course;
blepharoconjunctivitis;
chlamydial lesions of the mucous membrane of the eye;
gonoblennorrhea, including use for prophylaxis in newborns;
the period before and after ophthalmic operations (with the aim of preventing pyo-inflammatory complications);
contact lens processing.
Contraindications
According to the instructions, Oftadek is not prescribed in cases of individual intolerance to its components.
In women during pregnancy / lactation, therapy should be carried out under medical supervision.
Instructions for use of Oftadek: method and dosage
Oftadek eye drops are applied topically by instillation into the conjunctival sac.
Recommended dosage regimen:
treatment of acute / chronic conjunctivitis and blepharoconjunctivitis, gonoblennorrhea, chlamydial lesions of the mucous membrane of the eye: 4-6 times a day, 2-3 drops; therapy is carried out until complete recovery;
prevention of blenorrhea in newborns: 2 drops in both eyes immediately after birth and two hours after childbirth;
prevention of infection in the pre- and postoperative period: 4-6 times a day, 2-3 drops before the operation and for 3-5 days after the operation.
Contact lenses are processed by immersing them in solution for 10-15 minutes, after which the lenses must be rinsed in sterile isotonic sodium chloride solution.
Side effects
During the period of therapy, local reactions may develop in the form of itching, conjunctival hyperemia and lacrimation.
Overdose
Due to the lack of absorption, Oftadek overdose does not occur.
special instructions
If contact lenses are used, they should be removed before instilling the drug. You can put them on again after 15 minutes.
Influence on the ability to drive vehicles and complex mechanisms
Patients during therapy when performing potentially dangerous types of work should be careful.
Application during pregnancy and lactation
In women during pregnancy / lactation, therapy should be carried out under medical supervision.
Drug interactions
There are no data on the interaction of Oftadek eye drops with other drugs / substances.
Analogs
Conjunctin is an analogue of Oftadek.
Terms and conditions of storage
Store in a place protected from light at temperatures up to 25 ° C. Keep out of the reach of children.
The shelf life is 3 years.
After opening the package, the drug can be used for 14 days, subject to storage conditions.
Terms of dispensing from pharmacies
Dispensed by prescription.
Reviews about Oftadek
Reviews about Oftadek are mostly positive. There are especially many positive reviews from parents about the effectiveness of therapy in children.
Price for Oftadek in pharmacies
The approximate price for Oftadek eye drops for 1 bottle (5 ml) is 58–72 rubles.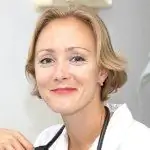 Anna Kozlova Medical journalist About the author
Education: Rostov State Medical University, specialty "General Medicine".
Information about the drug is generalized, provided for informational purposes only and does not replace the official instructions. Self-medication is hazardous to health!
Popular by topic