Table of contents: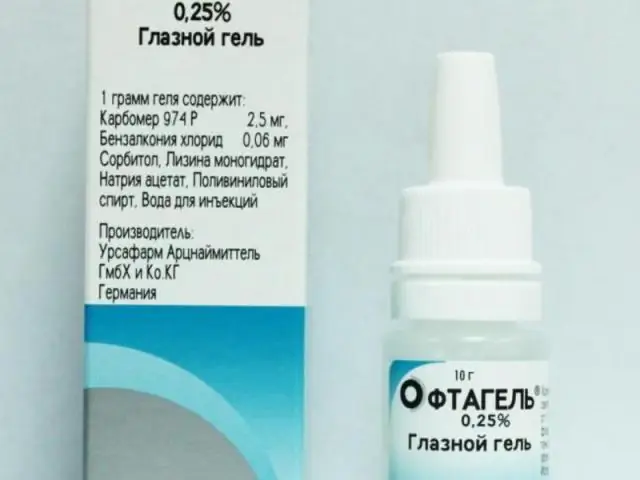 Video: Oftagel - Instructions For Using The Eye Gel, Reviews, Analogues, Price
Oftagel
Oftagel: instructions for use and reviews
1. Release form and composition
2. Pharmacological properties
3. Indications for use
4. Contraindications
5. Method of application and dosage
6. Side effects
7. Overdose
8. Special instructions
9. Drug interactions
10. Analogs
11. Terms and conditions of storage
12. Terms of dispensing from pharmacies
13. Reviews
14. Price in pharmacies
Latin name: Oftagel
ATX code: S01XA20
Active ingredient: Carbomer (Carbomer)
Manufacturer: SANTEN, OY (Finland)
Description and photo update: 2019-07-08
Prices in pharmacies: from 271 rubles.
Buy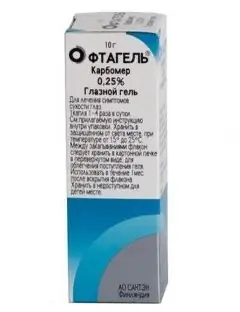 Oftagel is a drug that helps moisturize and protect the cornea of the eyes.
Release form and composition
Dosage form - eye gel: colorless or slightly opalescent (10 g each in 10 ml polyethylene bottles equipped with a pipette, 1 bottle in a cardboard box).
Active substance: carbomer 974P, its content in 10 g of gel is 0.025 g.
Auxiliary components: water for injection, polyvinyl alcohol, lysine monohydrate, sorbitol, sodium acetate, benzalkonium chloride.
Pharmacological properties
Pharmacodynamics
The active ingredient of Oftagel is carbomer, which is a high molecular weight carboxyvinylpolymer (polyacrylate). This substance increases tear viscosity, forming a protective moisturizing film on the outer surface of the cornea, and also helps to thicken the water and mucin layers of the tear film.
Carbomer eliminates irritation symptoms accompanying dry eye syndrome. Symptoms of this condition include fatigue of the organ of vision, compensatory lacrimation, burning, itching, sensation of a foreign body in the eye. Prolonged contact of the tear film with the cornea has a beneficial effect on the patient's condition with insufficient tear production. Oftagel is able to prolong the absorption of other ophthalmic drugs used in combination with it. Its pH is almost identical to that of natural tears.
Pharmacokinetics
With local application of the drug, it is unlikely that its active component will penetrate through the cornea and into the systemic circulation due to the relatively large size of the carbomer molecules.
Indications for use
Oftagel is a drug intended for the treatment of diseases accompanied by dry eye syndrome, manifested by compensatory lacrimation, sensation of a foreign body in the eye, burning sensation, itching:
Eye irritation due to computer use ("office eye syndrome"), exposure to smoke or dust, etc.;
Keratoconjunctivitis dry;
Stevens-Johnson syndrome;
Diseases of the eyelids, in which there is insufficient contact of the cornea with the tear;
Sjogren's disease;
Insufficient tearing.
Oftagel is also used for rehabilitation therapy after surgical or laser interventions on the cornea.
Contraindications
The drug should not be used if there is a known hypersensitivity to any of its components.
Adequate controlled studies on the safety of the use of carbomer 974P during pregnancy and lactation have not been conducted, therefore Oftagel can be prescribed only after assessing the expected benefits and possible risks.
Instructions for the use of Oftagel: method and dosage
According to the instructions, Oftagel is applied conjunctivally.
The gel should be instilled 1 drop from 1 to 4 times a day, depending on the severity of the symptoms.
Before instillation, you need to wash your hands, then tilt your head back, pull the lower eyelid and drip the drug into the conjunctival sac between the eye and the lower eyelid.
The duration of treatment is determined individually.
Side effects
Immediately after instillation, the following local reactions are possible: eye irritation, short-term burning sensation, transient blurred vision.
Overdose
No cases of Oftagel overdose have been reported.
special instructions
One bottle is intended to treat only one person.
The pipette tip should not touch the eye, eyelid or other surfaces.
After instillation, you must immediately close the bottle.
Benzalkonium chloride, which is part of Oftagel, can be absorbed by contact lenses and discolor them, therefore, they must be removed before instillation, and then installed no earlier than 30 minutes later.
With the simultaneous appointment of other ophthalmic drugs, Oftagel should be instilled last with a minimum interval of 15 minutes.
Since the eye gel can cause a short-term decrease in visual acuity, immediately after instillation, one should not drive a car and perform potentially dangerous types of work that require clear visual perception.
Drug interactions
Pharmacological interaction of Oftagel with other drugs has not been studied.
Analogs
Oftagel analogues are: Vidisik, Oftagel Uno, Lakropos, Sikalos.
Terms and conditions of storage
Store in a dark place and out of reach of children at a temperature of 15 to 25 ºС. After opening, the bottle is recommended to be stored in a cardboard box upside down (to facilitate the flow of the gel).
Shelf life - 30 months, after the first opening of the bottle - 1 month.
Terms of dispensing from pharmacies
Available without a prescription.
Reviews about Oftagel
Almost all reviews about Oftagel are positive. Patients report the effectiveness and speed of this drug. They also note the convenience of its use. Most often, the gel is used for eye fatigue during prolonged work at the computer or long reading. However, its cost is quite high.
The price of Oftagel in pharmacies
The approximate price for a bottle of Oftagel ranges from 360 to 405 rubles.
Oftagel: prices in online pharmacies
Drug name
Price
Pharmacy
Oftagel 0.25% eye gel 10 g 1 pc.
271 r
Buy
Oftagel eye gel 2.5mg / g 10g
278 r
Buy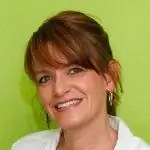 Maria Kulkes Medical journalist About the author
Education: First Moscow State Medical University named after I. M. Sechenov, specialty "General Medicine".
Information about the drug is generalized, provided for informational purposes only and does not replace the official instructions. Self-medication is hazardous to health!
Popular by topic