Table of contents: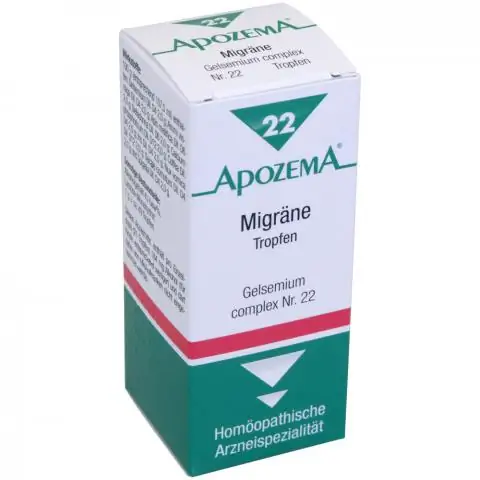 Video: Otrivin Complex - Instructions, Application For Children, Price, Reviews
Otrivin Complex
Otrivin Complex: instructions for use and reviews
1. Release form and composition
2. Pharmacological properties
3. Indications for use
4. Contraindications
5. Method of application and dosage
6. Side effects
7. Overdose
8. Special instructions
9. Application during pregnancy and lactation
10. Use in childhood
11. Drug interactions
12. Analogs
13. Terms and conditions of storage
14. Terms of dispensing from pharmacies
15. Reviews
16. Price in pharmacies
Latin name: Otrivin Complex
ATX code: R01AB06
Active ingredient: xylometazoline (xylometazoline) + ipratropium bromide (ipratropium bromide)
Manufacturer: Novartis Consumer Health, S. A. (Novarrtis Consumer Health, SA) (Switzerland)
Description and photo updated: 22.11.2018
Prices in pharmacies: from 210 rubles.
Buy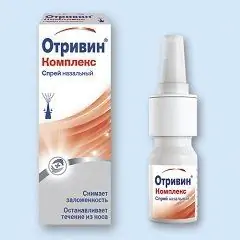 Otrivin Complex is a combined vasoconstrictor drug for topical use in otolaryngology, with anti-edematous efficacy.
Release form and composition
Dosage form Otrivin Complex - nasal spray: clear liquid, colorless or slightly colored, practically odorless (10 ml in a bottle, 1 bottle in a cardboard box).
Composition for 1 ml of solution:
active substances: ipratropium bromide monohydrate - 0.6 mg; xylometazoline hydrochloride - 0.5 mg;
auxiliary components: glycerol, disodium edetate dihydrate, concentrated hydrochloric acid, sodium hydroxide, water.
Pharmacological properties
Pharmacodynamics
Otrivin Complex is a combined preparation, the action of which is due to the properties of its constituent components:
xylometazoline is a local vasoconstrictor (decongestant). Has alpha-adrenomimetic action. Relieves swelling and hyperemia of the nasopharyngeal mucosa due to the narrowing of the blood vessels. Eliminates congestion and facilitates nasal breathing;
ipratropium bromide is an anticholinergic agent. Reduces nasal secretion by competitive inhibition of cholinergic receptors located in the epithelium of the nasal cavity.
When using the drug in therapeutic doses, it does not cause irritation and hyperemia of the nasal mucosa. The therapeutic effect appears after 5-10 minutes and lasts up to 8 hours.
Pharmacokinetics
Absorption of active ingredients of the drug when applied topically is insignificant.
Indications for use
swelling and hyperemia of the nasal cavity (for symptomatic treatment);
acute allergic rhinitis;
rhinitis with nasal congestion in acute respiratory diseases;
hay fever;
sinusitis.
Contraindications
Absolute contraindications:
glaucoma;
atrophic rhinitis;
surgical operations on the membranes of the brain (in history);
pregnancy (I trimester);
age up to 18 years (due to the high content of the active substance, Otrivin is not prescribed to children);
increased sensitivity to the components of the drug, as well as to atropine and similar compounds (hyoscyamine, scopolamine).
Relative contraindications, in the presence of which a doctor's consultation is required before using the drug:
hyperthyroidism;
diabetes;
pheochromocytoma;
angina pectoris III - IV functional class;
hyperplasia of the prostate;
obstruction of the bladder neck;
cystic fibrosis;
pregnancy (II and III trimester);
lactation (breastfeeding);
predisposition to nosebleeds, dizziness, tremor of skeletal muscles, arrhythmias, sleep disorders, increased blood pressure (BP), paralytic intestinal obstruction.
Instructions for use of Otrivin Complex: method and dosage
Otrivin Complex is administered intranasally.
Recommended dosage for adults: 1 injection in each nasal passage 3 times a day.
The duration of therapy should not exceed 7 days due to the risk of edema of the nasal mucosa and increased secretion caused by an increase in the sensitivity of cells to the drug.
One dose (injection) of the drug contains xylometazoline hydrochloride - 70 μg, ipratropium bromide - 84 μg.
Side effects
nervous system: headache, dizziness, insomnia;
digestive system: dry mouth, nausea, dyspepsia;
sense organs: increased intraocular pressure, eye pain, mydriasis, deterioration in patients with angle-closure glaucoma, blurred vision;
urinary system: difficulty urinating;
respiratory system: dryness and irritation of the nasopharyngeal mucosa, nosebleeds, sneezing, itching and tingling sensations, hypersecretion (nasal), nasal congestion (with prolonged and frequent use);
cardiovascular system: heart palpitations, atrial fibrillation, supraventricular tachycardia, arrhythmia;
skin: itching, skin rash, urticaria;
allergic reactions: laryngospasm, angioedema (tongue, lips, face), anaphylactic reactions.
You should consult a doctor in case of aggravation of the described or other side effects.
Overdose
Due to low systemic absorption, an overdose of Otrivin Complex is unlikely.
Symptoms of xylometazoline overdose: sweating, nausea, decreased body temperature, bradycardia, headache, impaired accommodation, respiratory depression, arterial hypertension, hypotension, coma. Palliative care under the supervision of a physician is recommended.
Symptoms of an overdose of ipratropium bromide: dry mouth, difficulty in accommodation, tachycardia, in severe cases, symptoms may develop from the central nervous system caused by the anticholinergic effect of the substance. Palliative therapy is recommended; in severe overdose, cholinesterase inhibitors are indicated.
special instructions
Before using a nasal spray, the nasal passages should be cleaned. The duration of continuous treatment should not exceed 7 days.
Avoid getting the drug in the eyes and on the skin around them, as this can lead to temporary blurred vision, irritation, pain, redness, and exacerbation of angle-closure glaucoma. If Otrivin Complex gets into your eyes, rinse them with cold water. If pain or blurred vision occurs, a doctor's consultation is recommended.
Influence on the ability to drive vehicles and complex mechanisms
In therapeutic doses, Otrivin Complex does not affect the ability to drive vehicles and other complex mechanisms that require psychomotor speed.
Application during pregnancy and lactation
The use of Otrivin Complex is contraindicated in the first trimester of pregnancy.
In the II and III trimester and during lactation, the drug can be prescribed in the case when the expected benefit to the mother outweighs the possible risk to the fetus or child. Do not exceed the recommended dose.
Pediatric use
Otrivin Complex is not prescribed for children and adolescents under the age of 18.
Drug interactions
monoamine oxidase inhibitors, tricyclic and tetracyclic antidepressants: concomitant administration with a nasal spray is contraindicated;
sympathomimetics: an increase in blood pressure is possible, in severe cases Otrivin Complex should be discontinued and symptomatic therapy should be carried out;
drugs with anticholinergic activity: it is possible to increase the anticholinergic effect of ipratropium bromide.
Analogs
Analogs of Otrivin Complex are Xymelin Extra, Adrianol, Afrin, Galazolin, Dlyanos, Influrin, Xilen, etc.
Terms and conditions of storage
Store at a temperature not exceeding 25 ° C. Keep out of the reach of children.
Shelf life is 3 years.
Terms of dispensing from pharmacies
Available without a prescription.
Reviews about Otrivin Complex
Reviews about Otrivin Complex are mostly positive. Patients note the rapid relief of nasal breathing and the elimination of increased nasal secretion in various diseases accompanied by rhinitis.
Among the minuses, there is a rather impressive list of side effects, of which, judging by the reviews, the most common is dryness of the nasal mucosa.
Price for Otrivin Complex in pharmacies
Approximate price for Otrivin Complex nasal spray (0.6 mg / ml + 0.5 mg / ml), per 10 ml bottle - 250 rubles.
Otrivin Complex: prices in online pharmacies
Drug name
Price
Pharmacy
Otrivin Complex 0.6 mg / ml + 0.5 mg / ml nasal spray 10 ml 1 pc.
210 RUB
Buy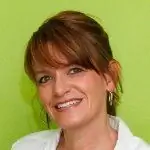 Maria Kulkes Medical journalist About the author
Education: First Moscow State Medical University named after I. M. Sechenov, specialty "General Medicine".
Information about the drug is generalized, provided for informational purposes only and does not replace the official instructions. Self-medication is hazardous to health!
Popular by topic