Table of contents: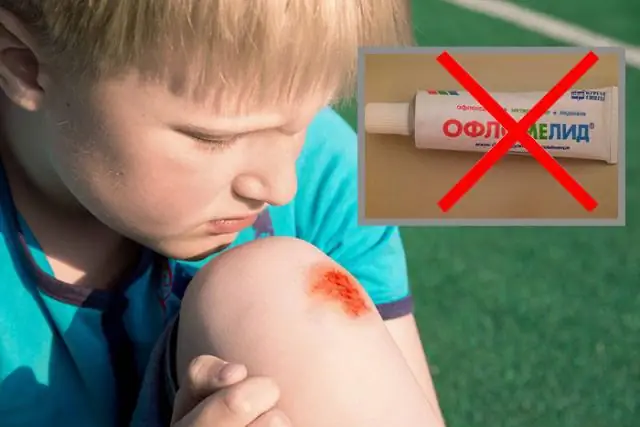 Video: Oflomelid - Instructions For Using The Ointment, Price, Reviews, Analogues
Oflomelide
Oflomelid: instructions for use and reviews
1. Release form and composition
2. Pharmacological properties
3. Indications for use
4. Contraindications
5. Instructions for use a: method and dosage
6. Side effects
7. Overdose
8. Special instructions
9. Application during pregnancy and lactation
10. Use in childhood
11. Drug interactions
12. Analogs
13. Terms and conditions of storage
14. Terms of dispensing from pharmacies
15. Reviews
16. Price in pharmacies
Latin name: Oflomelide
ATX code: D06BX
Active ingredient: Ofloxacin + Methyluracil + Lidocaine hydrochloride (Ofloxacine + Metyluracil + Lidocaine)
Manufacturer: Sintez JSC (Russia)
Description and photo updated: 2018-11-07
Prices in pharmacies: from 116 rubles.
Buy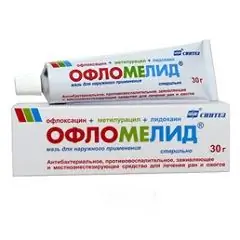 Oflomelide is a combined antimicrobial agent for external use.
Release form and composition
The dosage form of Oflomelid is a white or almost white ointment for external use (in aluminum tubes and orange glass jars sealed with plastic lids, 30, 50 and 100 g each, in polymer cans with first opening control, 200 and 400 g each; each tube / jar in cardboard box; packaging for hospitals: polymer jars with first opening control, 200 and 400 g each, plastic jars with a screw cap 1000 g each, orange glass jars of 1000 and 2000 g sealed with plastic lids).
Content of active substances in 100 g of ointment:
dioxomethyltetrahydropyrimidine (methyluracil) - 4 g;
lidocaine hydrochloride monohydrate - 3 g (in terms of lidocaine hydrochloride);
ofloxacin - 1 g
Additional components: macrogol-1500 (low molecular weight polyethylene glycol-1500, polyethylene oxide-1500), propyl parahydroxybenzoate (nipazole or propyl paraben), methyl parahydroxybenzoate (nipagin or methyl paraben), propylene glycol, macrogol-400 (low molecular weight polyethylene), polyethylene 400
Pharmacological properties
Oflomelide is a combined preparation with antimicrobial, local anesthetic, anti-inflammatory and regenerating action.
The hydrophilic (water-soluble) and hyperosmolar base of the ointment is a mixture of polyethylene oxides (polyethylene glycols) with a molecular weight of 400 and 1500 (PEO-400 and PEO-1500 or PEG-400 and PEG-1500). It provides moisture-absorbing (dehydrating) and osmotic effect of the drug on tissues, 20 times stronger than sodium chloride solution 10%, lasting up to 18–20 hours.
The active substances of the drug are ofloxacin, methyluracil and lidocaine.
Ofloxacin
It is an antimicrobial agent from the group of fluoroquinolones, has a wide spectrum of action. It has a bactericidal effect due to the blockade in bacterial cells of the enzyme DNA gyrase, which is necessary for transcription, replication, recombination and repair of bacterial DNA. Due to the inhibition of this enzyme, bacterial DNA unwinds and destabilizes, which leads to the death of the microbial cell.
The most sensitive (minimal inhibitory concentration <0.5 mg / l) to ofloxacin are the following microorganisms:
gram-negative aerobes: Citrobacter spp. (including freundii), Campylobacter jejuni, Bordetella spp., Aeromonas hydrophila, Brucella spp., Vibrio spp. (including V. cholerae, V. parahaemolyticus), Salmonella spp., Yersinia spp. (including Y. enterocolitica), Serratia (including S. marcescens), Providencia spp., Shigella spp. (including S. sonnei), Enterobacter spp. [including Enterobacter aerogenes, Enterobacter cloacae, Klebsiella spp. (including K. pneumonia), Plesiomonas spp., Haemophilus parainfluenzae, Haemophilus influenzae, Neisseria meningitides, Neisseria gonorrhoeae, Morganella morganii, Proteus spp. (P. mirabilis, indole + and indole - P. vulgaris), Haemophilus ducreyi, Escherichia coli, Moraxella (Branhamella) catarrhalis];
gram-positive aerobes: Staphylococcus aureus methi-S (methicillin-sensitive strains), Staphylococcus coagulase negative (coagulase-negative staphylococci: S. haemolyticus, S. saprophyticus, S. hominis, S. epidermidis, etc.);
anaerobes: Helicobacter pylori, Clostridium perfringens, Propionibacterium acnes;
others: Mycoplasma spp. (including hominis), Legionella spp., Chlamydia trachomatis.
The following microorganisms are moderately sensitive to ofloxacin: Mycobacterium tuberculosis, Acinetobacter spp. (including A. calcoaceticus), Chlamydia psittaci, Bacteroides fragilis, Mycobacterium leprae, Gardnerella vaginalis, Bacteroides urealyticus, Enterococcus faecalis, Ureaplasma urealyticum, penicillin-sensitive gram-positive strains of anaerobic s. (including S. pneumoniae, S. pyogenes, S. viridans), Pseudomonas spp. (including P. aeruginosa), Peptostreptococcus spp., Peptococcus spp.).
The following microorganisms are resistant (minimum inhibitory concentration> 1 mg / l) to the effects of ofloxacin: most strains of Enterococcus spp., Treponema pallidum, Acinetobacter baumannii, Nocardia spp. (including N. asteroids), Listeria monocytogenes, methicillin-resistant strains of Staphylococcus aureus and Staphylococcus spp. (Staphylococci methi-R).
Methyluracil
It stimulates tissue repair. Improves the process of cell regeneration in wounds by accelerating growth, tissue granulation maturation and epithelialization.
Lidocaine
It is an anesthetic, the mechanism of action of which is due to the blockade of Na + -channels, due to which the generation of impulses in the endings of sensitive neurons and the conduction of impulses along nerve fibers is prevented.
When applied externally, lidocaine dilates blood vessels, while it does not have a local irritating effect.
Indications for use
Oflomelid ointment is used to treat infected wounds of various origins and localization, which are in the first phase of the wound process (purulent-necrotic).
So, the drug is prescribed in the following cases: trophic ulcers, bedsores, infected burns of II-IV degrees, post-traumatic and postoperative fistulas and wounds, as well as wounds after opening phlegmon or abscesses, after surgical treatment of hydradenitis, lipomas, carbuncles, suppurating atheromas, abscessing boils and etc.
Contraindications
age up to 18 years;
pregnancy and lactation;
increased individual sensitivity to the components that make up the ointment.
Instructions for the use of Oflomelid: method and dosage
Oflomelid ointment is applied externally, for purulent wounds - 1 time per day, for burns - 1 time per day, daily or 2-3 times a week, depending on the amount of purulent exudate.
After standard treatment of burns and wounds, the ointment should be applied in a thin layer directly to the wound surface and covered with a sterile gauze bandage. You can also apply the ointment to a gauze bandage and use it as an application to the lesion. Gauze turundas with the drug are introduced into the fistulous passages. After surgical treatment, cavity purulent wounds are loosely filled with tampons soaked in ointment.
You can use no more than 100 g of ointment per day.
The duration of treatment with Oflomelid is usually 1-2 weeks, the specific duration of therapy is determined individually, depending on the dynamics of cleansing wounds from purulent discharge and the effectiveness of eliminating the inflammatory process.
Side effects
According to the instructions, Oflomelide may cause allergic reactions.
Overdose
The consequences of an overdose when applying the drug to the skin in excessive amounts are not described in the instructions for Oflomelid.
special instructions
Influence on the ability to drive vehicles and complex mechanisms
When applied externally, Oflomelid components do not reduce the reaction rate and do not affect the ability to concentrate.
Application during pregnancy and lactation
The appointment of Oflomelid is contraindicated for pregnant and breastfeeding women.
Pediatric use
Prescription of the drug for children and adolescents under the age of 18 is contraindicated.
Drug interactions
There have been no reports of drug interactions that would reduce the effectiveness and / or safety of concomitant drugs.
Analogs
There are no structural analogues of Oflomelid.
Terms and conditions of storage
Store in a dark place, out of reach of children, with a temperature of 15-25 ° С.
Shelf life is 4 years. After the first opening, the ointment in jars can be stored for no more than 3 months.
Terms of dispensing from pharmacies
Dispensed by prescription.
Reviews of Oflomelid
Traumatologists, surgeons, and combustiologists (physicians specializing in burn medicine) often prescribe Oflomelid because they consider it an effective means of preventing infection and suppuration of wound surfaces.
Patients also leave positive reviews about Oflomelide. In their opinion, the drug quickly heals wounds and burns, relieves pain well, is convenient to use (since it is applied no more than once a day), does not have side effects.
The price of Oflomelid in pharmacies
The price of Oflomelid, depending on the volume of the tube / can: 30 g - 90–180 rubles, 50 g - 130–220 rubles, 100 g - 275–365 rubles, 400 g - 770–1080 rubles.
Oflomelid: prices in online pharmacies
Drug name
Price
Pharmacy
Oflomelide ointment for external use 30 g 1 pc.
116 RUB
Buy
Oflomelide ointment for external use 50 g 1 pc.
164 RUB
Buy
Oflomelide ointment for outside. approx. 30g
174 r
Buy
Oflomelide ointment for outside. approx 50g
208 RUB
Buy
Oflomelide ointment for external use 100 g 1 pc.
RUB 350
Buy
Oflomelide ointment for outside. approx. tube 100g
465 RUB
Buy
Anna Kozlova Medical journalist About the author
Education: Rostov State Medical University, specialty "General Medicine".
Information about the drug is generalized, provided for informational purposes only and does not replace the official instructions. Self-medication is hazardous to health!
Popular by topic