Table of contents: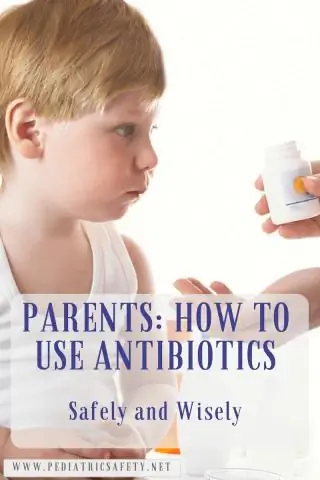 Video: Oxamp - Instructions, Use For Children, Antibiotic Price, Analogues
Oxamp
Oxamp: instructions for use and reviews
1. Release form and composition
2. Pharmacological properties
3. Indications for use
4. Contraindications
5. Method of application and dosage
6. Side effects
7. Overdose
8. Special instructions
9. Use in childhood
10. In case of impaired renal function
11. For violations of liver function
12. Drug interactions
13. Analogs
14. Terms and conditions of storage
15. Terms of dispensing from pharmacies
16. Reviews
17. Price in pharmacies
Latin name: Oxamp
ATX code: J01CR50
Active ingredient: Ampicillin + Oxacillin (Ampicillin + Oxacillin)
Producer: JSC Sintez (Russia)
Description and photo update: 2019-12-08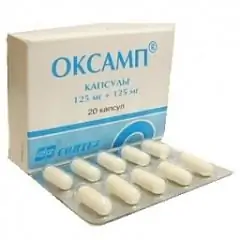 Oxamp is a combined antibiotic drug (semi-synthetic penicillins).
Release form and composition
Oxamp is produced in the form of capsules (10 pcs. In blisters, 1 or 2 packages in a cardboard box; 20 pcs. In cans, 1 can in a cardboard box).
1 capsule contains active substances:
Ampicillin 125 mg (as ampicillin trihydrate)
Oxacillin - 125 mg (as sodium oxacillin).
Auxiliary components: potato starch, powdered sugar (sucrose).
The composition of the gelatin capsule: propyl parahydroxybenzoate, gelatin, titanium dioxide, methyl parahydroxybenzoate, acetic acid.
Pharmacological properties
Pharmacodynamics
Oxamp is a combined antibiotic that combines the spectrum of action of oxacillin and ampicillin.
Ampicillin is a semi-synthetic penicillin that is resistant to acids and has a bactericidal effect. It is active against gram-negative (Haemophilus influenzae, Neisseria meningitidis, Neisseria gonorrhoeae, Proteus mirabilis, Escherichia coli, Shigella spp., Salmonella spp.) And gram-positive, not participating in the formation of penicillinase (Streptococcus spp., St.) microorganisms.
Oxacillin is a semi-synthetic antibiotic belonging to the penicillin category and resistant to acids and penicillinase. It is characterized by a bactericidal action against gram-negative cocci (Neisseria meningitidis, Neisseria gonorrhoeae), gram-positive microorganisms (anaerobic spore-forming rods, including Clostridium spp., Staphylococcus spp., Corynebacterium diphtheria, Streptococcus pneumoniae anthracis, Streptococcus spp. spp.), Treponema spp., Escherichia coli, Actinomyces spp., Proteus mirabilis, Klebsiella pneumoniae, Haemophilus influenzae.
Morganella morganii, Pseudomonas aeruginosa and other non-fermenting gram-negative bacteria, Providencia rettgeri, and most Proteus vulgaris strains are resistant to Oxampus.
Pharmacokinetics
When taken orally, almost the entire dose of Oksamp is absorbed into the bloodstream. The maximum concentrations of the active components of the drug are found in the blood 1.5-2 hours after ingestion. Both antibiotics are excreted mainly in the urine, partly in the bile. Repeated administration of the drug does not lead to the accumulation of its active substances in the body.
Indications for use
Antibiotic Oxamp is prescribed for the treatment of infectious and inflammatory diseases caused by microorganisms that are sensitive to the action of active substances:
Infections of soft tissues and skin, including impetigo, erysipelas, secondarily infected dermatoses;
Cholecystitis, cholangitis;
Tonsillitis, sinusitis, otitis media;
Gonorrhea, pyelonephritis, cystitis, pyelitis, urethritis, cervicitis;
Bronchitis, pneumonia.
Contraindications
Lymphocytic leukemia;
Infectious mononucleosis;
Hypersensitivity to drug components.
Oksamp children are not prescribed under the age of 3 years.
For pregnant women, the drug is used only after the balance of benefits with the risk to the health of the mother and child. During lactation, if it is necessary to take the drug, it is recommended to interrupt breastfeeding.
Instructions for the use of Oksamp: method and dosage
Oxamp is taken orally.
Recommended dosing regimen (indicated dosages are the sum of the doses of two active ingredients in a fixed ratio of 1: 1).
Adults and children from 14 years old: single dose - 0.5-1 g, daily dose - 2-4 g;
Children 7-14 years old: daily dose - 0.05 g / kg (in 4-6 doses);
Children 3-7 years old: daily dose - 0.1 g / kg (in 4-6 doses).
The duration of the treatment course can vary from 5-7 to 14 days.
Side effects
Hematopoietic system: neutropenia, leukopenia, anemia;
Digestive system: change in taste, dysbiosis, vomiting, diarrhea, nausea; rarely - pseudomembranous enterocolitis;
Allergic reactions: skin hyperemia, urticaria, rhinitis, angioedema, conjunctivitis, arthralgia, fever, eosinophilia; rarely - anaphylactic shock;
Others: superinfection.
Overdose
You can determine an overdose of Oxamp by increasing the severity of side effects. If you feel worse, it is recommended to rinse the stomach, take activated charcoal and carry out symptomatic therapy.
special instructions
In patients with renal failure, during therapy with high doses of Oxamp, toxic effects on the central nervous system are possible.
When carrying out a long course of therapy, the functional state of the hematopoietic organs, kidneys and liver should be monitored.
With the likelihood of developing superinfection (associated with the growth of microflora insensitive to it), an appropriate change in antibacterial treatment is required.
In the presence of hypersensitivity to penicillins, it is possible to develop cross-allergic reactions with antibiotics of the cephalosporin group.
If symptoms of anaphylactic shock appear while taking the drug, urgent measures must be taken to remove the patient from this condition, including the administration of epinephrine, antihistamines and glucocorticosteroids, if necessary, artificial ventilation of the lungs should be performed.
Pediatric use
According to the instructions, Oxamp can be used for children according to indications. The drug must be used with caution in children whose mothers are hypersensitive to penicillins.
With impaired renal function
When taking Oxamp in high doses in patients with renal insufficiency, the drug can have a toxic effect on the central nervous system. During the course of treatment, constant monitoring of renal function is required.
For violations of liver function
Course treatment requires constant monitoring of the functioning of the liver.
Drug interactions
When the antibiotic Oxamp is used together with some drugs, the following effects may occur:
Glucosamine, antacids, laxatives, food, aminoglycosides (enteral administration): slowing down and decreasing the absorption of Oxamp;
Bactericidal antibiotics (including rifampicin, cephalosporins, aminoglycosides, vancomycin): potentiation of the action;
Bacteriostatic drugs (tetracyclines, chloramphenicol, macrolides, lincosamides, sulfonamides): antagonistic action;
Indirect anticoagulants: increasing their effectiveness, as well as suppressing intestinal microflora, reducing the synthesis of vitamin K and prothrombin index;
Ascorbic acid: increased absorption of Oxamp;
Oral contraceptives, ethinyl estradiol, drugs, in the process of metabolism of which para-aminobenzoic acid is formed: decrease in their effectiveness;
Allopurinol: increased likelihood of developing a skin rash;
Tubular secretion blockers, diuretics, phenylbutazone, allopurinol, nonsteroidal anti-inflammatory drugs and other drugs that block tubular secretion: an increase in the concentration of Oxamp in plasma, which increases the likelihood of toxic effects.
Analogs
Oksamp analogs are: Amoxiclav, Ampisid, Augmentin, Klamosar, Baktoklav, Medoklav, Libakcil, Sulbatsin, Flemoklav Solutab, Fibell, Ekoklav, Ampicillin + Oxacillin, Ampiox, Oksamsar, Oxampicin.
Terms and conditions of storage
Store in a dark, dry place out of reach of children at temperatures up to 20 ° C.
Shelf life is 2 years.
Terms of dispensing from pharmacies
Dispensed by prescription.
Reviews about Oksamp
There are both positive and sharply negative reviews about Oksamp. The drug is effective when properly prescribed (if the causative agents of the infection are accurately diagnosed and sensitive to the active components) and a properly selected course of treatment (compliance with the frequency of taking certain doses and the duration of therapy).
Price for Oxamp in pharmacies
At the moment, the price for Oxamp is 70–93 rubles (for a pack of 20 capsules).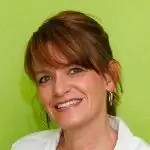 Maria Kulkes Medical journalist About the author
Education: First Moscow State Medical University named after I. M. Sechenov, specialty "General Medicine".
Information about the drug is generalized, provided for informational purposes only and does not replace the official instructions. Self-medication is hazardous to health!
Popular by topic