Table of contents: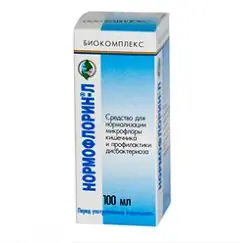 Video: Normoflorin - Instructions For Use, Reviews, Analogues
Normoflorin
Instructions for use:
1. Pharmacological action
2. Release form
3. Indications for use
4. Method of application
5. Side effects
6. Contraindications
Normoflorin is a remedy that restores intestinal microflora.
Pharmacological action Normoflorin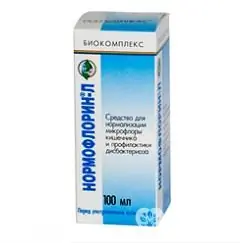 Normoflorin is considered a dietary supplement used for prophylactic and therapeutic purposes. 1 ml of the product contains 1 billion lactobacilli, 100 million bifidobacteria and bacterial waste products such as vitamins, amino acids, prebiotic lactitol, organic acids, antimicrobial substances.
Thanks to this composition, Normoflorin prevents the ingress of endotoxins into the body, inhibits the activity of pathogenic microorganisms, restores the protective film on the mucous membranes of internal organs, stimulates intestinal motility and the production of interferons, reduces the amount of cholesterol in the blood, and helps to break down lactose.
There are reviews about Normoflorin, indicating that after using a food supplement, immunity improves, and the risk of developing allergic dermatitis decreases.
The drug has a low acidity, so it can be prescribed for acid-dependent forms of erosions and gastrointestinal ulcers.
Release form
Normoflorin is available as an oral solution.
The full analogue of Normoflorin is Euphlorin, and Linex and Bifidumbacterin are similar in action.
Indications for use
Normoflorin is included in the complex therapy of duodenitis, pancreatitis, cholecystitis, peptic ulcer, colitis, gastritis, hepatitis, proctosigmoiditis, acute intestinal infections: salmonellosis, rotavirus and enterovirus infections, shigellosis, staphylococcal enterocolitis.
The Normoflorin instructions indicate that the drug can be used for dysbiosis, allergic diseases, immunodeficiency, while taking antibiotics.
There are positive reviews about Normoflorin, which has been successfully used to restore intestinal microflora by pregnant and lactating women.
Mode of application
The drug is taken half an hour before meals 2 times a day.
For preventive purposes, children 3-7 years old. give 7 ml of the product; children 8-14 years. - 10 ml; children over 14 y.o. - 15 ml.
For adults, Normoflorin can be taken in a dosage of 20 ml for prophylaxis.
In more serious cases, when a biologically active additive is included in the complex therapy of various gastrointestinal diseases, the dosage is increased: children 3-7 liters. give 7-10 ml; children 8-14 years. - 10-15 ml; children over 14 y.o. - 15-20 ml; adults are advised to take 20-30 ml.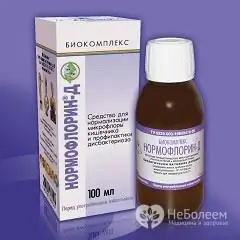 Prevention with the help of the tool lasts two weeks, and the treatment lasts a month.
It is recommended to shake the bottle with a mixture of bacteria before use. With a high acidity of gastric juice, Normoflorin is diluted with non-carbonated, slightly alkaline mineral water.
The drug is often prescribed during antibiotic therapy, from the first day of its administration, 2-4 hours after taking the antibiotic.
Analogues of Normoflorin are taken only on the recommendation of a doctor.
Side effects of Normoflorin
There is no data on the side effects of the drug.
Contraindications
According to the instructions, Normoflorin is not prescribed for individual intolerance.
Information about the drug is generalized, provided for informational purposes only and does not replace the official instructions. Self-medication is hazardous to health!
Popular by topic