Table of contents: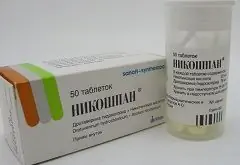 Video: Nikoshpan - Instructions, Analogue, Indications
Nikoshpan
Instructions for use:
1. Pharmacological action
2. Release form
3. Indications for use
4. Contraindications
5. Instructions for use
6. Side effects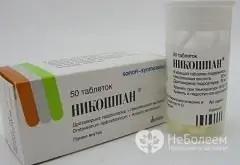 Nikoshpan is a vasodilator.
pharmachologic effect
Nikoshpan is a combined remedy, which contains nicotinic acid and drotaverine hydrochloride, therefore its therapeutic effect is due to the pharmacological action of each of the components.
Nicotinic acid is involved in the process of tissue respiration, dilates blood vessels, and participates in the metabolism of fats. Drotaverine has a relaxing effect on muscle tissue.
The combination of the components makes it possible to eliminate the pain caused by vasospasm.
Release form
You can buy Nikoshpan in tablets and in solution.
An analogue of Nikoshpan is nicotinic acid.
Indications for use of Nikoshpan
According to the instructions, Nikoshpan is used for atherosclerotic encephalopathy, cerebral angiospasm, obliterating endarteritis, coronary atherosclerosis, angiospasm that occurs during menopause.
A good effect is observed after using the drug to relieve migraines, common headaches.
Contraindications
According to the instructions, Nikoshpan is contraindicated in severe cardiac, hepatic, renal failure, in children under 18 years of age, with hypersensitivity.
Among the excipients of the drug is lactose, so it should not be taken by patients with lactose intolerance: disorders in the digestive tract may develop.
It was found that the remedy does not refuse a negative effect on the fetus, but before buying Nikoshpan, nursing, a pregnant woman should get an appropriate doctor's recommendation, because studies on the safety of the drug in these conditions have not been conducted.
During treatment with Nikoshpan, it should be borne in mind that it reduces the effectiveness of oral contraceptives and drugs that lower sugar levels, as well as the drug Levodopa for the treatment of Parkinson's disease.
The simultaneous use of the drug with statins can cause myopathy and acute rhabdomyolysis.
Instructions for the use of Nikoshpan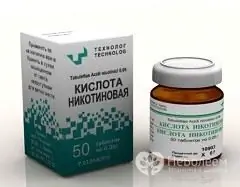 Nikoshpan is taken one tablet 1-3r / day or injected subcutaneously, intramuscularly, 1-2ml, one or two r / day.
If necessary, you can inject Nikoshpan into a vein at a dosage of 1 ml.
For the treatment of peripheral circulatory disorders, the agent is injected into the artery on the thigh - 1-2 ml.
To eliminate migraines and angiospasms, tablets are best taken on an empty stomach, for other indications - after meals.
Side effects
Nikoshpan can cause dizziness, rash, nausea, dyspepsia, headache, decreased blood pressure, burning sensation at the injection site, fainting, itching, insomnia, and constipation.
Similar side effects are observed after the use of an analogue of Nikoshpan: redness of the trunk, face, dizziness, numbness of the extremities, decreased pressure.
Information about the drug is generalized, provided for informational purposes only and does not replace the official instructions. Self-medication is hazardous to health!
Popular by topic