Table of contents: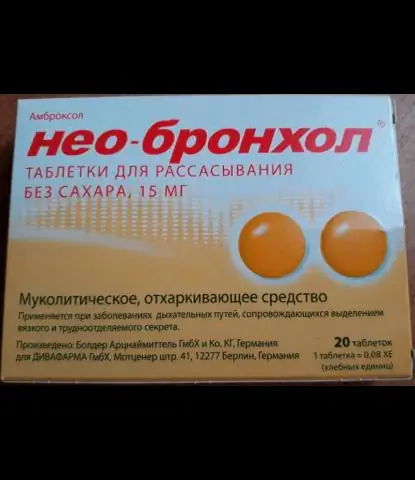 Video: Neo-Bronchol - Instructions For The Use Of Lozenges, Price
Neo-Bronchol
Neo-Bronchol: instructions for use and reviews
1. Release form and composition
2. Pharmacological properties
3. Indications for use
4. Contraindications
5. Method of application and dosage
6. Side effects
7. Overdose
8. Special instructions
9. Application during pregnancy and lactation
10. Use in childhood
11. In case of impaired renal function
12. For violations of liver function
13. Drug interactions
14. Analogs
15. Terms and conditions of storage
16. Terms of dispensing from pharmacies
17. Reviews
18. Price in pharmacies
Latin name: Neo-Bronchol
ATX code: R05CB06
Active ingredient: ambroxol (ambroxol)
Producer: Paul Bolder Arzneimittelfabrik (Germany)
Description and photo updated: 22.11.2018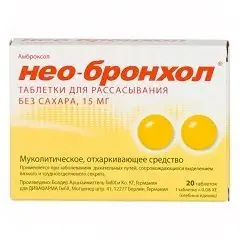 Neo-Bronchol is a drug with secretomotor, secretolytic and expectorant effects.
Release form and composition
The dosage form of Neo-Bronchol is lozenges (sugar-free): round, light brown, convex on one side, concave on the other, have a rough surface and a light mint aroma; non-uniformity of coloring, slight unevenness of edges, air bubbles in the tablet mass (in a cardboard box 2-4 blisters of 10 tablets each) are permissible.
Composition of 1 tablet:
active substance: ambroxol hydrochloride - 15 mg;
auxiliary components: acacia, 70% sorbitol solution, peppermint leaf oil, eucalyptus leaf oil, sodium saccharinate dihydrate, liquid paraffin, purified water.
Pharmacological properties
Pharmacodynamics
Neo-Bronchol is one of the mucolytic agents that stimulate prenatal lung development (increases the synthesis, secretion of surfactant and blocks its breakdown). It has a secretomotor, secretolytic and expectorant effect.
The main properties of Ambroxol:
stimulation of serous cells of the glands of the bronchial mucosa;
an increase in the content of mucous secretions and the release of a surfactant (surfactant) in the bronchi and alveoli;
normalization of the disturbed ratio of mucous and serous components of sputum;
a decrease in the viscosity of sputum, which occurs due to the activation of hydrolyzing enzymes and an increase in the release of lysosomes from Clara cells;
increased motor activity of the ciliated epithelium, increased mucociliary transport.
The action of Neo-Bronchol develops 30 minutes after ingestion. Its duration is from 6 to 12 hours.
Pharmacokinetics
Ambroxol has a high absorption, the maximum concentration in the blood is reached in 2 hours, the connection with plasma proteins is 85%.
Penetrates the blood-brain and placental barriers, excreted in breast milk.
The metabolic process occurs in the liver with the formation of dibromantranilic acid and glucuronic conjugates. T 1/2 (half-life) ranges from 7 to 12 hours.
Excreted by the kidneys: 10% - unchanged, 90% - as water-soluble metabolites.
In severe chronic renal failure, T 1/2 increases by 20-40%.
Indications for use
According to the instructions, Neo-Bronchol is prescribed for the treatment of respiratory diseases, which are accompanied by the release of a difficult and viscous secretion:
acute and chronic bronchitis;
chronic obstructive pulmonary disease;
pneumonia;
bronchiectasis;
bronchial asthma with difficulty in sputum discharge.
Contraindications
Absolute:
I trimester of pregnancy;
age up to 6 years;
individual intolerance to the components of the drug.
Relative (Neo-Bronchol is prescribed under medical supervision):
peptic ulcer of the stomach and duodenum;
impaired renal function;
liver failure;
bronchial diseases associated with excessive sputum production;
II – III trimesters of pregnancy and lactation.
Instructions for the use of Neo-Bronchol: method and dosage
Neo-Bronchol lozenges should be taken after meals, dissolving in the mouth until completely dissolved.
Recommended dosage regimen:
children 6–12 years old: 2–3 times a day, 1 tablet, maximum - 3 tablets a day;
children over 12 years old and adults: 3 times a day, 2 tablets for 2-3 days of therapy, maximum 6 tablets a day. In the future, the drug is recommended to be taken 3 times a day, 1 tablet.
In order to achieve a greater mucolytic effect during the period of taking Neo-Bronchol, you need to consume a sufficient amount of liquid.
If there is no other doctor's prescription, therapy should not be carried out longer than 4–5 days.
Side effects
digestive system: rarely - nausea, diarrhea, constipation, gastralgia, vomiting;
respiratory system: dryness in the airways;
urinary system: dysuria;
allergic reactions: contact dermatitis, skin rash, urticaria, itching; in isolated cases - exanthema, angioedema, anaphylactic shock;
others: rhinorrhea, headache, weakness.
Overdose
Main symptoms: dyspepsia, nausea, diarrhea, vomiting.
Therapy: in the first 1-2 hours after taking the drug - gastric lavage, artificial vomiting; taking fat-containing foods.
special instructions
The composition of 1 tablet includes a 70% solution of uncrystallized sorbitol - 922.2 mg (in the form of dry matter), which corresponds to 0.08 XE (grain units).
Application during pregnancy and lactation
I trimester of pregnancy: therapy is contraindicated;
II – III trimesters of pregnancy and lactation: Neo-Bronchol can be used under medical supervision.
Pediatric use
Neo-Bronchol lozenges are not prescribed for patients under 6 years of age.
With impaired renal function
Renal dysfunction: Neo-Bronchol can be used under medical supervision.
For violations of liver function
Hepatic impairment: Neo-Bronchol can be used under medical supervision.
Drug interactions
Possible interactions:
antitussive drugs: difficulty in sputum discharge against the background of a decrease in cough;
amoxicillin, erythromycin, cefuroxime, doxycycline: an increase in their penetration into the bronchial secretions.
Analogs
Neo-Bronchol analogs are: Lazongin, Ambrosan, Remebrox, Bronchoxol, AmbroGEXAL, Ambroxol, Flavamed, Medox, Ambrolor, Suprima-kof, Bronhorus, Lazolvan, Ambrobene, Halixol, Ambrohexal.
Terms and conditions of storage
Store in a place protected from light at temperatures up to 25 ° C. Keep out of the reach of children.
Shelf life is 4 years.
Terms of dispensing from pharmacies
Available without a prescription.
Reviews about Neo-Bronchol
According to reviews, Neo-Bronchol has a quick effect - it promotes the excretion of phlegm and softens the throat. They note a convenient dosage form and the fact that the drug in comparison with analogues has a low cost. Some point to the unpleasant taste of the pills. There are practically no reports of the development of adverse reactions.
Price for Neo-Bronchol in pharmacies
The approximate price for Neo-Bronchol (20 tablets) is 119-164 rubles.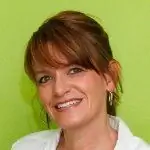 Maria Kulkes Medical journalist About the author
Education: First Moscow State Medical University named after I. M. Sechenov, specialty "General Medicine".
Information about the drug is generalized, provided for informational purposes only and does not replace the official instructions. Self-medication is hazardous to health!
Popular by topic