Table of contents: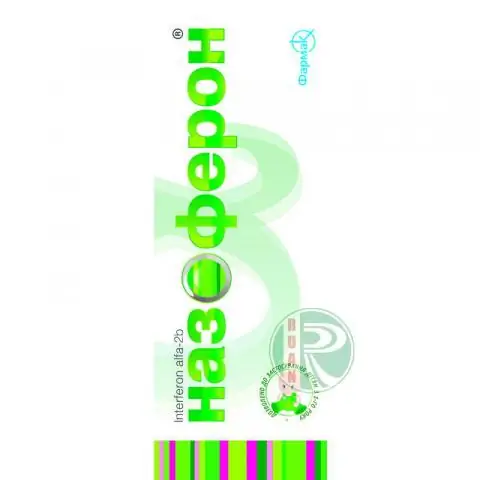 Video: Nazoferon - Instructions For Use, Price, Reviews, Spray, Drops
Nazoferon
Nazoferon: instructions for use and reviews
1. Release form and composition
2. Pharmacological properties
3. Indications for use
4. Contraindications
5. Method of application and dosage
6. Side effects
7. Overdose
8. Special instructions
9. Application during pregnancy and lactation
10. Use in childhood
11. Drug interactions
12. Analogs
13. Terms and conditions of storage
14. Terms of dispensing from pharmacies
15. Reviews
16. Prices in pharmacies
Latin name: Nazoferon
ATX code: L03AB05
Active ingredient: interferon alfa-2b (interferon alfa-2b)
Producer: FARMAK, PJSC (Ukraine)
Description and photo updated: 28.08.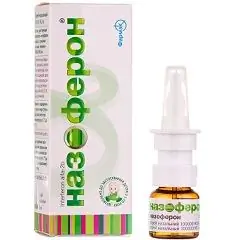 Nazoferon is a drug with immunomodulatory, antimicrobial, antiviral and anti-inflammatory effects.
Release form and composition
Nazoferon is available in two dosage forms:
Nasal drops: colorless, transparent (5 ml in glass vials sealed with droppers, 1 bottle in a cardboard box);
Nasal spray: colorless, transparent (5 ml in glass bottles closed by a pump-dispenser, 1 bottle in a cardboard box, complete with a nasal spray).
Each pack also contains instructions for the use of Nazoferon.
The composition of 1 ml drops and nasal spray includes:
Active ingredient: alpha-2b recombinant human interferon - not less than 100,000 IU (international units);
Auxiliary components: lysine hydrochloride, potassium chloride, edetate disodium, trometamol hydrochloride, trometamol, hypromellose, methyl parahydroxybenzoate, water for injection.
Pharmacological properties
Pharmacodynamics
Nazoferon is an agent with antiviral, antimicrobial, anti-inflammatory and immunomodulatory effects.
Interferon - the active substance of Nazoferon - a mediator of immunity, has a pronounced tissue specificity, helps to protect the body from pathogens of infectious diseases.
The main effects of interferon:
Suppression of viral replication (influenza viruses, adenoviruses) due to an inhibitory effect on the processes of transcription and translation;
Suppression of cell reproduction - most DNA and RNA-containing viruses (antiproliferative effect); initiation of the synthesis of protein kinase - a specific enzyme that interferes with translation due to phosphorylation of one of the initiating factors of this process;
Activation of a specific ribonuclease, which damages the messenger RNA of the virus;
Induction of specific enzymes;
Stimulating the production of other cytokines;
Immunomodulation (increased phagocytic activity of macrophages and specific cytotoxicity of lymphocytes towards target cells);
Inhibition of cell proliferation.
Indications for use
Nasoferon drops and spray are prescribed for the treatment and prevention of acute respiratory viral infections and colds in patients of all ages. The drug is used for prolonged and frequent diseases of the upper respiratory tract, as well as in the following situations:
Contact with patients with acute respiratory viral infections;
Hypothermia;
Seasonal increase in morbidity in organized groups, adults and children, especially during periods of epidemics (in the high-risk group - medical workers, teachers, kindergarten teachers, etc.).
Contraindications
Age up to 1 month (drops) or 1 year (nasal spray);
Pregnancy and lactation;
Severe forms of allergic diseases (in history);
Hypersensitivity to drug components.
Nazoferon, instructions for use: method and dosage
Therapy of acute respiratory viral infections should be started at the development of the first signs of the disease (within 5 days).
Usually, the following dosing regimen is prescribed (frequency of application / single dose (number of drops or spray doses in each nasal passage) / daily dose):
Children from 1 month and children up to 1 year: drops - 5 times a day / 8000 IU (1 drop) / 40 000 IU;
Children 1-3 years old: drops - 3-4 times a day / 16,000 IU (2 drops) / 48,000-64,000 IU; spray - 3-4 times a day / 20,000 IU (2 spray doses) / 60,000-80,000 IU;
Children 3-14 years old: drops - 4-5 times a day / 16,000 IU (2 drops) / 64,000-80,000 IU; spray - 4-5 times a day / 20,000 IU (2 spray doses) / 80,000-100,000 IU;
Adults: drops - 5-6 times a day / 24,000 IU (3 drops) / 120,000-144,000 IU; spray - 5-6 times a day / 30,000 IU (3 spray doses) / 150,000-180,000 IU.
In case of contact with patients and hypothermia, Nazoferon is prescribed for prophylactic purposes 2 times a day in accordance with the age dosage, the duration of the course is 5-7 days. If necessary, preventive courses can be repeated. With a single contact with patients, one injection or instillation is usually sufficient.
For prophylaxis with a seasonal increase in the incidence, Nazoferon is used in the morning once in accordance with the age dosage with an interval of 1-2 days.
Side effects
In isolated cases, when using Nazoferon, a skin rash may occur.
Overdose
There is no information.
special instructions
Before using Nazoferon in the form of nasal drops, you need to take a sitting position or lying on your back. When instilling, do not touch the inner walls of the nose with the dropper bottle. To evenly distribute drops over the nasal mucosa immediately after the procedure for several minutes, you need to massage the wings of the nose with your fingers.
Nasoferon nasal spray should be applied while in an upright position. Before first use, you must activate the nebulizer by pressing.
If the labeling and the integrity of the package are violated, as well as in cases of changes in the physical properties of Nazoferon (transparency or color), the drug should not be used in any dosage form.
To avoid the spread of infection, individual use of the drug is recommended.
Application during pregnancy and lactation
Nazoferon is not prescribed during pregnancy / lactation.
Pediatric use
Contraindication:
Drops: up to 1 month;
Spray: up to 1 year.
Drug interactions
When using Nazoferon in uncomplicated cases, additional symptomatic therapy (for example, paracetamol, sulfonamides, vasoconstrictor nasal drops) is not required.
The simultaneous use of Nazoferon with intranasal vasoconstrictor drugs is not recommended, since they can lead to dryness of the nasal mucosa.
At elevated body temperature, it is possible to carry out a combination treatment with anti-inflammatory drugs.
Analogs
Analogues of Nazoferon are: Interferon alpha-2b, Arbidol, Amiksin, Viferon.
Terms and conditions of storage
Store in a dark place, out of reach of children, at a temperature of 2-8 ° C.
Shelf life is 2 years.
Drops or spray after opening the bottle can be used for 10 days, provided that the drug is stored at a temperature of 2-8 ° C (in the refrigerator).
Terms of dispensing from pharmacies
Available without a prescription.
Reviews about Nazoferon
Reviews about Nazoferon are different. Many users were satisfied with the therapeutic effect of the drug, especially in the case of its use for prophylactic purposes. Others point out low efficiency or complete lack of effect. The cost of the funds is assessed as high. The disadvantage is the short shelf life of drops and spray after opening the package. There are practically no reports of the development of side effects.
Price for Nazoferon in pharmacies
The price of Nazoferon is unknown, since the drug is not available in pharmacies.
The approximate cost of analogs: Human leukocyte interferon (lyophilisate for preparing a solution for intranasal administration of 1000 IU, 10 ampoules) - 93 rubles, Amiksin (6 tablets of 125 mg each) - 552–653 rubles, Anaferon (20 tablets for resorption) - 201 –223 rubles.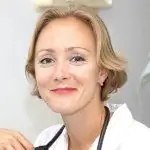 Anna Kozlova Medical journalist About the author
Education: Rostov State Medical University, specialty "General Medicine".
Information about the drug is generalized, provided for informational purposes only and does not replace the official instructions. Self-medication is hazardous to health!
Popular by topic