Table of contents: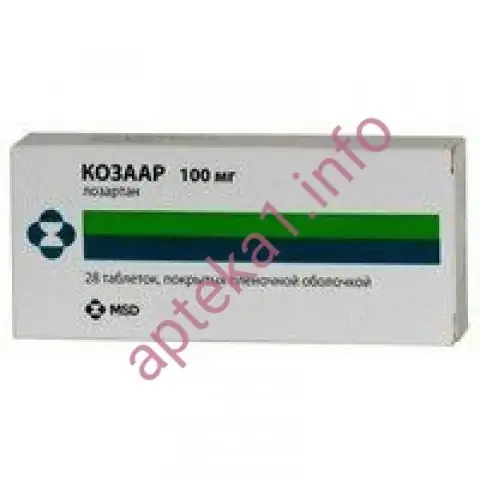 Video: Kozaar - Instructions For The Use Of Tablets, Price, Analogs, Reviews
Kozaar
Kozaar: instructions for use and reviews
1. Release form and composition
2. Pharmacological properties
3. Indications for use
4. Contraindications
5. Method of application and dosage
6. Side effects
7. Overdose
8. Special instructions
9. Application during pregnancy and lactation
10. Drug interactions
11. Analogs
12. Terms and conditions of storage
13. Terms of dispensing from pharmacies
14. Reviews
15. Price in pharmacies
Latin name: Cozaar
ATX code: C09CA01
Active ingredient: Losartan (Losartan)
Producer: Merck Sharp and Dome B. V., Netherlands
Description and photo update: 2019-13-08
Prices in pharmacies: from 85 rubles.
Buy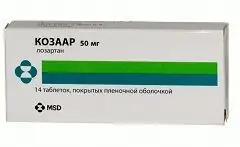 Kozaar is an angiotensin II receptor antagonist.
Release form and composition
Cozaar dosage form - film-coated tablets: white, oval-shaped tablets have a dividing line on one side and engraving "952" - on the other, drop-shaped - engraving "960" on one side and a smooth surface on the other (by 50 mg, 14 pcs.; 100 mg, 7 or 14 pcs. In blisters, in a cardboard box 1 or 2 blisters).
The active ingredient is losartan potassium, in 1 tablet - 50 or 100 mg.
Auxiliary components: pregelatinized corn starch, lactose monohydrate, microcrystalline cellulose, magnesium stearate.
Shell composition: hypromellose, hyprolose (with 0.3% silicon dioxide), carnauba wax, titanium dioxide.
Pharmacological properties
Cozaar is characterized by hypotensive action.
Pharmacodynamics
Losartan belongs to the selective antagonists of AT 1 -receptors of angiotensin II, which are highly effective when taken orally. This compound and its carboxylated metabolite (E-3174), also characterized by pharmacological activity, both in vivo and in vitro, block any physiological effects associated with angiotensin II, regardless of its source of origin or the method of synthesis. Compared to some other peptide angiotensin II antagonists, the active ingredient of Cozaar does not possess agonist characteristics.
Losartan selectively binds to AT 1 -receptors, and there is no binding and blocking of receptors of other hormones and ion channels responsible for regulating the functioning of the cardiovascular system. Also, the compound is not an inhibitor of the angiotensin-converting enzyme (ACE, kininase II), which promotes the destruction of bradykinin. Therefore, the action of losartan does not include effects that are not directly related to the blockade of AT 1 receptors : the development of edema or an increase in bradykinin-mediated effects (when taking losartan, they increase by no more than 1.7%, in the case of placebo - by 1.9%).
Losartan prevents an increase in diastolic and systolic blood pressure during angiotensin II infusion. When the maximum concentration of this compound in the blood plasma is reached after taking Cozaar at a dose of 100 mg, the above effect of angiotensin II decreases by about 85%, and after 1 day, both with a single and with multiple doses - by 26–39%.
During treatment with losartan, negative feedback is eliminated, which is expressed in the suppression of renin synthesis by angiotensin II, which increases the activity of blood plasma renin (ARP). The growth of ARP causes an increase in the content of angiotensin II in the blood plasma.
With the six-week treatment of patients with arterial hypertension with Kozaar in a daily dose of 100 mg, there is an increase in the level of angiotensin II in the blood plasma by 2-3 times at the time the maximum possible level of losartan is reached. In some patients, an even greater increase in the content of angiotensin II in the blood was observed, especially with a short duration of therapy (up to 2 weeks). However, in the course of treatment, a decrease in the concentration of aldosterone in the blood plasma and the antihypertensive effect are observed after 2 and 6 weeks of therapy, which indicates the effectiveness of blockade of angiotensin II receptors. After the cancellation of Cozaar, ARP and the concentration of angiotensin II for 3 days decrease to the values recorded before the start of treatment with losartan.
The content of losartan and its active metabolite in the blood plasma, as well as the antihypertensive effect of losartan, increase with an increase in the dose of Cozaar. Since losartan and its active metabolite are angiotensin II receptor antagonists, they both make almost the same contribution to the development of the antihypertensive effect.
Healthy male volunteers took part in a study of the effects of Cozaar on the body when taken orally with a high- and low-salt diet. The experiment proved that a single dose of losartan at a dose of 100 mg does not affect the glomerular filtration rate, renal plasma flow efficiency and filtration fraction. Losartan was characterized by a natriuretic effect, more pronounced with a low-salt diet and, probably, not associated with the suppression of early sodium reabsorption occurring in the proximal renal tubules. The active component of Kozaar also caused a temporary increase in the excretion of uric acid through the kidneys.
In patients with arterial hypertension and proteinuria (at least 2 g / 24 hours), who do not have diabetes mellitus and who take Cozaar for 8 weeks at a dose of 50 mg with its gradual increase to 100 mg, there was a reliably recorded decrease in proteinuria by 42%, as well as a decrease in the fractional excretion of immunoglobulins and albumin. In this category of patients, losartan normalized the glomerular filtration rate and reduced the filtration fraction.
In women with arterial hypertension in the postmenopausal period and taking Cozaar at a dose of 50 mg for 4 weeks, no effect of treatment on the systemic and renal concentration of prostaglandins was recorded.
Losartan does not affect autonomic reflexes and is not characterized by a prolonged effect in relation to the level of norepinephrine in blood plasma.
Taking losartan in daily doses of up to 150 mg did not cause serious changes in blood glucose and fasting triglyceride concentrations, as well as high-density lipoprotein cholesterol and total cholesterol in patients with arterial hypertension.
Pharmacokinetics
When taken orally, losartan is absorbed and metabolized quite well. It is characterized by the effect of the "first pass" through the liver with the formation of a carboxylated metabolite with pharmacological activity and inactive metabolites. The systemic bioavailability of the substance in tablet form is approximately 33%. The maximum concentrations of losartan and its active metabolite are recorded on average 1 hour and 3-4 hours after administration, respectively. When Cozaar is consumed during a standard meal, the concentration profile of the active component in the blood plasma remains unchanged.
The degree of binding of losartan and its active metabolite with blood plasma proteins (mainly albumin) reaches 99%. The volume of distribution of losartan is 34 liters. Experiments on rats have shown that the blood-brain barrier is practically inaccessible to the substance.
Approximately 14% of a dose of Cozaar, when taken orally or intravenously, passes into its active metabolite. In addition to it, pharmacologically inactive metabolites have been identified, among which 2 main metabolites are dominant, formed as a result of hydroxylation of the butyl side chain, and one metabolite of secondary importance - N-2-tetrazole-glucuronide.
Plasma clearance of the active substance of Kozaar and its active metabolite is approximately 600 ml / min and 50 ml / min, respectively. The renal clearance of these compounds is approximately 74 ml / min and 26 ml / min, respectively. When losartan is taken orally, about 4% of the dose taken is excreted in the urine unchanged and about 6% of the dose is excreted in the same way in the form of an active metabolite. For losartan and its active metabolite, linear pharmacokinetic parameters are characteristic for oral administration of Kozaar in doses up to 200 mg.
After oral administration, the content of losartan and its active metabolite in plasma decreases polyexponentially, with the final half-life of approximately 2 and 6-9 hours, respectively. When Kozaar is taken at a dosage of 100 mg 1 time per day, no accumulation of losartan or its active metabolite is observed in the body. Excretion of losartan and its active metabolites is carried out through the kidneys, as well as through the intestines with bile. After oral administration of losartan, labeled with 14 C atoms, in male patients, approximately 35% of the radioactive isotope is found in urine, and 58% in feces. With intravenous administration of 14 C losartan, about 43% of the radioactivity is determined in urine and 50% in feces.
The content of losartan and its active metabolite in blood plasma in elderly male patients with arterial hypertension is practically similar to the corresponding indicators in young men with the same disease.
The level of losartan in the blood plasma in women with arterial hypertension was 2 times higher than in men with the same condition. The concentrations of the active metabolite in patients of both sexes were almost the same. However, this phenomenon has practically no clinical significance.
In patients with alcoholic liver cirrhosis of mild and moderate severity after oral administration of Cozaar, the content of losartan and its active metabolite in blood plasma was 5 and 1.7 times higher, respectively, than in young healthy men who voluntarily participated in the experiment.
Plasma concentrations of the active substance Kozaar in patients with CC above 10 ml / min are similar to those in patients with normal renal function. AUC (area under the concentration-time curve) in patients undergoing hemodialysis is approximately 2 times higher than in patients with intact renal function. The content of the active metabolite in blood plasma remains unchanged in patients with renal dysfunction or in patients on hemodialysis. It is impossible to remove losartan and its active metabolite from the body through hemodialysis.
Indications for use
Arterial hypertension;
Chronic heart failure with ineffective therapy with angiotensin-converting enzyme (ACE) inhibitors;
Proteinuria against the background of type 2 diabetes mellitus (to protect the kidneys in patients, slow the progression of renal failure with a decrease in the incidence of hypercreatininemia, the incidence of end-stage chronic renal failure, if necessary, kidney transplantation or hemodialysis, to reduce proteinuria and mortality rates);
Arterial hypertension and left ventricular hypertrophy (to reduce the risk of stroke, myocardial infarction and cardiovascular mortality).
Contraindications
The period of pregnancy and breastfeeding;
Age under 18;
Hypersensitivity to drug components.
It is recommended to prescribe Kozaar with caution to patients with a history of kidney and / or liver diseases, patients with reduced circulating blood volume (BCC), including during therapy with high-dose diuretics.
Instructions for the use of Kozaar: method and dosage
Cozaar tablets are taken orally 1 time per day, at any convenient time, regardless of the meal.
The dose of the drug is prescribed by the doctor based on clinical indications.
Recommended dosage of Kozaar:
Arterial hypertension: 50 mg as an initial and maintenance dose, if necessary, to achieve a greater effect, you can take 100 mg. A stable hypotensive effect occurs after 3-6 weeks of therapy. For patients with reduced BCC, the initial dose of the drug is prescribed in the amount of 25 mg. When indicating a history of liver pathology, the dose of the drug should be reduced. Elderly patients and patients with renal insufficiency, including patients on dialysis, do not need to adjust the initial dosage;
Chronic heart failure: the initial dose is 12.5 mg, titration is recommended once a week, bringing to an individual maintenance dose (12.5 mg, 25 mg or 50 mg);
Type 2 diabetes mellitus with proteinuria: the initial dose is 50 mg, taking into account the decrease in blood pressure (BP), the dose should be gradually increased to 100 mg. Shows the joint use of the drug with diuretics, alpha and beta-blockers, calcium channel blockers, centrally acting drugs, other hypoglycemic agents (glitazones, sulfonylurea derivatives, glucosidase inhibitors) and insulin;
Arterial hypertension and left ventricular hypertrophy: The starting dose to reduce the likelihood of developing associated cardiovascular disease and mortality is 50 mg. Given the degree of blood pressure reduction, further therapy involves increasing the dose of the drug to 100 mg or prescribing low doses of hydrochlorothiazide.
Side effects
In the course of controlled clinical studies of the use of Kozaar, the following side effects were noted:
On the part of the cardiovascular system: tachycardia, increased heart rate;
From the respiratory system: swelling of the nasal mucosa, cough, upper respiratory tract infections, pharyngitis, sinusitis;
From the digestive system: nausea, dyspepsia, diarrhea;
From the nervous system: insomnia, headache, dizziness;
From the musculoskeletal system: muscle cramps, back pain;
From the side of the body as a whole: fatigue and weakness, pain in the chest and / or in the stomach, edema;
On the part of laboratory parameters: hyperkalemia (an increased level of alanine aminotransferase after drug withdrawal usually returned to normal).
Adverse reactions against the background of taking Cozaar, noted in wide clinical practice:
Digestive system: abnormal liver function; rarely - hepatitis;
Hematopoietic system: thrombocytopenia, anemia;
Musculoskeletal system: arthralgia, myalgia; rarely - rhabdomyolysis;
Nervous system: migraine; rarely - dysgeusia;
Respiratory system: cough;
Dermatological reactions: itching, urticaria, flushing of the skin;
Allergic reactions: rarely - vasculitis, Schönlein-Henoch disease, angioneurotic edema, including edema of the glottis, larynx, with airway obstruction, and / or edema of the lips, face, tongue and / or pharynx (some of the patients suffered hypersensitivity reactions during the previous administration ACE inhibitors).
In general, Kozaar is well tolerated, side effects are transient and appear in a mild form that does not require discontinuation of the drug.
Overdose
Data on overdose with Kozaar are limited. Its most likely symptoms are tachycardia, a marked decrease in blood pressure and bradycardia, which can be triggered by parasympathetic stimulation. As a treatment, symptomatic therapy is prescribed.
special instructions
Correction of a reduced BCC should be carried out before starting treatment with Cozaar or prescribe lower initial doses.
Perhaps the development of angioedema in patients with hypersensitivity to the drug.
Without consulting a doctor, the simultaneous use of potassium preparations and table salt substitutes containing potassium is contraindicated.
When prescribing the drug to patients with renal failure, for whom a violation of the water-electrolyte balance is a characteristic condition, special care should be taken, both with and without diabetes mellitus.
If a history of liver disease is indicated, Cozaar should be given at a lower dose.
The effect of the drug on the renin-angiotensin system can cause impaired renal function, and with bilateral stenosis of the renal arteries or stenosis of an artery of a single kidney, increase the level of serum creatinine and blood urea. After stopping treatment, it is possible to restore functional changes.
In patients with severe chronic heart failure, the use of the drug can cause the development of increasing azotemia, oliguria and acute renal failure with a fatal outcome.
There is no need for dosage adjustment for elderly patients when prescribing Kozaar.
Influence on the ability to drive vehicles and complex mechanisms
Almost no studies have been conducted to assess the effect of Kozaar on the ability to drive vehicles and operate complex mechanisms. However, when undergoing a course of antihypertensive therapy, it is recommended to be careful when driving or performing potentially hazardous work that requires increased concentration and immediate psychomotor reactions. This is associated with the risk of dizziness and drowsiness when taking the drug, especially at the beginning of treatment or when the dose is increased.
Application during pregnancy and lactation
According to the instructions, it is forbidden to prescribe Cozaar during pregnancy. Taking medications that affect the renin-angiotensive system in the II and III trimesters of pregnancy can lead to serious defects or even death of the developing fetus, therefore, immediately after establishing the fact of pregnancy, the drug is canceled. Renal perfusion associated with the development of the renin-angiotensin system appears in the fetus in the second trimester. The risk to the fetus increases if Cozaar is taken in the II or III trimester of pregnancy.
Treatment with Kozaar during lactation is not recommended. The experience of using losartan in this category of patients is insufficient, and it is not known whether the substance penetrates into breast milk. Therefore, it is necessary to correlate the potential benefits of treatment for the mother and the possible risks to the child and make a decision to stop breastfeeding or cancel Cozaar.
Drug interactions
Clinically significant interaction of Kozaar with digoxin, warfarin, hydrochlorothiazide, cimetidine, ketoconazole, phenobarbital, erythromycin has not been established.
The effect of reducing the level of the active metabolite while taking fluconazole and rifampicin on the clinical effect of the drug has not been studied.
The simultaneous administration of potassium supplements, triamterene, spironolactone, amiloride and other drugs that prevent the formation of angiotensin II, salts containing potassium, can increase the level of potassium in the blood.
Losartan, when combined with lithium preparations, reduces excretion and increases its serum concentration.
The antihypertensive effect of the drug is reduced by non-steroidal anti-inflammatory drugs (NSAIDs), selective inhibitors of COX-2 cyclooxygenase.
In patients with impaired renal function, concomitant administration of the drug and NSAIDs, including selective COX-2 inhibitors, may further impair renal function. The effect of this interaction is reversible.
A decrease in the plasma concentrations of the active metabolite while using fluconazole in combination with Kozaar increases the concentration of losartan in the blood plasma.
Analogs
Kozaar's analogues are: Bloktran, Lozap, Losartan, Lorista, Angizar, Cardomin-Sanovel, Giperzar, Ksartan, Klosart, Lozartin, Losar, Presartan, Pulsar, Erinorm, Advantan, Votum, Aprovel, Vazar, Valsakor, Vanatexor Irbetan, Kandesar, Kantab, Kasark, Mikardis, Teveten, Firmasta, Hezart, Edarbi.
Terms and conditions of storage
Store in a dark place at temperatures up to 30 ° C. Keep out of the reach of children.
The shelf life is 3 years.
Terms of dispensing from pharmacies
Dispensed by prescription.
Reviews about Kozaar
According to reviews, Cozaar is well tolerated by patients and acts effectively. With systematic treatment, the drug normalizes blood pressure and rarely provokes the occurrence of adverse reactions (for example, weakness). Patients also note the convenience of the method of using Cozaar: its intake is not associated with food intake. The results of the treatment become noticeable in about 1-3 weeks after the start.
Price for Cozaar in pharmacies
The average price for Kozaar with a dosage of 50 mg in pharmacy chains is 265–281 rubles (for a pack of 14 tablets). The drug with a dosage of 100 mg can be purchased for 610–689 rubles (28 tablets per pack).
Kozaar: prices in online pharmacies
Drug name
Price
Pharmacy
Kozaar 50 mg film-coated tablets 14 pcs.
RUB 85
Buy
Kozaar 100 mg film-coated tablets 28 pcs.
RUB 100
Buy
Cozaar tablets p.p. 50mg 14 Pcs.
RUB 101
Buy
Cozaar tablets p.p. 100mg 28 pcs.
171 r
Buy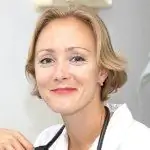 Anna Kozlova Medical journalist About the author
Education: Rostov State Medical University, specialty "General Medicine".
Information about the drug is generalized, provided for informational purposes only and does not replace the official instructions. Self-medication is hazardous to health!
Popular by topic