Table of contents: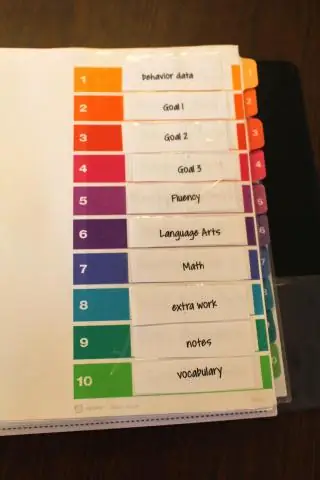 Video: Kogitum - Instructions, Application For Children, Price, Reviews, Analogues
Cogitum
Kogitum: instructions for use and reviews
1. Release form and composition
2. Pharmacological properties
3. Indications for use
4. Contraindications
5. Method of application and dosage
6. Side effects
7. Overdose
8. Special instructions
9. Application during pregnancy and lactation
10. Use in childhood
11. Drug interactions
12. Analogs
13. Terms and conditions of storage
14. Terms of dispensing from pharmacies
15. Reviews
16. Price in pharmacies
Latin name: Cogitum
ATX code: N06BX
Active ingredient: acetylaminosuccinic acid (in the form of potassium acetylaminosuccinate) (acetylaminosuccinic acid)
Producer: Patheon France (France), Meda Manufacturing (Germany), Aventis Pharma (Russia), Patheon Inc. (Canada)
Description and photo update: 2019-19-08
Prices in pharmacies: from 3015 rubles.
Buy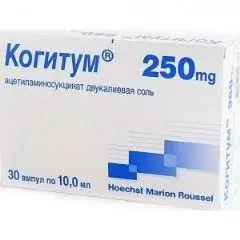 Kogitum is a general tonic drug with a stimulating effect that helps to normalize the processes of nervous regulation.
Release form and composition
It is produced in the form of a solution for oral administration: transparent, light yellow in color, with a banana smell (10 ml in dark glass ampoules, 10 ampoules in cardboard packaging inserts, 3 inserts in cardboard boxes).
Active ingredient: potassium acetylaminosuccinate, in 1 ml - 25 mg.
Additional components: methyl parahydroxybenzoate, fructose, purified water, banana flavor.
Pharmacological properties
Cogitum is one of the drugs that have a general tonic effect.
Acetylamino-succinic acid - an active substance, is a biologically active compound contained in the central nervous system.
It has a stimulating effect and helps to normalize the processes of nervous regulation.
Indications for use
According to the instructions, Kogitum is used to treat asthenic syndrome (as part of complex therapy).
Contraindications
Children up to age 7;
Pregnancy;
Lactation (or feeding should be stopped);
Hypersensitivity to drug components.
Instructions for the use of Kogitum: method and dosage
The solution should be taken orally.
Adults are prescribed 3 ampoules per day: 2 - in the morning and 1 - at night.
Recommended doses of Cogitum for children:
10-18 years old: 2 ampoules in the morning;
7-10 years: 1 ampoule in the morning.
The duration of treatment is on average 3 weeks.
If one or more doses are missed, treatment should be continued as usual, no secondary dose adjustment is needed.
Rules for taking the drug: open one end of the ampoule, substitute a glass / cup under it and break off the opposite end of the ampoule - the solution will freely pour into the container.
The taste of the solution allows you to take it in its pure form.
Side effects
In some cases, allergic reactions are possible.
Overdose
There is no information on cases of overdose.
No toxic effects are expected.
special instructions
If necessary, treatment can be discontinued at any time; gradual withdrawal of the drug is not required.
Studies on the effect of the components of the solution on the reaction rate and the ability to concentrate have not been carried out, however, a negative effect is unlikely.
Application during pregnancy and lactation
The drug is not prescribed during pregnancy / lactation.
Pediatric use
The use of Kogitum for children under 7 years of age is contraindicated.
Drug interactions
There is no information on the interaction of Kogitum with other drugs.
Analogs
Analogs of Kogitum are: Asparkam, Hypoxen, Magne B6, Dekamevit, Kudesan, Leriton Active, Mexiprim, Noocetam.
Terms and conditions of storage
Store in a dark place out of reach of children. Do not exceed a temperature of 25 ° C.
The shelf life is 3 years.
Terms of dispensing from pharmacies
Available without a prescription.
Reviews about Kogitum
Reviews about Kogitum are different. Despite the fact that therapy is contraindicated for children under 7 years of age, there are cases of prescribing the drug to younger patients.
Most often, the tool is used for speech delays. Many users talk about the effectiveness of the drug and the absence of adverse reactions. Other reviews indicate insufficient therapeutic action and, in some cases, the development of pronounced side effects. The cost of the drug is often assessed as high and the packaging is inconvenient.
Price for Cogitum in pharmacies
The approximate price for Cogitum (30 ampoules, 10 ml each) is 4071–4990 rubles.
Cogitum: prices in online pharmacies
Drug name
Price
Pharmacy
Kogitum 25 mg / ml oral solution 10 ml 30 pcs.
RUB 3015
Buy
Kogitum solution for internal approx. 25mg / ml 10ml 30 pcs.
3907 RUB
Buy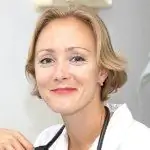 Anna Kozlova Medical journalist About the author
Education: Rostov State Medical University, specialty "General Medicine".
Information about the drug is generalized, provided for informational purposes only and does not replace the official instructions. Self-medication is hazardous to health!
Popular by topic