Table of contents: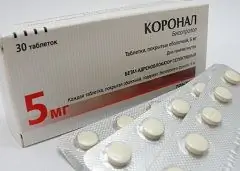 Video: Coronal - Instructions For Use, Indications, Doses, Analogues
Coronal
Instructions for use:
1. Release form and composition
2. Indications for use
3. Contraindications
4. Method of application and dosage
5. Side effects
6. Special instructions
7. Drug interactions
8. Analogs
9. Terms and conditions of storage
10. Terms of dispensing from pharmacies
Prices in online pharmacies:
from 98 rub.
Buy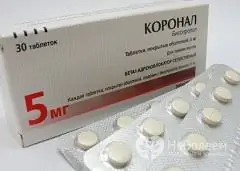 Coronal is a beta 1 blocker with antiarrhythmic, antihypertensive and antianginal effects.
Release form and composition
Dosage form - film-coated tablets: round, biconvex, with a dividing line, light yellow and light pink (10 pcs. In blisters, in a cardboard box 1, 3, 6 or 10 blisters).
The active ingredient is bisoprolol fumarate:
1 light yellow tablet - 5 mg;
1 tablet of light pink color - 10 mg.
Auxiliary components: corn starch, microcrystalline cellulose, sodium lauryl sulfate, magnesium stearate, colloidal silicon dioxide.
The composition of the film shell: macrogol 400, hypromellose, titanium dioxide (E171).
Additionally, as part of the shell:
Tablets of 5 mg: iron dye yellow oxide (E172);
Tablets 10 mg: iron dye red oxide (E172).
Indications for use
Arterial hypertension;
Prevention of angina attacks in ischemic heart disease (IHD).
Contraindications
Acute heart failure
Cardiogenic shock and other types of shock conditions;
Chronic heart failure in the stage of decompensation;
Sinoatrial blockade;
Atrioventricular (AV) block II and III degree in the absence of an artificial pacemaker;
Sick sinus syndrome (SSS);
Cardiomegaly (no symptoms of heart failure);
Severe bradycardia;
Arterial hypotension (with systolic blood pressure (BP) below 100 mm Hg, especially with myocardial infarction);
A chronic form of obstructive pulmonary disease and a history of bronchial asthma;
Raynaud's disease;
Simultaneous administration of monoamine oxidase (MAO) inhibitors (except for MAO type B inhibitors), floktaphenin, sultopride;
Violation of peripheral circulation in the late stage;
Breastfeeding period;
Age under 18;
Hypersensitivity to beta-blockers and drug components.
With caution, it is recommended to prescribe Coronal to patients with pheochromocytoma (with concomitant therapy with alpha-blockers), Prinzmetal's angina, 1st degree AV block, congenital heart disease or heart valve defects with severe hemodynamic disorders, restrictive cardiomyopathy, chronic heart failure in the background of infarction the last 3 months, renal failure (creatinine clearance (CC) less than 20 ml / min), metabolic acidosis, diabetes mellitus in the stage of decompensation, psoriasis, liver failure, depression (including a history), a history of severe allergic reactions; patients on a strict diet, the elderly and in the case of desensitizing immunotherapy with allergens or their extracts.
Prescribing the drug during pregnancy is indicated only if the intended clinical effect for the mother outweighs the potential risk for the fetus. It is necessary to stop taking Coronal 72 hours before delivery in order to avoid the possible development of respiratory depression, arterial hypotension, bradycardia, hypoglycemia in the newborn.
Method of administration and dosage
The tablets are taken orally, without chewing, with a sufficient amount of liquid, 1 time per day in the morning on an empty stomach.
The recommended dosage for the treatment of arterial hypertension and the prevention of attacks of stable angina pectoris in IHD: the initial dose is 2.5-5 mg, to achieve a clinical effect, an increase to 10 mg is shown, the daily dose should not exceed 20 mg.
In case of impaired renal function (CC less than 20 ml / min) or severe impaired liver function, the daily maximum dose should be no more than 10 mg.
Elderly patients do not need dose adjustment.
Side effects
The use of Coronal can cause side effects:
From the side of the cardiovascular system: very often - sinus bradycardia; often - a decrease in blood pressure, symptoms of angiospasm in the form of aggravation of peripheral circulation disorders, paresthesias, cold snap of the lower extremities; infrequently - peripheral edema, orthostatic hypotension, impaired AV conduction, decompensation of chronic heart failure;
From the side of hematopoietic organs: in some cases - agranulocytosis, thrombocytopenia;
From the nervous system: infrequently - dizziness, drowsiness, increased fatigue, depression, headache, insomnia, asthenia; rarely - nightmares, hallucinations, convulsions;
From the digestive system: often - nausea, vomiting, dry mouth, diarrhea or constipation; rarely - increased activity of liver enzymes, hepatitis;
From the senses: rarely - hearing impairment, visual impairment, soreness and dryness of the eyes, decreased secretion of lacrimal fluid; very rarely - conjunctivitis;
On the part of the respiratory system: infrequently - difficulty in breathing (when high doses are prescribed) and / or broncho- and laryngospasm (in predisposed patients); rarely - allergic rhinitis, nasal congestion;
From the side of the skin: rarely - flushing of the skin, increased sweating; very rarely - psoriasis-like skin reactions, alopecia, increased psoriasis symptoms;
From the endocrine system: rarely - hyperglycemia (with type 2 diabetes mellitus), against the background of insulin - hypoglycemia;
From the musculoskeletal system: infrequently - muscle weakness, arthralgia, cramps of the calf muscles;
Allergic reactions: rarely - itching, skin rash, urticaria;
Others: rarely - withdrawal syndrome (increased blood pressure, exacerbation of angina attacks), hypertriglyceridemia; very rarely - violation of potency.
special instructions
The use of Coronal should be accompanied by regular monitoring of the heart rate (HR) and blood pressure, at the beginning of therapy - every day, then in 3-4 months 1 time, at least 1 time in 4-5 months, an electrocardiogram should be done and laboratory tests should be performed to determine patients with diabetes mellitus blood glucose levels. Elderly patients are recommended to check renal function once every 4-5 months.
When prescribing the drug, the doctor must teach the patient to independently calculate the heart rate and warn about the need for compulsory medical advice in case of heart rate below 50 beats per minute.
Patients with a history of bronchial or pulmonary pathology, when prescribing the drug, should conduct an examination of the function of external respiration.
In 20% of patients with angina pectoris, the use of beta-blockers may not achieve a therapeutic effect, and in smoking patients, their effect is reduced.
Patients using contact lenses should consider the decrease in tear fluid production during treatment.
When pheochromocytoma may develop paradoxical arterial hypertension while taking Coronal.
With the development of depression, it is recommended to cancel the use of the drug.
Abrupt interruption of treatment is contraindicated due to the risk of developing myocardial infarction and severe arrhythmias. Cancellation should be carried out within 2 weeks or more, reducing the intake by 1/4 of the prescribed dose every 3-4 days.
Bisoprolol is able to mask tachycardia and other characteristic clinical signs of thyrotoxicosis. It is contraindicated to abruptly discontinue the drug in patients with thyrotoxicosis, since this can cause an increase in the symptoms of the disease.
In patients with diabetes mellitus, the drug does not increase insulin-induced hypoglycemia, and does not delay the recovery process to normal blood glucose levels.
With the simultaneous use of the abolition of clonidine should be done a few days after stopping the drug.
For planned surgery, the drug should be discontinued 48 hours before the start of general anesthesia. When performing an emergency operation in a patient who has already taken the drug, a drug with a minimal negative inotropic effect should be used for general anesthesia.
For studies to determine the level of concentration in urine and blood of titers of antinuclear antibodies, normetanephrine, catecholamines, vanillyl mandelic acid, the use of the drug should be canceled in advance.
When Coronal is combined with drugs that reduce the reserves of catecholamines (reserpine), there is a risk of bradycardia or a pronounced decrease in blood pressure, therefore, if this combination is necessary, the patient should be under close medical supervision.
With a burdened allergic history, there is a risk of increased severity of the hypersensitivity reaction and the lack of action of usual doses of epinephrine. To eliminate reciprocal activation of the vagus nerve, intravenous (IV) administration of 1-2 mg of atropine is indicated.
A dose reduction or cancellation of treatment in elderly patients should be performed in the case of a pronounced decrease in blood pressure (systolic - below 100 mm Hg), increasing bradycardia (less than 50 beats per minute), AV blockade.
During the period of use of the drug, patients are advised to be careful when driving vehicles and mechanisms or performing other potentially hazardous activities that require a high concentration of attention and speed of psychomotor reactions.
Drug interactions
With the simultaneous use of Coronal:
X-ray contrast iodine-containing preparations for intravenous administration, extracts of allergens for skin tests and allergens used in immunotherapy - increase the risk of developing severe systemic allergic reactions or anaphylaxis;
Phenytoin for intravenous administration, drugs for inhalation general anesthesia (hydrocarbon derivatives) - increase the risk of lowering blood pressure and the severity of the cardiodepressant effect;
Methyldopa, cardiac glycosides, reserpine, guanfacine, slow calcium channel blockers, antiarrhythmics (amiodarone) - increase the likelihood of worsening or development of AV blockade, bradycardia, heart failure, cardiac arrest;
Diuretics, sympatholytics, nifedipine, clonidine, hydralazine and other antihypertensive drugs - can cause a significant decrease in blood pressure;
Tetracyclic and tricyclic antidepressants, antipsychotics, ethanol, hypnotics and sedatives - increase the depression of the nervous system, can potentiate bradycardia, heart rhythm disturbances and orthostatic hypotension;
Ergotamine and non-hydrogenated ergot alkaloids - increase the risk of peripheral circulatory disorders;
Sulfasalazine - increases the level of bisoprolol concentration in blood plasma;
Rifampicin - shortens T 1/2 of bisoprolol;
Epinephrine and norepinephrine, non-steroidal anti-inflammatory drugs, glucocorticosteroids, estrogens - reduce the antihypertensive effect of bisoprolol;
Baclofen, amifostine - increase the antihypertensive effect of the drug.
The drug affects the effectiveness of oral hypoglycemic agents and insulin, hides the symptoms of hypoglycemia.
Coronal reduces the clearance of xanthines (except diphyllin) and lidocaine, increases their plasma concentration, especially in smokers.
The drug prolongs the anticoagulant effect of coumarins and the effect of non-depolarizing muscle relaxants.
It is not recommended to prescribe concurrently with monoamine oxidase inhibitors because of the risk of a significant increase in the hypotensive effect; the interval between taking the drugs should be 14 days or more.
The risk of disturbances in conduction, automatism, and contractility of the heart increases when combined with quinidine agents (chloroquine, mefloquine).
The potential risk of additive action with the development of significant bradycardia and / or hypotension exists when used together with beta-blockers for topical use (eye drops).
In the case of arterial hypotension or shock against the background of the use of floctafenin, the simultaneous administration of bisoprolol can help reduce compensatory cardiovascular reactions.
Analogs
Coronal analogs are: Bisoprolol, Concor, Concor Cor, Niperten, Bikard, Bisokard, Bisoprofar, Dorez, Cordinorm, Corbis, Bisostad, Azoprol, Metokor, Atenol, Atenolol, Atenobene, Betak, Betaloc, Brevibazetakorgil Korvitol, Lokren, Metoprolol, Metoprolol tartrate, Nebivovol, Nebikor, Nebilong, Nebitrend, Tenolol.
Terms and conditions of storage
Store at temperatures up to 25 ° C. Keep out of the reach of children.
The shelf life is 3 years.
Terms of dispensing from pharmacies
Dispensed by prescription.
Coronal: prices in online pharmacies
Drug name
Price
Pharmacy
Coronal 5 mg film-coated tablets 30 pcs.
RUB 98
Buy
Coronal tablets p.p. 5mg 30 pcs.
RUB 105
Buy
Coronal 10 mg film-coated tablets 30 pcs.
125 RUB
Buy
Coronal 5 mg film-coated tablets 60 pcs.
158 RUB
Buy
Coronal tablets p.p. 5mg 60 pcs.
167 r
Buy
Coronal tablets p.p. 10mg 30 pcs.
168 RUB
Buy
Coronal 10 mg film-coated tablets 60 pcs.
RUB 200
Buy
Coronal 5 mg film-coated tablets 100 pcs.
231 RUB
Buy
Coronal tablets p.p. 10mg 60 pcs.
240 RUB
Buy
Coronal tablets p.p. 5mg 100 pcs.
268 r
Buy
Coronal 10 mg film-coated tablets 100 pcs.
389 r
Buy
Coronal tablets p.p. 10mg 100 pcs.
391 r
Buy
See all offers from pharmacies
Information about the drug is generalized, provided for informational purposes only and does not replace the official instructions. Self-medication is hazardous to health!
Popular by topic