Table of contents: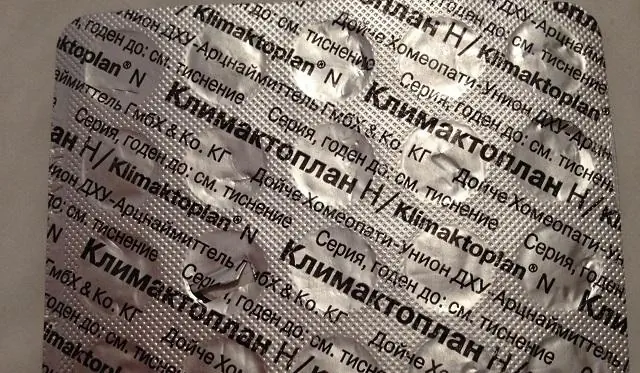 Video: Klimaktoplan - Instructions For Use, Reviews, Price, Analogs Of Tablets
Climactoplane
Klimaktoplan: instructions for use and reviews
1. Release form and composition
2. Pharmacological properties
3. Indications for use
4. Contraindications
5. Method of application and dosage
6. Side effects
7. Overdose
8. Special instructions
9. Application during pregnancy and lactation
10. Use in childhood
11. Drug interactions
12. Analogs
13. Terms and conditions of storage
14. Terms of dispensing from pharmacies
15. Reviews
16. Price in pharmacies
Latin name: Klimaktoplan
ATX code: G02CX
Active ingredient: cimicifuga (Cimicifuga) + sepia (Sepia) + sanguinaria (Sanguinaria) + ignation (Ignatia) + lachesis (Lachesis) - in homeopathic dilution
Manufacturer: Deutsche Homoopathie-Union DHU-Arzneimittel GmbH & Co. KG (Germany)
Description and photo update: 2019-20-08
Prices in pharmacies: from 480 rubles.
Buy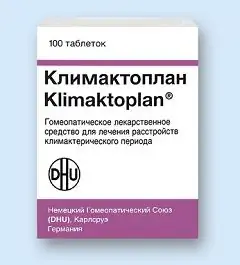 Klimaktoplan is a complex homeopathic medicine used in women during menopause.
Release form and composition
The drug is produced in the form of tablets: flat-cylindrical, beveled, odorless, from gray to light gray, in rare cases, inclusions are possible (20 pcs. In blisters, 5 blisters in a cardboard box).
The composition of 1 tablet contains active substances:
Ignatia (Ignation) D3 - 25 mg;
Sepia (Sepia) D2 - 25 mg;
Cimicifuga (Tsimicifuga) D2 - 25 mg;
Lachesis (Lachesis) D5 - 25 mg;
Sanguinaria (Sanguinaria) D2 - 25 mg.
Pharmacological properties
Pharmacodynamics
Klimaktoplan is one of the complex homeopathic remedies. Its therapeutic effect is determined by the properties of active ingredients with receptor-modulating activity against estrogens (phyto-SERM). It stabilizes the state of the cardiovascular and endocrine systems, contributes to the normalization of the autonomic functions of the central nervous system (including the "hypothalamus-pituitary-adrenal gland" system).
The main properties of the components:
cimicifuga: affects the hypothalamus, due to which, in climacteric disorders, nervous excitement, sensation of hot flashes and depression are reduced;
sepia: helps to normalize hormonal balance in the adrenal cortex, ovaries and pituitary gland;
Ignition: relieves hot flashes, excessive sweating, headaches and general weakness;
sanguinaria: effective in cases when, against the background of hot flashes, there is reddening of the skin, palpitations, migraine-like headaches;
lachesis (snake venom): normalizes sleep, stops the heartbeat, has a positive effect on the cardiovascular system.
Due to the combined effect of herbal components, Klimaktoplan is indicated for use for the relief of all the characteristic signs of the climacteric period.
Usually the drug is well tolerated, so it can be used for a long time.
Normalization of the relationship in the "hypothalamus-pituitary-ovaries" system helps to modulate the formation of estrogens in the ovaries, improve the release of estrogens from fat depots.
The preparation does not contain hormones; Klimaktoplan is not used as hormone replacement therapy.
It is indicated for the treatment and prevention of multicomponent syndrome, which is characteristic of the climacteric period. In addition, the drug can be used in old age for the prevention of precancerous diseases of the genital organs.
Indications for use
According to the instructions, Klimaktoplan is prescribed for women in the climacteric period, flowing with psychovegetative symptoms, manifested in the form of increased sweating, hot flashes, dizziness, palpitations, itching, nervous tension and sleep disturbances.
Contraindications
In the presence of hypersensitivity to the components, the drug is contraindicated.
Instructions for the use of Klimaktoplan: method and dosage
The tablets are taken orally, 1/2 hour before or after meals (they should be kept in the mouth until they are completely absorbed).
Single dose - 1-2 tablets, frequency of administration - 3 times a day.
Side effects
In rare cases, during treatment, side effects may develop, manifested in the form of allergic reactions.
Overdose
There is no information about cases of overdose.
special instructions
If there is no effect, as well as if the condition worsens, you should stop taking the drug and consult the doctor who prescribed the therapy.
Application during pregnancy and lactation
Klimaktoplan is not intended for use during pregnancy / lactation.
Pediatric use
The drug is not used in pediatrics.
Drug interactions
There are no data on the interaction of Klimaktoplan with other drugs.
The use of Klimaktoplan does not exclude therapy with other drugs.
Analogs
The analogues of Klimaktoplan are: Abyufen, Climaxan homeopathic, Klimodien, Klimadinon, Sagenit, Soyfem, Remens, Estrogel, Femoston.
Terms and conditions of storage
Store in a dry place out of reach of children at room temperature.
The shelf life is 5 years.
Terms of dispensing from pharmacies
Available without a prescription.
Reviews about Klimaktoplan
According to reviews, Klimaktoplan is rated by many women as an effective drug with good tolerance. In some cases, it is reported that it was not possible to stop the symptoms of the climacteric period, at the same time it is indicated that during the period of therapy, body weight increased.
Price for Klimaktoplan in pharmacies
The approximate price for Klimaktoplan (100 tablets) is 540-573 rubles.
Klimaktoplan: prices in online pharmacies
Drug name
Price
Pharmacy
Klimaktoplan N tablets for resorption 100 pcs.
480 RUB
Buy
Reviews Klimaktoplan N
480 RUB
Buy
Climaktoplan N tablets 100 pcs.
RUB 519
Buy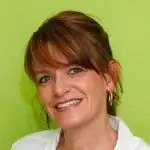 Maria Kulkes Medical journalist About the author
Education: First Moscow State Medical University named after I. M. Sechenov, specialty "General Medicine".
Information about the drug is generalized, provided for informational purposes only and does not replace the official instructions. Self-medication is hazardous to health!
Popular by topic