Table of contents:
Video: Klayra - Instructions For The Use Of Tablets, Reviews, Price, Analogues
Claira
Klayra: instructions for use and reviews
1. Release form and composition
2. Pharmacological properties
3. Indications for use
4. Contraindications
5. Method of application and dosage
6. Side effects
7. Overdose
8. Special instructions
9. Application during pregnancy and lactation
10. Use in childhood
11. In case of impaired renal function
12. Use in the elderly
13. Drug interactions
14. Analogs
15. Terms and conditions of storage
16. Terms of dispensing from pharmacies
17. Reviews
18. Price in pharmacies
Latin name: Qlaira
ATX code: G03FA15
Active ingredient: dienogest + estradiol valerate (dienogest + estradiol valerate)
Producer: Bayer Pharma AG (Germany), Schering GmbH und Co. Productions KG (Germany)
Description and photo update: 2019-13-08
Prices in pharmacies: from 1028 rubles.
Buy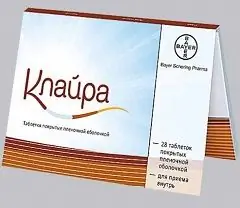 Klaira is a combined hormonal contraceptive used to prevent unwanted pregnancies.
Release form and composition
Clayra is produced in the form of five types of film-coated tablets: biconvex, round, on a cross-section - from an almost white to white core and a dark yellow, pink, pale yellow, red or white shell (28 pcs. In blisters from aluminum foil / polyvinyl chloride, 1 or 3 blisters in a clamshell book with an appointment calendar).
Film-coated tablets - 2 pieces: dark yellow, with the inscription "DD" on one side in a regular hexagon.
The active ingredient is a part of 1 tablet: estradiol valerate, micro 20 - 3 mg.
Film-coated tablets - 5 pieces: pink, with the inscription "DJ" on one side in a regular hexagon.
The composition of 1 tablet contains active substances:
Estradiol valerate, micro 20 - 2 mg;
Dienogest, micro - 2 mg.
Film-coated tablets - 17 pcs.: pale yellow, with the inscription "DH" on one side in a regular hexagon.
The composition of 1 tablet contains active substances:
Estradiol valerate, micro 20 - 2 mg;
Dienogest, micro - 3 mg.
Film-coated tablets - 2 pieces: red, with the inscription "DN" on one side in a regular hexagon.
The active ingredient is a part of 1 tablet: estradiol valerate, micro 20 - 1 mg.
Tablets (placebo), film-coated - 2 pieces: white, on one side in a regular hexagon the inscription "DT".
Auxiliary components (dark yellow / pink / pale yellow / red / white tablets, respectively): lactose monohydrate - 48.36 / 47.36 / 46.36 / 50.36 / 52.1455 mg; povidone 25 - 4/4/4/4 / 3.0545 mg; pregelatinized corn starch - 9.6 / 9.6 / 9.6 / 9.6 / 0 mg; corn starch - 14.4 / 14.4 / 14.4 / 14.4 / 24 mg; magnesium stearate - 0.64 / 0.64 / 0.64 / 0.64 / 0.8 mg.
Coating (dark yellow / pink / pale yellow / red / white tablets, respectively): hypromellose - 1.5168 / 1.5168 / 1.5168 / 1.5168 / 1.0112 mg; macrogol 6000 - 0.3036 / 0.3036 / 0.3036 / 0.3036 / 0 mg; talc - 0.3036 / 0.3036 / 0.3036 / 0.3036 / 0.2024 mg; titanium dioxide - 0.584 / 0.83694 / 0.83694 / 0.5109 / 0.7864 mg; dye yellow iron oxide - 0.292 / 0.03906 mg (dark yellow / pale yellow tablets, respectively); dye red iron oxide - 0.03906 / 0.3651 mg (pink / red tablets, respectively).
Pharmacological properties
The contraceptive effect of Klayra is the result of the interaction of various factors, the most important of which are the change in the characteristics of the cervical secretion and the inhibition of ovulation. In addition to preventing unwanted pregnancy, the drug helps to reduce the intensity and soreness of menstrual bleeding, resulting in a decrease in the risk of iron deficiency anemia. There is also evidence of a reduction in the risk of developing endometrial and ovarian cancer.
Claira has a beneficial effect on the endometrium, therefore it can be used in the treatment of prolonged and / or heavy menstrual bleeding, not accompanied by organic pathology. The safety and efficacy of a medicinal product containing estradiol valerate and dienogest in eliminating the symptoms of dysfunctional uterine bleeding was investigated in two double-blind clinical studies conducted under placebo control. These experiments proved the clinical and statistical significance of a decrease in blood loss during menstruation during the period of Claira therapy. They were also accompanied by an improvement in the characteristics of iron metabolism (ferritin, hematocrit and hemoglobin), which are of statistical significance.
Pharmacodynamics
The preparation contains estradiol valerate, which acts as an estrogen and is a precursor of natural human 17b-estradiol (1 mg of estradiol valerate is equivalent to 0.76 mg of 17b-estradiol). Taking Claira has a less pronounced effect on the liver compared to three-phase combined oral contraceptives, the active ingredients of which are levonorgestrel and ethinylestradiol. There is evidence that the effect of the drug on hemostasis parameters and the content of sex hormone binding globulin (SHBG) is less significant than in the case of other COCs.
The combination of estradiol valerate with dienogest leads to an increase in high density lipoprotein (HDL) content, while the content of low density lipoprotein cholesterol (LDL) decreases slightly.
Dienogest is a progestogen that has additional partial antiandrogenic effects. Its androgenic, antiestrogenic and estrogenic properties are not pronounced. Due to the special chemical structure of this compound, a spectrum of pharmacological activity is provided, which combines the most significant advantages of progesterone derivatives and 19-nor-progestogens.
Preclinical information obtained as a result of standard studies of the toxicity of Klayra with repeated administration of doses, the effect of toxicity of the drug on the reproductive system, carcinogenic potential and genotoxicity, prove the absence of a specific risk to humans. However, it must be borne in mind that sex hormones can provoke the growth of tumor formations and a number of hormone-dependent tissues.
If Klayra is taken correctly, the Pearl index (a characteristic reflecting the frequency of pregnancy in 100 patients during the year of using the contraceptive) does not reach 1. If the tablets are used incorrectly or the time for taking the pills is missed, the Pearl index may increase.
Pharmacokinetics
Dienogest
When taken orally, dienogest is absorbed quickly and almost 100%. Its maximum content in blood plasma is 90.5 ng / ml and is reached approximately 1 hour after taking Claira inside (1 tablet contains 3 mg of dienogest and 2 mg of estradiol valerate). Bioavailability is 91%. There is a linear dependence of the pharmacokinetics of dienogest on the dose taken (the dose range is 1–8 mg).
When dienogest was taken simultaneously with food, no clinically significant effect on the degree of absorption of the substance and its rate was recorded.
A relatively large part of the dienogest circulating in the body (10%) remains unbound, while approximately 90% of this compound is nonspecifically bound to albumin. Binding of dienogest with SHBG and corticosteroid-binding globulin (CABG) is not observed. This causes the lack of the ability of this active component of Klayra to displace cortisol from its connection with SHBG or testosterone from its connection with SHBG. For this reason, even a slight effect of dienogest on the physiological processes of transport of endogenous steroids is considered unlikely. Its volume of distribution after reaching the equilibrium concentration is 46 l after intravenous administration of 85 μg of tritiated dienogest.
Dienogest is metabolized almost completely by hydroxylation and conjugation, forming mainly metabolites that do not have endocrinological activity. They are removed from the body quickly enough, therefore, unchanged dienogest prevails in the blood plasma. The total clearance after intravenous administration of tritiated dienogest is 5.1 l / h.
The half-life of this active component of Klayra from blood plasma is about 11 hours. Oral administration of dienogest at a dose of 0.1 mg / kg leads to its excretion from the body in the form of metabolites in the urine and feces in a ratio of approximately 3: 1. After taking the drug inside, 42% of the dose is excreted within the first 24 hours, and 63% within 6 days by renal excretion. After 6 days, about 86% of the dose taken is excreted through the kidneys and intestines.
The pharmacokinetics of dienogest is not determined by the level of SHBG in the body. When the same dose of Klayra is taken for 3 days, including 3 mg of dienogest and 2 mg of estradiol valerate, an equilibrium concentration of dienogest in the blood is achieved. The maximum, average and minimum concentrations of this compound in blood plasma at equilibrium are 11.8, 82.9, and 33.7 ng / ml, respectively. The average cumulation factor, calculated from the area under the concentration-time curve (AUC 0-24 hours), is 1.24.
Estradiol valerate
After oral administration of estradiol, valerate is absorbed quickly and completely. The compound is broken down into valeric acid and estradiol during absorption in the gastrointestinal mucosa or during the first passage through the liver, forming estradiol and its main metabolites - estriol and estrone. The maximum content of estradiol in blood plasma is 70.6 pg / ml and is recorded 1.5–12 hours after a single oral dose of a tablet containing 3 mg of estradiol valerate on the first day of the course.
Reception of Klayra with food is not characterized by a clinically significant effect on the degree and rate of absorption of estradiol valerate.
Valeric acid is metabolized at a fairly high rate. After oral administration, approximately 3% of the dose acquires immediate bioavailability, passing into the form of estradiol. For estradiol, an intense first-pass effect through the liver is characteristic, and most of the administered dose is involved in metabolic processes after penetration into the gastrointestinal mucosa. Taking into account the presystemic metabolism in the liver, approximately 95% of the orally taken dose is metabolized before entering the systemic circulation. The most significant metabolites include estrone glucuronide, estrone sulfate, and estrone.
In blood plasma, 60% of estradiol binds to albumin, 38% - to SHBG, and 2-3% of the substance is involved in the circulation processes in an unbound form. Estradiol is able to slightly increase the level of SHBG in the blood plasma, and this effect is dose-dependent. When Klayra was taken on the 21st day of the cycle, the concentration of SHBG reached approximately 148% of the initial, and by the 28th day (the period of taking inactive tablets ends) decreased to approximately 141% of the initial. When administered intravenously, the apparent volume of distribution is 1.2 l / kg.
Due to the large circulating pool of estrogen glucuronides and sulfates, as well as the participation of estradiol in enterohepatic recirculation, its half-life in the terminal phase after ingestion is a complex parameter, which is determined by all these processes and is in the range of about 13-20 hours.
Estradiol and its metabolites are excreted mainly in the urine, but approximately 10% of these substances are excreted in the faeces.
The pharmacokinetics of estradiol is determined by the concentration of SHBG. In women, the measured plasma estradiol level is a combination of endogenous estradiol and estradiol ingested with the drug. During the phase of taking tablets, which include 3 mg of dienogest and 2 mg of estradiol valerate, the maximum and average concentrations of estradiol in the blood plasma after reaching an equilibrium state are 66 and 51.6 pg / ml, respectively. Throughout the entire cycle, which is 28 days, the stability of the minimum concentrations of estradiol is observed, varying in the range of 28.7–64.7 pg / ml.
Indications for use
According to the instructions, Klayra is prescribed for oral contraception.
Contraindications
Thromboembolism and thrombosis (arterial and venous) at present or in the presence of a history (including myocardial infarction, pulmonary embolism, deep vein thrombosis, stroke, current or history);
Presence of risk factors (multiple or pronounced) of arterial or venous thrombosis (including extensive surgical interventions with prolonged immobilization, complicated diseases of the valvular apparatus of the heart, uncontrolled arterial hypertension);
Conditions preceding the development of thrombosis (including angina pectoris, transient ischemic attacks) at present or in the presence of a history;
Diabetes mellitus with vascular complications;
Vaginal bleeding of unexplained genesis;
Migraine with focal neurological signs, incl. if there is a history;
Pancreatitis, accompanied by severe hypertriglyceridemia (currently or with a history);
Hormone-dependent malignant tumors, including tumors of the mammary glands or genital organs (confirmed or suspected);
Malignant and benign liver tumors (currently or with a history);
Severe liver disease and liver failure (the use of Klayra can be started after normalization of liver function indicators);
Pregnancy or if you suspect it;
Hypersensitivity to drug components.
The drug should not be used in the presence of any of these diseases / conditions, in cases of their development during therapy, Klayr should be canceled.
In the presence of any of the diseases / risk factors / conditions, before starting to take Claira, it is necessary to carefully correlate the potential risk with the expected benefit from its use (each case on an individual basis):
Hereditary angioedema;
Arterial hypertension, smoking, major trauma and surgery, dyslipoproteinemia, obesity, heart rhythm disturbances, migraine, heart valve disease, prolonged immobilization and other risk factors for thromboembolism and thrombosis;
Systemic lupus erythematosus, diabetes mellitus, hemolytic uremic syndrome, Crohn's disease and ulcerative colitis, sickle cell anemia and other diseases in which peripheral circulation disorders may occur;
Diseases that occurred for the first time or worsened during pregnancy or with previous use of sex hormones, including cholestatic jaundice, herpes of pregnancy, cholestatic itching, Sydenham's chorea, cholelithiasis, porphyria, otosclerosis with hearing impairment;
Hypertriglyceridemia;
Postpartum period.
Instructions for the use of Klayra: method and dosage
Klayra tablets are taken orally, washed down with water or other liquid, if necessary, regardless of the meal. The drug should be taken every day (continuously), 1 tablet a day at approximately the same time in the order indicated in the calendar for 28 days, after which the tablets are taken from a new package.
As a rule, menstrual bleeding begins while taking the last tablets of the calendar pack. In some women, they begin after starting to take the pills from a new package.
If a woman has not used hormonal contraception before, Claira begins to be taken on the first day of the natural menstrual cycle.
When switching from another combined hormonal contraceptive, Claira begins to be taken the next day after taking the last active (containing active substance) pill. When using a transdermal patch or vaginal ring, Klayra should be taken on the day of their removal.
The transition from the use of a mini-pili can be carried out on any day, from the injection method - on the day of the appointment of the next injection, from the intrauterine system with the release of progestogen or implant - on the day of their removal. During the first 9 days of taking Klayra, it is recommended to use an additional barrier method of contraception.
After an abortion performed in the first trimester of pregnancy, Claira can be used immediately without using additional contraceptive measures.
After an abortion in the second trimester of pregnancy and after childbirth, the drug is taken on days 21-28. If you start taking Klayra later, during the first 9 days you should use an additional barrier method of contraception. In cases where sexual intercourse has already taken place, pregnancy should be excluded or until the onset of the first menstruation occurs before starting therapy.
Missed inactive (white) tablets are negligible. If you skip taking active pills within 12 hours, contraceptive protection does not decrease, and the missed pill should be drunk as soon as the woman remembers about it. In the future, Klayra's reception is continued according to the usual scheme.
If you delay taking the active pill for more than 12 hours, contraceptive protection may decrease. The missed pill should be taken as soon as the woman remembers about it, even if this means that you need to take 2 tablets at the same time. In the future, Klayra's reception is continued according to the usual scheme.
Depending on the day on which the woman missed taking 1 tablet for more than 12 hours, the following rules should be followed:
1-2 days (dark yellow tablets): the missed tablet should be taken immediately, and the next one should be taken according to the usual scheme (even when taking 2 tablets in one day);
3-7 days (pink tablets): for the next 9 days, additional contraceptive measures need to be taken, the pills are continued as usual;
8-17 days (pale yellow pills): additional contraceptive measures must be used for the next 9 days;
Day 18-24 (pale yellow pills): you should immediately start taking the drug from a new calendar package (from the first pill), additional contraceptive measures should be used for the next 9 days;
Day 25-26 (red tablets): the missed tablet should be taken immediately, and the next one - at the usual time (even when taking 2 tablets in one day);
Day 27-28 (white pills - placebo): you need to continue taking Klayra in the usual way, throwing out the missed pill.
In one day, it is allowed to take no more than 2 Claira tablets.
The more tablets (in the period from 3 to 24 days, especially those containing a combination of two active ingredients) were missed, and the closer the day of skipping the drug to the phase of taking inactive tablets, the more likely pregnancy (in cases where within 7 days before intercourse was missed).
In the absence of menstrual bleeding at the end of the current calendar pack / at the beginning of a new calendar pack, the likelihood of pregnancy should be considered.
The absorption of the active substances of the drug in severe gastrointestinal disorders may be incomplete, therefore it is recommended to use additional contraceptive measures.
In cases where vomiting develops 3-4 hours after taking a tablet containing an active substance, recommendations relating to the missed tablets apply. If a woman does not want to change Klayra's usual regimen, she needs to take the appropriate additional pill (s) from the new package.
Claira should not be taken by women after menopause.
Side effects
When using Klayra, the following side effects may develop:
Nervous system: often - headache, including tension headache; infrequently - dizziness, decreased mood / depression, decreased libido, mental disorders, mood changes; rarely - aggressiveness, affective lability, nervousness, anxiety, increased libido, impaired attention, dysphoria, sleep disturbances, stress, anxiety, vertigo, paresthesia;
Digestive system: often - abdominal pain (including bloating); infrequently - nausea, diarrhea, vomiting; rarely - gastroesophageal reflux;
Cardiovascular system: infrequently - increased blood pressure, migraine (with and without aura); rarely - hot flashes to the face, bleeding from varicose veins, pain along the veins, lowering blood pressure;
Reproductive system: often - discomfort and pain in the mammary glands, amenorrhea, nipple disorders, dysmenorrhea, nipple pain, metrorrhagia; infrequently - an increase and diffuse thickening of the mammary glands, fibrocystic breast disease, dysplasia of the cervical epithelium, dyspareunia, dysfunctional uterine bleeding, menorrhagia, pain in the pelvic region, cysts in the ovaries, premenstrual syndrome, uterine leiomyoma, vaginal discharge, uterine spasms, dryness in the vulvovaginal area; rarely - benign neoplasms in the mammary gland, galactorrhea, breast cyst, bleeding during intercourse, bleeding from the vagina, delayed menstrual bleeding, hypomenorrhea, ruptured ovarian cyst, burning sensation in the vagina, vaginal / uterine bleeding (including vulvovaginal discomfort, odor from vagina,spotting);
Liver: rarely - focal nodular hyperplasia of the liver, increased activity of alanine aminotransferase;
Musculoskeletal system: rarely - a feeling of heaviness, muscle spasms, back pain;
Subcutaneous tissue and skin: often - acne; infrequently - alopecia, rash (including a spotted rash), itching (including an itchy rash, generalized itching); rarely - neurodermatitis, allergic skin reactions (including urticaria, allergic dermatitis), dermatitis, chloasma, hirsutism, hypertrichosis, seborrhea, pigmentation disorders, unspecified skin lesions, including a feeling of skin tightness;
Organ of vision: rarely - intolerance to contact lenses;
Invasions and infections: infrequently - fungal infections, vaginal candidiasis, unspecified vaginal infections; rarely - vulvovaginal fungal infections, versicolor versicolor, herpes, candidiasis, suspected ocular histoplasmosis syndrome, bacterial vaginosis, urinary tract infections;
Alimentary disorders and metabolism: infrequently - increased appetite; rarely - hypertriglyceridemia, fluid retention;
General symptoms: often - weight gain; infrequently - weight loss, edema, irritability; rarely - malaise, chest pain, lymphadenopathy, fatigue.
Overdose
With an overdose of Klaira, serious health problems are usually not observed. In case of an overdose of active tablets, symptoms typical for all COCs may appear: spotting spotting, metrorrhagia, nausea, vomiting. In these cases, symptomatic treatment is recommended.
special instructions
Before starting to use Claira, contraindications to its appointment should be carefully evaluated on the basis of the woman's family history, life history, as well as gynecological and general medical examination.
The maximum risk of venous thromboembolism is observed in the first year of taking Klayra (mainly during the first 3 months).
Thrombosis of other blood vessels (eg, mesenteric, hepatic, renal, retinal vessels, cerebral veins, and arteries) is extremely rare.
The risk of thromboembolism and thrombosis (arterial and / or venous) increases in smokers, with age, and in the presence of the following diseases / conditions:
A family history of indications of venous or arterial thromboembolism;
Obesity (body mass index over 30 kg / m²);
Atrial fibrillation;
Dyslipoproteinemia;
Arterial hypertension;
Heart valve disease;
Migraine;
Prolonged immobilization;
Extensive surgical interventions, any operations performed on the lower extremities, extensive injuries.
It is necessary to take into account the increased risk of thromboembolism in the postpartum period. It is also possible to develop peripheral circulatory disorders in women with diabetes mellitus, systemic lupus erythematosus, hemolytic uremic syndrome, chronic inflammatory bowel diseases (Crohn's disease or ulcerative colitis) and sickle cell anemia.
An increase in the severity and frequency of migraines may be the reason for the immediate discontinuation of Klayra.
In rare cases, when using the drug, benign, and in extremely rare cases, malignant liver tumors developed. In case of severe pain in the upper abdomen, an increase in the size of the liver, or symptoms of intra-abdominal bleeding, liver tumors should be excluded during differential diagnosis.
The risk of developing pancreatitis is higher in women with hypertriglyceridemia.
With the development of a persistent, clinically significant increase in blood pressure, Klayra's intake should be canceled.
In the presence of hereditary forms of angioedema, the drug may worsen or induce symptoms of angioedema.
Taking Klayra can affect the results of some laboratory tests, including the biochemical parameters of the thyroid gland, liver, kidney and adrenal function, the concentration of transport proteins in plasma, parameters of carbohydrate metabolism, fibrinolysis and clotting.
During the use of Klayra, especially in the first months of therapy, it is possible to develop irregular menstrual bleeding in the form of spotting secretions or breakthrough uterine bleeding. Any irregular menstrual bleeding should be assessed only after 3 menstrual cycles (after a period of adaptation).
If irregular menstrual bleeding recurs or if it occurs for the first time after previous regular cycles, a thorough examination should be carried out to rule out malignant neoplasms or pregnancy.
The effectiveness of Klayra may decrease in case of gastrointestinal disturbances, skipping tablets containing active ingredients, and also due to concomitant drug therapy.
Influence on the ability to drive vehicles and complex mechanisms
There was no negative effect of the drug on the ability to drive a car or work with complex mechanisms, however, patients who experience impaired concentration and cases of dizziness during the adaptation period (the first 3 months of taking Klayra) are advised to be careful.
Application during pregnancy and lactation
Reception of Klayra is contraindicated during pregnancy. If pregnancy occurs while taking a contraceptive, it must be canceled immediately. However, epidemiological studies carried out on a large scale do not prove the presence of an increased risk of congenital anomalies in children born to women who have used such drugs before pregnancy, as well as the teratogenic effect of their active components on the fetus when taken accidentally at the beginning of pregnancy.
Claira can affect lactation, since the active ingredients of the drug can reduce the volume of breast milk produced, as well as change its chemical composition. In this regard, during the period of breastfeeding, the use of this contraceptive is not recommended. A small amount of contraceptive hormones and / or their metabolites can pass into breast milk.
Pediatric use
The drug is prescribed to girls only after the onset of menarche.
With impaired renal function
The effect of Claira on the body of patients with renal dysfunction has not been seriously studied. The available information does not imply a correction of the contraceptive dosing regimen in this category of women.
Use in the elderly
The drug is prohibited for use in elderly patients after menopause.
Drug interactions
The interaction of Klayra with some other drugs can lead to a lack of contraceptive effect and / or the development of breakthrough uterine bleeding. In particular, it is necessary to take into account the effect of the simultaneous use of Klayra with drugs such as:
Rifampicin, carbamazepine, phenytoin, primidone, barbiturates, and possibly also oxcarbazepine, griseofulvin, topiramate, ritonavir, felbamate, as well as preparations containing St. John's wort: increased clearance of sex hormones;
Non-nucleoside reverse transcriptase inhibitors (eg nevirapine) and combinations thereof, HIV protease inhibitors (eg ritonavir): effects on hepatic metabolism;
Drugs that induce microsomal enzymes, antibiotics: a decrease in the enterohepatic circulation of estrogens and, accordingly, a decrease in the concentration of estradiol (it is recommended to use a different method of contraception or use barrier methods of contraception for the period of using these drugs and for another 28 days after their cancellation);
Grapefruit juice, azole antifungals, verapamil, cimetidine, diltiazem, antidepressants, macrolides: increasing the concentration of dienogest in blood plasma.
Analogs
Claira's analogs are: Benatex, Ginepriston, Jess, Decazol, Diane-35, Nonoxylene, Noretin, Novaring, Novinet, Lindinet 20, Logest, Lactinet, Mirena, Microginon, Marvelon, Regulon, Tri-Regol, Pharmatex, Femoden, Charoxosetta, Erotexosetta, Escapel, Yarina.
Terms and conditions of storage
Keep out of reach of children at temperatures up to 30 ° C.
Shelf life is 4 years.
Terms of dispensing from pharmacies
Available without a prescription.
Reviews about Claira
According to reviews, Klaira has a high contraceptive effect when used in women of reproductive age. Doctors believe that this contraceptive protects well against unplanned pregnancy and at the same time has a positive effect on the general condition of the female body. The opinions of patients about these contraceptive pills are rather contradictory. Some note their high efficiency in the absence of side effects, others have observed side effects during admission, but they were short-lived.
Most of the reviews about Claira on the Internet are neutral or positive. Patients who took it with a diagnosis of endometriosis respond especially well to the drug. According to their statements, with regular use of the contraceptive, the specific symptoms of the disease completely disappeared. However, the duration of taking Klayra was different, so the duration of the course should be selected by the doctor.
Price for Claira in pharmacies
On average, the price for Klayra in pharmacies is 940–1295 rubles (for a pack containing 28 tablets) and 2630–3150 rubles (for a pack containing 84 tablets).
Klaira: prices in online pharmacies
Drug name
Price
Pharmacy
Klayra film-coated tablets 28 pcs.
1028 RUB
Buy
Klayra tablets 28 pcs.
1096 RUB
Buy
Klayra film-coated tablets 84 pcs.
RUB 2740
Buy
Klayra tablets 84 pcs.
2896 RUB
Buy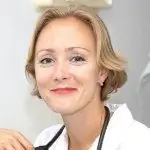 Anna Kozlova Medical journalist About the author
Education: Rostov State Medical University, specialty "General Medicine".
Information about the drug is generalized, provided for informational purposes only and does not replace the official instructions. Self-medication is hazardous to health!
Popular by topic