Table of contents:
Video: Klarotadin - Instructions For Use, Price, Reviews, Tablets, Syrup
Clarotadine
Klarotadin: instructions for use and reviews
1. Release form and composition
2. Pharmacological properties
3. Indications for use
4. Contraindications
5. Method of application and dosage
6. Side effects
7. Overdose
8. Special instructions
9. Application during pregnancy and lactation
10. Use in childhood
11. In case of impaired renal function
12. For violations of liver function
13. Drug interactions
14. Analogs
15. Terms and conditions of storage
16. Terms of dispensing from pharmacies
17. Reviews
18. Price in pharmacies
Latin name: Clarotadine
ATX code: R06AX13
Active ingredient: loratadine (loratadine)
Manufacturer: Akrikhin, JSC (Russia)
Description and photo update: 2019-02-09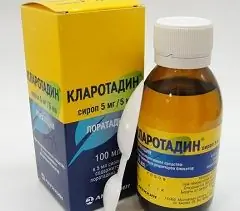 Clarotadine - blocker of H 1 - histamine receptors, antiallergic agent.
Release form and composition
Tablets: flat-cylindrical, white or almost white, with a chamfer (7 pcs. In blister packs, 1 pack in a cardboard box; 10 pcs. In blister packs, 1 or 3 packs in a cardboard box);
Syrup: transparent, from light yellow to yellow, with a weak fruity aroma (100 ml in dark glass bottles, in a cardboard box 1 bottle complete with a measuring spoon).
Each pack also contains instructions for the use of Klarotadin.
The active substance is loratadine:
1 tablet - 10 mg;
1 ml of syrup - 1 mg.
Excipients of tablets: microcrystalline cellulose, lactose monohydrate, sodium carboxymethyl starch, calcium stearate.
Additional components of the syrup: benzoic acid, propylene glycol, citric acid, sucrose, purified water, ethanol 96%, orange flavor, tropeolin O dye.
Pharmacological properties
Pharmacodynamics
Loratadine - the active substance of Clarotadine, is a blocker of histamine H 1 receptors. It has antipruritic, anti-allergic and anti-exudative effects. It helps to reduce capillary permeability, prevents the development of tissue edema, reduces the increased contractile activity of smooth muscles, which is caused by the action of histamine.
It has no anticholinergic and central properties.
The effect of loratadine begins to develop 30 minutes after administration, its duration is 24 hours.
Carrying out a long course does not lead to the development of resistance to its effects.
Loratadine and its metabolites do not cross the blood-brain barrier.
Pharmacokinetics
With oral administration of syrup and tablets Clarotadine in the recommended therapeutic dose, loratadine is absorbed from the gastrointestinal tract quickly and completely. A substance in some concentration appears in the blood plasma within 15 minutes after ingestion. The time to reach the C max (maximum concentration of the substance) of loratadine in plasma is in the range from 1.3 to 2.5 hours, and the time to reach the C max of its active metabolite is 2.5 hours.
Simultaneous intake of Clarotadine with food leads to a slowdown in the achievement of C max of loratadine and its active metabolite in plasma by 1 hour, while the C max of these substances does not change, clinical manifestations of the interaction of loratadine with food are not observed.
In elderly patients, the time to reach C max increases to 1.5 hours, in case of alcoholic liver damage, it increases in proportion to the severity of the disease. The plasma content of loratadine and its active metabolite in the blood reaches a stationary level in most cases on the fifth day of administration. Binds to plasma proteins at 97%.
Loratadine is metabolized in the liver, with the formation of descarboethoxyloratadine, an active metabolite. The process involves the isoenzyme CYP3A4 of cytochrome P 450, to a lesser extent - isoenzyme CYP2D6 of cytochrome P 450. In the presence of ketoconazole, which is a CYP3A4 inhibitor, loratadine is transformed into descarboethoxyloratadine mainly with the participation of CYP2D6.
Loratadine is excreted in urine and bile. The average T 1/2 (half-life) of loratadine is 8.4 hours (ranging from 3 to 20 hours), and for the active metabolite the value of the indicator is 28 hours (from 8.8 to 92 hours). In elderly patients, T 1/2 of loratadine and descarboethoxyloratadine increases to 18.2 and 17.5 hours, respectively (from 6.7 to 37 and from 11 to 38 hours, respectively). With alcoholic liver damage, T 1/2 increases with the severity of the disease.
Indications for use
Urticaria (including chronic idiopathic);
Seasonal and / or perennial rhinitis (including hay fever);
Itchy dermatoses;
Allergic conjunctivitis;
Pseudo-allergic reactions caused by the release of histamine;
Quincke's edema;
Allergic reaction to insect bites.
Contraindications
Pregnancy;
Lactation;
Children under 2 years old;
Hypersensitivity to drug components.
Clarotadine syrup and tablets should be used with caution in the treatment of patients with hepatic impairment.
Klarotadin, instructions for use: method and dosage
Clarotadine is taken orally.
Recommended doses:
Adults and children over 12 years old: 10 mg (1 tablet or 2 scoops of syrup) 1 time per day;
Children 2-12 years old: with a body weight of less than 30 kg - 5 mg (1/2 tablet or 1 scoop of syrup) 1 time per day, with a body weight of more than 30 kg - 10 mg 1 time per day.
Patients with impaired liver function or renal failure (glomerular filtration rate below 30 ml / minute) Clarotadine is prescribed 10 mg every other day.
Side effects
Central and peripheral nervous system: asthenia, anxiety, tremor, dysphonia, blepharospasm, drowsiness, hyperkinesia, depression, paresthesia, agitation (in children), amnesia;
Digestive system: dyspepsia, constipation or diarrhea, gastritis, anorexia, flatulence, taste changes, stomatitis, increased appetite;
Respiratory system: dryness of the nasal mucosa, cough, sinusitis, bronchospasm;
Musculoskeletal system: myalgia, arthralgia, back pain, cramps of the calf muscles;
Urinary system: painful urge to urinate, discoloration of urine;
Reproductive system: vaginitis, menorrhagia, dysmenorrhea, pain in the mammary glands;
Metabolism: thirst, increased sweating, weight gain;
Cardiovascular system: increase or decrease in blood pressure, chest pain, heart palpitations;
Senses: conjunctivitis, blurred vision, pain in the eyes and ears;
Dermatological and allergic reactions: photosensitivity, pruritus, dermatitis, urticaria, chills, fever, angioedema.
Overdose
The main symptoms in the case of taking Clarotadine in doses that significantly exceed the recommended dose (40–180 mg loratadine): adults - headache, tachycardia, drowsiness; children weighing up to 30 kg (when taking a dose above 10 mg) - increased heart rate and extrapyramidal symptoms.
Therapy: measures aimed at removing loratadine from the gastrointestinal tract and reducing absorption (induction of vomiting, gastric lavage, intake of activated carbon).
In case of an overdose of Clarotadine, it is recommended to consult a doctor. According to the indications, symptomatic treatment is carried out. Loratadine is not excreted from the body during hemodialysis. There is no information on the elimination of the substance during peritoneal dialysis.
special instructions
Influence on the ability to drive vehicles and complex mechanisms
During treatment, one should refrain from driving vehicles and performing potentially dangerous types of work that require speed of reactions and increased attention.
Application during pregnancy and lactation
Clarotadine tablets and syrup are not prescribed during pregnancy / lactation.
Pediatric use
Clarotadine is not recommended for patients under 2 years of age.
With impaired renal function
In renal failure (glomerular filtration rate <30 ml / min), the initial dose of the drug is 10 mg (1 tablet or 2 scoops) every other day.
For violations of liver function
With hepatic insufficiency, Clarotadine should be used under medical supervision.
In patients with impaired liver function, the initial dose of the drug is 10 mg (1 tablet or 2 scoops) every other day.
Drug interactions
Microsomal oxidation inducers (barbiturates, tricyclic antidepressants, rifampicin, zixorin, phenylbutazone, phenytoin, ethanol) reduce the effectiveness of loratadine.
Erythromycin, ketoconazole and cimetidine contribute to an increase in the concentration of loratadine in the blood plasma, however, this has no clinical significance, it has no effect on these electrocardiograms.
Used in therapeutic doses, Clarotadine has no potentiating effect on ethanol.
Analogs
Clarotadin analogs are: Alerpriv, Vero-Loratadin, Klallergin, Klargotil, Claridol, Clarisens, Claritin, Clarifer, Klarnedin, Lomilan, Lomilan-Solo, Lorahexal, Loratadin, Loratadin Stada, Loratadin 10-SL-OB, Loratadin Loratadin-Teva, Loratadin-Hemofarm, Tirlor, Erolin.
Terms and conditions of storage
Store out of reach of children, protected from moisture, at a temperature: tablets - up to 25 ºС, syrup - 12-15 ºС.
Shelf life of tablets - 4 years, syrup - 3 years.
Terms of dispensing from pharmacies
Available without a prescription.
Reviews about Clarotadine
According to reviews, Clarotadine is effective in treating allergies. The drug has a fast action, has an affordable cost. The main advantage is the lack of a sleeping pill. Also, the taste of the syrup and the ease of use are usually positively evaluated.
Price for Klarotadine in pharmacies
The approximate price for Klarotadin is: syrup (1 bottle of 100 ml) - 118 rubles, tablets (10 pcs.) - 104 rubles.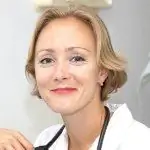 Anna Kozlova Medical journalist About the author
Education: Rostov State Medical University, specialty "General Medicine".
Information about the drug is generalized, provided for informational purposes only and does not replace the official instructions. Self-medication is hazardous to health!
Popular by topic