Table of contents: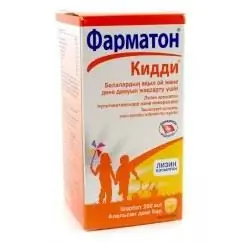 Video: Kiddy Farmaton - Instructions For Use, Indications, Doses, Analogues
Kiddy Farmaton
Instructions for use:
1. Release form and composition
2. Indications for use
3. Contraindications
4. Method of application and dosage
5. Side effects
6. Special instructions
7. Drug interactions
8. Analogs
9. Terms and conditions of storage
10. Terms of dispensing from pharmacies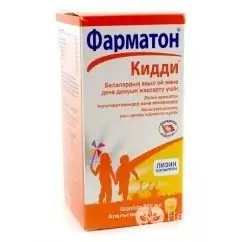 Kiddy Farmaton is a complex multivitamin and polymineral drug.
Release form and composition
Kiddy Farmaton is available in the form of a syrup for oral administration: a clear, thick orange liquid with an orange smell and a sweet orange flavor (in 100 ml bottles, 1 bottle in a cardboard box).
The composition of 1 ml of syrup contains active substances:
Calcium glycerophosphate - 204 mg (corresponds to the content: calcium - 8.67 mg, phosphorus - 13.33 mg);
Thiamine hydrochloride (vitamin B 1) - 0.2 mg;
Riboflavin phosphate (vitamin B 2) - 0.23 mg;
Pyridoxine hydrochloride (vitamin B 6) - 0.4 mg;
Cholecalciferol (vitamin D 3) - 0.001 mg (40 IU (international units));
D, L-tocopherol acetate (vitamin E) - 1 mg;
Nicotinamide (vitamin PP) - 1.33 mg;
D-panthenol - 0.67 mg;
L-lysine hydrochloride - 20 mg.
Auxiliary components: L-ascorbic acid, 70% sorbitol, 96% ethanol, sodium carboxymethylcellulose, orange essence 9/012988, ethylenediaminetetraacetate disodium salt, polysorbate 80, polysorbate 20, saccharin sodium sorbate, sodium benzoate (E211), citric acid monohydrate potassium (E202), purified water.
Indications for use
Kiddy Farmaton is prescribed to children to replenish the lack of vitamins and minerals, including the following conditions / diseases:
Infectious diseases and convalescence;
A period of active growth (in order to prevent a- and hypovitaminosis);
Postoperative and post-traumatic period;
Compliance with diets and / or insufficient intake of vitamins in the body along with food.
Contraindications
Hypercalciuria, hypercalcemia;
Hypervitaminosis D and B;
Phenylketonuria;
Functional disorders of the kidneys;
Simultaneous use with drugs containing cholecalciferol (cholecalciferol);
Hypersensitivity to drug components.
Method of administration and dosage
Kiddy Farmaton is taken orally, preferably before breakfast or lunch (the use of the drug in the evening is not recommended).
Frequency rate of application - 1 time per day.
If necessary, the syrup can be diluted with water or mixed with food. The composition of Kiddy Farmaton contains sorbitol and saccharin, the syrup has an orange flavor.
For prophylactic purposes, the following dosing regimen (daily dose) is recommended:
Children 1-3 years old - 2.5 ml;
Children 4-6 years old - 3 ml;
Children from 7 years old - 4 ml.
For hypovitaminosis and similar conditions, the drug for therapeutic purposes is usually prescribed in the following daily doses:
Children 1-5 years old - 7.5 ml;
School-age children - 15 ml.
The duration of the course is determined by the doctor individually.
Side effects
While taking Kiddy Farmaton, disorders such as nausea, vomiting, allergic reactions (in the form of itching, hives, skin rashes) may occur.
With prolonged therapy, taking the drug in high doses, as well as with hypersensitivity, symptoms of vitamin D and B 6 hypervitaminosis may appear (in the form of headache, thirst, frequent urination, renal impairment, peripheral nephropathy, ataxia).
special instructions
When storing Kiddy Farmaton, turbidity of the syrup may occur (due to the presence of fruit extract in it), which does not affect its effectiveness. Shake the bottle of syrup thoroughly before taking it.
Drug interactions
There are no known interactions of Kiddy Farmaton with food or other drugs.
Analogs
The analogues of Kiddy Farmaton are: Antioxicaps with zinc, Antioxicaps with iodine, Antioxicaps with selenium, Vitrum Beauty, Vitrum Vision, Vitrum Performance, Pharmaton Vital, Antioxicaps with iron.
Terms and conditions of storage
Store in a tightly sealed bottle, protected from light, dry, out of reach of children, at a temperature of 15-25 ° C.
Shelf life is 2 years.
After the first opening of the bottle, the syrup can be taken for 1 month.
Terms of dispensing from pharmacies
Available without a prescription.
Information about the drug is generalized, provided for informational purposes only and does not replace the official instructions. Self-medication is hazardous to health!
Popular by topic