Table of contents: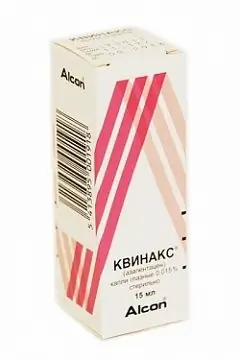 Video: Drops Of Quinax - Instructions, Application, Reviews
Quinax
Instructions for use:
1. Pharmacological action
2. Release form
3. Indications for use
4. Instructions for use
5. Side effects
6. Contraindications to use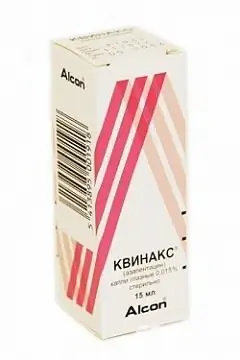 Quinax drops are an ophthalmic agent.
pharmachologic effect
Quinax drops are used to treat cataracts.
The agent launches proteolytic moist enzymes in the anterior ophthalmic chamber, so it becomes possible to absorb the opaque proteins of the eye lens. Also, Quinax drops protect the sulfhydryl compounds of the lens from oxidative reactions.
Reviews of Quinax among patients with cataracts are positive, it is considered the most popular drug for the treatment of this disease.
The active substance of Quinax is sodium polysulfonate azapentacene, the auxiliary substances are thiomersal, boric acid, methylparaben, purified water, propylparaben.
Release form
Quinax drops are produced in the form of an ophthalmic solution of 0.015% concentration of purple transparent color in polyethylene bottles with a dropper cap.
They sell drops only by prescription.
Indications for use
Shown is the use of Quinax in congenital, secondary, traumatic, senile cataracts.
Instructions for use of Quinax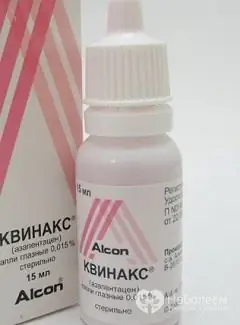 According to the instructions of Quinax, it is necessary to bury 3-5 r / day in a sore eye for 1-2 caps.
The tool can be used for a long time, even if the expected therapeutic effect occurred quickly, the treatment should not be interrupted.
Drops in an open bottle are suitable for treatment for another month. The bottle must be closed after each use.
Side effects
There are no bad reviews about Quinax, no side effects were recorded in the case of using the drug in recommended doses.
In case of accidental ingestion, there were no negative actions. Data on drug overdose have not been reported.
Contraindications to the use of Quinax
According to the instructions, Quinax should not be used with increased sensitivity.
There is not enough data on the safety of using Quinax during pregnancy, breastfeeding, children, therefore, during these periods, the drug is rarely prescribed for children.
When instilling eyes, avoid contact of the dropper with the mucous membrane of the eye, with the skin of the eyelids.
Patients who experience visual impairment after eye instillation should refuse to drive vehicles, control equipment and mechanisms immediately after using the drops.
Patients who wear contact lenses should remove them before instilling the product. You can put them on only 15 minutes after the procedure.
Information about the drug is generalized, provided for informational purposes only and does not replace the official instructions. Self-medication is hazardous to health!
Popular by topic