Table of contents: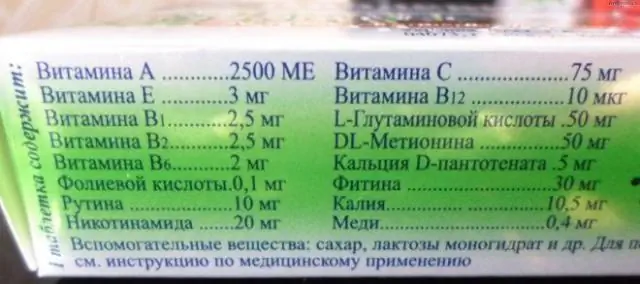 Video: Kvadevit - Instructions For The Use Of Vitamins, Reviews, Price, Analogues
Kvadevit
Kvadevit: instructions for use and reviews
1. Release form and composition
2. Pharmacological properties
3. Indications for use
4. Contraindications
5. Method of application and dosage
6. Side effects
7. Overdose
8. Special instructions
9. Drug interactions
10. Analogs
11. Terms and conditions of storage
12. Terms of dispensing from pharmacies
13. Reviews
14. Price in pharmacies
Latin name: Quadevit
ATX code: A11AB
Active ingredient: Vitamins in combination with amino acids and minerals
Producer: Pharmstandard - Ufa Vitamin Plant (Russia), Kiev Vitamin Plant, PJSC (Ukraine)
Description and photo update: 2019-06-08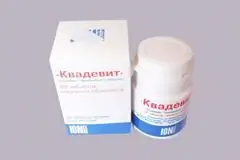 Kvadevit is a multivitamin preparation that replenishes the deficiency of trace elements and vitamins, normalizes metabolic processes in the body.
Release form and composition
Dosage form - coated tablets (10 pcs. In blisters, 3 packs in a cardboard box).
Content of active substances in 1 tablet:
Retinol acetate - 2500 international units (IU);
Thiamine hydrochloride - 2.5 mg;
Riboflavin - 2.5 mg;
Pyridoxine hydrochloride - 2 mg;
Cyanocobalamin - 0.01 mg;
Ascorbic acid - 75 mg;
Alpha-tocopherol acetate - 3 mg;
Methionine - 50 mg;
Glutamic acid - 50 mg;
Fitin - 30 mg;
Nicotinamide - 20 mg;
Potassium (as chloride) 10.5 mg
Rutoside - 10 mg;
Calcium pantothenate - 5 mg;
Sulfate pentahydrate (copper) - 0.4 mg;
Folic acid - 0.1 mg.
Pharmacological properties
Pharmacodynamics
Kvadevit is a complex preparation, which includes a complex of minerals and vitamins that play an important role in metabolic processes. The dose of each of the vitamins corresponds to the maximum physiological daily requirement. Each of the active ingredients has the following properties:
vitamin A (retinol acetate): normalization of the function of the mucous membranes and skin, as well as the organ of vision;
vitamin E (α-tocopherol acetate): antioxidant properties, maintaining the stability of erythrocytes, preventing hemolysis; positively affects the function of nervous and muscle tissues, the work of the sex glands;
vitamin B 1 (thiamine chloride): participation in the functioning of the nervous system and carbohydrate metabolism;
vitamin B 2 (riboflavin) is an essential catalyst for visual perception and processes of cellular respiration;
vitamin B 6 (pyridoxine hydrochloride): participation in the synthesis of neurotransmitters and protein metabolism;
folic acid: necessary for the normalization of erythropoiesis, participation in the synthesis of nucleic acids, nucleotides, amino acids;
rutoside (rutin): ensuring the accumulation and preventing the oxidation of ascorbic acid in tissues, the presence of antioxidant properties and participation in redox reactions;
nicotinamide: participation in the metabolism of fats and carbohydrates, tissue respiration;
vitamin C (ascorbic acid): influence on the maturation of erythrocytes and the production of hemoglobin, ensuring collagen synthesis, participation in the formation and maintenance of the normal structure and functions of teeth, bones, cartilage;
vitamin B 12 (cyanocobalamin): an important element in myelin synthesis and folic acid metabolism, participation in the processes of nucleotide production, is necessary for the development of epithelial cells, growth and stimulation of hematopoiesis;
glutamic acid: improving the activity of the central nervous system, increasing motor activity and mood, improving protein and carbohydrate metabolism, maintaining the functions of the brain (as a source of energy), stimulating oxidation processes, participating in nitrogen metabolism (which is the initial compound for the synthesis of amino acids in the body);
methionine: participation in detoxification of xenobiotics, activation of the action of proteins, hormones, enzymes, vitamins;
calcium pantothenate: is an important component of oxidative reactions and regeneration processes of the endothelium and epithelium;
phytin: enhancing the growth and development of bone tissue, stimulating hematopoiesis, improving central nervous system function in diseases caused by phosphorus deficiency in the body;
potassium: participation in the regulation of vascular tone, the processes of conduction of nerve impulses and muscle contractions, activation of the muscular work of the heart and the action of a number of enzymes, regulation of the acid-base balance of the body;
copper: strengthening the walls of blood vessels, participation in the processes of providing tissues with oxygen: the synthesis of hemoglobin and the formation of red blood cells.
Indications for use
According to the instructions, Kvadevit is indicated mainly for elderly and senile patients:
Prevention and compensation of multivitamin deficiency;
Cardiovascular insufficiency;
Atherosclerosis;
Functional disorders of the liver.
Contraindications
The period of pregnancy and breastfeeding;
Age under 14;
Individual intolerance to the components of the drug.
Instructions for use of Kvadevit: method and dosage
The tablets are taken orally after meals.
Recommended dosage regimen:
Prevention: 1 pc. 1-2 times a day;
Treatment: 1 pc. 3-4 times a day.
Duration of application is 3 weeks.
Repeated courses are indicated every 3 months.
Side effects
Allergic reactions may develop while taking Kvadevit vitamins.
Overdose
In case of an overdose, it is necessary to consult a doctor, but such cases are extremely rare. When undesirable symptoms appear, the drug is canceled, the stomach is washed, activated charcoal or other sorbent is taken orally, and symptomatic treatment is prescribed.
special instructions
Taking the drug may be accompanied by yellow staining of urine.
Drug interactions
The simultaneous use of other multivitamin preparations is contraindicated.
Analogs
The analogues of Kvadevit are: Complivit, Alvitil, Revit, Pangeksavit.
Terms and conditions of storage
Keep out of the reach of children.
Store in a dark, dry place at temperatures up to 25 ° C.
Shelf life is 2 years.
Terms of dispensing from pharmacies
Available without a prescription.
Reviews about Kvadevite
If you believe the reviews, Kvadevit is prescribed mainly to elderly patients. It is characterized by a hypolipidemic effect, which consists in lowering cholesterol levels and a decrease in the atherogenic index in patients with coronary heart disease. The drug is also used to prevent aging. Buyers note the affordable price of Kvadevit in comparison with imported counterparts, but some of them complain about the too high frequency of administration - 3 times a day, since you can easily forget about taking the pill.
Many patients, including middle-aged ones, take the vitamin complex for prophylactic purposes and speak positively about it, speaking of an incredible increase in strength and strengthening of nails after a course of treatment. However, recently, vitamins Kvadevit have become less popular due to the limited content of minerals, since such preparations with the maximum content of useful trace elements and minerals have appeared on the market.
Price for Kvadevit in pharmacies
At the moment, the price of Kvadevit remains unknown, since it has been withdrawn from sale in pharmacy chains.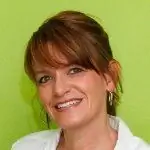 Maria Kulkes Medical journalist About the author
Education: First Moscow State Medical University named after I. M. Sechenov, specialty "General Medicine".
Information about the drug is generalized, provided for informational purposes only and does not replace the official instructions. Self-medication is hazardous to health!
Popular by topic