Table of contents: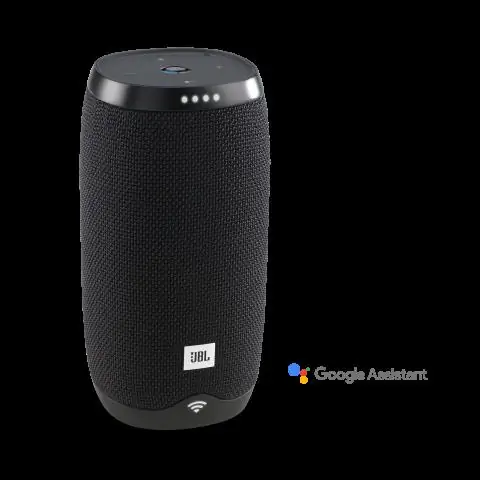 Video: Cardosal 10 - Instructions For Use, Price, Reviews, Analogs Of Tablets
Cardosal 10
Cardosal 10: instructions for use and reviews
1. Release form and composition
2. Pharmacological properties
3. Indications for use
4. Contraindications
5. Method of application and dosage
6. Side effects
7. Overdose
8. Special instructions
9. Application during pregnancy and lactation
10. Use in childhood
11. In case of impaired renal function
12. For violations of liver function
13. Use in the elderly
14. Drug interactions
15. Analogs
16. Terms and conditions of storage
17. Terms of dispensing from pharmacies
18. Reviews
19. Price in pharmacies
Latin name: Cardosal 10
ATX code: C09CA08
Active ingredient: olmesartan medoxomil (Olmesartan medoxomil)
Producer: Daiichi Sankyo Europe, GmbH (Germany)
Description and photo update: 2019-12-07
Prices in pharmacies: from 448 rubles.
Buy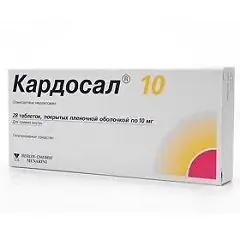 Cardosal 10 is an antihypertensive drug, angiotensin II receptor antagonist, subtype AT 1.
Release form and composition
The drug is available in the form of film-coated tablets: white, round, biconvex, imprint "03" on one side, have a specific odor (14 pcs. In blisters / blisters, in a cardboard box 1, 2, 4 or 7 packages / blisters and instructions for use of Cardosal 10).
1 tablet contains:
active substance: olmesartan medoxomil - 10 mg;
auxiliary components: lactose monohydrate, microcrystalline cellulose, hyprolosis (viscosity 6–10 mPa s), hyprolosis (with a low degree of substitution), magnesium stearate;
composition of the film shell: hypromellose (viscosity 5 mPa × s), talc, titanium dioxide (E171).
Pharmacological properties
Pharmacodynamics
Cardosal 10 is an antihypertensive drug, the active ingredient of which, olmesartan medoxomil, is a potent specific antagonist of angiotensin II receptors (AT 1 subtype) for oral administration. Angiotensin II is the primary vasoactive hormone of the RAAS (renin-angiotensin-aldosterone system), it plays an important role in the pathophysiology of hypertension, acting on AT 1 receptors. It is assumed that the therapeutic effect of olmesartan is associated with the blocking of all actions of angiotensin II mediated by AT 1 receptors, including vasoconstriction, cardiac stimulation, potentiation of the synthesis and release of aldosterone, and increased sodium reabsorption in the kidneys.
In the treatment of arterial hypertension, olmesartan causes a decrease in blood pressure (BP), the duration of which is dose-dependent. There is no information about the occurrence of arterial hypotension while taking the first dose of Cardosal 10, tachyphylaxis (against the background of prolonged use) or the development of a withdrawal syndrome, accompanied by a sharp increase in blood pressure after discontinuation of drug therapy.
Taking Cardosal 10 provides a gentle effective lowering of blood pressure within 24 hours. It should be noted that the therapeutic effect of the drug does not change with a dosage regimen of 1 or 2 times a day.
The antihypertensive effect develops within 14 days after the start of treatment, the maximum effect is recorded after 56 days of regular use of the drug.
Pharmacokinetics
Olmesartan medoxomil is a prodrug. After taking the pill inside, its absorption from the gastrointestinal tract occurs quickly. Under the action of enzymes of olmesartan, medoxomil is converted into a pharmacologically active metabolite - olmesartan. The maximum concentration (C max) of olmesartan in blood plasma is achieved on average after 2 hours. Its growth with an increase in a single dose to 80 mg is linear. The bioavailability of the active metabolite averages 25.6%; it does not change significantly with simultaneous food intake.
In blood plasma and / or feces, olmesartan medoxomil is not detected unchanged.
Plasma protein binding is 99.7%, olmesartan's connection with blood cells is insignificant.
The average volume of distribution after intravenous administration is 16–29 liters.
About 40% of the absorbed part of olmesartan is excreted through the kidneys, 60% through the hepatobiliary system (with bile and feces). Intestinal hepatic recirculation of the active metabolite is minimal. Since most of olmesartan is excreted through the liver, the use of the drug is contraindicated in case of obstruction of the biliary tract.
The half-life after repeated oral administration is 10-15 hours.
The total plasma clearance is on average 1.3 l / h, its variability is 19%, hepatic clearance is approximately 90 l / h. The renal clearance of the drug does not depend on the dose and can vary from 0.5 to 0.7 l / h.
The most significant therapeutic effect is achieved after taking the first few doses of Cardosal 10. Further cumulation after 14 days of regular intake is not observed.
The patient's gender has no clinically significant effect on the pharmacokinetic parameters of olmesartan.
With a mild degree of renal impairment, AUC (area under the concentration-time curve) increases by approximately 62%, with a moderate degree - by 82%, with severe impairment - by 179%, compared with healthy volunteers.
With a mild degree of liver dysfunction, taking a single dose of the drug causes an increase in AUC values by 6%, and with a moderate degree of liver dysfunction - by 65%, compared with healthy volunteers.
Indications for use
The use of Cardosal 10 is indicated for the treatment of essential hypertension.
Contraindications
Absolute:
obstruction of the biliary tract;
renal failure with creatinine clearance (CC) less than 20 ml / min, condition after kidney transplantation;
lactase deficiency, glucose-galactose malabsorption syndrome or galactosemia;
period of pregnancy;
breast-feeding;
age up to 18 years;
hypersensitivity to the components of the drug.
It is recommended to take Cardosal 10 with caution for primary aldosteronism, chronic heart failure, ischemic heart disease, aortic valve stenosis, mitral valve stenosis, hypertrophic obstructive cardiomyopathy, cerebrovascular pathologies, hyperkalemia, hyponatremia, renal insufficiency (MC), more than 20 ml renal arteries or stenosis of an artery of a solitary kidney, impaired liver function, reduced circulating blood volume (BCC) (including conditions such as diarrhea and vomiting), adherence to a sodium-restricted diet, in combination with diuretics, as well as in the treatment of patients over 65 years of age.
Cardosal 10, instructions for use: method and dosage
Cardosal 10 tablets are taken orally, regardless of food intake, every day at a strictly established (convenient for the patient) time of day.
Recommended dosage: initial dose - 1 pc. 1 per day. In the absence of a sufficient therapeutic effect, the dose can be increased to 2 pcs., If an additional decrease in blood pressure is required, the dose increase can be continued. The maximum daily dose is 40 mg.
For convenience, taking two or four tablets of the drug can be replaced by the use of Cardosal 20 or Cardosal 40 tablets. In case of clinical need, the simultaneous administration of a diuretic (hydrochlorothiazide) is indicated.
Side effects
from the central nervous system: sometimes - dizziness; very rarely - headache;
from the circulatory and lymphatic system: very rarely - thrombocytopenia;
on the part of the cardiovascular system: rarely - excessive lowering of blood pressure; sometimes - tachycardia, angina pectoris;
from the digestive system: often - dyspepsia, diarrhea, gastroenteritis; very rarely - nausea, abdominal pain, vomiting;
from the respiratory system: often - rhinitis, pharyngitis; very rarely - bronchitis, cough;
from the urinary system: often - urinary tract infections, hematuria; very rarely - acute renal failure;
from the musculoskeletal system: often - pain in the bones and / or back, arthritis, arthralgia; very rarely - myalgia, muscle cramps;
dermatological reactions: very rarely - allergic dermatitis, pruritus, urticaria, angioedema, rash;
from the side of metabolism: often - hyperuricemia, hypertriglyceridemia, increased levels of creatine phosphokinase; rarely - hyperkalemia;
laboratory indicators: very rarely - an increase in the activity of liver enzymes, an increase in the serum level of creatinine and urea;
others: often - flu-like symptoms, chest pain, peripheral edema; very rarely - drowsiness, asthenia, malaise, fatigue.
Overdose
symptoms: marked decrease in blood pressure;
treatment: immediate gastric lavage, intake of activated charcoal. Then the patient should be placed on his back and his legs raised. Emergency therapy includes measures aimed at correcting violations of water-salt metabolism and dehydration, restoring the volume of circulating blood.
special instructions
When prescribing Cardosal 10, research is required to determine the BCC and sodium levels in the blood. In the event of a decrease in indicators, it is necessary to take appropriate measures to restore them. This will prevent the development of symptomatic arterial hypotension, including after taking the first dose of Cardosal 10. Particular attention should be paid to patients on intensive diuretic therapy, on a diet that limits salt intake, or with pathologies accompanied by diarrhea / vomiting.
It should be borne in mind that in patients with severe chronic heart failure, impaired renal function (including renal artery stenosis) or other diseases in which vascular tone and renal function largely depend on the activity of the RAAS, taking the drug may increase the risk of azotemia, oliguria, acute arterial hypotension, acute renal failure. Particular care is required when treating patients on concomitant therapy with drugs that affect the RAAS.
Patients with functional impairment of the kidneys are advised to regularly undergo control studies to determine the level of potassium and creatinine in the blood serum.
In patients of the black race, the antihypertensive effect of Cardosal 10 is slightly lower than usual.
In ischemic heart disease or cerebrovascular insufficiency, a significant decrease in blood pressure is associated with an increased risk of developing myocardial infarction or stroke.
Influence on the ability to drive vehicles and complex mechanisms
During the period of treatment with Cardosal 10, care must be taken when driving vehicles and performing other potentially dangerous types of work that require a high degree of concentration of attention or speed of psychomotor reactions.
Application during pregnancy and lactation
The use of Cardosal 10 is contraindicated during pregnancy and lactation.
Pediatric use
The efficacy and safety of using olmesartan medoxomil under the age of 18 has not been established, therefore the use of Cardosal 10 in pediatrics is not recommended.
With impaired renal function
It is contraindicated to prescribe Cardosal 10 for severe renal failure (CC less than 20 ml / min), condition after kidney transplantation.
The drug should be taken with caution in patients with moderate and severe renal failure (CC more than 20 ml / min), bilateral renal artery stenosis or stenosis of an artery of a single kidney.
For violations of liver function
Care should be taken when treating patients with impaired liver function.
Use in the elderly
It is recommended to use Cardosal 10 with caution to treat patients over the age of 65 years.
Drug interactions
The antihypertensive effect is enhanced by the simultaneous administration of the drug with other antihypertensive drugs.
Due to a possible increase in serum potassium concentration, co-administration with an angiotensin II receptor antagonist of agents that can cause an increase in serum potassium levels (including potassium-sparing diuretics, potassium preparations containing potassium salt substitutes) should be avoided.
It should be borne in mind that against the background of concomitant therapy with non-steroidal anti-inflammatory drugs (NSAIDs), including acetylsalicylic acid in a daily dose of more than 3 g, or cyclooxygenase-2 inhibitors with angiotensin II receptor antagonists, there is a synergism of action and a decrease in glomerular filtration. In addition, the combination of olmesartan medoxomil with NSAIDs increases the risk of acute renal failure, and therefore it is recommended to drink enough fluids and monitor kidney function at the beginning of treatment. At the same time, the consequence of the interaction may be a partial loss of the hypotensive effect of the angiotensin II receptor antagonist.
Interaction with antacids (aluminum or magnesium hydroxide) may cause a moderate decrease in the bioavailability of olmesartan.
The simultaneous use of Cardosal 10 and lithium preparations is not recommended due to the possible manifestation of toxicity due to an increase in the concentration of lithium in the blood serum. If it is necessary to prescribe a combination therapy, regular monitoring of the level of lithium in the blood serum is required.
Analogs
The analogues of Cardosal 10 are Attento, Angiakand, Bloktran, Vasotenz, Valsartan, Hyposart, Cardosal Plus, Cardosal 20, Cardosal 40, Candesartan, Olymestra, Olmesar, etc.
Terms and conditions of storage
Keep out of the reach of children.
Store at temperatures up to 30 ° C.
The shelf life is 3 years.
Terms of dispensing from pharmacies
Dispensed by prescription.
Cardosal reviews 10
Patients and doctors note the excellent hypotensive effect of Cardosal 10, the result of which is the relief of chronic headache, weakness, nausea, loss of strength, which leads to a significant improvement in the quality of life. The convenience of using the tablets is ensured by the marking on the blister with the days of the week in which they are required to be taken.
However, in some reviews of Cardosal 10, there are reports that, against the background of therapy, side effects such as chest pain and a feeling of weakness occur.
Price for Cardosal 10 in pharmacies
The price of Cardosal 10 per pack containing 28 tablets can range from 480 rubles.
Cardosal 10: prices in online pharmacies
Drug name
Price
Pharmacy
Cardosal 10 10 mg film-coated tablets 28 pcs.
448 r
Buy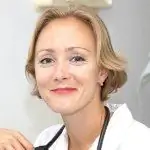 Anna Kozlova Medical journalist About the author
Education: Rostov State Medical University, specialty "General Medicine".
Information about the drug is generalized, provided for informational purposes only and does not replace the official instructions. Self-medication is hazardous to health!
Popular by topic