Table of contents: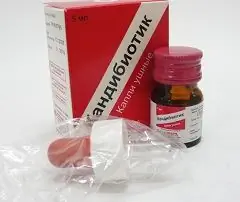 Video: Candibiotic - Reviews, Instructions, Analogs, Indications
Candibiotic
Instructions for use:
1. Pharmacological action
2. Release form
3. Indications for use
4. Contraindications
5. Instructions for use
6. Side effects
7. Storage conditions
Prices in online pharmacies:
from 283 rub.
Buy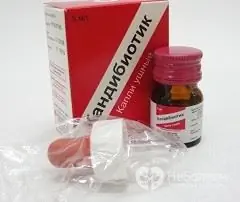 Candibiotic is a combined antibacterial and antifungal drug with a local anesthetic effect, used to treat various ENT diseases.
Pharmacological action Candibiotic
The drug has antifungal, antibacterial, decongestant, local anesthetic and anti-inflammatory effect in diseases of the ear of inflammatory and allergic etiology.
The action of Candibiotic ear drops is determined by the active ingredients included in it:
Clotrimazole, an imidazole derivative, is a broad-spectrum antifungal agent;
Chloramphenicol, being a broad-spectrum bacteriostatic antibiotic, is active against both gram-negative and gram-positive bacteria;
Beclomethasone dipropionate has anti-allergic and anti-inflammatory effects;
Lidocaine hydrochloride acts as a local anesthetic.
There are no analogues of Candibiotics in terms of chemical composition.
The active substances included in the preparation make it a universal complex remedy for acute inflammatory pathology in the middle and outer ear of any microbial etiology. If necessary, replace Candibiotic with an analogue, you can use a combined treatment with antibacterial and antifungal drugs in drops.
Release form
Candibiotic is released in the form of transparent light yellow ear drops. 1 ml of the drug contains 250 mcg beclomethasone dipropionate, 50 mg chloramphenicol, 10 mg clotrimazole and 20 mg lidocaine hydrochloride. Excipients - propylene glycol and glycerol. In dark glass vials with a pipette, 5 ml in a cardboard box.
Indications for use
According to the instructions, Candibiotic is used for allergic and inflammatory ear diseases:
Chronic otitis media in the acute stage;
Acute otitis media;
Acute and diffuse otitis externa;
After ear surgery.
Contraindications
Candibiotic drops are contraindicated for:
Children under 6 years of age;
Violations of the integrity of the tympanic membrane;
Hypersensitivity to Candibiotics and its components.
Because of the dipropionate, which is part of Candibiotic Beclomethasone drops, the drug is not prescribed for herpes simplex and chickenpox.
Instructions for use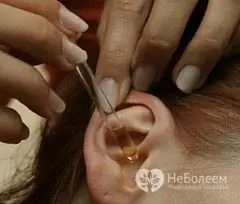 According to the instructions, Candibiotic is instilled into the external auditory canal. Treatment is carried out 3-4 times a day, instilling 4-5 drops. The course depends on the course of the disease and ranges from a week to 10 days. Improvement of the condition, according to reviews of Candibiotics, occurs on the third or fifth day from the beginning of application.
Side effects
According to reviews, Candibiotic is well tolerated and rarely causes a burning sensation at the site of application or itching. Allergic reactions are extremely rare.
Data on overdose and drug interactions with other drugs are not described.
Use during pregnancy and during breastfeeding has not been studied. Therefore, the question of the appointment of Candibiotic ear drops is decided by the attending physician.
Storage conditions
Ear drops Candibiotic is a prescription. Shelf life is 2 years.
Candibiotic: prices in online pharmacies
Drug name
Price
Pharmacy
Candibiotic ear drops 5 ml 1 pc.
283 r
Buy
Candibiotic ear drops complete with pipette stopper 5ml
374 r
Buy
Information about the drug is generalized, provided for informational purposes only and does not replace the official instructions. Self-medication is hazardous to health!
Popular by topic