Table of contents: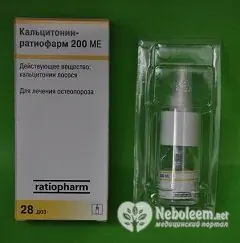 Video: Calcitonin-ratiopharm - Instructions For Use, Indications, Doses, Analogues
Calcitonin-ratiopharm
Instructions for use:
1. Release form and composition
2. Indications for use
3. Contraindications
4. Method of application and dosage
5. Side effects
6. Special instructions
7. Drug interactions
8. Analogs
9. Terms and conditions of storage
10. Terms of dispensing from pharmacies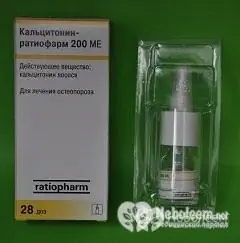 Calcitonin-ratiopharm is a parathyroid hormone antagonist that affects bone tissue and calcium homeostasis.
Release form and composition
Dosage form - dosed nasal spray (14 or 28 doses in vials).
The active ingredient is calcitonin in the form of salmon calcitonin, in 1 dose - 200 IU.
Auxiliary components: meglumine, trometamol, anhydrous citric acid, propyl parahydroxybenzoate, methyl parahydroxybenzoate, water for injection.
Indications for use
Bone pain with osteolysis and / or osteopenia;
Postmenopausal osteoporosis;
Paget's disease (osteitis deformans);
Zudeck's syndrome or algodystrophy are neurodystrophic pathologies, the development of which is caused by reflex dystrophy, post-traumatic osteoporosis, shoulder-hand syndrome, drug-induced neurotrophic disorders, and causalgia.
Contraindications
The period of pregnancy and breastfeeding;
Childhood;
Hypersensitivity to drug components.
Method of administration and dosage
Calcitonin ratiopharm is administered intranasally.
The doctor prescribes the drug on the basis of clinical indications.
Recommended dosage:
Osteolysis and / or osteopenia: 200 IU 1 time per day, if a higher daily dose is prescribed, it should be distributed over several injections. Complete pain relief may occur after several days of therapy. The dose and frequency of administration are adjusted individually;
Postmenopausal osteoporosis: 200 IU, or one injection, 1 time per day for 3 months or more. For the prevention of bone resorption, it is recommended to take vitamin D and calcium supplements in acceptable doses at the same time;
Paget's disease: 200-400 IU 1-2 times a day;
Neurodystrophic pathologies: 200 IU once a day, treatment period is 2-4 weeks. If necessary, treatment is prolonged with the appointment of 1 dose of the drug 1 time in 2 days, the period of therapy depends on the dynamics of the patient's condition, but not more than 6 weeks.
Side effects
The use of the drug can cause side effects:
Local reactions: dryness of the nasal mucosa, rhinitis, sinusitis, epistaxis;
Others: often - nausea, dizziness, vomiting, flushing, arthralgia; in isolated cases - polyuria and chills (transient), arterial hypertension, peripheral edema, hypersensitivity reactions in the form of local or generalized skin rash.
special instructions
Formed as a result of prolonged use of antibodies to calcitonin do not affect its effectiveness.
Treatment of patients with chronic rhinitis is recommended under constant medical supervision due to increased resorption of the active substance against the background of inflammation of the nasal mucosa.
Patients with suspected hypersensitivity to salmon calcitonin should perform skin tests using a diluted sterile solution of calcitonin before intranasal administration of the drug. The need for skin tests is caused by the existing risk of developing (in this category of persons) systemic allergic reactions, including anaphylactic shock.
During the period of use of the drug, care must be taken when driving vehicles and mechanisms, since the action of Calcitonin-ratiopharm can cause dizziness in patients.
Drug interactions
No clinically significant interaction of the drug with other drugs has been established.
Analogs
There is no information on analogs of Calcitonin-ratiopharm.
Terms and conditions of storage
Keep out of the reach of children at a temperature of 2 to 8 ° C, after opening the bottle - up to 25 ° C.
Terms of dispensing from pharmacies
Dispensed by prescription.
Information about the drug is generalized, provided for informational purposes only and does not replace the official instructions. Self-medication is hazardous to health!
Popular by topic