Table of contents: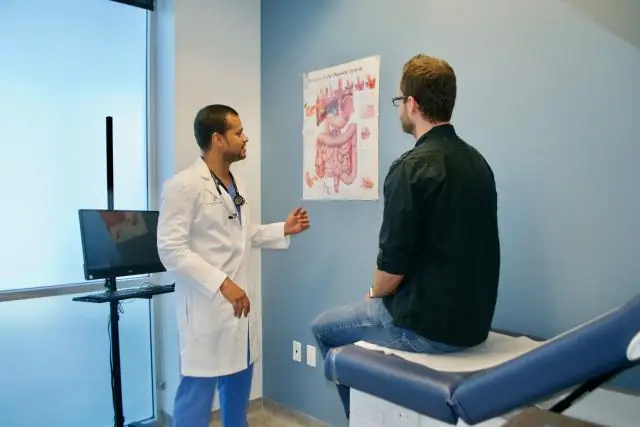 Video: Moviprep - Instructions For Use, Reviews, Price, Analogues
Moviprep
Moviprep: instructions for use and reviews
1. Release form and composition
2. Pharmacological properties
3. Indications for use
4. Contraindications
5. Method of application and dosage
6. Side effects
7. Overdose
8. Special instructions
9. Application during pregnancy and lactation
10. Drug interactions
11. Analogs
12. Terms and conditions of storage
13. Terms of dispensing from pharmacies
14. Reviews
15. Price in pharmacies
Latin name: Moviprep
ATX code: A06AD65
Active ingredient: macrogol (macrogol) + ascorbic acid (Acidum ascorbinicum)
Manufacturer: Norgine (Great Britain)
Description and photo updated: 2018-16-05
Prices in pharmacies: from 655 rubles.
Buy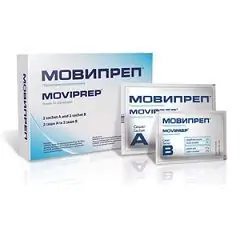 Moviprep is a laxative.
Release form and composition
Dosage form Moviprep - powder for preparation of a solution for oral administration: sachet A - from white to yellow, with a pleasant lemon scent; sachet B - from white to light brown (111.896 g of powder in sachet A and 10.6 g of powder in sachet B, in a plastic bag 1 sachet A and 1 sachet B, in a cardboard box 2 bags).
Composition of 1 sachet A:
active substances: macrogol-3350 - 100 g, sodium sulfate - 7.5 g, sodium chloride - 2.691 g, potassium chloride - 1.015 g;
auxiliary components: aspartame, acesulfame potassium, lemon flavoring V3938-1 N1.
Active substances in 1 sachet B: ascorbic acid - 4.7 g, sodium ascorbate - 5.9 g.
Pharmacological properties
Pharmacodynamics
Taking Moviprep, like other electrolyte solutions containing macrogol, leads to mild diarrhea and rapid colon cleansing.
Macrogol-3350, sodium sulfate and ascorbic acid have an osmotic effect and cause a laxative effect.
Macrogol-3350 increases the volume of feces, thereby increasing intestinal peristalsis.
The electrolytes that are part of Moviprep, as well as additional fluid intake, protect from violations of the water-electrolyte balance.
Pharmacokinetics
Macrogol-3350 is practically not absorbed from the gastrointestinal tract and is excreted in small quantities by the kidneys. The intestines remain unchanged.
Ascorbic acid is absorbed in the small intestine by active sodium-dependent saturable transport. There is an inverse relationship between the dose taken and the percentage absorbed from the dose. When taking a dose of 30-180 mg, about 70-80% of it is absorbed, with the subsequent intake of 12 g of ascorbic acid, only 2 g is absorbed.
After ingestion of large doses of ascorbic acid (AA) and in the case of its concentration in plasma ˃ 14 mg / l, the absorbed AA is excreted unchanged by the kidneys.
Indications for use
Preparing for medical procedures that require bowel movements, such as endoscopic or X-ray bowel examinations, or surgery.
Contraindications
Absolute:
gastroparesis;
intestinal obstruction;
perforation of the gastrointestinal tract or its risk;
phenylketonuria;
deficiency of glucose-6-phosphate dehydrogenase;
severe inflammatory bowel diseases (Crohn's disease, ulcerative colitis), toxic megacolon (as a complication of these diseases);
age up to 18 years;
unconsciousness;
increased sensitivity to the components of the drug.
Relative contraindications (consultation of a medical specialist is required before taking the drug):
tendency to aspiration or belching, impaired gag reflex;
disturbances of consciousness;
dehydration;
severe heart failure (NYHA functional class III – IV);
severe renal failure (CC <30 ml / min);
severe acute inflammatory diseases;
abdominal pain of unknown origin.
Instructions for the use of Moviprep: method and dosage
Moviprep solution is taken orally.
Method of solution preparation: dissolve the contents of both sachets (A and B) in a small amount of water and bring the solution volume to 1 liter. The same should be done with the second pair of sachets.
The total dose is 2 liters of solution. It can be taken both at once (in the evening before the study, or in the morning), and by dividing it into 2 doses (1 liter in the evening before the study and 1 liter in the morning). Before surgery, you should drink 2 liters of solution the night before.
The solution is recommended to be consumed within 1–2 hours. During preparation for medical manipulations, in addition to Moviprep solution, it is advisable to take a liter of other liquid, for example, water, juice without pulp, coffee without milk, etc. You should stop taking the drug and other liquids 1-2 hours before the procedure. Consumption of solid food is contraindicated while taking the solution and during the medical procedure.
Side effects
immune system: anaphylactic shock;
psyche: sleep disorders;
nervous system: headache, dizziness, convulsions caused by acute hyponatremia;
cardiovascular system: increased blood pressure (short-term);
Gastrointestinal tract: bloating and abdominal pain, nausea, irritation in the anus, vomiting, indigestion, difficulty swallowing, flatulence, urge to vomit;
liver and biliary tract: abnormal liver function tests;
skin and subcutaneous tissue: itching, rash, urticaria;
other undesirable effects: malaise, chills, thirst, hunger, discomfort;
laboratory tests: changes in electrolyte content, hyper- and hypocalcemia, hypokalemia, hyponatremia, hypophosphatemia, changes in the content of phosphates in the blood.
It is recommended to inform the doctor about cases of aggravation of the listed side effects or the occurrence of new ones.
Overdose
In case of an overdose of Moviprep, severe diarrhea may occur, which can lead to an imbalance in the water and electrolyte balance. Drinking plenty of fluids, preferably fruit juices, is usually sufficient. If necessary, intravenous administration of an infusion solution is possible.
special instructions
According to the instructions, Moviprep should be taken under the supervision of a medical specialist for elderly, weakened and emaciated patients, patients with concomitant diseases prone to aspiration or belching, as well as patients with impaired consciousness, especially if the drug is administered through a nasogastric tube.
Influence on the ability to drive vehicles and complex mechanisms
For the duration of the action of Moviprep, it is recommended to refrain from driving vehicles and complex mechanisms that require the speed of psychomotor reactions.
Application during pregnancy and lactation
Experience in the use of Moviprep in pregnant women, as well as women during lactation, is limited, and therefore, taking the drug is possible only if the expected benefit to the mother outweighs the possible risk to the fetus or child, and only as directed by a doctor.
Drug interactions
It is inappropriate to take medications orally 1 hour before the onset of the laxative effect of Moviprep, since in this case they will be excreted from the body without being absorbed.
Analogs
There is no information about Moviprep's analogues.
Terms and conditions of storage
Store at a temperature not exceeding 25 ° C. Keep out of the reach of children.
Shelf life is 3 years.
Store the prepared solution at a temperature not exceeding 8 ° C.
Shelf life is 1 day.
Terms of dispensing from pharmacies
Dispensed by prescription.
Reviews about Moviprep
Reviews about Moviprep are positive. Patients note a high-quality bowel cleansing without discomfort. Among the disadvantages of the drug, some mention its high cost, as well as taste (while there are reviews reporting that the taste of this drug is relatively pleasant due to the lemon flavor) and advise drinking the solution chilled.
Price for Moviprep in pharmacies
The approximate price for Moviprep is 650 rubles.
Moviprep: prices in online pharmacies
Drug name
Price
Pharmacy
Moviprep 111.896 (sachet A) 10.6 (sachet B) 2 sachets A + 2 sachets B powder for preparation of oral solution 4 pcs.
655 RUB
Buy
Moviprep powder for prig solution for internal approx. sachet A 111.896 g 2 pcs. + sachet B 10.600 g 2 pcs.
673 r
Buy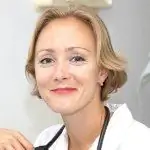 Anna Kozlova Medical journalist About the author
Education: Rostov State Medical University, specialty "General Medicine".
Information about the drug is generalized, provided for informational purposes only and does not replace the official instructions. Self-medication is hazardous to health!
Popular by topic