Table of contents: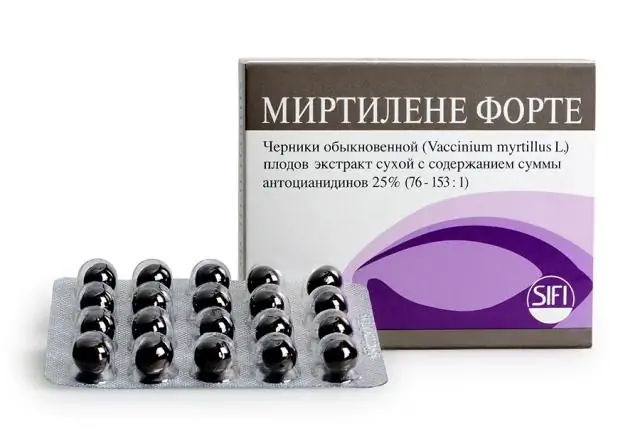 Video: Mirtilene Forte - Instructions For Use, Price, Reviews, Analogues
Myrtilene forte
Mirtilene forte: instructions for use and reviews
1. Release form and composition
2. Pharmacological properties
3. Indications for use
4. Contraindications
5. Method of application and dosage
6. Side effects
7. Overdose
8. Special instructions
9. Application during pregnancy and lactation
10. Use in childhood
11. Drug interactions
12. Analogs
13. Terms and conditions of storage
14. Terms of dispensing from pharmacies
15. Reviews
16. Price in pharmacies
Latin name: Mirtilene forte
ATX code: S01XA
Active ingredient: fruits of common blueberry (vaccinii myrtilli fructus)
Producer: CATALENT ITALY, SpA (Italy), SIFI, SpA (Italy)
Description and photo update: 2018-21-11
Prices in pharmacies: from 744 rubles.
Buy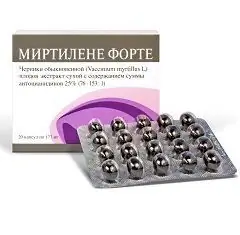 Mirtilene forte is a herbal preparation that improves the functional state of the retina.
Release form and composition
Dosage form - capsules: gelatinous, soft, dark brown, oval, with a smooth, slightly shiny surface, with contents in the form of a thick black oily mass (in a cell contour packaging 20 capsules, in a cardboard box 1 package).
Composition of one capsule:
active ingredient: dried aqueous-alcoholic extract from the fruits of common blueberries (Vaccinium myrtillus L.), containing 25% of the amount of anthocyanidins - 177 mg;
auxiliary components (capsule contents): soybean oil, hydrogenated vegetable oil;
capsule shell: gelatin, glycerol, red iron oxide dye, black iron oxide dye, sodium propyl parahydroxybenzoate, sodium ethyl parahydroxybenzoate.
Pharmacological properties
Pharmacodynamics
The activity of the blueberry fruit extract is based on anthocyanosides, which stimulate the synthesis and promote the regeneration of the main visual pigment of the retina, rhodopsin. Due to the action of the drug, the photosensitivity of the retina increases under conditions of changing light illumination, visual acuity and adaptation to darkness and intense light increase, the blood supply to the eyes improves, microcirculation and stimulation of blood flow to the retina are normalized.
Indications for use
myopia of moderate and high severity;
retinopathy diabetic;
acquired hemeralopia;
muscle asthenopia;
disorders of dark adaptation of vision (with night and twilight vision);
pigmented retinal degeneration (retinal tapetoretinal abiotrophy);
central atherosclerotic retinal degeneration (Kunta - Junius disease).
Contraindications
pregnancy, lactation period;
childhood;
individual hypersensitivity to the active substance of the drug or to any of the auxiliary components included in its composition.
Instructions for use Mirtilene forte: method and dosage
Mirtilene Forte capsules are taken orally.
Recommended dosage regimen: 1 capsule three times a day. The duration of the course of therapy is one month.
Side effects
During the period of drug treatment, allergic reactions to its components may develop.
Overdose
To date, there is no information on overdose.
special instructions
There are no special instructions for the use of the drug.
Application during pregnancy and lactation
Since there is no reliable data on the use of Mirtilene forte during pregnancy and lactation at this point in time, it should be used by pregnant and breastfeeding women only when the expected benefit to the mother is higher than the potential risk to the fetus / child.
Pediatric use
According to the instructions, Mirtilene forte is not recommended for children, since the effectiveness and safety of its use in pediatrics has been little studied.
Drug interactions
The interaction of the drug with other drugs has not been described.
Analogs
The analogues of Mirtilene forte are Bilberry GN Extract, Strix, Bilberry forte, Okovit and others.
Terms and conditions of storage
Store at a temperature not exceeding 25 ° C.
Keep out of the reach of children.
The shelf life is 2.5 years.
Terms of dispensing from pharmacies
Available without a prescription.
Reviews about Myrtilene Fort
Reviews of Myrtilene Fort in most cases are positive. After a course of drug therapy, many users report an improvement in the general state of vision, an increase in its acuity, a decrease in fatigue, irritation and redness of the eyes.
But some patients after one or more courses of application of Mirtilene forte did not feel any special changes. Although no deterioration or development of side effects was also observed.
In addition, there is a high cost of the drug.
The price of Myrtilene forte in pharmacies
The price for Mirtilene forte for a pack of 20 capsules is on average 900 rubles.
Mirtilene forte: prices in online pharmacies
Drug name
Price
Pharmacy
Mirtilene Forte capsules 177mg 20 pcs.
744 RUB
Buy
Mirtilene forte 177 mg capsule 20 pcs.
744 RUB
Buy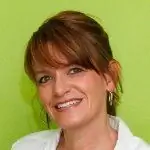 Maria Kulkes Medical journalist About the author
Education: First Moscow State Medical University named after I. M. Sechenov, specialty "General Medicine".
Information about the drug is generalized, provided for informational purposes only and does not replace the official instructions. Self-medication is hazardous to health!
Popular by topic