Table of contents: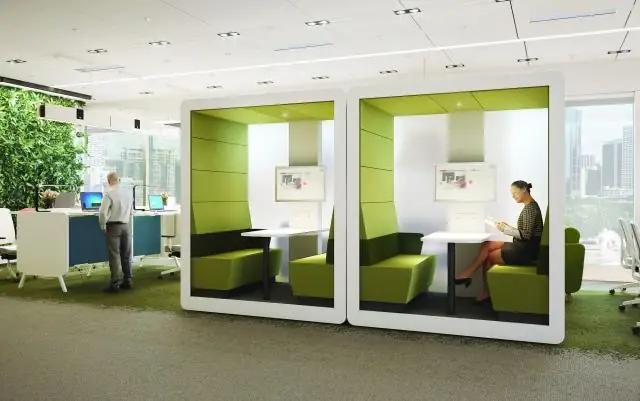 Video: Mikomax - Instructions For Use, Price, Reviews, Analogues
Mikomax
Mikomax: instructions for use and reviews
1. Release form and composition
2. Pharmacological properties
3. Indications for use
4. Contraindications
5. Method of application and dosage
6. Side effects
7. Overdose
8. Special instructions
9. Application during pregnancy and lactation
10. Use in childhood
11. In case of impaired renal function
12. For violations of liver function
13. Drug interactions
14. Analogs
15. Terms and conditions of storage
16. Terms of dispensing from pharmacies
17. Reviews
18. Price in pharmacies
Latin name: Mycomax
ATX code: J02AC01
Active ingredient: fluconazole (fluconazole)
Manufacturer: Zentiva, ks (Czech Republic), Fresenius Kabi Austria (Austria)
Description and photo update: 2019-20-08
Prices in pharmacies: from 178 rubles.
Buy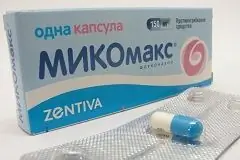 Mikomax is an antifungal agent.
Release form and composition
Dosage forms of Mikomax:
Capsules: opaque, with a white body and black markings (on capsules with a blue cap - MYCO 100, on capsules with a blue cap - MYCO 150), inside capsules - a powder of white with a yellow tint or almost white (by 100 mg - 7 pcs. In blisters, in a cardboard box 1, 4 or 10 blisters; 150 mg each - 1 or 3 pcs. In blisters, in a cardboard box 1 blister);
Solution for infusion: colorless transparent liquid (100 ml in dark glass vials, 1 vial in a cardboard box);
Syrup: clear liquid without color (100 ml in bottles, in a cardboard box 1 bottle with a measuring cup included).
The active substance of Mikomax is fluconazole:
1 capsule - 100 mg or 150 mg;
1 ml of solution - 2 mg;
1 ml of syrup - 5 mg.
Auxiliary components:
Capsules: pregelatinized starch, lactose monohydrate, colloidal silicon dioxide, sodium lauryl sulfate, magnesium stearate;
Solution: sodium chloride, water for injection;
Syrup: sodium saccharin, sorbitol 70% liquid, sodium benzoate, glycerol 85%, cherry flavor, citric acid monohydrate, sodium carmellose, purified water.
Capsule shell composition: gelatin, Patent blue dye (E131), Attramentum nigrum black ink (black iron oxide, shellac, n-butanol, soy lecithin, industrial methylated alcohol, antifoam DC 1510), titanium dioxide (E171). Additionally, as a part of capsules with a blue cap ("MYCO 100") - iron oxide yellow dye.
Pharmacological properties
Pharmacodynamics
Fluconazole is a potent selective inhibitor of ergosterol synthesis in the cell membranes of micromycetes and belongs to the class of triazole antifungal agents.
The mechanism of the antifungal action of fluconazole is based on the specific inhibition of the activity of the fungal isoenzyme system P450.
The use of Mikomax is effective in the following cases:
opportunistic mycoses, including those caused by Candida spp., including generalized forms of candidiasis in immunosuppressed patients; Cryptococcus neoformans, including intracranial infections; Trichophyton spp.; Microsporum spp.;
endemic mycoses caused by Blastomyces dermatitidis, Coccidioides immitis, including intracranial infections, and Histoplasma capsulatum (including in patients with immunosuppression).
There is information about the development of superinfections caused by Candida species, which do not belong to Candida albicans and often show natural resistance to fluconazole (in particular, Candida krusei). These patients may need to be prescribed alternative antifungal drugs.
Fluconazole exhibits high specificity in relation to fungal isoenzymes of the P450 system and has little effect on isozymes of the P450 system in humans. Single or multiple use of fluconazole at a dose of 50 mg has no effect on the metabolism of antipyrine. During the course of 28 days in the indicated dose, the concentration of steroid homones in women of childbearing age or the plasma concentration of testosterone in the blood of men does not change.
The use of 200-400 mg of fluconazole per day has no clinically significant effect on the concentration of endogenous steroids or the hormonal response to the administration of adrenocorticotropic hormone in healthy male volunteers.
Pharmacokinetics
Fluconazole is well absorbed after oral administration. Its bioavailability is 90%. C max (maximum concentration of a substance) in plasma after taking it on an empty stomach in an amount of 150 mg is 90% of its concentration in plasma after intravenous administration of the same dose. Simultaneous food intake does not affect the absorption of ingested fluconazole. The time to reach C max after oral administration is 0.5–1.5 hours, its T 1/2 (half-life) is approximately 30 hours.
Fluconazole after intravenous and oral administration penetrates well into body fluids and tissues. Concentrations of the substance in sputum and saliva are similar to its plasma levels. The content of fluconazole in the cerebrospinal fluid in fungal meningitis reaches 80% of the plasma level.
Plasma concentration is dose-dependent. After 4–5 days of daily therapy, a 90% equilibrium concentration level is reached.
When using Mikomax loading dose on the first day of the course, which is 2 times higher than the usual daily dose, you can achieve the desired level of equilibrium concentration by the second day. The volume of distribution of fluconazole is close to the total body water content. The substance binds to plasma proteins by 11-12%.
In the epidermis, stratum corneum, sweat and dermis, high concentrations of fluconazole are achieved, which are higher than its serum concentration. When using 150 mg of fluconazole once every 7 days, the concentration of fluconazole in the stratum corneum of the skin is 23.4 μg / g, and a week after the second dose - 7.1 μg / g. The concentration of fluconazole in the nails after 4 months of therapy according to the same scheme is 4.05 μg / g and 1.8 μg / g in healthy and affected nails, respectively. Six months after the end of therapy, a measurable concentration of fluconazole is still in the nails.
The substance is excreted mainly through the kidneys, about 80% of the dose - unchanged. Fluconazole clearance is proportional to creatinine clearance.
In the peripheral blood, metabolites of the substance are not found.
Indications for use
Generalized candidiasis, including disseminated candidiasis, candidemia, invasive candidal infections of the peritoneum, eyes, respiratory tract, endocardium, urinary system;
Cryptococcal meningitis, cryptococcal infections of the skin and lungs, other localizations of cryptococcosis in patients with normal immunity and with various forms of immunosuppression (including those arising from organ transplantation and in AIDS patients), prevention of cryptococcosis in AIDS patients;
Acute and chronic recurrent form of vaginal candidiasis;
Candidamycosis of the mucous membranes (including the esophagus, oral cavity, pharynx), non-invasive bronchopulmonary candidiasis, candiduria;
Prevention of fungal infectious diseases in malignant neoplasms in predisposed patients after radiation therapy or chemotherapy with cytostatics.
In addition, the use of Mikomax in capsules and in the form of a syrup is shown:
Candidal balanitis, prevention of the frequency of relapses of vaginal candidiasis in patients with three or more episodes of the disease per year;
Onychomycosis, pityriasis versicolor, skin mycoses (including mycosis of the body, feet, groin), skin candidiasis;
Deep endemic mycoses in patients with normal immunity, including paracoccidioidomycosis, coccidioidomycosis, histoplasmosis and sporotrichosis;
Prevention of the development of relapse of oropharyngeal candidiasis in AIDS patients.
Contraindications
Concomitant use of astemizole, terfenadine (if necessary, taking fluconazole in a daily dose of 400 mg or more (for capsules)), cisapride and other drugs that help prolong the QT interval;
Breastfeeding period;
Hypersensitivity to fluconazole or similar in structure azole compounds and auxiliary components of Mikomax.
The use of the drug during pregnancy is contraindicated, except in cases of severe generalized forms of fungal infections that threaten the life of the mother, and also if the expected clinical effect exceeds the potential harm to the fetus.
According to the instructions, Mikomax should be prescribed with caution to patients with hepatic impairment.
In addition, contraindications to the use of capsules are:
Glucose-galactose malabsorption, congenital galactose intolerance, lactase deficiency;
Weight less than 40 kg.
Care should be taken to prescribe capsules to patients with hepatic insufficiency; while taking fluconazole at a dose below 400 mg per day and terfenadine; when used against the background of therapy with Mikomax sulfonylurea derivatives (the risk of increasing the likelihood of hypoglycemia), oral hypoglycemic drugs.
Care must be taken when using the solution in patients with impaired renal function, with particular attention to continue treatment with the solution in patients with skin rashes while using Mikomax in case of superficial, invasive or systemic fungal infection.
Regular medical supervision is required when using capsules and Mikomax solution during the period of proarrhythmogenic conditions in patients with risk factors (organic heart pathologies, electrolyte imbalance, simultaneous use of drugs that cause arrhythmia).
With caution, Mikomax syrup is prescribed for renal failure, alcoholism, in combination with potentially hepatotoxic drugs, at the age of 6 months.
Instructions for the use of Mikomax: method and dosage
Capsules: taken orally;
Solution: injected intravenously (intravenously) drip, infusion rate not more than 20 mg (10 ml) per minute. To prepare an infusion solution, you can use a 20% glucose solution, a solution of potassium chloride in glucose, Ringer's solution, isotonic sodium chloride solution, Hartman's solution, 4.2% sodium bicarbonate solution. Do not change the dose when transferring a patient to receive Mikomax inside;
Syrup: taken orally with a measuring cup. Before swallowing, the syrup should be held in the mouth for 2 minutes. The special bottle cap opens in the direction opposite to the clockwise movement after some increased pressure.
When treating adults and children, the doctor prescribes the dose and period of application of Mikomax based on clinical indications and concomitant pathologies.
Recommended dosage of Mikomax for adults:
Cryptococcal meningitis and other localizations of cryptococcal infections: on the first day of therapy 400 mg (80 ml), then 200-400 mg (40-80 ml) once a day. The period of treatment depends on the clinical effect confirmed by mycological examination, for cryptococcal meningitis it usually lasts at least 6-8 weeks;
Prevention of recurrence of cryptococcal meningitis in AIDS patients: 200 mg per day (40 ml) after a full course of primary therapy, for a long time;
Candidemia, disseminated candidiasis and other invasive candidal infections: on the first day - 400 mg (80 ml), and then - 200 mg (40 ml) once a day. To achieve a clinical effect, it is allowed to increase the dose of Mikomax to 400 mg (80 ml) per day. After an intensive course of anticancer chemotherapy, bone marrow transplantation, extensive surgical interventions on the heart or organs of the gastrointestinal tract, patients are shown the appointment of an initial dose of 10 mg per 1 kg and a maintenance dose of 5 mg per 1 kg of patient weight per day. The period of treatment depends on the clinical effect and is determined individually;
Oropharyngeal candidiasis: 50-100 mg (10-20 ml) once a day for 7-14 days, with a significant decrease in immunity, the course of treatment can be extended;
Atrophic candidiasis of the oral cavity (against the background of wearing dentures): 50 mg (10 ml) once a day, the course of treatment is 14 days in combination with antiseptic preparations for processing the prosthesis;
Esophagitis, non-invasive bronchopulmonary candidiasis, candiduria, candidiasis of the mucous membranes and skin, other localizations of candidiasis (except genital): 50-100 mg (10-20 ml) once a day for 14-30 days;
Prevention of recurrence of oropharyngeal candidiasis in patients with AIDS: 150 mg (30 ml) once a week after a full course of primary therapy;
Vaginal candidiasis, balanitis caused by Candida: 150 mg (30 ml) orally once. To reduce the incidence of vaginal candidiasis, patients with three or more relapses of the disease per year are usually prescribed prophylactic Mikomax at a dose of 150 mg (30 ml) once a month for 4-12 months. Some patients may need more frequent appointments;
Prevention of candidiasis: 50-400 mg (10-80 ml) 1 time per day. The dose of Mikomax and the period of treatment depend on the degree of risk of developing a fungal infection;
Mycosis of the skin of the feet, groin and skin candidiasis: 150 mg (30 ml) once a week or 50 mg (10 ml) once a day. The duration of treatment is 2-4 weeks, with mycoses of the feet - up to 6 weeks;
Pityriasis versicolor: 300 mg (60 ml) once a week, the course of treatment is 1-3 weeks or 50 mg (10 ml) once a day for 2-4 weeks;
Onychomycosis: 150 mg (30 ml) once a week, treatment is continued until the uninfected nail grows back completely (on the fingers - 3-6 months, feet - 6-12 months);
Deep endemic mycoses: 200-400 mg (40-80 ml) once a day, the duration is determined individually (with coccidioidomycosis - 11-24 months, paracoccidioidomycosis - 2-17 months, sporotrichosis - 1-16 months, histoplasmosis - 3-17 months).
When treating children, Mikomax is used once a day at a dose calculated taking into account the weight of the child, but not more than that in adult patients.
Recommended daily dosage for children:
Candidiasis of the mucous membranes: on the first day - 6 mg per 1 kg, then - 3 mg per 1 kg of the child's weight;
Generalized candidiasis and cryptococcal infections: 6-12 mg per 1 kg of body weight;
Prevention of fungal infections with reduced immunity in children with neutropenia developing against the background of radiation or cytotoxic chemotherapy: 3-12 mg per 1 kg, the dose depends on the duration and severity of induced neutropenia.
Due to the slow elimination of fluconazole in newborns, in the first 2 weeks of a child's life, it is recommended to inject Mikomax with an interval of 72 hours, the next 2-4 weeks - with an interval of 48 hours.
Elderly patients (in the absence of impaired renal function) dose adjustment is not required.
In patients with functional disorders of the kidneys with a single dose of the drug, the dose is not changed. With repeated use, the daily dose should be reduced taking into account the severity of renal pathology, it is recommended to first introduce a loading dose of 50-400 mg, then - with creatinine clearance (CC) more than 50 ml / min, the usual recommended dose is used, with CC 11-50 ml / min the patient is prescribed ½ the usual dose. Patients on regular dialysis are advised to take one dose of Mikomax after each hemodialysis session.
Side effects
Digestive system: nausea, vomiting, diarrhea, abdominal pain, changes in taste, flatulence, abnormal liver function (jaundice, hepatonecrosis (including fatal), hepatitis, hyperbilirubinemia, increased activity of alanine aminotransferase, aspartate aminotransferase, alkaline phosphatase);
Nervous system: often - headache; infrequently - dizziness, convulsions;
Hematopoietic system: rarely - leukopenia, agranulocytosis, neutropenia, thrombocytopenia;
Urinary system: functional disorders of the kidneys;
Metabolism: rarely - hypertriglyceridemia, hypercholesterolemia, hypokalemia;
Dermatological reactions: alopecia, skin rash;
Allergic reactions: Stevens-Johnson syndrome, toxic epidermal necrolysis, anaphylactoid reactions.
In addition, taking Mikomax in capsule form can cause side effects:
General disorders: infrequently - weakness (including muscle), motor restlessness, fever;
Dermatological reactions: often - skin rash; infrequently - increased sweating, itching; very rarely - erythema multiforme exudative;
Nervous system: infrequently - tremor, paresthesia, vertigo;
Digestive system: infrequently - dryness of the oral mucosa, constipation, anorexia, dyspepsia, cholestasis, liver tissue damage; rarely - liver failure;
Mental disorders: infrequently - drowsiness, insomnia;
Immune system: very rarely - itching, facial edema, anaphylaxis, angioedema;
Hematopoietic system: infrequently - anemia;
Musculoskeletal system: infrequently - myalgia.
The use of the solution can cause violations of the cardiovascular system in the form of flutter or fibrillation of the ventricles, an increase in the duration of the QT interval.
Also, an undesirable effect when taking syrup can be the development of allergic reactions (skin rash).
Side effects of Mikomax are more common in HIV-infected patients.
Overdose
Main symptoms: paranoid behavior, hallucinations.
Therapy: symptomatic, includes gastric lavage, in some cases - forced diuresis. With hemodialysis for 3 hours, the plasma concentration of fluconazole decreases by about 50%.
special instructions
Treatment of all clinical indications must be continued until complete clinical and laboratory remission, since premature withdrawal of the drug leads to relapse of the disease. The use of Mikomax should be accompanied by regular monitoring of liver and kidney function, hematological parameters.
Rare cases of toxic changes in the liver, including fatal ones, were mainly observed against the background of concomitant severe diseases. There was no clear dependence of the hepatotoxic effects of fluconazole on the daily dose, period of treatment, age or sex of the patient, the effect is usually reversible. Therefore, if symptoms of liver and / or kidney dysfunction appear, Mikomax should be discontinued.
The tendency to develop severe skin pathologies in AIDS patients while taking many drugs requires special attention to this category of patients. If the appearance of a skin rash with a superficial fungal infection can be definitely attributed to the action of fluconazole, Mikomax should be canceled. In invasive or systemic fungal infections, the developing rash should be closely monitored and only if erythema multiforme or bullous changes appear, stop fluconazole treatment.
It is recommended to prescribe the drug with caution while taking rifabutin and other drugs metabolized using the P-450 isozyme system.
In rare cases, the action of Mikomax causes a prolongation of the QT interval and the development of ventricular tachycardia such as pirouette. More often, this effect is observed in severe heart disease and multiple risk factors, such as the simultaneous use of drugs that promote rhythm disturbances, myopathy and imbalance in water and electrolyte balance.
Influence on the ability to drive vehicles and complex mechanisms
Usually the use of Mikomax does not affect the patient's ability to drive vehicles and mechanisms. However, if dizziness, drowsiness, vertigo occur, the patient should refuse to perform potentially dangerous activities.
Application during pregnancy and lactation
pregnancy: Mikomax is contraindicated, except in cases of therapy of life-threatening or severe forms of fungal infections, when the expected benefit is assessed above the possible harm;
lactation period: the use of the drug is contraindicated.
Pediatric use
capsules (in any of the dosages): therapy is contraindicated for children weighing up to 40 kg;
syrup: Mikomax is prescribed with caution for children under 6 months.
With impaired renal function
Mikomax for patients with renal failure is prescribed under medical supervision.
For violations of liver function
Mikomax for patients with liver failure is prescribed under medical supervision.
Drug interactions
Simultaneous use of Mikomax with other drugs should be started only after consultation with the attending physician, this will avoid the development of clinically significant adverse reactions.
Analogs
Mikomax analogs are: Vero-Fluconazole, Diflucan, Diflazon, Difluzol, Mikosist, Medoflucon, Mikoflucan, Nofung, Procanazole, Flucostat, Fluconazole, Flucorus, Flucomabol, Funzol, Fluconorm, Forcan, Iluzolazol, Vifazol, Vifrazol Biflurin, Canditral, Vikand, Miconihol, Teknazol, Orungal, Rumikoz.
Terms and conditions of storage
Keep out of the reach of children:
Capsules: at temperatures up to 25 ° C;
Solution and syrup: in a dark, dry place at a temperature of 10-25 ° C.
The shelf life is 3 years.
Terms of dispensing from pharmacies
Capsules are available without a prescription, syrup and solution are available with a prescription.
Reviews about Mikomax
Reviews about Mikomax are different. As a rule, its effectiveness in the treatment of vaginal candidiasis is assessed as high. It is noted that the drug has a quick and long-term effect. Reviews of the treatment of onychomycosis are not always positive. Also indicate the development of side effects. The cost of Mikomax in most cases is considered high in comparison with analogues.
The price of Mikomax in pharmacies
The approximate price for Mikomax (1 or 3 capsules of 150 mg each) is 218-230 rubles. or 497-580 rubles.
Mikomax: prices in online pharmacies
Drug name
Price
Pharmacy
Mikomax 150 mg capsule 1 pc.
178 r
Buy
Mikomax 150 mg capsules 3 pcs.
RUB 350
Buy
Mikomax capsules 150mg 3 pcs.
RUB 550
Buy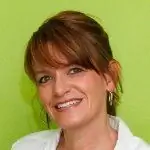 Maria Kulkes Medical journalist About the author
Education: First Moscow State Medical University named after I. M. Sechenov, specialty "General Medicine".
Information about the drug is generalized, provided for informational purposes only and does not replace the official instructions. Self-medication is hazardous to health!
Popular by topic