Table of contents: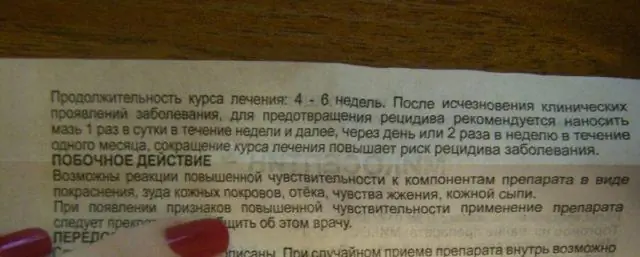 Video: Mikoseptin - Instructions For Using The Ointment, Price, Reviews, Analogues
Mycoseptin
Mikoseptin: instructions for use and reviews
1. Release form and composition
2. Pharmacological properties
3. Indications for use
4. Contraindications
5. Method of application and dosage
6. Side effects
7. Overdose
8. Special instructions
9. Application during pregnancy and lactation
10. Use in childhood
11. Drug interactions
12. Analogs
13. Terms and conditions of storage
14. Terms of dispensing from pharmacies
15. Reviews
16. Price in pharmacies
Latin name: Mycoseptin
ATX code: D01AE54
Active ingredient: zinc undecylenate + undecylenic acid (undecylenate zinc + undecylenic acid)
Manufacturer: Zentiva K. s. (Czech)
Description and photo update: 2019-20-08
Prices in pharmacies: from 339 rubles.
Buy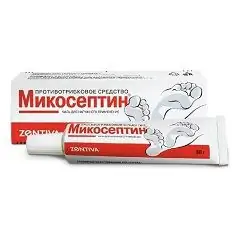 Mikoseptin is a combined external antifungal drug.
Release form and composition
Mikoseptin is produced in the form of an ointment for external use: a suspension-emulsion oily consistency, from white with a light yellowish tinge to almost white, with small fat grains and a characteristic odor (30 g in tubes, 1 tube in a cardboard box).
The composition of 1 g of ointment contains active substances:
Undecylenic acid - 0.05 g;
Zinc undecylenate - 0.2 g
Auxiliary components: dimodan (lard monoglycerides), hard paraffin, liquid paraffin, white wax, stearic acid, hard paraffin (with a melting point of 64-68 ° C), white petrolatum, methylparaben, Slovapol (oleomacrogol), purified water.
Pharmacological properties
Undecylenic acid and its salts have a pronounced fungistatic (in high concentrations - fungicidal) action against dermatophytes of the genus Microsporum, Epidermophyton, Trichophyton. Also, the drug is characterized by a weakly expressed bacteriostatic effect on some strains of Aeromonas, Proteus, Yersinia, Pseudomonas. Zinc, which is one of the components of the drug, has an astringent effect, which leads to a decrease in the severity of symptoms of skin irritation and their faster healing.
Indications for use
According to the instructions, Mikoseptin is used to treat and prevent fungal diseases of the skin caused by fungi that are sensitive to the action of active substances.
Contraindications
Age up to 2 years;
Hypersensitivity to drug components, including parabens, undecylenic acid and its derivatives.
Instructions for the use of Mikoseptin: method and dosage
Ointment Mikoseptin is used externally. Apply to a clean, dry area of the lesion 2 times a day, the duration of the therapeutic course is from 4 to 6 weeks.
After the disappearance of the clinical manifestations of the disease, in order to prevent the development of relapse, it is recommended to use the drug for 5 weeks as follows:
1 week: once a day;
2-5 weeks: 2 times a week or every other day.
Reducing the course of treatment increases the risk of disease recurrence.
Side effects
During treatment, it is possible to develop hypersensitivity reactions to its components, manifested in the form of itching, redness of the skin, edema, skin rash, burning sensation. If these symptoms appear, it is necessary to discontinue therapy and seek the advice of a doctor.
Overdose
There are no reports of overdose cases to date. In case of accidental oral administration of the drug, symptoms such as nausea and vomiting may develop. In this case, it is recommended to wash the stomach and consult a doctor who, if necessary, will prescribe symptomatic treatment.
special instructions
It is impossible to apply Mikoseptin ointment to the damaged surface of the skin, open wounds and the periorbital zone. It is also necessary to avoid getting the drug in the eyes.
Application during pregnancy and lactation
Before using Mikoseptin in pregnant and lactating women, it is imperative to consult with a specialist, since during these periods its appointment is permissible only in cases where the potential benefits of treatment for the mother significantly outweigh the possible risks to the fetus or child.
Pediatric use
The drug is contraindicated for children under 2 years of age.
Drug interactions
There are no data on interactions with other drugs.
The possibility of the simultaneous use of Mikoseptin with other external preparations is determined by the doctor individually.
Analogs
Analogs of Mikoseptin are: Terbix, Terbizil, Sulsena, Salicylic acid, Batrafen, Exoderil, Mikoderil, Thermikon, Nitrofungin, Exifin, etc.
Terms and conditions of storage
Keep out of reach of children at temperatures up to 25 ° C.
The shelf life is 3 years.
Terms of dispensing from pharmacies
Available without a prescription.
Reviews about Mikoseptin
Positive reviews about Mikoseptin are more common than negative ones. Patients who have used it for fungal infections of the skin and nails confirm the high efficiency of the drug, provided that the disease is caused by strains of fungi that are sensitive to the active components of the drug. Treatment is even more effective in the case of strict adherence to doctor's prescriptions and hygiene rules, as well as if the patient adheres to the necessary diet.
The price of Mikoseptin in pharmacies
On average, the price of Mikoseptin in pharmacy chains is 325‒422 rubles (per tube 30 g).
Micoseptin: prices in online pharmacies
Drug name
Price
Pharmacy
Mikoseptin ointment for external use 30 g 1 pc.
339 r
Buy
Mikoseptin ointment 30g
407 r
Buy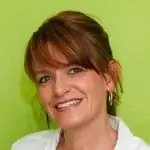 Maria Kulkes Medical journalist About the author
Education: First Moscow State Medical University named after I. M. Sechenov, specialty "General Medicine".
Information about the drug is generalized, provided for informational purposes only and does not replace the official instructions. Self-medication is hazardous to health!
Popular by topic