Table of contents: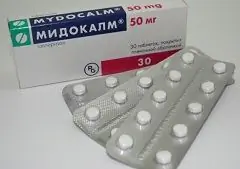 Video: Mydocalm - Instructions For Use, Indications, Doses, Reviews
Mydocalm
Instructions for use:
1. Pharmacological action
2. Release form
3. Indications for use
4. Contraindications
5. Method of administration and dosage
6. Side effects
7. Storage conditions
Prices in online pharmacies:
from 338 rub.
Buy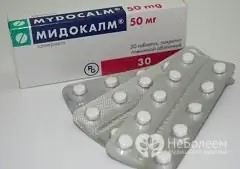 Mydocalm is a drug that helps to relax the increased tone of skeletal muscles in osteochondrosis, arthrosis and other neurological syndromes.
pharmachologic effect
Mydocalm is a highly effective and safe remedy for the treatment of neurological syndromes associated with pain, increased muscle tone and impaired trophism.
The active ingredient Mydocalm has a membrane stabilizing and local anesthetic effect.
The drug reduces musculoskeletal tension and causes an indirect analgesic effect, as well as dilates blood vessels and improves blood and lymph circulation.
According to reviews, Mydocalm has a quick effect and is well tolerated.
Release form
Mydocalm is produced in the form of round, film-coated round tablets with a low odor, containing 50 mg (engraved "50") and 150 mg (engraved "150") of the active substance - tolperisone hydrochloride. Excipients - stearic acid, citric acid monohydrate, microcrystalline cellulose, silicon dioxide, colloidal corn starch and milk sugar. 10 pieces per pack.
For injections, Midocalm is released as a solution for injection in dark 1 ml ampoules containing 100 mg of tolperisone hydrochloride and 2.5 mg of lidocaine. Excipients - diethylene glycol monoethyl ether, methyl parahydroxybenzoate and water for injection. 5 ampoules per pack.
Indications for use of Mydocalm
According to the instructions, Mydocalm is used for:
Diseases of the organs of the musculoskeletal system - spondyloarthrosis, spondylosis, cervical and lumbar syndromes, arthrosis of large joints, which cause muscle spasms, pathologically increased tone and muscle contractures;
Cerebral spastic palsy and other encephalopathies accompanied by muscular dystonia;
Pathologically increased tone and spasms of the striated muscles, which arose as a result of organic neurological diseases - multiple sclerosis, myelopathy, pyramidal tract damage, stroke or encephalomyelitis;
Rehabilitation treatment after traumatological and orthopedic operations.
Also, Mydocalm is used as part of combination therapy in the treatment of:
Arteriosclerosis obliterans;
Intermittent angioneurotic dysbasia;
Raynaud's disease;
Diabetic angiopathy;
Acrocyanosis;
Thromboangiitis obliterans.
Contraindications
Mydocalm is not used under the age of one year, with hypersensitivity to the components of the drug, as well as with myasthenia gravis.
Injections of Mydocalm are contraindicated for use in case of allergy to lidocaine.
Method of administration and dosage
The dose of Mydocalm according to the instructions is prescribed individually, depending on the tolerance of the drug and the clinical picture.
Mydocalm tablets are taken after meals. Usually, adults take 1 tablet (50 mg) up to three times a day. If necessary, the dose can be increased three times by taking 3 Mydocalm tablets three times a day.
For children, the use of Midocalm in the form of tablets of 50 mg is allowed. The daily dose of Mydocalm is taken in three doses:
1-6 years - calculating the daily dose, 5 mg per 1 kg of body weight;
7-14 years old - 2-4 mg per 1 kg of body weight.
If it is impossible to swallow a Mydocalm tablet, you can grind it.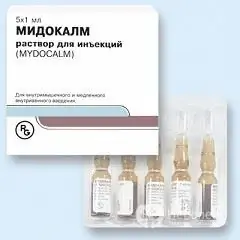 When using injections Mydocalm is administered:
Intramuscularly - 200 mg per day, divided into two doses;
The drug is administered intravenously slowly, once a day, 100 mg.
There are no data limiting the use of Mydocalm with other drugs. The drug can be used simultaneously with sedatives, hypnotics and drugs containing ethanol.
However, it should be borne in mind that Midocalm enhances the effect of niflumic acid.
It is possible to use Mydocalm during pregnancy, especially in the first trimester, as well as during lactation, only under strict indications.
Side effects
According to reviews, Mydocalm is well tolerated and side effects go away on their own when the dose is reduced. According to the instructions, mydocalm can cause:
Nausea, abdominal discomfort, or vomiting;
Muscle weakness, arterial hypotension.
Headache.
Mydocalm, according to reviews, can rarely cause various allergic reactions, such as erythema, pruritus, angioedema, anaphylactic shock, urticaria and bronchospasm.
Storage conditions
Mydocalm is dispensed by prescription and belongs to List B drugs. Shelf life is up to 3 years.
Mydocalm: prices in online pharmacies
Drug name
Price
Pharmacy
Mydocalm 150 mg film-coated tablets 30 pcs.
338 r
Buy
Mydocalm 50 mg film-coated tablets 30 pcs.
344 r
Buy
Midocalm tab. p.p. 50mg n30
391 r
Buy
Mydocalm tablets p.p. 150mg 30 pcs.
429 r
Buy
Information about the drug is generalized, provided for informational purposes only and does not replace the official instructions. Self-medication is hazardous to health!
Popular by topic