Table of contents: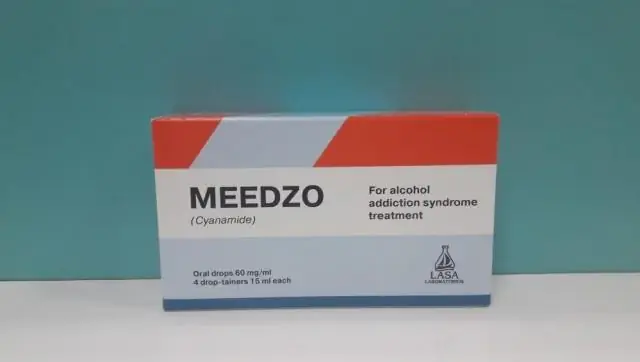 Video: Midzo - Instructions For Using Drops, Reviews, Price, Analogues
Midzo
Midzo: instructions for use and reviews
1. Release form and composition
2. Pharmacological properties
3. Indications for use
4. Contraindications
5. Method of application and dosage
6. Side effects
7. Overdose
8. Special instructions
9. Application during pregnancy and lactation
10. In case of impaired renal function
11. For violations of liver function
12. Drug interactions
13. Analogs
14. Terms and conditions of storage
15. Terms of dispensing from pharmacies
16. Reviews
17. Price in pharmacies
Latin name: Midzo
ATX code: V03AA
Active ingredient: cyanamide (Cyanamid)
Manufacturer: Special Products Line S. P. A (Special Products Line SPA) (Italy)
Description and photo update: 09.10.2019
Prices in pharmacies: from 1661 rubles.
Buy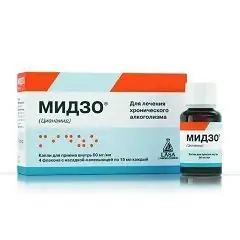 Midzo is a drug used to treat chronic alcoholism.
Release form and composition
The drug is available in the form of drops for oral administration, which is a colorless transparent solution with a slight odor of acetic acid (15 ml each in brown glass vials equipped with a dropper nozzle and sealed with a screw cap; in a cardboard box 4 bottles and instructions for use of Midzo).
1 ml drops contain:
active substance: cyanamide - 60 mg;
auxiliary components: acetic acid, sodium acetate trihydrate, sorbic acid, purified water.
Pharmacological properties
Pharmacodynamics
Cyanamide blocks the enzyme acetaldehyde dehydrogenase, which is involved in the metabolism of ethanol. As a result, the concentration of the main metabolite of ethyl alcohol, acetaldehyde, increases in the blood, which causes negative sensations that make drinking alcohol after taking the drops extremely unpleasant. The patient feels nausea, shortness of breath, flushing, tachycardia, etc. These symptoms cause a conditioned reflex aversion to the smell and taste of alcoholic beverages.
Pharmacokinetics
Compared to disulfiram, the sensitizing effect of cyanamide on ethanol appears earlier (usually after 45-60 minutes) and lasts less (about 12 hours).
Indications for use
Midzo drops are used to treat chronic alcoholism, as well as to prevent relapses.
Contraindications
respiratory tract diseases, accompanied by a decrease in their function;
severe diseases of the cardiovascular system;
severe liver disease;
renal disease with decreased renal function;
period of pregnancy and lactation;
hypersensitivity to the main or auxiliary components of the drug.
Midzo, instructions for use: method and dosage
Patient should undergo a thorough examination before prescribing Midzo. The patient should be warned about possible complications and consequences of treatment.
The drug is taken orally 2 times a day, 12-25 drops (corresponding to 36-75 mg of cyanamide). The interval between doses is 12 hours. The duration of treatment is individual.
Side effects
Usually, Midzo drops are well tolerated if the patient does not drink alcohol while taking the drug. In some cases, drowsiness, tinnitus, fatigue, skin rash, transient leukocytosis are possible.
Overdose
Signs of drug overdose are not described. It is assumed that side effects may increase. If the patient accidentally took too large a dose of drops, it is recommended to rinse the stomach and prescribe the necessary symptomatic treatment aimed at maintaining the functions of the cardiovascular system, kidneys, liver and respiration. Hematocrit should be monitored and, if necessary, blood transfusion should be performed.
special instructions
Reception Midzo should be carried out under the supervision of a doctor. The patient should be informed about the treatment. It is not recommended to prescribe drops without the knowledge of the patient. During therapy, a reaction to alcohol contained in certain foods and medicines may occur.
Treatment with the drug can be started no earlier than 12 hours after the last alcohol consumption. Cyanamide is used with caution in diseases and conditions that can be aggravated as a result of reactions arising from the simultaneous administration of the drug with alcohol (for example, diabetes mellitus, cardiovascular and renal diseases, hyperthyroidism and epilepsy). If the course of treatment is long, thyroid function should be monitored at least once every 6 months.
Taking Mizo drops together with alcohol leads to the following symptoms: a feeling of throbbing in the head and neck, weakness, profuse sweating, nausea, severe redness of the skin, blurred vision, chest pain, difficulty breathing, tachycardia. In severe cases, the patient vomits, blood pressure decreases, respiratory function is inhibited, and a state of collapse may occur. The severity and nature of the listed symptoms depend on the amount of the drug taken and the alcohol consumed. In severe cases, symptomatic treatment is carried out and antihistamines are administered intravenously.
Application during pregnancy and lactation
Midzo should not be used by pregnant or breastfeeding women.
With impaired renal function
In renal diseases with decreased renal function, the use of the drug is contraindicated.
For violations of liver function
In severe liver disease, the use of Midzo is contraindicated.
Drug interactions
Cyanamide is not prescribed simultaneously with phenytoin, isoniazid, metronidazole and other drugs that inhibit aldehyde dehydrogenase and enhance the reaction with alcohol. Reception of Midzo can be started no earlier than 10 days after the end of therapy with disulfiram.
The drug is incompatible with drugs of the aldehyde group (chloral products and paraldehyde).
Analogs
The counterparts of Midzo are Kolme, Lidevin, Teturam, Antabus, Metadoxil, Esperal.
Terms and conditions of storage
Store in a dark place at a temperature not exceeding 25 ° C. Keep out of the reach of children.
Shelf life is 2 years.
Terms of dispensing from pharmacies
Dispensed by prescription.
Reviews about Midzo
Mostly the reviews about Midzo are positive. Patients and their relatives are actively sharing their experience of using the drug for the treatment of alcohol dependence. As a result of therapy, the craving for alcohol disappears, and an aversion to alcoholic beverages appears. It is convenient to dose and give the drops to the patient. The drug is relatively safe and less toxic than disulfiram.
Side effects are rare and are usually associated with the simultaneous intake of alcohol (reactions such as nagging pain in the kidneys, redness of the face, rash, nausea, vomiting, cough, excessive sweating have been noted). The disadvantages include the rather high cost of the drug.
The price of Midzo in pharmacies
The price of Midzo in dropper bottles of 15 ml (4 bottles per package) averages 1,870–2060 rubles.
Midzo: prices in online pharmacies
Drug name
Price
Pharmacy
Midzo 60 mg / ml oral drops 15 ml 4 pcs.
1661 RUB
Buy
Midzo drops for internal approx. 60 mg / ml bottle-drop 15ml 4 pcs.
1812 RUB
Buy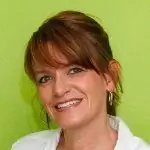 Maria Kulkes Medical journalist About the author
Education: First Moscow State Medical University named after I. M. Sechenov, specialty "General Medicine".
Information about the drug is generalized, provided for informational purposes only and does not replace the official instructions. Self-medication is hazardous to health!
Popular by topic