Table of contents: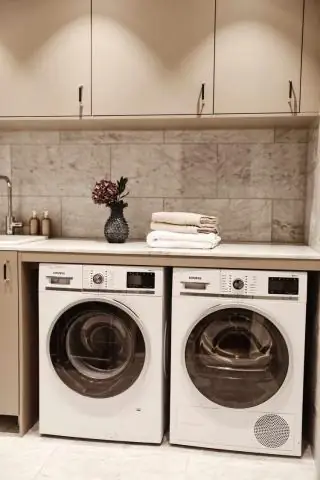 Video: Mikamin - Instructions For Use, Price, Analogs, Reviews
Mikamin
Mikamin: instructions for use and reviews
1. Release form and composition
2. Pharmacological properties
3. Indications for use
4. Contraindications
5. Method of application and dosage
6. Side effects
7. Overdose
8. Special instructions
9. Application during pregnancy and lactation
10. Use in childhood
11. In case of impaired renal function
12. For violations of liver function
13. Drug interactions
14. Analogs
15. Terms and conditions of storage
16. Terms of dispensing from pharmacies
17. Reviews
18. Price in pharmacies
Latin name: Mycamine
ATX code: J02AX05
Active ingredient: micafungin (Micafungin)
Manufacturer: Astellas Pharma Tech Co. Ltd. (Astellas Pharma Tech Co. Ltd.) (Japan)
Description and photo updated: 2018-29-11
Prices in pharmacies: from 7100 rubles.
Buy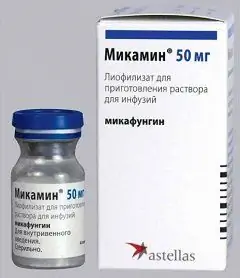 Mikamin is an antifungal drug.
Release form and composition
The drug is available in the form of a lyophilisate for preparing a solution for infusion: white lyophilized mass (52.5 mg or 106 mg each in colorless glass vials, 1 bottle in a cardboard box and instructions for use of Mikamin).
1 bottle contains:
active substance: micafungin (in the form of micafungin sodium) - 50 mg or 100 mg;
auxiliary components: lactose monohydrate; anhydrous citric acid and sodium hydroxide in an amount providing the acidity (pH) of the solution from 5.0 to 7.0.
Pharmacological properties
Pharmacodynamics
Mikamin is an antifungal drug. Its active ingredient, micafungin, is a non-competitive inhibitor of the synthesis of 1,3-beta-D-glucan, an important component of the fungal cell wall that is absent in mammalian cells. Micafungin exhibits fungicidal activity against fungi of the genus Candida spp. (speciales), it has a pronounced fungistatic effect against Aspergillus spp.
As a result of in vitro studies, the following spectrum of activity of micafungin was established:
Candida spp. fungi: various species including Candida albicans, Candida tropicalis, Candida glabrata, Candida krusei, Candida parapsilosis, Candida lusitaniae, Candida kefyr, Candida guilliermondii;
Aspergillus spp. mushrooms: various species including Aspergillus fumigatus, Aspergillus niger, Aspergillus flavus, Aspergillus terreus, Aspergillus versicolor, Aspergillus nidulans;
dimorphic fungi: Blastomyces dermatitidis, Histoplasma capsulatum, Coccidioides immitis.
Mikamin in vitro does not show activity against Cryptococcus spp., Scedosporium spp., Pseudallescheria spp., Fusarium spp., Zygomycetes spp., Trichosporon spp.
The likelihood of secondary resistance to micafungin is considered very low.
For various Candida species, fungicidal activity is achieved at the following minimum inhibitory concentrations of micafungin:
Candida albicans: 0.007-0.25 mg / l;
Candida tropicalis: 0.007-0.12 mg / l;
Candida glabrata: 0.007-0.12 mg / l;
Candida krusei: 0.015-0.12 mg / l;
Candida parapsilosis: 0.12-2 mg / l;
Candida lusitaniae: 0.12-0.25 mg / l;
Candida kefyr: 0.03–0.06 mg / l;
Candida guilliermondii: 0.5 mg / l;
Candida spp., Including Candida famata, Candida lipolytica, Candida dubliniensis, Candida rugosa, Candida pelliculosa, Candida zeylanoides, Candida stellatoidea: 0.015–0.5 mg / l.
Pharmacokinetics
After intravenous (iv) administration of micafungin in the range of daily doses of 12.5-200 mg or 3-8 mg per 1 kg of body weight, the drug is characterized by linear pharmacokinetics. With repeated administration, its systemic cumulation was not detected. The equilibrium concentration (Css) of micafungin in plasma is established after 4–5 days of therapy.
The decrease in the concentration of micafungin occurs biexponentially; after administration, it is rapidly distributed in tissues. Plasma protein binding is more than 99%. In the systemic circulation, the substance binds mainly to albumin, the connection remains stable within the concentration range of 0.01–0.1 mg / ml. The volume of distribution (Vss) - 18-19 liters.
In the systemic circulation, micafungin circulates mainly unchanged. In vitro, it was found that it is metabolized with the participation of CYP3A isoenzymes with the formation of the following compounds in small amounts: catechol derivative - M1; methoxy derivative M1 - M2; compound M5, resulting from side chain hydroxylation. Micafungin derivatives do not significantly affect the effectiveness of the drug. In vivo, the participation of CYP3A isoenzymes in hydroxylation is not the main route of drug metabolism.
The half-life (T 1/2) is 10-17 hours, when using doses up to 8 mg per 1 kg of body weight for single and repeated administrations of the drug, it does not change. In adult patients, the total clearance does not depend on the dose of micafungin and is 0.15–0.3 ml / min / kg with single and repeated administrations. The drug is excreted mainly through the intestines.
Features of pharmacokinetic parameters in different groups of patients:
children: AUC (area under the pharmacokinetic curve "concentration - time") remains proportional to the dose of the drug when using micafungin from 0.5 mg to 4 mg per 1 kg of child weight. The average clearance in children aged 2–11 years is approximately 1.3 times higher than in children 12–17 years old and adults; in premature infants (about 26 weeks), clearance is 5 times higher than in adults;
elderly patients (66–78 years old): with the infusion of 50 mg of micafungin for 1 hour, there was no significant change in pharmacokinetic parameters compared to patients aged 20–24 years;
patients with hepatic insufficiency: the average degree of liver dysfunction (7-9 points according to the Child-Pugh classification) - the pharmacokinetics of micafungin changes slightly; severe hepatic impairment (10-12 points according to the Child-Pugh classification) - there is a decrease in the concentration of micafungin in the plasma against the background of an increase in the level of the hydroxyl metabolite (M5);
patients with renal failure: severe renal dysfunction with creatinine clearance (CC) less than 30 ml / min - no pronounced changes in pharmacokinetic parameters occur;
patients of different races and gender: race and gender do not have a significant effect on the pharmacokinetics of micafungin.
Indications for use
treatment of invasive candidiasis;
prevention of candidiasis after allogeneic transplantation of hematopoietic stem cells or if neutropenia is suspected (the number of neutrophils in 1 μl is less than 500 for 10 days or more).
In addition, the use of Mikamin in patients over the age of 16 (including the elderly) is indicated in the treatment of esophageal candidiasis, when intravenous administration of antifungal drugs is required.
Contraindications
Absolute:
galactose intolerance, lactase deficiency, glucose-galactose malabsorption syndrome;
breast-feeding;
established hypersensitivity to echinocandins;
individual intolerance to the components of the drug.
With caution, Mikamin should be prescribed for severe liver dysfunction, chronic liver diseases (cirrhosis, fibrosis, viral hepatitis, neonatal pathologies or congenital enzyme defects), concomitant hepatotoxic and / or genotoxic therapy, renal failure, concomitant use of sirolimus, nifedipine, itraconazole and amphotericin B, in childhood (especially before 1 year).
During pregnancy, the decision to use Mikamin must be made after a careful assessment of the ratio of the expected benefits and potential risks from therapy.
Mikamin, instructions for use: method and dosage
The finished solution of Mikamin is administered intravenously by slow infusion.
The solution should be prepared at room temperature, observing the rules of asepsis.
After removing the plastic cap from the bottle, it is necessary to disinfect the cork with alcohol. To dissolve the lyophilisate, you can use only 0.9% sodium chloride solution for infusion or 5% dextrose solution. 5 ml of one of the indicated solvents is added to the contents of the vial, taking them from a bag (or vial) with an infusion solution of 100 ml. To minimize the formation of foam, the solvent is injected slowly along the inner wall of the vial. Then, by gently turning the bottle, but not shaking it, it is necessary to achieve complete dissolution of the lyophilisate. When 50 mg of micafungin are dissolved, the concentration of the reconstituted solution is 10 mg per 1 ml, 100 mg - 20 mg / ml. The concentrate must be used immediately. After taking the required dose from the vial, it is dissolved in the remaining amount (95 ml) of the infusion solution.
The rest of the unused solution in the vial should be discarded.
The ready-made solution for infusion should have a transparent structure and not contain sediment. Otherwise, it cannot be used.
For infusion, the package (bottle) must be protected from light by placing it in an opaque bag. All handling of the bag must be smooth and careful to avoid the formation of foam.
The reconstituted solution in the vial retains chemical and physical stability at temperatures up to 25 ° C for 48 hours, the ready-made solution for infusion - up to 96 hours. Mikamin does not contain preservatives, therefore, solutions should be prepared before their direct administration. The normal storage time should not exceed 24 hours at a temperature of 2 to 8 ° C.
After preparation, the solution is injected within 1 hour. Higher infusion rates increase the risk of histamine-mediated reactions.
The doctor prescribes the dose of Mikamin, taking into account the clinical indications, the age and body weight of the patient.
Recommended dosage:
invasive candidiasis: patients with a body weight of more than 40 kg - 100 mg once a day, with a weight of 40 kg or less - at the rate of 2 mg per 1 kg of the patient's body weight per day. In the absence of a clinical response or persistence of the pathogen, the daily dose for patients weighing more than 40 kg can be increased to 200 mg, and for patients weighing 40 kg or less, up to 4 mg per 1 kg. The duration of the course of treatment is at least 14 days. Antifungal therapy should be continued for 7 days after the disappearance of clinical signs of candidiasis and negative results in two consecutive blood tests;
esophageal candidiasis: patients with a body weight of more than 40 kg - 150 mg once a day, with a weight of 40 kg or less - 3 mg per 1 kg per day. Mikamin should be administered at least 7 days after the resolution of clinical signs of the disease;
prevention of candidiasis: patients with a body weight of more than 40 kg - 50 mg 1 time per day, with a weight of 40 kg or less - 1 mg per 1 kg per day. Continue using the drug for at least 7 days after the recovery of neutrophil levels. In children under 2 years of age, the experience of preventive use of the drug is limited.
With mild to moderate severity of liver dysfunction and renal failure, no dosage adjustment is required.
In severe hepatic impairment, the use of Mikamin is not recommended due to insufficient data on the use of micafungin in this category of patients.
Side effects
from the immune system: infrequently - hypersensitivity reactions, anaphylactic or anaphylactoid reactions;
from the lymphatic system and blood: often - anemia, leukopenia, neutropenia; infrequently - thrombocytopenia, eosinophilia, pancytopenia, hypoalbuminemia; rarely - hemolysis, hemolytic anemia; frequency not established - disseminated intravascular coagulation;
on the part of the psyche: infrequently - anxiety, insomnia, impaired consciousness;
from the heart: infrequently - palpitations, tachycardia, bradycardia;
on the vascular side: often - phlebitis (more often in patients with human immunodeficiency virus with peripheral catheters); infrequently - hyperemia, arterial hypertension, arterial hypotension; frequency not set - shock;
from the nervous system: often - headache; infrequently - taste perversion, drowsiness, dizziness, tremors, hyperhidrosis;
on the part of metabolism and nutrition: often - hypocalcemia, hypokalemia, hypomagnesemia; infrequently - anorexia, hyponatremia, hypophosphatemia, hyperkalemia;
from the gastrointestinal tract: often - nausea, vomiting, abdominal pain, diarrhea; infrequently - constipation, dyspepsia;
from the respiratory system, chest and mediastinal organs: infrequently - shortness of breath;
on the part of the hepatobiliary system: often - a change in liver function tests, an increase in the activity of alanine aminotransferase (ALT), aspartate aminotransferase (AST), alkaline phosphatase (ALP), an increase in the serum bilirubin content, hyperbilirubinemia; infrequently - cholestasis, liver failure, jaundice, hepatomegaly, hepatitis, increased activity of gamma-glutamyl transpeptidase (GGTP); frequency not established - hepatocellular lesions (including death);
dermatological reactions: often - rash; infrequently - itching, urticaria, erythema; the frequency has not been established - erythema multiforme, skin rashes of a toxic nature, toxic epidermal necrolysis, Stevens-Johnson syndrome;
from the urinary system: infrequently - the progression of renal failure, an increase in the level of creatinine, urea in the blood serum; frequency not established - functional renal impairment, acute renal failure;
general disorders: often - chills, hyperthermia;
violations at the injection site: infrequently - pain at the injection site, blood clot formation, inflammation at the infusion site, peripheral edema;
laboratory disorders: infrequently - an increase in the activity of lactate dehydrogenase in the blood serum.
Adverse reactions that occur in children more often than in adults include: thrombocytopenia, tachycardia, arterial hypotension, arterial hypertension, hepatomegaly, hyperbilirubinemia, increased serum urea levels, acute renal failure. In addition, in children under 1 year of age, an increase in the activity of ALT, AST, ALP was detected twice as often as in older children.
Overdose
Symptoms of Mikamin overdose have not been established.
In case of a probable overdose, the patient's condition should be monitored. Shows the use of general supportive measures, the appointment of symptomatic therapy. Dialysis is ineffective.
special instructions
The use of Mikamin should be accompanied by careful monitoring of the patient's condition in order to prevent the development of severe undesirable effects.
If an anaphylactic or anaphylactoid reaction, including shock, occurs with the introduction of micafungin, the infusion should be discontinued and appropriate treatment prescribed.
With the progression of the rash that appeared during therapy, micafungin therapy should not be continued in order to avoid the development of Stevens-Johnson syndrome or toxic epidermal necrolysis.
When confirming the signs of hemolysis, the patient should ensure careful monitoring of the condition and consider the feasibility of continuing treatment, assessing the ratio of risk and benefit.
When treating with micafungin, careful monitoring of renal and liver function is necessary. If there is a significant or persistent increase in ALT activity, AST is recommended to cancel Mikamin, this will minimize the risk of adaptive regeneration and subsequent formation of liver tumors.
The potential negative effect of Mikamin on the reproductive potential of men has been established.
Influence on the ability to drive vehicles and complex mechanisms
Against the background of the use of Mikamin, it is possible to develop undesirable phenomena that have a negative effect on concentration and the speed of psychomotor reactions. Therefore, patients are advised to be careful when driving and working with complex mechanisms.
Application during pregnancy and lactation
Animal studies indicate reproductive toxicity and the ability of micafungin to cross the placental barrier. Therefore, during the gestation period, Mikamin is recommended to be used only in exceptional cases, when the expected therapeutic effect for the mother exceeds the potential threat to the fetus.
It is not known whether micafungin penetrates into breast milk during lactation, and therefore the decision to continue or stop breastfeeding during Mikamin therapy should be made by the attending physician, taking into account the benefits of breastfeeding for the infant and the potential therapeutic effect for the mother.
Pediatric use
It is recommended to prescribe with caution Mikamin for the treatment of children, especially under the age of 1 year.
With impaired renal function
Mikamin should be used with caution in renal failure.
For violations of liver function
Care should be taken to prescribe Mikamin to patients with severely impaired liver function, such chronic liver diseases as cirrhosis, fibrosis, neonatal pathologies, viral hepatitis or congenital enzyme defects.
Drug interactions
Mikamin is compatible only with 0.9% sodium chloride solution and 5% dextrose solution; it cannot be mixed with other drugs.
Correction of the dosing regimen of micafungin in combination with substances such as amphotericin B, mycophenolate mofetil, tacrolimus, prednisolone, cyclosporin, sirolimus, nifedipine, ritonavir, rifampicin, fluconazole, itraconazole, voriconazole is not required.
If it is necessary to prescribe micafungin together with amphotericin B deoxycholate, careful monitoring of the toxicity of the latter is required due to a clinically significant increase in its exposure (30%). This combination is recommended for use only in cases where the expected therapeutic effect justifies the potential risk.
With the simultaneous use of sirolimus, nifedipine or itraconazole, it is necessary to monitor the patient's condition in order to identify symptoms of toxic effects, if they are detected, the doses of these drugs should be reduced.
The interaction of micafungin with drugs in the metabolism of which the CYP3A enzyme is involved is unlikely.
Analogs
Mikamin analogs are Micafungin-native, Mikomax, Vfend, Vikand, Itraconazole, Irunin, Biflurin, Itrazol, Voriconazole Teva, Voriconazole Canon, Canditral, Mikonihol, Rumikoz, Orungal, Teknazol.
Terms and conditions of storage
Keep out of the reach of children.
Store at temperatures up to 25 ° C in a dark place.
The shelf life is 3 years.
Terms of dispensing from pharmacies
Dispensed by prescription.
Reviews about Mikamin
In a few reviews of Mikamin, patients indicate a rapid onset of the therapeutic effect and good tolerance of the drug. It is recommended to use it especially when therapy with other antifungal agents has been ineffective.
The price of Mikamin in pharmacies
The price of Mikamin for a 50 mg bottle can be from 18 420 rubles; per bottle of 100 mg - 17,000 - 25,071 rubles.
Mikamin: prices in online pharmacies
Drug name
Price
Pharmacy
Mikamin 100 mg lyophilisate for preparation of solution for infusion 1 pc.
RUB 7100
Buy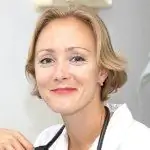 Anna Kozlova Medical journalist About the author
Education: Rostov State Medical University, specialty "General Medicine".
Information about the drug is generalized, provided for informational purposes only and does not replace the official instructions. Self-medication is hazardous to health!
Popular by topic