Table of contents: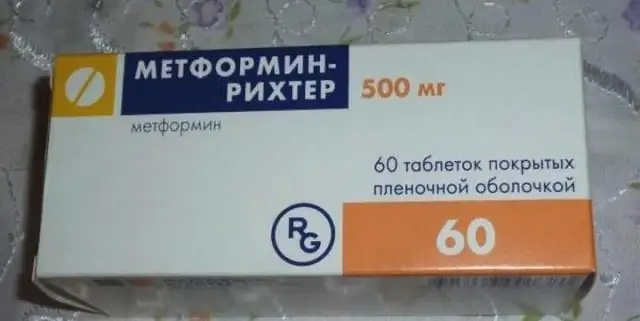 Video: Metformin-Richter - Instructions For Use, Price, Reviews, 500 Mg
Metformin-Richter
Metformin-Richter: instructions for use and reviews
1. Release form and composition
2. Pharmacological properties
3. Indications for use
4. Contraindications
5. Method of application and dosage
6. Side effects
7. Overdose
8. Special instructions
9. Application during pregnancy and lactation
10. In case of impaired renal function
11. For violations of liver function
12. Use in the elderly
13. Drug interactions
14. Analogs
15. Terms and conditions of storage
16. Terms of dispensing from pharmacies
17. Reviews
18. Price in pharmacies
Latin name: Metformin-Richter
ATX code: A10BA02
Active ingredient: metformin (metformin)
Producer: Gedeon Richter-RUS, JSC (Russia)
Description and photo update: 2018-24-10
Prices in pharmacies: from 171 rubles.
Buy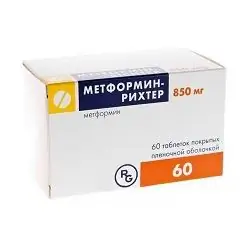 Metformin-Richter is an oral hypoglycemic drug belonging to the biguanide group.
Release form and composition
The drug is produced in the form of film-coated tablets: biconvex, round (500 mg) or oblong (850 mg), the shell and cross section are white (10 pieces in a contoured cell package, 1-4 or 6 packages in a cardboard box) …
1 tablet contains:
active substance: metformin hydrochloride - 500 or 850 mg;
additional components: polyvidone (povidone), copovidone, magnesium stearate, salting (colloidal silicon dioxide - 2%, microcrystalline cellulose - 98%);
film shell: white opadry II 33G28523 (hypromellose - 40%, titanium dioxide - 25%, lactose monohydrate - 21%, macrogol 4000 - 8%, triacetin - 6%).
Pharmacological properties
Pharmacodynamics
Metformin slows down the course of gluconeogenesis in the liver, reduces the absorption of glucose from the intestine, increases the peripheral utilization of glucose and increases the sensitivity of tissues to the effects of insulin. Along with this, the substance does not affect the production of insulin by the β-cells of the pancreas and does not lead to the development of hypoglycemic reactions.
The drug reduces the level of low density lipoproteins (LDL), triglycerides and total cholesterol in the blood.
Pharmacokinetics
After oral administration, the drug is absorbed from the gastrointestinal tract (GIT). The maximum concentration of the substance (C max) in the blood plasma is observed after 2.5 hours, the bioavailability is 50-60%. Food intake reduces the C max of metformin by 40%, and also delays its achievement by 35 minutes.
The volume of distribution (V d) when using 850 mg of the substance is 296-1012 liters. The agent is characterized by a rapid distribution in tissues and a very low degree of binding to plasma proteins.
Metabolic transformation of metformin is very insignificant, the drug is excreted by the kidneys. In healthy individuals, the clearance of the substance is 400 ml / min, which is 4 times higher than the clearance of creatinine (CC), this confirms the presence of active tubular secretion. The half-life (T ½) is 6.5 hours.
Indications for use
According to the instructions, Metformin-Richter is recommended for patients with type 2 diabetes mellitus without a tendency to ketoacidosis (especially in the presence of obesity) in case of ineffective diet therapy.
Contraindications
diabetic precoma, coma;
diabetic ketoacidosis;
functional disorders of the kidneys (CC less than 60 ml / min);
clinically pronounced manifestations of diseases in acute and chronic forms, which can provoke the occurrence of tissue hypoxia (acute myocardial infarction, heart / respiratory failure, etc.);
acute diseases accompanied by the risk of renal dysfunction: infectious diseases of a severe course, fever, hypoxia (bronchopulmonary diseases, renal infections, sepsis, shock), dehydration (against the background of vomiting, diarrhea);
functional disorders of the liver;
lactic acidosis (including history data);
acute alcohol poisoning, chronic alcoholism;
trauma and serious surgical interventions, in which insulin therapy is indicated;
use for at least 2 days before and 2 days after the implementation of radioisotope and X-ray studies, in which an iodine-containing contrast agent is injected;
glucose-galactose malabsorption, lactose intolerance, lactase deficiency;
the need to comply with a hypocaloric diet (less than 1000 kcal / day);
pregnancy and lactation;
hypersensitivity to any of the constituents of the drug.
Metformin-Richter is not recommended for use in patients over 60 years of age who perform heavy physical work.
Instructions for use Metformin-Richter: method and dosage
Metformin-Richter is taken orally during or immediately after a meal. The tablets must be swallowed whole, without breaking, washed down with a glass of water. To reduce the risk of developing undesirable effects from the gastrointestinal tract, the daily dose should be divided into 2-3 doses.
The attending physician determines the dose of the drug individually, taking into account the level of glucose in the blood.
Recommended dosage regimen:
tablets Metformin-Richter 500 mg: initial daily dose - 500-1000 mg, 10-15 days after the start of administration, if necessary, a gradual increase in dose is possible; maintenance daily dose - 1500-2000 mg, maximum allowable daily dose - 3000 mg;
tablets Metformin-Richter 850 mg: initial daily dose - 850 mg, if necessary, 10-15 days after the start of the course, a gradual increase in dose is possible; maintenance daily dose - 1700 mg, maximum permissible daily dose - 2550 mg.
Against the background of severe metabolic disorders due to the aggravation of the risk of lactic acidosis, the dose of the drug must be reduced.
Side effects
metabolism: rarely - lactic acidosis (drug withdrawal is necessary); with a long course - hypovitaminosis B 12 (due to malabsorption);
digestive system: lack of appetite, metallic taste in the mouth, vomiting, diarrhea, nausea, abdominal pain, flatulence (these disorders are noted most often at the beginning of therapy and usually go away on their own, their severity can be reduced using antispasmodics, m-anticholinergics, antacids); rarely - hepatitis, increased activity of hepatic transaminases (disappear after stopping treatment);
endocrine system: hypoglycemia;
hematopoietic system: in rare cases - megaloblastic anemia;
allergic reactions: itching, skin rash.
Overdose
An overdose of metformin hydrochloride may cause severe lactic acidosis (up to a tragic outcome). The development of this complication can also be the result of the accumulation of funds in the body due to functional disorders of the kidneys.
Early symptoms of lactic acidosis include vomiting, abdominal pain, diarrhea, nausea, muscle pain, a decrease in body temperature, and later symptoms - dizziness, rapid breathing, impaired consciousness, coma.
If the above violations appear, it is necessary to immediately stop taking Metformin-Richter and urgently hospitalize the patient. After determining the concentration of lactate and confirming the diagnosis, hemodialysis is prescribed, which is the most effective way to remove metformin and lactate from the body, and symptomatic treatment is also carried out.
special instructions
During therapy with the drug, it is required at least twice a year (as well as in the case of myalgia) to establish the concentration of lactate in the blood plasma.
It is also necessary to determine the level of creatinine in the blood serum once every 6 months, this is especially important for elderly patients.
If during the period of taking metformin, the development of an infectious lesion of the genitourinary organs or a bronchopulmonary infection was noted, this should be urgently reported to the attending physician.
The drug must be canceled 48 hours before and 48 hours after the urography, intravenous angiography or any other x-ray contrast study.
Metformin-Richter can be used in combination with sulfonylurea derivatives, especially carefully while controlling the concentration of glucose in the blood.
During the period of therapy, it is recommended to refrain from taking ethanol-containing drinks and medicines. The threat of lactic acidosis is exacerbated by acute alcohol intoxication, especially in the presence of liver failure, adherence to a low-calorie diet or fasting.
Influence on the ability to drive vehicles and complex mechanisms
The use of Metformin-Richter as a monotherapy drug does not adversely affect the ability to drive vehicles.
In the case of combined administration of metformin with insulin, sulfonylurea derivatives and other antidiabetic agents, there is a likelihood of developing hypoglycemic conditions, against which the ability to control complex mechanisms (including vehicles) deteriorates.
Application during pregnancy and lactation
The drug should not be taken during pregnancy. In the case when pregnancy occurs during the course of treatment, as well as during its planning, the administration of Metformin-Richter must be stopped and insulin therapy must be prescribed.
Since there is no information about the penetration of metformin into breast milk, the drug is contraindicated for women who are breastfeeding. If the drug must be taken during lactation, breastfeeding should be discontinued.
With impaired renal function
Taking the drug is contraindicated in case of impaired renal function (CC less than 60 ml / min), since in this case the accumulation of metformin can be observed.
For violations of liver function
Metformin-Richter is contraindicated in the presence of liver dysfunction.
Use in the elderly
Elderly people should take the drug in a daily dose not exceeding 1 g.
It is not recommended to use the drug in patients over 60 years of age who perform heavy physical work, since this may increase the risk of developing lactic acidosis.
Drug interactions
With the combined use of Metformin-Richter with certain medicinal substances / preparations, the following interaction reactions may develop:
danazol - there may be a hyperglycemic effect of this agent; this combination is not recommended, if danazol therapy is necessary and after the completion of its administration, a change in the dose of metformin and control of the glycemic level are required;
angiotensin-converting enzyme inhibitors, oxytetracycline, monoamine oxidase inhibitors, non-steroidal anti-inflammatory drugs, salicylates, sulfonylurea derivatives, insulin, acarbose, fibric acid derivatives, beta-blockers, cyclophosphamide - the hypoforoglycemic effect is enhanced;
chlorpromazine (neuroleptic) - when this drug is taken in a daily dose of 100 mg, the concentration of glucose in the blood increases and the release of insulin decreases; during therapy with chlorpromazine and other neuroleptics, as well as after stopping them, the dose of metformin should be adjusted and the blood glucose level should be monitored;
cimetidine - the elimination of metformin slows down, which aggravates the threat of lactic acidosis;
oral contraceptives, glucocorticosteroids, epinephrine, glucagon, sympathomimetics, preparations of iodine-containing thyroid hormones, loop and thiazide diuretics, nicotinic acid derivatives, phenothiazine derivatives - the hypoglycemic effect of metformin decreases;
nifedipine - the absorption and C max of metformin increases, the excretion of the latter slows down;
iodine-containing contrast agents - with intravascular administration of these agents, metformin accumulation may occur, which can lead to the appearance of lactic acidosis;
indirect anticoagulants (coumarin derivatives) - their effect is weakened;
ranitidine, quinidine, morphine, amiloride, vancomycin, triamterene, quinine, procainamide, digoxin (cationic drugs secreted by the renal tubules) - with a long course, the C max of metformin may increase by 60% (due to competition for tubular transport systems).
Analogs
Analogs of Metformin-Richter are: Glyformin Prolong, Bagomet, Glyformin, Glucophage, Diasfor, Glucophage Long, Diaformin OD, Metfogamma 500, Metadien, Metfogamma 850, Metformin long, Metformin-Canon, Metformin, Metformin Zentiva, Metformin MV, Metformin Sandoz, Metformin-Teva, Siofor 500, Formetin, Sopamet, Siofor 850, Formetin Long, Siofor 1000, Formin Pliva.
Terms and conditions of storage
Keep out of the reach of children at a temperature not exceeding 25 ° C.
The shelf life is 3 years.
Terms of dispensing from pharmacies
Dispensed by prescription.
Reviews about Metformin-Richter
According to the overwhelming majority of reviews, Metformin-Richter is an effective drug that regulates the concentration of glucose in the blood, reduces appetite and cravings for sweets, and helps to reduce and stabilize body weight.
The disadvantages of the drug, many patients include the development of adverse reactions (mainly from the gastrointestinal tract) and a large number of contraindications. Almost all reviews note that Metformin-Richter is a fairly serious remedy and it should be taken only as directed by a specialist.
Price for Metformin-Richter in pharmacies
The price of Metformin-Richter 500 mg or 850 mg (60 pcs. In a package) can be approximately 170-200 or 220-250 rubles, respectively.
Metformin-Richter: prices in online pharmacies
Drug name
Price
Pharmacy
Metformin-Richter 500 mg film-coated tablets 60 pcs.
171 r
Buy
Metformin-Richter 850 mg film-coated tablets 60 pcs.
234 r
Buy
Metformin-Richter 1000 mg film-coated tablets 60 pcs.
263 r
Buy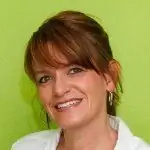 Maria Kulkes Medical journalist About the author
Education: First Moscow State Medical University named after I. M. Sechenov, specialty "General Medicine".
Information about the drug is generalized, provided for informational purposes only and does not replace the official instructions. Self-medication is hazardous to health!
Popular by topic