Table of contents: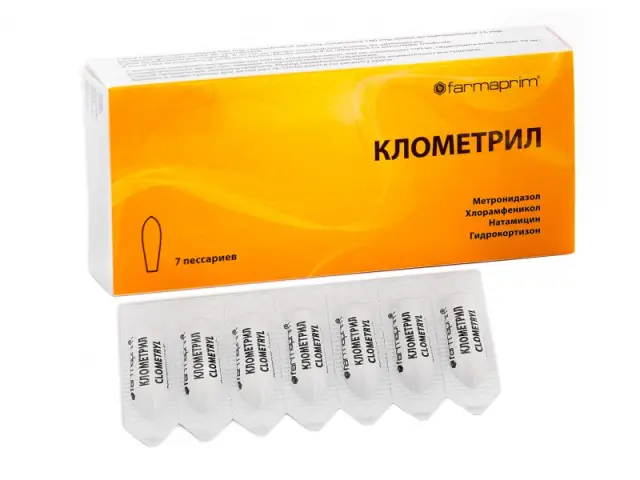 Video: Metromicon-Neo - Instructions For Use, Price, Reviews, Analogues
Metromicon-Neo
Metromicon-Neo: instructions for use and reviews
1. Release form and composition
2. Pharmacological properties
3. Indications for use
4. Contraindications
5. Method of application and dosage
6. Side effects
7. Overdose
8. Special instructions
9. Application during pregnancy and lactation
10. Use in childhood
11. In case of impaired renal function
12. For violations of liver function
13. Drug interactions
14. Analogs
15. Terms and conditions of storage
16. Terms of dispensing from pharmacies
17. Reviews
18. Price in pharmacies
Latin name: Metromicon-Neo
ATX code: G01AF20
Active ingredient: metronidazole + miconazole (metronidazole + miconazole)
Producer: LLC "Avexima Siberia" (Russia), LLC "PHARMAPRIM" (Republic of Moldova)
Description and photo update: 2018-26-10
Prices in pharmacies: from 315 rubles.
Buy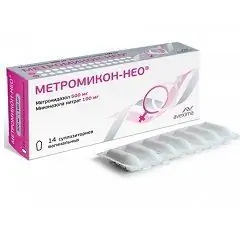 Metromicon-Neo is a combined drug with antibacterial, antifungal and antiprotozoal effects.
Release form and composition
Dosage form - vaginal suppositories: torpedo-shaped, white with a yellowish tinge or white, with a permissible airy porous rod or funnel-shaped depression on the cut (in a blister contour packaging or blister 7 pcs., In a cardboard box, 2 packs or blisters).
Composition of 1 suppository:
active ingredients: metronidazole - 500 mg; miconazole nitrate - 100 mg;
auxiliary components: semi-synthetic glycerides (Supposir AM).
Pharmacological properties
Pharmacodynamics
The active component of Metromicon-Neo, metronidazole, is a substance that produces antimicrobial and antiprotozoal effect. The bactericidal effect is due to the biochemical reduction of the 5-nitro group of metronidazole by the intracellular transport proteins of anaerobic bacteria and protozoa and the further interaction of the reduced 5-nitro group with the deoxyribonucleic acid (DNA) of the bacterial cell, during which the synthesis of nucleic acids of microorganisms is inhibited and, as a consequence, the death of bacteria.
Metronidazole is active against Gardnerella vaginalis, Trichomonas vaginalis, Entamoeba histolytica, Giardia intestinalis, obligate anaerobic bacteria - Veillonella spp., Fusobacterium spp., Prevotella spp. (Prevotella bivia, Prevotella buccae, Prevotella disiens), Bacteroides spp. (including Bacteroides ovatus, Bacteroides distasonis, Bacteroides fragilis, Bacteroides vulgatus, Bacteroides thetaiotaomicron), gram-positive bacteria - Peptostreptococcus spp., Peptococcus spp., Mobiluncus spp., Gramobacterium spp., Clostridium spp., Gram-positive bacteria.
Aerobic microorganisms show resistance to metronidazole, but in a mixed flora (anaerobes and aerobes), the drug acts in synergy with antibiotics that are effective against conventional aerobes.
Another active ingredient of Metromicon-Neo, miconazole nitrate, belongs to antifungal drugs derived from azole. The fungicidal and fungistatic effect of miconazole is associated with the suppression of the synthesis of ergosterol, which is a component of the membrane and membrane of the fungal cell, and damage to the integrity of the cell membrane, which causes the death of pathogenic cells. Dermatomycetes and yeasts are most sensitive to the drug. It is active against pathogens of dermatomycosis (including Candida albicans, Microsporum, Epidermophyton floccosum, Trichophyton), the causative agent of varicoloured lichen Malassezia furfur and other pathogenic microorganisms.
Pharmacokinetics
With intravaginal administration, the bioavailability of metronidazole is 20%. The substance is metabolized in the liver with the formation of active hydroxyl metabolites. T 1/2 (half-life) of metronidazole - from 6 to 11 hours. Approximately 20% of the administered dose is excreted in the urine in its original form.
Miconazole nitrate with intravaginal application is absorbed in insignificant amounts and is not detected in blood plasma.
Indications for use
According to the instructions, Metromicon-Neo is indicated for use with the following vaginal infections:
vaginal candidiasis;
bacterial vaginosis;
Trichomonas vaginitis, Trichomonas vulvovaginitis;
mixed vaginal infection.
Contraindications
Absolute:
virginity;
first trimester of pregnancy, lactation period;
age up to 18 years;
increased individual sensitivity to metronidazole, other nitroimidazole derivatives, miconazole or any excipient of the drug.
Prescribe Metromicon-Neo in case of impaired renal and / or liver function, porphyria, diseases of the central and peripheral nervous system, disorders of hematopoiesis and microcirculation, diabetes mellitus, as well as in the second and third trimesters of pregnancy, it is necessary with caution.
Instructions for use Metromicon-Neo: method and dosage
Suppositories Metromicon-Neo are used intravaginally. Having freed the suppository from the contour packaging with the help of scissors, it is inserted deep into the vagina.
Recommended dosage regimen:
with bacterial vaginosis, acute vaginitis: one suppository 2 times a day, in the morning and just before bedtime, for 7 days;
for chronic vaginitis: one suppository 1 time per day at night for 14 days;
with often recurrent vaginitis or the absence of a positive clinical effect from the use of other methods of treatment: one suppository 2 times a day, in the morning and before bedtime, for 14 days.
Side effects
local reactions: irritation of the vaginal mucosa, increased puffiness, itching, burning. With vaginitis, irritation may increase after using the first suppository or on the third day of treatment due to inflammation of the vaginal mucosa. As a rule, after discontinuation of therapy, these symptoms disappear quickly;
from the nervous system: ataxia (movement disorders), headache, dizziness, convulsions, psychoemotional disorders;
from the digestive system: abdominal pain / cramps, diarrhea, constipation, nausea / vomiting, dry mouth, metallic taste, loss of appetite;
from the hematopoietic system: leukopenia;
allergic reactions: skin rash (including urticaria).
Overdose
Low absorption of the active ingredients of the drug Metromicon-Neo excludes overdose, provided that the recommended dosage regimen is observed.
The following symptoms are possible: in case of an overdose of metronidazole - nausea, vomiting, diarrhea, abdominal pain, ataxia, metallic taste in the mouth, paresthesia, convulsions, dark urine staining, leukopenia, peripheral neuropathy (with prolonged use of high doses); with an overdose of miconazole nitrate - nausea, vomiting, diarrhea, anorexia.
Treatment consists of symptomatic and supportive therapy. In case of accidental ingestion of the drug, gastric lavage is recommended.
special instructions
During the use of Metromicon-Neo suppositories, it is recommended to refrain from sexual intercourse. To prevent re-infection, simultaneous therapy with a sexual partner is necessary, and in the case of trichomonas vaginitis, treatment of the partner with oral metronidazole is recommended.
During the treatment period and after the end of the course of therapy for 24–48 hours, ethyl alcohol should be avoided due to the likelihood of disulfiram-like reactions.
In case of severe irritation of the vaginal mucosa, the drug must be canceled.
The simultaneous use of Metromicon-Neo with a vaginal diaphragm and latex or rubber condoms is not recommended due to their possible interaction with the suppository base and a decrease in the reliability of mechanical contraception.
Suppositories must be administered only intravaginally, it is prohibited to swallow and use them in other ways.
When using the drug Metromicon-Neo in conjunction with metronidazole for oral administration, especially with a repeated course, the peripheral blood picture should be monitored because of the risk of leukopenia.
Influence on the ability to drive vehicles and complex mechanisms
Patients receiving Metromicon-Neo therapy should be careful when driving and performing actions requiring increased attention and rapid motor / mental response. In case of development of adverse reactions when using the drug from the central nervous system, you should refrain from potentially hazardous activities.
Application during pregnancy and lactation
In the first trimester of pregnancy, the appointment of the drug Metromicon-Neo is contraindicated. Application in the II and III trimesters is possible only in cases where the expected benefit to the woman outweighs the potential risks to the fetus.
Since metronidazole tends to penetrate into breast milk, if it is necessary to use suppositories during lactation, breastfeeding should be discontinued. Breastfeeding can be resumed 24–48 hours after the end of therapy.
Pediatric use
Metromicon-Neo is contraindicated in children and adolescents under 18 years of age.
With impaired renal function
In case of renal failure, the use of Metromicon-Neo requires caution.
For violations of liver function
Prescribe Metromicon-Neo to patients with impaired liver function with caution.
Drug interactions
The use of metronidazole and miconazole nitrate at the same time as some drugs can lead to the development of the following effects:
oral anticoagulants: enhancing the action of indirect anticoagulants;
phenytoin: an increase in the concentration of phenytoin in the blood, a decrease in the concentration of metronidazole in the blood;
cimetidine: increasing the concentration of metronidazole in the blood;
disulfiram: development of disorders of the central nervous system in the form of mental reactions. It is not recommended to prescribe metronidazole to patients taking disulfiram for the last two weeks;
lithium preparations: increasing their toxicity;
phenobarbital: a decrease in the concentration of metronidazole in the blood;
terfenadine, astemizole: an increase in their concentration in blood plasma as a result of the suppression of their metabolism by metronidazole and miconazole;
ethanol: development of disulfiram-like reactions.
Analogs
Metromicon-Neo analogs are: Ginocaps, Neo-Penotran, Neo-Penotran Forte and others.
Terms and conditions of storage
Store in a dark, dry place at temperatures from 15 to 25 ° C.
Keep out of the reach of children.
Shelf life is 3 years.
Terms of dispensing from pharmacies
Dispensed by prescription.
Reviews about Metromicon-Neo
Judging by the reviews, Metromicon-Neo is not suitable for all patients. Quite often, suppositories cause irritation in the vagina, as well as nausea and abdominal pain. In addition, after a course of treatment with the drug, many women need to restore the vaginal microflora.
Price for Metromicon-Neo in pharmacies
The average price for Metromicon-Neo is 370 rubles per pack of 14 pcs.
Metromicon-Neo: prices in online pharmacies
Drug name
Price
Pharmacy
Metromicon-Neo 500 mg + 100 mg vaginal suppositories 14 pcs.
RUB 315
Buy
Metromicon-Neo vaginal suppositories. 500mg + 100mg 14 pcs.
384 r
Buy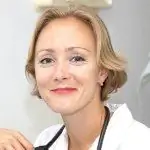 Anna Kozlova Medical journalist About the author
Education: Rostov State Medical University, specialty "General Medicine".
Information about the drug is generalized, provided for informational purposes only and does not replace the official instructions. Self-medication is hazardous to health!
Popular by topic