Table of contents: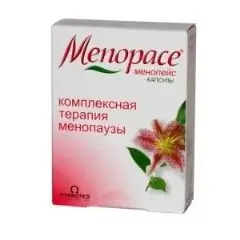 Video: Menopace - Instructions, Application, Reviews
Menopace
Instructions for use:
1. Composition and form of release
2. Pharmacological action
3. Indications for use
4. Method of application and dosage
5. Contraindications to use
6. Side effects
7. Overdose
8. Special instructions
9. Expiry date
Prices in online pharmacies:
from 864 rub.
Buy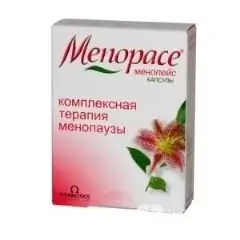 Menopace is a complex multivitamin preparation used during menopause.
Composition and release form of Menopace
The drug is produced in the form of capsules, in blisters, 4, 7 and 30 pieces per package.
Menopace contains:
Retinol Acetate (Vitamin A);
D-Tocopherol (Vitamin E);
Cholecalciferol (Vitamin D3);
Folic acid (Vitamin Sun (B9));
Chromium aminoacetochelate (Chromium);
Sodium borate (Boron);
Para-aminobenzoic acid (PABA);
Ascorbic acid (Vitamin C);
Cyanocobalamin (Vitamin B12);
Furmat Iron (Iron);
Zinc sulfate hydrate (Zinc);
Calcium pantothenate (Vitamin B5);
Magnesium oxide (Magnesium);
Thiamine mononitrate (Vitamin B1);
Potassium iodide (Iodine);
Copper sulfate hydrate (Copper);
Sodium selenate (Selenium);
Nicotinamide / Niacin (Vitamin B3);
Riboflavin (Vitamin B2);
Manganese sulfate hydrate (Manganese);
Pyridoxine Hydrochloride (Vitamin B6);
Biotin.
pharmachologic effect
The herbal and mineral extracts, as well as vitamins, which are part of Menopace, determine its beneficial effect. It contains 22 nutrients that are essential for a woman during menopause.
The use of Menopace according to the instructions regulates changes in hormonal and enzyme balance: supports the function and growth of epithelial tissue, helps to normalize calcium levels, improves the activity of the central nervous system, the function of the immune system, normalizes the functioning of internal organs and metabolism, improves vision, skin regeneration and hair growth …
Indications for the use of Menopace
According to the instructions, Menopace is indicated during menopause and menopause when the following symptoms occur:
headache;
anxiety;
hot flashes;
dry groin;
excessive sweating;
sleep disturbance.
Also Menopace is used according to the instructions to treat early menopause.
Method of administration and dosage
Capsules are taken one piece a day after meals with a sufficient amount of liquid. The duration of treatment is determined by the attending physician.
Contraindications to the use of Menopace
The use of Menopace is contraindicated in:
hypervitaminosis A, E, D, metabolic disorders in the body of copper or iron;
hypercalciuria;
nephrolithiasis;
phenylketonuria;
impaired renal function;
hemochromatosis;
hypercalcemia;
hemosiderosis;
hypermagnesemia;
Wilson's disease;
hypersensitivity to the components of the drug;
under the age of 18;
concomitant use of retinoids.
Contraindication to Menopace is during lactation and pregnancy.
Side effects
According to reviews, Menopace can rarely cause allergic reactions, stomach pain, diarrhea, vomiting, headache, nausea, dyspeptic disorders, irritability, dizziness.
According to reviews, while taking Menopace, urine may turn yellow and stool black, but this is safe for health.
Overdose
There have been no reviews of Menopace regarding overdose.
Taking Menopace in high doses can cause insomnia, headache, fear, difficulty breathing, agitation, convulsions, tremors, vomiting, nausea, rash, tachycardia, fainting.
With prolonged overdose, hypervitaminosis A and D, toxic effects of copper and iron, hypercalcemia may develop. In case of overdose, symptomatic treatment is necessary.
special instructions
It is not recommended to exceed the Menopace dosage according to the instructions. Do not combine the drug with food, food additives and medicines containing high concentrations of copper, iron, vitamins A or D.
Patients with thyroid diseases should be careful to take the drug only as directed by a doctor.
According to reviews of Menopace patients, the drug should be taken with caution in case of duodenal ulcer or stomach ulcer, diabetes mellitus and coronary heart disease.
Shelf life
Under the correct storage conditions, the shelf life of the drug is 36 months.
Menopace: prices in online pharmacies
Drug name
Price
Pharmacy
Menopace Plus tablets and capsules set 56 pcs.
864 RUB
Buy
Menopace plus tablets + capsules 56 pcs.
993 RUB
Buy
Information about the drug is generalized, provided for informational purposes only and does not replace the official instructions. Self-medication is hazardous to health!
Popular by topic