Table of contents: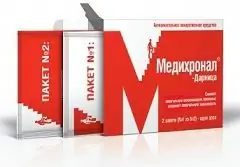 Video: Medichronal-Darnitsa - Instructions For Use, Indications, Doses, Analogues
Medichronal-Darnitsa
Instructions for use:
1. Release form and composition
2. Indications for use
3. Contraindications
4. Method of application and dosage
5. Side effects
6. Special instructions
7. Drug interactions
8. Analogs
9. Terms and conditions of storage
10. Terms of dispensing from pharmacies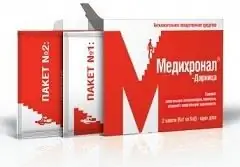 Medichronal-Darnitsa is a combined drug with a detoxification effect that improves metabolic processes in the body.
Release form and composition
Medichronal-Darnitsa is produced in the form of granules: white with a yellowish tinge or white, odorless (in bags # 1 and # 2, 1, 7 or 21 sets of bags in a cardboard box).
Package # 1 includes:
Active ingredient: glucose monohydrate - 17.5 g;
Auxiliary component: povidone.
Package # 2 includes:
Active substances: glycine - 7 g, sodium formate - 3.5 g;
Auxiliary component: povidone.
Indications for use
Treatment of withdrawal symptoms and alcohol intoxication;
Improving the effectiveness of other methods of therapy;
Secondary prevention of alcoholism;
Intoxication prevention.
Contraindications
Arterial hypotension;
Diabetes mellitus in severe forms;
Hypersensitivity to drug components.
The drug can be prescribed to lactating and pregnant women only after assessing the benefit / risk ratio for the health of the mother and the child.
Method of administration and dosage
Medichronal-Darnitsa is taken orally, after a meal, after dissolving a single dose (the contents of both packages are 28.5 g) in 100-150 ml of warm water. To improve the taste, you can use non-carbonated drinks (compote, juice, etc.).
In acute alcoholic and withdrawal conditions, the frequency of application of the drug on the first day is 1-2 times (with an interval of 10-12 hours), in the next 2-3 days, the drug is taken once a day.
In the treatment of chronic alcoholism (as part of complex therapy) and, if necessary, secondary prevention, the drug is shown to be taken in courses lasting 7 days, one single dose daily (28.5 g). You should take 3 courses with breaks of 3 days between courses. For prophylactic purposes (to prevent relapses), 1-1.5 months after the end of therapy, it is recommended to undergo a repeated thirty-day course of treatment with Medichronal-Darnitsa. It is also possible to carry out 1-3 repeated short-term preventive courses of treatment lasting 1-2 weeks throughout the year.
To prevent intoxication, it is recommended to take 1 single dose 30 minutes before drinking alcoholic beverages.
Side effects
All components of the Medichronal-Darnitsa preparation are natural metabolites, so the agent is generally well tolerated. In some cases, the following violations may develop:
Nervous system: deterioration in concentration, headache, irritability, tension;
Immune system: hypersensitivity reactions including pruritus, rash, and hives;
Gastrointestinal tract: nausea.
special instructions
Medichronal-Darnitsa is used as monotherapy or simultaneously with other drugs. The appointment is made taking into account the individual characteristics of the patient, which provides for the possibility of changing the duration of therapy or increasing the number of repeated courses throughout the year.
If there is a tendency to arterial hypotension, it is necessary to control the level of blood pressure and, if necessary, adjust the dose of the drug (Medichronal-Darnitsa is taken in smaller doses with regular monitoring of blood pressure). When blood pressure drops below the usual level, treatment should be canceled.
Since the composition of the drug includes glucose, conditions accompanied by the development of hyperglycemia are a limitation to therapy.
During the use of the drug, care must be taken when driving vehicles and performing work with complex mechanisms.
Drug interactions
Glycine (one of the active components of Medichronal-Darnitsa) reduces the toxicity of anticonvulsants and antipsychotics, antidepressants and anticonvulsants.
The effect of inhibition of the central nervous system is enhanced by simultaneous use with tranquilizers, antipsychotic and hypnotic drugs.
In the treatment of alcohol dependence, Medichronal-Darnitsa can be taken together with other drugs (with the exception of disulfiram, which, if necessary, is prescribed at the end of the course of therapy).
Analogs
The analogues of Medichronal-Darnitsa are: Antaxon, Vivitrol, Kolme, Naltrexin, Selinkro, Tetlong, Acidum C, Biotredin, Proproten 100.
Terms and conditions of storage
Keep out of reach of children in original packaging at temperatures up to 25 ° C.
The shelf life is 3 years.
Terms of dispensing from pharmacies
Available without a prescription.
Information about the drug is generalized, provided for informational purposes only and does not replace the official instructions. Self-medication is hazardous to health!
Popular by topic