Table of contents: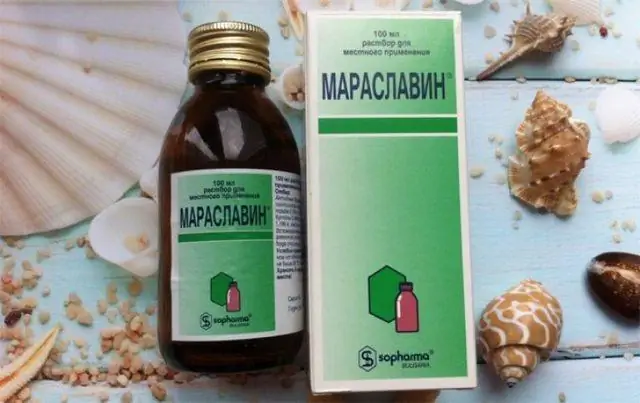 Video: Maraslavin - Instructions For Using The Solution, Price, Reviews, Analogues
Maraslavin
Maraslavin: instructions for use and reviews
1. Release form and composition
2. Pharmacological properties
3. Indications for use
4. Contraindications
5. Method of application and dosage
6. Side effects
7. Overdose
8. Special instructions
9. Drug interactions
10. Analogs
11. Terms and conditions of storage
12. Terms of dispensing from pharmacies
13. Reviews
14. Price in pharmacies
Latin name: Maraslavin
ATX code: A01AD11
Active ingredient: Pontic wormwood herb + Clove buds + Ginger rhizomes + Thyme grass + Black pepper fruits (Artemisiaa pontica L. + Syzygium aromaticum (L.) Merr.et. LMPerry + Zingiber officinale Roscoe + Satureja hortensis L. + Piper nigrum L.)
Manufacturer: Sopharma JSC, Bulgaria
Description and photo update: 2019-12-08
Prices in pharmacies: from 127 rubles.
Buy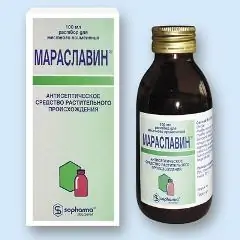 Maraslavin is a drug with a combined composition of plant origin for the treatment of dental diseases.
Release form and composition
Dosage form - solution for topical application: cloudy, red-brown in color, with a specific odor and astringent-sour taste; during storage, a precipitate falls out (100 ml in dark glass bottles, 1 bottle in a cardboard box).
Active substances in 100 ml of solution:
Herba Artemisiae pontici (wormwood herb) - 4.196 g;
Rhizoma Zingiberis (zingiber rhizomes) - 4.196 g;
Flores Caryophylli (clove buds) - 3.646 g;
Fructus Piperis nigri (black pepper fruit) - 1.199 g;
Herba Satureja hortensis (savory herb) - 0.728 g.
Additional inactive ingredients: water, wine vinegar and ammonium chloride.
Pharmacological properties
Maraslavin is a combined medicinal product of phyto-origin and has anti-inflammatory, antiseptic, local anesthetic, disinfectant, astringent, irritating and tissue regeneration stimulating effect.
Pharmacodynamics
At the beginning of the course of therapy, the use of Maraslavin leads to swelling, hyperemia and irritation of the gingival mucosa. Due to the hypertonicity of the drug, toxic decay products are removed from the gum pockets and gum tissue. Soon there is an increase in the number of collagen fibers, an increase in their density, and then a new epithelium is formed, the normal structure of the gums is restored and the strength of the periodontal bond with the cement of the tooth root is enhanced.
During the treatment of the hemorrhagic form of periodontal disease, the swelling and bleeding of the gums decreases, which acquire a pale, and then a pale pink hue at the beginning of therapy and gradually thicken. The gingival papillae become thinner and gradually begin to come into close contact with the tooth neck at the sub-enamel-cement border. Gingival pockets decrease or disappear altogether, and tooth mobility decreases.
Pharmacokinetics
There is no information on the pharmacokinetics of Maraslavin.
Indications for use
Hemorrhagic periodontal disease with alveolar pockets;
The postoperative period after surgery for periodontal disease;
Purulent periodontal disease (as part of combination therapy).
Contraindications
Maraslavin is contraindicated for use with hypersensitivity to its constituent substances.
Instructions for the use of Maraslavin: method and dosage
Maraslavin is applied topically in the oral cavity. Treatment with the drug is carried out by a dentist.
The initial stage of therapy is the removal of supragingival tartar simultaneously with ventilation of the gingival pockets (for this, a stream of clean warm water or a spray bottle is used). Then, loose cotton swabs with the drug are inserted into the bone and gingival pockets using a probe. To do this, 20-25 ml of Maraslavin is poured into a glass container and tampons are abundantly moistened in it, the size of which is selected individually depending on the width of the pockets.
The duration of one procedure is 5-6 minutes. During the first session, 5-6 such procedures are carried out sequentially on each pocket. Each subsequent tampon penetrates deeper and easier into the alveolar pocket. The last tampons are left in the pockets (loose) until the next session. The patient is warned that, due to purulent discharge, subfebrile condition is possible, in this case he should remove the tampons on his own, and then consult a dentist.
During the second session, the tampons remaining after the first session are removed, after which the subgingival tartar is removed. As in the first time, the tampons are injected several times and again leave the last until the next session.
The general course of treatment lasts 3 months. In total, 17-20 sessions are shown, the first 5-6 sessions are carried out with 24-hour breaks, then the intervals are determined by the dentist.
After 5-6 months after the start of therapy, the doctor conducts a control examination of the patient and at least 1-2 times (if necessary, more, depending on the condition of the gums) treats the alveoli with Maraslavin in order to eliminate possible pathogens. A final examination is indicated 12 months after starting treatment.
Side effects
The drug can cause allergic reactions.
If tampons are tightly applied, the outflow of purulent exudate may be disturbed and, as a consequence, the body temperature rises to 37.9 ºС (it normalizes on its own after removing the tampons).
Overdose
To date, no cases of drug overdose have been registered.
special instructions
During the entire course of treatment, patients are recommended:
Do not brush your teeth with a toothbrush with paste and do not use disinfectant rinses (for rinsing, use cool water 2 times a day - morning and evening);
Include vitamin-rich foods in the diet;
Refrain from eating spicy and irritating foods, such as onions, garlic, nuts;
Take vitamins A and C;
Avoid prolonged sun exposure.
Influence on the ability to drive vehicles and complex mechanisms
According to the instructions, Maraslavin does not affect the patient's ability to drive various vehicles and perform potentially hazardous activities associated with increased concentration and immediate psychomotor reactions.
Drug interactions
Pharmacological and pharmaceutical interactions of Maraslavin with other medicinal substances have not been described.
Analogs
Maraslavin's analogs are: Anginophyte, Denta Drops, Dicloran Denta, Oak Bark, Dentinox, Bronsprey, Cholicet, St. Cholisal, T-Sept, Tantum Verde, Tanflex, Forteza, Kalgel, Proposol.
Terms and conditions of storage
Store at temperatures up to 25 ºС out of reach of children.
The shelf life is 3 years.
Terms of dispensing from pharmacies
Available without a prescription.
Reviews about Maraslavin
Numerous reviews about Maraslavin are mostly positive. Patients note the naturalness of the preparation containing phytocomponents and the absence of allergic reactions. However, the effect of its use is often not observed immediately, but some time after the end of the course of therapy. In this case, periodontal disease disappears almost completely. When treating tartar, the remedy well removes gum inflammation, but some people do not like the specific smell and taste of the solution. Sometimes patients claim that they did not notice much improvement in their condition.
Price for Maraslavin in pharmacies
The approximate price for Maraslavin varies in the range from 140 to 200 rubles (for a bottle of 100 ml).
Maraslavin: prices in online pharmacies
Drug name
Price
Pharmacy
Maraslavin solution for topical application 100 ml 1 pc.
127 RUB
Buy
Maraslavin solution of places. approx. 100ml
171 r
Buy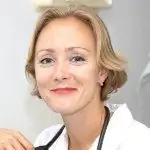 Anna Kozlova Medical journalist About the author
Education: Rostov State Medical University, specialty "General Medicine".
Information about the drug is generalized, provided for informational purposes only and does not replace the official instructions. Self-medication is hazardous to health!
Popular by topic