Table of contents: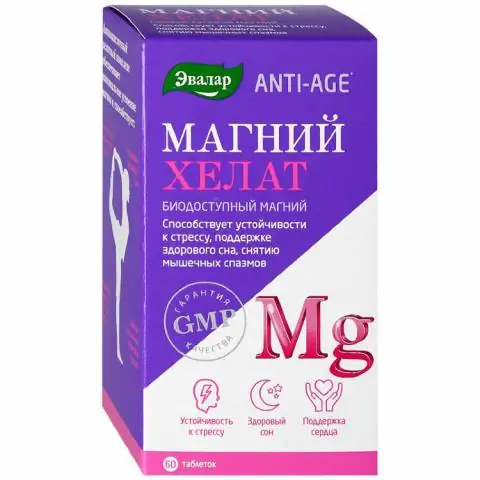 Video: Magnesium Chelate Evalar - Instructions For Use, Reviews, Price, Composition
Magnesium chelate Evalar
Magnesium chelate Evalar: instructions for use and reviews
1. Release form and composition
2. Pharmacological properties
3. Indications for use
4. Contraindications
5. Method of application and dosage
6. Side effects
7. Overdose
8. Special instructions
9. Application during pregnancy and lactation
10. Use in childhood
11. Use in the elderly
12. Drug interactions
13. Analogs
14. Terms and conditions of storage
15. Terms of dispensing from pharmacies
16. Reviews
17. Price in pharmacies
Latin name: Magnesium chelate Evalar
Active ingredient: magnesium bisglycinate (Magnesium bisglycinate)
Manufacturer: CJSC "Evalar" (Russia)
Description and photo update: 2019-08-07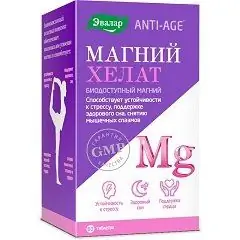 Magnesium chelate Evalar is a biologically active additive (BAA) to food, a source of magnesium.
Release form and composition
Dosage form - tablets, film-coated: weighing 1.4 g, oval, white (60 pcs. In plastic cans, 1 can in a cardboard box and instructions for use Magnesium chelate Evalar).
Composition of 1 tablet:
active substance: magnesium amino acid chelate (magnesium bisglycinate) - 200 mg (in terms of magnesium);
auxiliary components (carriers): microcrystalline cellulose, maltodextrin, sorbitol;
film coating components (food additives): croscarmellose (carrier), hydroxypropyl methylcellulose (thickener), polyethylene glycol (glazing agent), talc and calcium stearate (anti-caking agents), titanium dioxide (colorant).
Pharmacological properties
Pharmacodynamics
Magnesium chelate Evalar is a relatively new modern remedy in the premium ANTI-AGE line from Evalar.
Magnesium is a vital macronutrient, which is why it is often called the "main metal of life." It is part of more than 300 enzymes, is involved in metabolism, is necessary for the formation of fatty acids and proteins. Even with a slight deficiency of this mineral, the body cannot function properly. Magnesium deficiency is manifested by many symptoms, including chronic fatigue, irritability, nervousness, insomnia, indigestion, involuntary muscle contractions, cramps, and various cardiovascular diseases.
Magnesium chelate is an amino acid chelate complex, a compound of magnesium and amino acids, which outwardly resembles a crab claw (Latin "chele" - claw), therefore it is called "chelate". This form (surrounded by amino acids) ensures the maximum assimilation of the mineral, since this process takes place in the small intestine, and it is able to assimilate individual mineral ions only if they are combined with amino acids. In the chelated form, magnesium ions are already in the shell of the amino acid, therefore, they do not require additional transformations, i.e. they are ready for absorption by the cells of the small intestine. Today, the chelated form is considered the most assimilable - by 90–98%. In addition, it does not affect the level of gastric acidity, does not disrupt digestion processes, does not cause bloating,and is also able to penetrate the placental barrier and nourish the developing fetus.
Due to its composition, Evalar Magnesium Chelate:
supports the nervous system and heart;
normalizes sleep;
relieves muscle spasms and cramps;
increases the body's resistance to stress.
The recommended daily intake of magnesium is at least 400 mg. Taking two tablets of the supplement per day provides this rate by 100%.
Pharmacokinetics
Information not provided by the manufacturer.
Indications for use
Magnesium chelate Evalar is used as a food additive - an additional source of bioavailable magnesium from an amino acid chelate complex, which ensures maximum absorption of the macronutrient. Supplements are recommended to be taken to relieve muscle spasms and cramps, maintain healthy sleep, nervous system, heart and muscles, and increase stress resistance.
Contraindications
children up to age 14;
individual hypersensitivity to the components of Evalar Magnesium chelate.
Magnesium chelate Evalar, instructions for use: method and dosage
Magnesium chelate Evalar should be taken orally with meals.
For adults and adolescents over 14 years of age, dietary supplements are recommended for taking 1-2 tablets per day for 1 month. The courses are recommended to be repeated periodically.
Side effects
No information available.
Overdose
If the recommended doses are exceeded, a laxative effect may develop.
special instructions
Magnesium chelate Evalar is not a drug. It is recommended to consult your doctor before using it.
Sorbitol is included as a sweetener in the tablets - a substance that has a laxative effect in large doses. Subject to the recommendations for the dosage of the supplement, this effect is absent.
Application during pregnancy and lactation
The dietary supplement can be taken by pregnant and breastfeeding women.
Pediatric use
Magnesium chelate Evalar is recommended for intake from the age of 14.
Use in the elderly
There is no data on the need to adjust the dose in elderly patients.
Drug interactions
There is no data.
Analogs
Analogues of Magnesium chelate Evalar are: L-Mag, Magnelis B6, Magnelis B6 Forte, Magnesium plus, Magnesium plus B6, Magnistad.
Terms and conditions of storage
Store at temperatures up to 25 ° C out of reach of children.
The shelf life is 3 years.
Terms of dispensing from pharmacies
Available without a prescription.
Reviews about Magnesium chelate Evalar
Reviews about Magnesium chelate Evalar are positive. Users appreciated this amino acid chelate complex from a domestic manufacturer. Many indicate that after the course of administration, their sleep has improved significantly, irritability has passed, stress resistance has increased, digestion and heart function have normalized.
They note the long-lasting effect and good tolerance of the dietary supplement, the absence of side reactions, as well as the affordable cost.
Price for Magnesium chelate Evalar in pharmacies
On the official website of the company, the price for Magnesium chelate Evalar for a pack of 60 tablets is 805 rubles.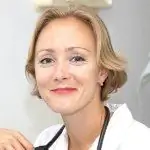 Anna Kozlova Medical journalist About the author
Education: Rostov State Medical University, specialty "General Medicine".
Information about the drug is generalized, provided for informational purposes only and does not replace the official instructions. Self-medication is hazardous to health!
Popular by topic