Table of contents: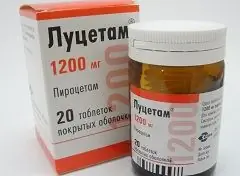 Video: Lucetam - Instructions For Use, Indications, Doses, Analogues
Lucetam
Instructions for use:
1. Release form and composition
2. Indications for use
3. Contraindications
4. Method of application and dosage
5. Side effects
6. Special instructions
7. Drug interactions
8. Analogs
9. Terms and conditions of storage
10. Terms of dispensing from pharmacies
Prices in online pharmacies:
from 55 rubles.
Buy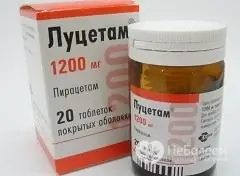 Lucetam is a drug with a nootropic effect.
Release form and composition
Lucetam is available in two dosage forms:
Film-coated tablets: biconvex, oval, almost white or white, with a bevel, engraved depending on the dosage (400/800/1200 mg) "E241", "E242", "E243" on one side, without odor (10 or 15 pcs. in blisters, 2 or 4 blisters in a cardboard box; 20, 30 or 60 pcs. in dark glass jars, 1 can in a cardboard box);
Solution for intravenous and intramuscular administration: transparent, with a slight greenish tinge or colorless, odorless (in colorless glass ampoules of 5 ml, 5 ampoules in plastic cell packs, 2 packs in a cardboard box; in colorless glass ampoules of 15 ml, 4 ampoules in blisters, 1 or 5 packages in a cardboard box).
The composition of 1 tablet includes:
Active ingredient: piracetam - 400, 800 or 1200 mg;
Auxiliary components (tablets of 400/800/1200 mg, respectively): povidone K-30 - 25/50/75 mg, magnesium stearate - 3/6/9 mg;
Film shell (tablets of 400/800/1200 mg, respectively): ethylcellulose (in the form of an aqueous dispersion) - 3.5 / 7 / 9.1 mg, dibutylsebakat - 0.7 / 1.4 / 1.82 mg, white Opadry (talc - 1/2 / 2.6 mg, macrogol 6000 - 0.25 / 0.5 / 0.65 mg, hypromellose - 3.8 / 7.6 / 9.88 mg, titanium dioxide - 0.75 / 1.5 / 1.95 mg).
The composition of 1 ml of injection solution includes:
Active ingredient: piracetam - 200 mg;
Auxiliary components: sodium acetate trihydrate - 1 mg, glacial acetic acid - up to pH 5.8, water for injection - up to 1 ml.
Indications for use
The consequences of ischemic stroke, including disorders of mental and physical activity, speech and emotional sphere (treatment);
Psychoorganic syndrome (in particular in elderly patients), accompanied by dizziness, memory loss, behavioral disorder, mood changes, decreased general activity and concentration, gait disturbance, as well as in Alzheimer's disease and senile dementia of the Alzheimer's type (symptomatic treatment);
Dizziness and related imbalance, other than mental dizziness (treatment);
Chronic alcoholism (treatment of withdrawal symptoms and psychoorganic syndromes);
The recovery period after intoxication and brain injury;
Cortical myoclonus (as monotherapy or concurrently with other drugs);
Low learning ability in children, especially during the acquisition of specific reading, counting, writing skills, which cannot be explained by inadequate learning, family environment or mental retardation (along with other drugs).
Contraindications
Renal failure (terminal stage with creatinine clearance less than 20 ml per minute);
Hemorrhagic stroke;
Age up to 1 year;
Pregnancy and the period of breastfeeding (lactation);
Hypersensitivity to drug components or pyrrolidone derivatives.
Method of administration and dosage
Lucetam is taken orally with a liquid (water, juice), on an empty stomach or during a meal. The injection solution is administered intravenously or intramuscularly.
The average daily dose of Lucetam, regardless of the dosage form, is 0.03-0.16 g / kg (from 3 to 12 g), the frequency of use is 2-4 times a day.
The daily dose is determined by the indications:
Psychoorganic syndrome (in chronic course): the first 7 days - 4.8 g, then - 1.2-2.4 g;
Stroke consequences: 4.8 g;
Alcohol withdrawal syndrome: 12 g, maintenance daily dose - 2.4 g;
Dizziness and related balance disorders: 2.4-4.8 g;
Cortical myoclonus: the initial dose is 7.2 g, the dose is increased by 4.8 g every 3-4 days until the maximum daily dose is 24 g. Therapy should be carried out throughout the entire period of the disease. Every six months, an attempt should be made to reduce the dose or to cancel Lucetam, gradually reducing the dose (by 1.2 g every 2 days). If there is no improvement or if the therapeutic effect is insignificant, the drug is discontinued;
Comatose states, as well as perception difficulties in trauma: initial dose - 9-12 g (injection solution), maintenance dose - 2.4 g. Duration of therapy - at least 3 weeks;
Learning impairment in children: 3.2 g (inside). Lucetam should be taken throughout the school year.
In case of functional disorders of the kidneys, it is necessary to correct the daily dose depending on the creatinine clearance:
> 80 ml per minute (normal): usual dose;
50-79 ml per minute (mild form): 2/3 of the usual dose, frequency of application - 2-3 times a day;
30-49 ml per minute (medium form): 1/3 of the usual dose, frequency of application - 2 times a day;
In end-stage renal failure, therapy is contraindicated.
Elderly patients need to adjust the dose in the presence of renal failure, with prolonged treatment, it is necessary to monitor the functional state of the kidneys.
With functional disorders of the liver, correction of the dosage regimen is not required.
Lucetam Injection Solution is compatible with infusion solutions such as: 5%, 10%, 20% dextrose and fructose, 5% levulose, 0.9% sodium chloride, mannitol dextran, Ringer's solution (with or without lactate), 6% hydroxyethyl starch, dextran 40 - 10% in 0.9% sodium chloride solution, dextran 100 - 6% in 0.9% sodium chloride solution.
Piracetam infusion solutions remain stable for at least 24 hours.
Side effects
Central and peripheral nervous system: hyperkinesia, drowsiness, nervousness, depression; in some cases - headache, dizziness, ataxia, exacerbation of epilepsy, imbalance, confusion, insomnia, hallucinations, agitation, anxiety, increased sexuality;
Digestive system: in isolated cases - nausea, diarrhea, vomiting, pain in the stomach;
Metabolism: an increase in body weight;
Dermatological reactions: edema, itching, dermatitis, rashes;
Others: asthenia.
Most often, side effects occur in elderly patients when using Lucetam in a daily dose of more than 2.4 g; in most cases, these disorders disappear with dose reduction.
special instructions
Due to the fact that piracetam affects platelet aggregation, Lucetam should be used with caution in patients with hemostatic disorders, during major surgical operations or in the presence of symptoms of severe bleeding.
It must be borne in mind that piracetam penetrates the filter membranes of hemodialysis machines.
During treatment of cortical myoclonus, abrupt interruption of therapy should be avoided, as this can lead to a resumption of seizures.
With prolonged therapy, elderly patients are recommended to regularly monitor the indicators of renal function, if necessary, based on the results of the study of creatinine clearance, dose adjustment should be made.
Given the possible side effects, patients need to exercise caution when driving and performing work with mechanisms.
Drug interactions
No interaction was observed with phenytoin, clonazepam, sodium valproate and phenobarbital.
When Lucetam is used together with some drugs, the following effects may occur:
Thyroid extract: development of increased irritability, disorientation and sleep disturbances;
Acenocoumarol: an increase in its effectiveness in patients with venous thrombosis - there is a more pronounced decrease in the level of platelet aggregation, von Willebrand factors, fibrinogen levels, plasma and blood viscosity in comparison with monotherapy (when using Lucetam in high doses - 9.6 g per day).
Analogs
Analogues of Lucetam are: Memotropil, Nootropil, Pirabene, Nootobril, Pyramem, Piratropil, Noocetam, Piracetam, Piracetam Obolenskoye, Excotropil, Stamin, Cerebril.
Terms and conditions of storage
Keep out of reach of children at a temperature of 15-30 ° C.
Shelf life:
Tablets - 5 years;
Solution for injection - 2 years.
Terms of dispensing from pharmacies
Dispensed by prescription.
Lucetam: prices in online pharmacies
Drug name
Price
Pharmacy
Lucetam 800 mg film-coated tablets 30 pcs.
RUB 55
Buy
Lucetam tablets p.p. 800mg 30 pcs.
RUB 75
Buy
Lucetam 1200 mg film-coated tablets 20 pcs.
RUB 96
Buy
Lucetam tablets p.p. 1200mg 20 pcs.
114 RUB
Buy
Lucetam 200 mg / ml solution for intravenous and intramuscular administration 5 ml 10 pcs.
RUB 160
Buy
Lucetam solution for intravenous and intramuscular injection. 200mg / ml 5ml 10 pcs.
219 r
Buy
Information about the drug is generalized, provided for informational purposes only and does not replace the official instructions. Self-medication is hazardous to health!
Popular by topic