Table of contents: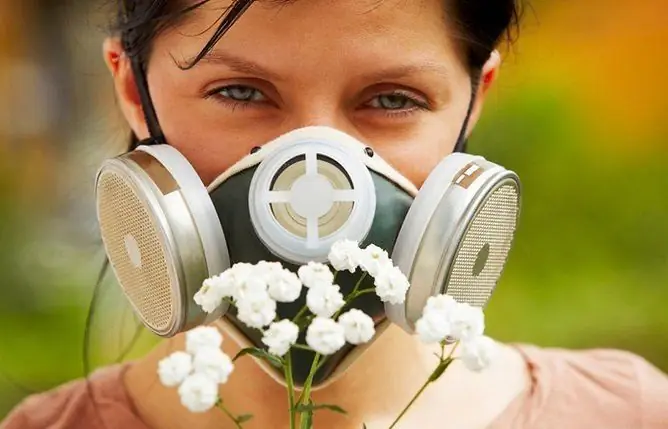 Video: Prevention Of Bronchial Asthma In Adults And Children: A Memo
Prevention of bronchial asthma in adults and children
The content of the article:
Primary prevention of asthma
Secondary prevention of bronchial asthma
Tertiary disease prevention
Video
Prevention of bronchial asthma in adults and children is a set of measures aimed at preventing the development of the disease, its exacerbations, complications and death.
Recently, the incidence of bronchial asthma has been increasing under the influence of environmental factors, food consumption, and the prevalence of synthetic materials.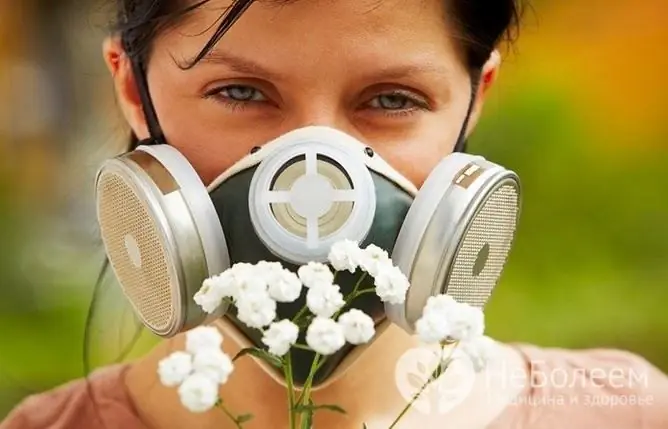 The risk group for bronchial asthma includes people prone to allergies
It is not possible to completely cure the patient from bronchial asthma. However, if he observes all the recommendations of the attending physician, does not allow the development of exacerbations of the disease, he will be able to live a full life even in the presence of this ailment. In this case, preventive measures aimed at preventing the progression of the disease and the occurrence of complications are important.
Primary prevention of asthma
The goal of primary prevention is to prevent the development of the disease in healthy individuals, especially in people who are at risk. Risk factors for the development of bronchial asthma are a genetic predisposition, smoking, the presence of industrial hazards (work in dusty rooms, at chemical plants, farms), frequent colds, atopic dermatitis and other allergic pathologies in history, the effect of adverse environmental factors on the body. The risk group also includes people who develop broncho-obstructive syndrome with diseases of the respiratory system. Smoking a woman during pregnancy increases the risk of having a child with bronchial asthma by 25%.
Persons from the risk group are recommended, if possible, to eliminate the causes that can provoke the development of the pathological process, to improve their lifestyle. If a negative environmental impact is a risk factor, a change of residence may be recommended. If a person is allergic to pets, it is not recommended to keep them in his place of residence.
Prevention in susceptible individuals also includes refusal to use perfumes, scented candles and sticks, air fresheners, and deodorants. It is recommended to use hypoallergenic household chemicals and maintain personal hygiene with baby soap, avoiding scented soaps and shower gels.
Efforts should be directed to improve immunity, timely treat respiratory diseases, play sports or exercise therapy, and be more often in the fresh air. Individuals at risk are contraindicated to self-medicate; it is useful to perform breathing exercises under the supervision of a specialist. It is necessary to completely give up bad habits (especially smoking), including avoiding secondhand smoke.
It is necessary to regularly ventilate the living and / or work space, and regularly carry out wet cleaning. It is recommended to keep as few soft toys, carpets, feather pillows and duvets as possible in your home. Bed linen should be changed at least once every 14 days. It is advisable to store books on glass shelves and vacuum them regularly. It should be borne in mind that some indoor plants can also serve as a source of allergens, so they should be removed from rooms where the patient sleeps or spends a lot of time.
If it is impossible to exclude the patient's contact with the allergen, a seasonal course of treatment with antiallergic drugs is indicated.
Secondary prevention of bronchial asthma
The main goal of secondary prevention of the disease is to prevent the development of bronchial asthma in sensitized individuals, as well as in patients with pre-asthma. The risk group includes patients with alimentary allergies, allergic rhinitis, conjunctivitis, chronic allergic dermatitis, people with bronchial asthma in a family history, people in whom sensitization has been identified during laboratory tests.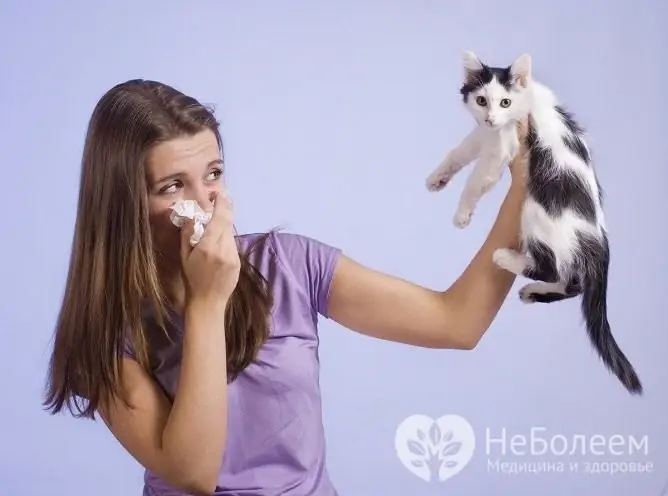 Allergies to pets can cause bronchial asthma
Secondary prevention includes the use of medications prescribed by a doctor, training the immune system, and avoiding foods that can cause an allergic reaction. Patients are advised not to wear clothes made of wool and fur, not to have pets, birds and an aquarium (if the patient refuses to give the pets, you need to monitor their hygiene and carry out wet cleaning of the living quarters every day), do not go to bed immediately after eating.
In some cases, herbal medicine demonstrates a good result, herbal medicines have a mild antitussive, mucolytic, antispasmodic, anti-inflammatory effect. However, it should be borne in mind that herbal preparations can provoke allergies and in some cases can lead to a deterioration in the patient's condition, therefore, phytotherapy can only be started after consultation with the attending physician and under his guidance.
The most popular medicinal plants for bronchial asthma include:
dandelion, plantain - reduce bronchospasm;
calamus, horsetail, lingonberry - reduce swelling of the bronchial mucosa;
string, violet, mother-and-stepmother - improve bronchial patency;
juniper, pine buds - have an antiseptic effect.
Patients are advised to visit the salt caves, a spa treatment is indicated.
Tertiary disease prevention
The goal of tertiary prevention of the disease is to prevent the development of complications, including prevention in a patient with an attack of death.
First of all, it is required to carry out the treatment prescribed by the doctor, exclude the patient's contact with allergens that provoke asthma attacks, and also use other measures of secondary prevention.
It is recommended to thoroughly dry bed linen, put hypoallergenic covers on mattresses, blankets and pillows. Bed linen should be changed at least 1 time a week and washed at the highest possible temperature, and use special hypoallergenic products for washing (you can use those intended for babies). It is better to replace the curtains with blinds, otherwise they should also be washed weekly at the highest possible temperature. It is advisable not to have carpet in the house.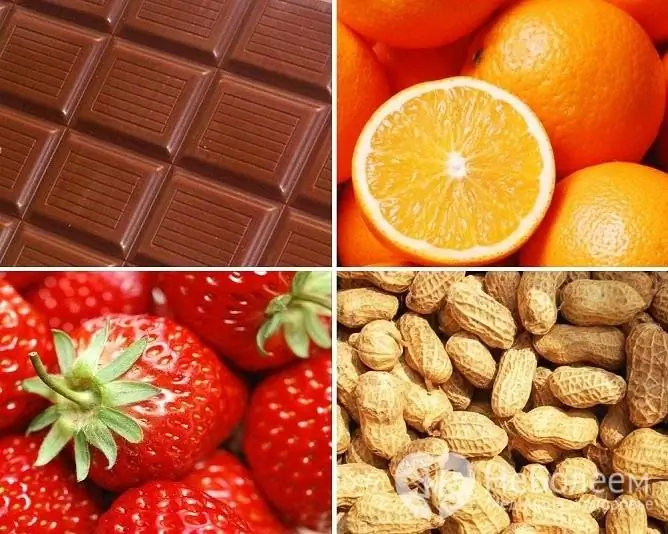 For the purpose of prevention, products that can cause an allergic reaction are excluded from the diet.
After each use of the bathroom, wipe all damp surfaces dry so as not to create favorable conditions for the development of fungus, which is a strong allergen. If necessary, control of insects and / or rodents in the patient's home should be carried out.
Sports are possible if physical activity does not cause the development of asthma attacks. The diet is selected taking into account the products permitted for use in accordance with the patient's requests.
A patient with bronchial asthma should be especially careful in spring and summer, during abundant flowering of plants and possible insect bites.
Video
We offer for viewing a video on the topic of the article.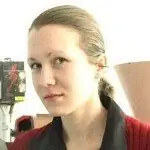 Anna Aksenova Medical journalist About the author
Education: 2004-2007 "First Kiev Medical College" specialty "Laboratory Diagnostics".
Found a mistake in the text? Select it and press Ctrl + Enter.
Recommended: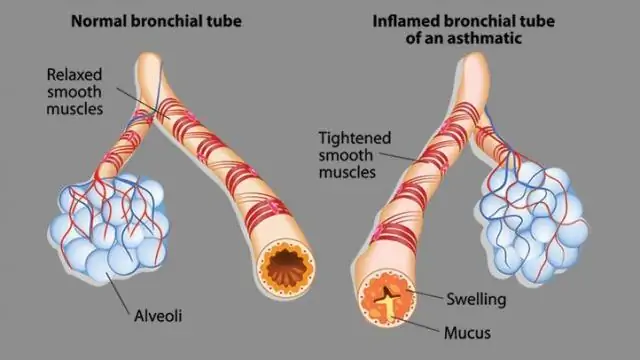 Bronchial asthma (asthma bronchiale) is an allergic disease characterized by repeated attacks of expiratory dyspnea due to impaired bronchial patency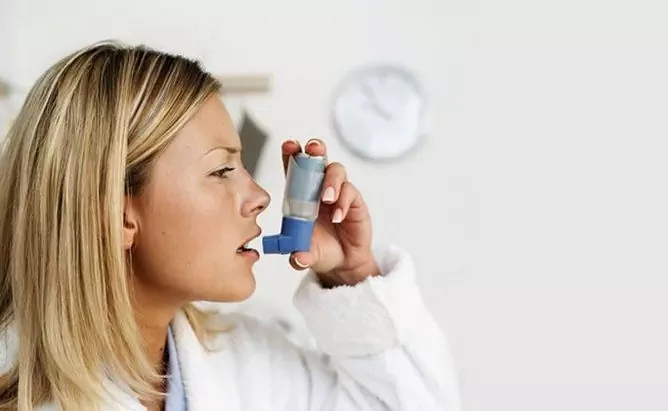 Bronchial asthma is a chronic disease caused by a non-infectious inflammatory process in the bronchi. Manifested by attacks of choking, coughing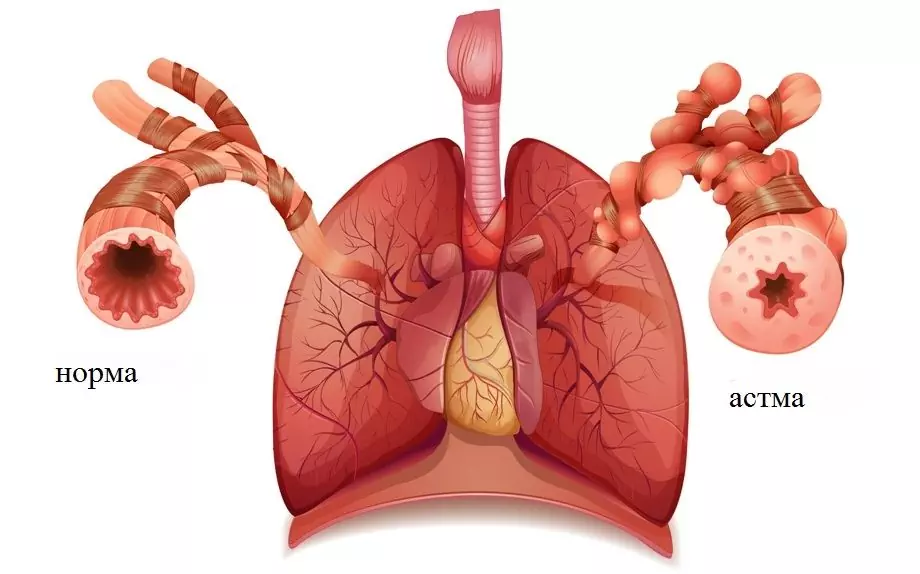 Bronchial asthma in children is a disease manifested by recurrent attacks of suffocation. Often disguised as other respiratory diseases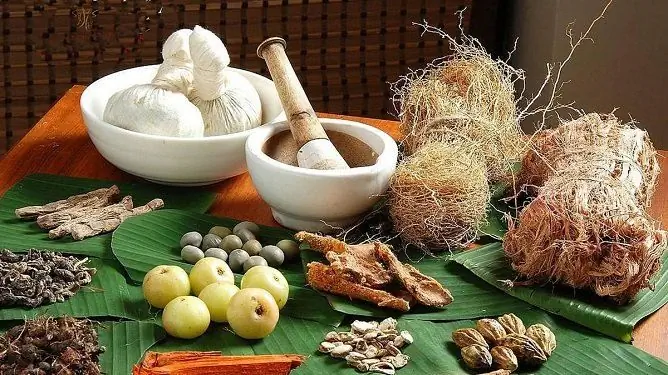 Folk remedies for bronchial asthma can be an effective adjunct to home medication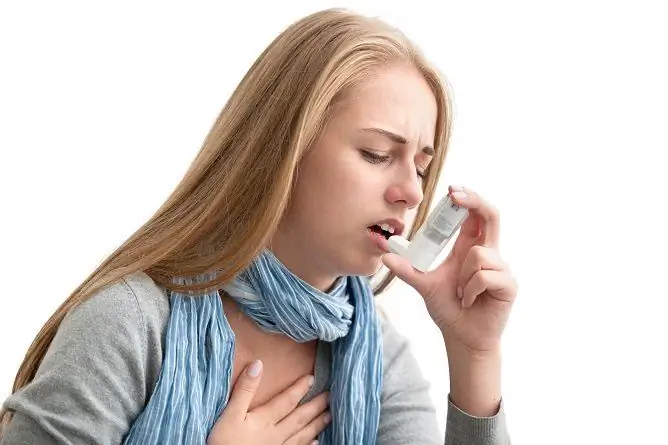 Emergency care for bronchial asthma is an algorithm of actions in the event of a choking attack in a patient, which must be performed before the doctor arrives