Table of contents: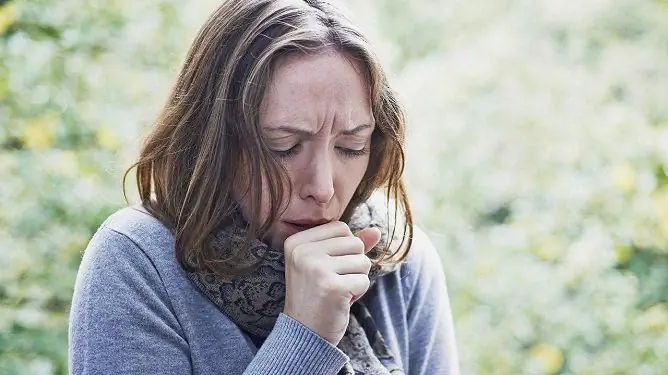 Video: Severe Cough Without Fever In An Adult: Treatment, Causes
Severe cough without fever in adults: treatment, signs and causes
The content of the article:
How to treat a severe cough without fever in an adult
Why there is a cough without fever
How does it manifest and what are the symptoms of a cough at normal temperature
Video
The treatment regimen for severe cough without fever in adults, first of all, depends on the cause of its occurrence. If the cough becomes persistent, it is not recommended to try to get rid of it yourself, you should consult a doctor and get tested.
For diagnostics, data from the collection of complaints and anamnesis, physical examination, instrumental (X-ray examination of the chest organs) and laboratory tests (blood, urine, sputum, allergological tests) are used. To clarify the diagnosis, you may need bronchoscopy, electrocardiography, fibrogastroduodenoscopy, computed tomography or magnetic resonance imaging, etc.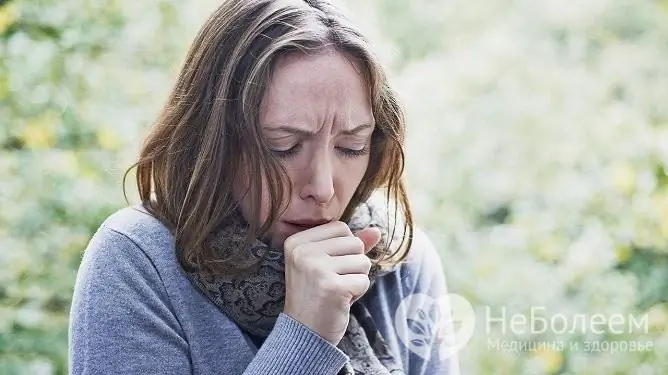 A prolonged cough, even when not accompanied by an increase in temperature, can indicate a serious pathology of the respiratory tract and not only
To prevent the development of pathologies that are accompanied by a cough, it is necessary to timely treat diseases that cause the development of a pathological process in the respiratory tract, avoid inhalation of irritating substances, hypothermia, minimize contact with allergens, give up bad habits, strengthen immunity, and regularly undergo preventive examinations.
How to treat a severe cough without fever in an adult
Treatment of diseases accompanied by cough at normal body temperature can take place in a hospital or at home under the supervision of a doctor.
The appointment of certain drugs depends on the symptoms accompanying the cough, contraindications, age and some other factors. So, if a patient has difficult sputum to separate, mucolytic, expectorant drugs are used, which help to liquefy mucus and improve its excretion from the respiratory tract. If the patient develops painful attacks of dry cough (only if there is no accumulation of mucus in the respiratory tract), antitussive drugs can be used. In case of allergy, it is required to exclude contact with the allergen, antihistamines are prescribed.
With a dry cough in an adult against a background of normal body temperature, it is convenient to use preparations in the form of lozenges (especially if it is necessary to stop the cough outside the home). Such lollipops can be purchased at a pharmacy or made on your own at home.
When using any antitussive drugs, the prescribed dose and frequency of use of the drug should be strictly observed.
In some cases, physiotherapy, breathing exercises, massage are indicated.
You must quit smoking. In the room where the patient is located, you need to carry out regular wet cleaning, ventilate and humidify the air. A patient with a cough should drink more fluids than usual. It is recommended to drink warm water - plain or mineral water, tea with lemon, fruit drinks, juices, fruit and berry compotes. A good folk remedy for cough is hot milk with the addition of honey and butter (20 g per 1 glass).
A good antitussive effect is provided by inhalation, which can be hot (the solution temperature is above room temperature) and cold (the solution temperature is not higher than room temperature). Cold inhalations can be carried out, including at elevated body temperature.
Steam inhalation can be done using an inhaler or breathing steam over a container with a solution, covering your head with a towel. The solution for inhalation for adult patients is heated to 50-65 ° C. A solution of baking soda, sodium chloride, mineral or sea water, saline, decoctions and infusions of medicinal plants, essential oils are used as a therapeutic solution. Inhalation with infusions of medicinal plants and essential oils is not used for allergic coughs, and in general for patients prone to allergies.
Inhalation with drugs is done with a nebulizer, spray.
When coughing, the patient's back and chest can be rubbed with badger or other internal fat, which is mixed with honey.
A neurogenic cough does not require special treatment, only in severe cases, patients are prescribed sedatives, it may be necessary to work with a psychologist or psychotherapist.
If a foreign body enters the respiratory tract, it is necessary to get rid of it as soon as possible, if you cannot do it yourself, then seek medical help. Surgery may be necessary to remove an object that has entered the respiratory tract. The method is chosen depending on the size of the object and the localization of the foreign body.
Why there is a cough without fever
A cough can occur on its own or be a sign of a medical condition. It develops in colds, chronic otorhinolaryngological pathologies, tuberculosis, lung cancer, pneumonia, bronchial asthma, allergies. Common allergens include plant pollen, animal hair and skin particles, bird feathers, food, dust, household chemicals, cosmetics, and some medicines.
A cough at normal body temperature in adults can occur with occupational pharyngitis. This disease often occurs in people who work in dusty and / or rooms with high air temperatures.
Patients with a labile nervous system may develop a neurogenic cough, which is more common in adolescents and young adults.
Some diseases of the gastrointestinal tract can be accompanied by a cough. For example, gastroesophageal reflux disease (GERD), in which stomach contents are thrown into the esophagus and can enter the airways, causing a cough.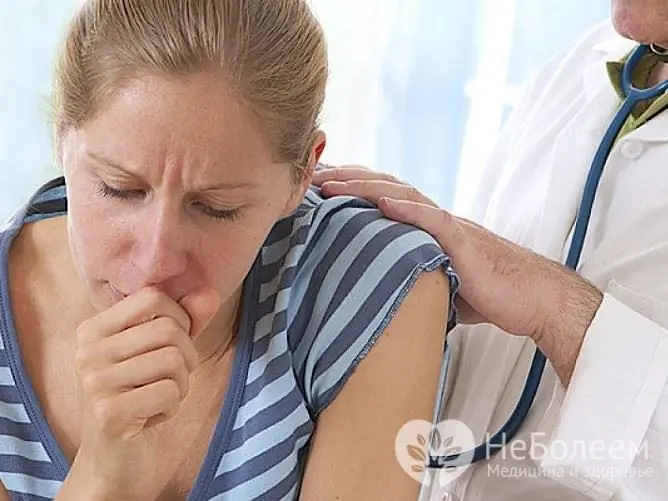 Before trying to eliminate a cough, you need to find out what causes it.
The cause of a cough without fever in adults can be passive or active smoking (persistent morning cough with bronchitis of a smoker).
A strong cough can be observed with laryngitis, pharyngitis, pleurisy.
A strong dry cough can occur with diseases of the thyroid gland, cardiovascular system, malignant neoplasms of the throat, trachea. Also, such a cough can be observed when the indoor air is too dry.
A wet cough is observed in acute respiratory viral infections, influenza, tracheitis, bronchitis, pneumonia.
Barking cough accompanies allergic reactions, bronchospasm, laryngotracheitis, whooping cough, diphtheria.
A lingering cough can develop in people who live in ecologically disadvantaged regions. A prolonged cough is dangerous by the development of pathological changes in the airways - the normal tissue of the airways is replaced by connective tissue with the onset of pulmonary emphysema. A persistent allergic cough causes the development of allergic bronchitis, and subsequently - bronchial asthma.
How does it manifest and what are the symptoms of a cough at normal temperature
In chronic diseases of the ENT organs, the cough is not accompanied by an increase in body temperature, or it rises slightly during exacerbations. The mucous discharge that flows down the back of the pharynx in such diseases is the main cause of the development of a reflex cough. In this case, patients have a burning sensation or sore throat, discharge from the nasal cavity, difficulty breathing, swelling of the mucous membranes.
With professional pharyngitis, a person's cough is accompanied by a sore throat, burning sensation during breathing, and a change or loss of voice.
With bronchitis, the patient has a chest cough with a large amount of sputum (at the initial stages of the disease, the cough is unproductive).
With bronchitis of a smoker, viscous sputum is separated from the patient during coughing, while the body temperature remains within normal limits.
With pneumonia in elderly patients (as well as weakened ones), coughing can occur without an increase in body temperature.
With bronchial asthma, the patient has a severe cough without an increase in body temperature. At the same time, the cough can turn into an attack of suffocation, at the end of the attack, transparent viscous (vitreous) sputum is separated.
Tuberculosis cough can be dry or wet, and may or may not be accompanied by an increase in body temperature. An impurity of blood is often found in the sputum. The patient has weakness, fatigue, weight loss, increased sweating at night.
Cough in lung cancer is usually not accompanied by an increase in temperature, it is exhausting, painful in nature, disturbs the patient a significant part of the time throughout the day. With neoplasms of the respiratory tract, an admixture of blood is also found in the patient's sputum.
An allergic cough develops directly upon contact with an allergen or some time after that. The cough is accompanied by tearing, sneezing, itching in the throat and nose, skin rashes, and laryngospasm may develop.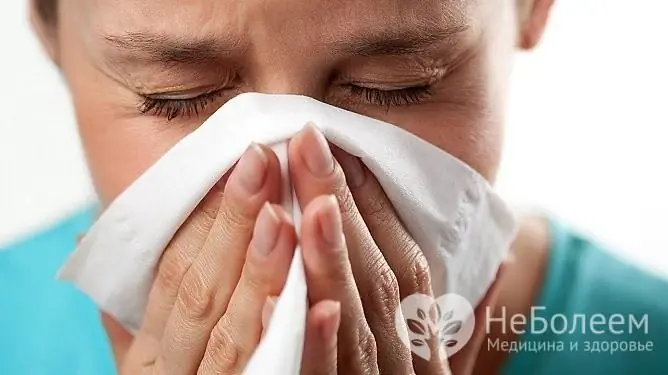 A cough caused by allergies is accompanied by other symptoms - sneezing, rash, itching, profuse nasal discharge
Neurogenic cough occurs in stressful situations, with nervous strain, excitement. As a rule, it has the character of a cough, and there are no other clinical signs. A neurogenic cough goes away on its own.
Cough with GERD does not last long, it goes away on its own. In the chronic form of the disease, it occurs periodically.
A severe dry cough while carrying a baby can cause miscarriage. Therefore, in such cases, a pregnant woman is advised to seek medical attention as soon as possible.
The danger is a strong barking cough, as well as a cough accompanied by suffocation. In these cases, you should immediately consult a doctor. A barking cough may be accompanied by loss of voice, swelling of the throat and / or face, wheezing, wheezing, and vomiting.
Video
We offer for viewing a video on the topic of the article.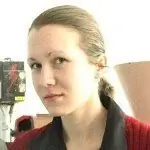 Anna Aksenova Medical journalist About the author
Education: 2004-2007 "First Kiev Medical College" specialty "Laboratory Diagnostics".
Found a mistake in the text? Select it and press Ctrl + Enter.
Popular by topic