Table of contents:
Video: How To Quickly Remove Swelling From The Face After A Blow, Bruise, Flux, Alcohol
How to quickly remove swelling from the face
The content of the article:
Methods of dealing with facial puffiness

Masks
Cold exposure
Compresses
Massage
Diuretic drugs

Elimination of allergic edema
Elimination of inflammatory edema
Causes of edema
The mechanism of development of edema
Prevention of edema
Video
How to remove swelling from the face quickly, without much effort and expense, is of interest to many. The problem is especially relevant for women in the morning, when every minute counts, and you need to look good. When choosing a remedy to combat puffiness, one should not forget that this is a kind of emergency aid that should not be abused. Frequent edema requires treatment that takes into account the etiology and mechanism of their development.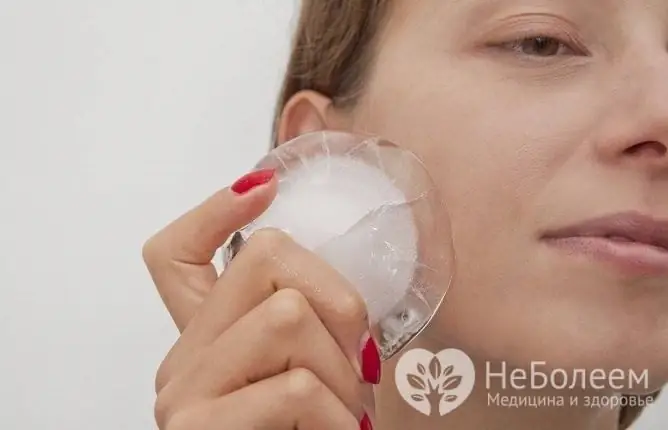 In some cases, you can get rid of facial puffiness with home remedies.
Methods of dealing with facial puffiness
When you are pressed for time, there should be simple, effective and safe methods at hand. In pursuit of the result, one must not forget that the skin of the face is sensitive and delicate, especially in the eye area.
Masks
Masks will help to remove facial puffiness at home. Cooking them is quite simple and quick. The ingredients are natural and healthy, and the procedure is pleasant and relaxing.
| | |
| --- | --- |
| Composition | Cooking method |
| Potatoes | Grind 1-2 raw potato tubers in any convenient way: fine grater, meat grinder, blender. The resulting gruel is immediately applied to the face with a layer of 0.5 cm. For convenience, grated potatoes can be first spread on a gauze napkin. Keep for 15-20 minutes, remove with cool water. |
| Cucumber | Grate fresh cucumber on a fine grater. Apply the cucumber mass for a quarter of an hour. You can put a cucumber on the eyelids, it will be more comfortable. For oily skin, it is recommended to add a few drops of lemon juice. Remove with cold water. |
| Parsley, sour cream or cream | Finely chop a bunch of parsley with a knife or in a blender, combine with 1 tablespoon of sour cream or cream, depending on the type of skin. Keep up to 20 minutes, use warm water to remove. |
| Celery, parsley | Grind the celery and parsley root in a 1: 1 ratio with a grater, dilute with cold green tea to a state of gruel. Using a gauze pad, apply for 15 minutes, get rid of the mask with water at room temperature. |
Cold exposure
It is possible to remove swelling from the face, especially in the eyelids, by exposure to cold. This method not only helps to cope with the main task, but also refreshes and tones the skin as much as possible. The best option is to use ice. If you have ready-made cubes at hand, frozen in tins, then only a few pieces are required.
The procedure combines elements of a compress and massage. In order to avoid excessive hypothermia of the delicate skin of the face, it should be carried out with light movements, without lingering for a long time in one place. Cubes made from herbal decoctions will enhance the effect, but then they must be prepared in advance. Chamomile, lavender, mint, sage are suitable for this purpose. If the season permits, then ice from watermelon, cucumber juice will be ideal.
If there is no ice and there is no time to prepare it, the elasticity of the skin can still be restored. In this situation, soft, preferably mineral or filtered water should be placed in the freezer. After 5 minutes, moisten a napkin, apply for 3 minutes, repeat 4-5 times.
Compresses
You can remove puffiness not only with a cold compress. The herbal infusions listed in the making of the refreshing ice cubes are suitable for fixing the problem. Decoctions of bay leaves, sea salt, and ordinary tea have also proven themselves well.
| | |
| --- | --- |
| Composition | Cooking method |
| Bay leaf | Pour boiling water over 1 tablespoon of chopped leaves, stand for 15 minutes, cool. Keep the moistened gauze on your face for a quarter of an hour, wash with cool water. |
| Sea salt | Dissolve 1 teaspoon of sea salt in a glass of water. If marine is not available, then regular food will do. To enhance the effect, place the solution in the freezer for a few minutes. Apply the compress for 10-15 minutes. Rinse with cold clean water. |
| Green tea, black | 1-2 teaspoons of green or black tea leaves pour 200 ml of boiling water, leave for 5-7 minutes, cool. Dampen a cotton towel and place on face for 20 minutes. With swelling of the eyelids, there are enough lotions, for the manufacture of which cotton sponges are suitable. If you are pressed for time, you can use tea bags, but the leaf version is better. At the end of the procedure, remove with cool water. |
Salt compresses should not be used in the presence of damage to the skin of the face. This applies even to the smallest defects. Failure to follow a rule can lead to discomfort and irritation.
Massage
You can improve blood circulation and tone the skin of the face with massage. It is best done after applying a mask or compress as an additional remedy. After washing your face, the best option would be to combine massage with moisturizing cream. This will save time and effectively prepare your face for makeup application.
The procedure should be carried out with light tapping movements of the fingertips, especially around the eyes. The skin should not be stretched. It is recommended to relax the facial muscles. The movements begin from the chin, gradually rising, the direction is from the center to the periphery, in the area of the orbits - clockwise. The optimal massage time is about 3 minutes.
Diuretic drugs
There is an opinion that a quick result in the fight against facial swelling can be achieved by using drugs from the group of diuretics. A direct effect on kidney function allows you to remove excess sodium and water from the body by increasing the volume of urine excreted.
As an argument against self-medication, one can also cite the fact that most often one has to deal with the problem of edema before going out to people, and the action of diuretics does not occur and does not go away instantly. When accepting them, you need to be prepared that the need to find a toilet will be inevitable.
The use of decoctions of diuretic herbs (horsetail, bearberry, bird knotweed) and herbal preparations (Kanefron, Urolesan, Fitolizin) is not rational. They act slowly, so the problem of quick elimination of edema is not solved with their help.
Elimination of allergic edema
If the swelling of the entire face or only the eyelids, lips, nose is associated with an allergic reaction, then the measures proposed above will not be effective. On the contrary, their implementation can aggravate the condition. Let's admit a one-time self-administration of antihistamines (Desloratadine, Devocetirizine, Tsetrin). Finding out the cause, stopping contact with the etiological factor, consulting a specialist is an algorithm for further actions.
Elimination of inflammatory edema
Swelling caused by inflammation, such as a flux, cannot be eliminated with home methods. In this case, edema is only a symptom of the underlying disease, without the treatment of which the effect cannot be achieved. Therefore, the only correct option would be to see a doctor, in the case of a flux - to a dentist. After sanitation and a course of anti-inflammatory therapy, the puffiness will disappear.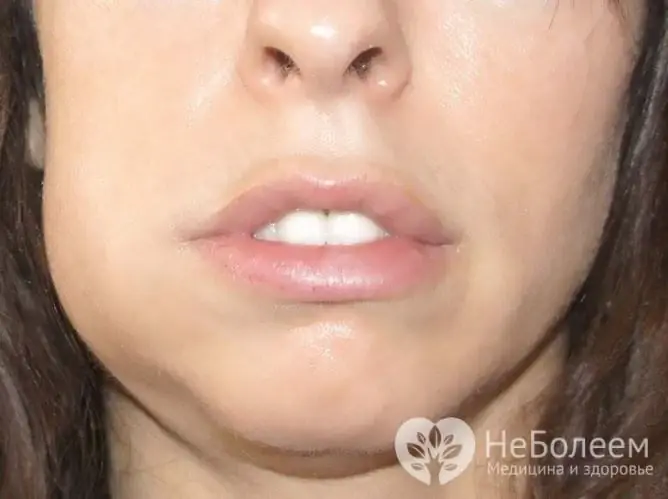 To eliminate inflammatory edema, it is necessary to eliminate the focus of inflammation
Causes of edema
Pathological accumulation of fluid in tissues and interstitial spaces, called edema, can occur not only after a sleepless night, rest in an uncomfortable position, holidays, but also be a symptom of various diseases and pathological conditions. Depending on the origin, the types of edema are distinguished:
renal;
heart;
hepatic;
toxic;
neurogenic;
inflammatory;
allergic;
hungry.
The most common cause of edema of the eyelids and face is kidney pathology. Swelling of this area is one of the first characteristic symptoms of renal failure. Among other etiological factors, allergies, inflammation and neurogenic diseases account for the greatest number of cases.
The mechanism of development of edema
All edema by the mechanism of occurrence can be divided into several groups:
stagnant;
lymphogenous;
oncotic;
osmotic;
membranogenic.
In any case, in the end, the edematous fluid mechanically compresses the tissues and leads to disruption of local blood circulation. The metabolic processes at the cellular level are hindered. This should not be allowed for any localization of edema, and even more so as delicate as the face.
Prevention of edema
If you have to put your face in order more than once, then you should think about preventive measures. Swelling is less likely if:
get enough sleep;
rationally select a pillow;
do not abuse salty foods;
observe the measure when taking alcohol;
do not drink a lot of fluids at night.
But all preventive measures and miraculous remedies will be effective only in the absence of serious diseases of the human body. You should know that cosmetic procedures and the fight against puffiness of the face at home are permissible only in situations associated with a change in the usual rhythm of life: stress, overwork, protracted holiday events. Pathological conditions and somatic diseases leading to edema require medical attention.
Video
We offer for viewing a video on the topic of the article.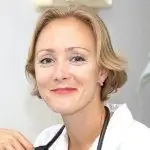 Anna Kozlova Medical journalist About the author
Education: Rostov State Medical University, specialty "General Medicine".
Found a mistake in the text? Select it and press Ctrl + Enter.
Recommended: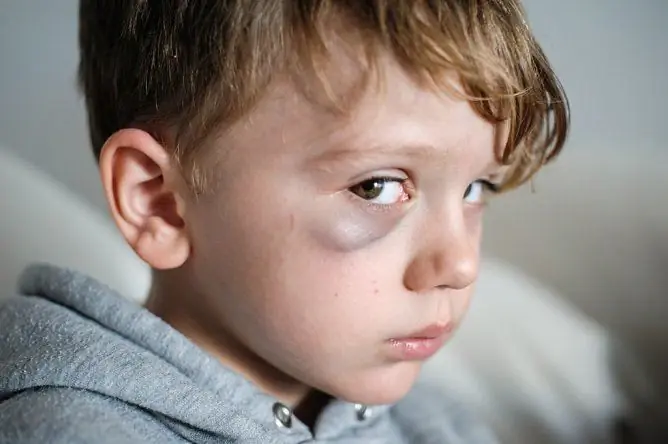 Hematomas most often appear as a result of tissue injury. Traditional and non-traditional treatments are used to quickly remove the bruise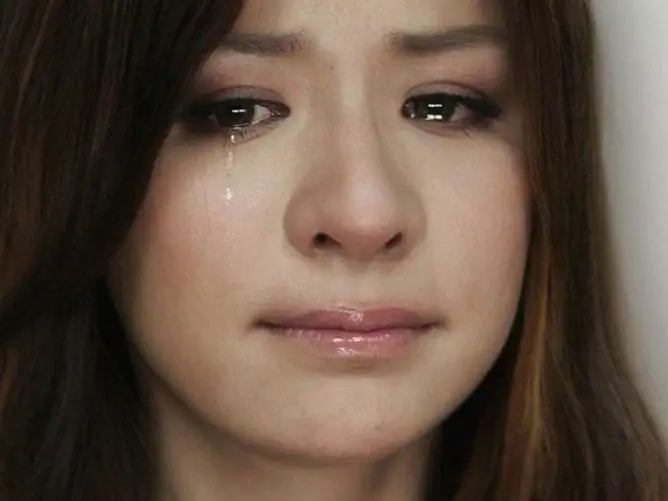 How to remove swelling from the eyes after tears at home and avoid its development is an urgent question, especially if a person cried on the eve of an important event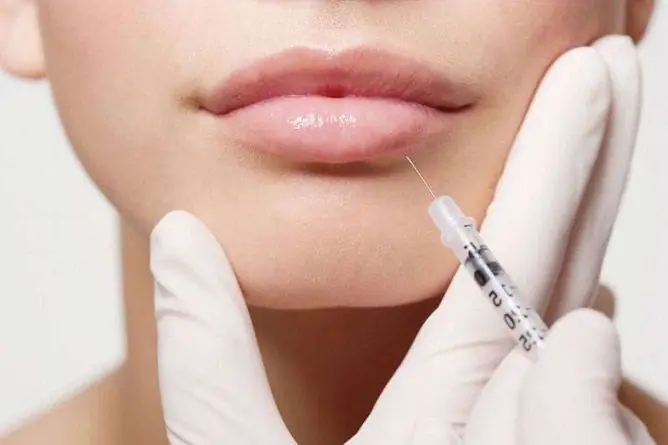 Slight swelling after lip augmentation is normal and usually resolves in a few days, however, in some cases, when pathology develops, treatment is required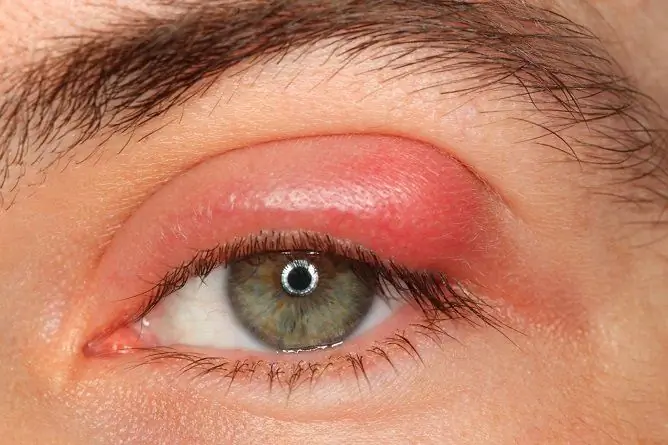 How to quickly remove the swelling if the midge has bitten the eye? You need to apply cold to the bite site, and then rinse the eye with clean running water and take an antihistamine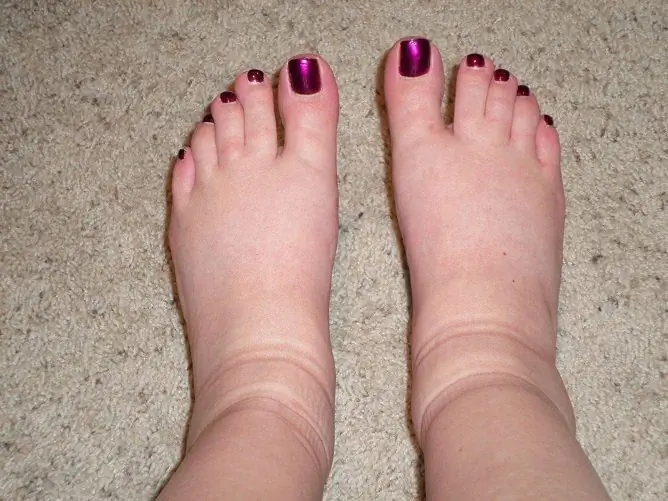 You can relieve puffiness of the legs with the help of medicinal herbs, foot baths, a special diet and exercise