Table of contents: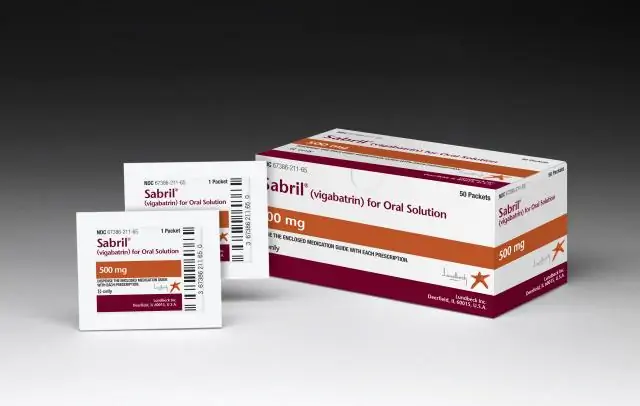 Video: Sabril - Instructions For Use, Price, 500 Mg Tablets, Reviews, Analogues
Sabril
Sabril: instructions for use and reviews
1. Release form and composition
2. Pharmacological properties
3. Indications for use
4. Contraindications
5. Method of application and dosage
6. Side effects
7. Overdose
8. Special instructions
9. Application during pregnancy and lactation
10. Use in childhood
11. In case of impaired renal function
12. For violations of liver function
13. Use in the elderly
14. Drug interactions
15. Analogs
16. Terms and conditions of storage
17. Terms of dispensing from pharmacies
18. Reviews
19. Price in pharmacies
Latin name: Sabril
ATX code: N03AG04
Active ingredient: Vigabatrin (Vigabatrin)
Manufacturer: Sanofi-Aventis France (France); Sanofi-Aventis Deutschland, GmbH (Germany); Sanofi Aventis (Turkey, Italy)
Description and photo update: 2019-10-07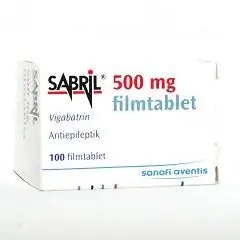 Sabril is an anticonvulsant.
Release form and composition
Dosage forms of Sabril:
film-coated tablets: oval, white, with a dividing line, one side bears the SABRIL mark (European version) or OV 111 (for US sales) (10 pcs. in blisters, in a cardboard box 5 or 10 blisters);
granules for the preparation of oral solution: granular powder from white to white with a cream shade (in a cardboard box 50 or 100 sachets complete with a syringe of 3 or 10 ml).
Each pack also contains instructions for the use of Sabril.
Composition of 1 tablet:
active substance: vigabatrin - 500 mg;
auxiliary components: polyethylene glycol, titanium dioxide, povidone, HPMC (hydroxypropyl methylcellulose), magnesium stearate, microcrystalline cellulose.
Composition of granules in 1 sachet:
active substance: vigabatrin - 500 mg;
auxiliary component: povidone.
Pharmacological properties
Pharmacodynamics
Vigabatrin is an antiepileptic drug. The exact mechanism of its action has not been established, however, it is believed that the clinical effect is associated with the ability of the substance to have an inhibitory effect on the GABA (gamma-aminobutyric acid) aminotransferase. This aminotransferase is responsible for the activity and metabolism of GABA at synapses.
GABA is one of the main mediators that regulate the functioning of the central nervous system (central nervous system). Vigabatrin increases its concentration, as a result of which the transmission of impulses in the structures of the central nervous system is inhibited. The duration of the drug's action depends not so much on the period of its elimination from the body, but on the time it takes to re-synthesize GABA aminotransferase.
Pharmacokinetics
According to clinical studies, vigabatrin is characterized by linear pharmacokinetic parameters when used in a single dose of 0.5 to 4 g and after regular doses of 0.5 and 2 g twice a day.
After oral administration, vigabatrin is rapidly and almost completely absorbed in the gastrointestinal tract. C max (maximum concentration) in adults and children from 10 years of age, the drug reaches within 45-60 minutes, in children aged 5-24 months. - for 2.5 hours.
With prolonged use of Sabril, there is a slight cumulative effect of the active substance. In clinical trials in healthy volunteers simultaneously meal slowed the rate of absorption of the drug and the time to reach C max for 2 h, and reduced value C max to 1 / 3.
Concentrations in plasma and cerebrospinal fluid linearly depend on the dose of vigabatrin received, however, they do not have a direct correlation with the effectiveness of Sabril. Clinical effectiveness is determined by the rate of GABA transaminase resynthesis.
Vigabatrin is evenly distributed throughout the tissues of the body, V d (volume of distribution) averages about 1.1 l / kg. It does not bind to plasma proteins and does not interact with the cytochrome P 450 system in the liver. It undergoes minor biotransformation. The pathways of metabolism of the drug are not fully understood, but it has been established that it increases the activity of the hepatic enzyme CYP2C9.
Vigabatrin is excreted in the kidneys. T 1/2 (half-life) varies depending on the age of the patient: in children, 5-24 months. - 5.7–6 hours, in children 10–16 years old - 9.5–10 hours, in adults - 10.5–11 hours.
72 hours after a single dose of Sabril, approximately 95% of the dose is excreted in the urine, of which 80% is unchanged.
Pharmacokinetics in special cases:
race and gender: no differences in pharmacokinetic parameters were found;
children's age: renal clearance of vigabatrin in children 5-24 months. is 2.4 l / h, in children 10–16 years old - 5.8 l / h (compared with adults - 7 l / h);
advanced age: in patients over 65 years of age, the renal clearance of the drug decreases by 36%;
liver function: vigabatrin undergoes only a slight metabolism in the liver, therefore, its functional impairment does not significantly affect the characteristics of the drug;
renal function: vigabatrin is excreted by the kidneys, therefore, with moderate functional disorders of the organ, C max of the drug increases by 30%, and T 1/2 - by 1.5 times. Pharmacokinetics in severe renal impairment has not been studied, however, an even greater change in the parameters of vigabatrin is expected. In this regard, the dose of Sabril should be selected individually. In children with kidney disease, the pharmacokinetics of vigabatrin has not been studied, so the required dose is calculated taking into account the results of laboratory studies.
Indications for use
Film-coated tablets
Sabril 500 mg tablets are used in adults and children as a second-line drug or as part of a complex therapy for complex partial seizures, accompanied by one or more of the following symptoms:
disorientation in space;
aimless movements;
lack of a meaningful look;
loss of consciousness;
drowsiness or extreme tiredness after a seizure.
The drug is also prescribed for refractory (resistant to therapy with other anticonvulsants) and other forms of epilepsy.
Granules for preparation of oral solution
Sabril in the form of an oral solution is prescribed as monotherapy for children aged 1 month to 2 years for infantile convulsions.
Infant seizures can be caused by one of the following diseases / conditions:
severe hypoxia during childbirth;
central nervous system infections;
brain damage;
tuberous sclerosis and other hereditary pathologies of the central nervous system.
However, in 30% of cases, the exact cause cannot be established.
Contraindications
Absolute:
pregnancy;
lactation period;
children up to 1 month old - for granules, up to 10 years - for tablets;
individual intolerance to any component of the drug.
With extreme caution, Sabril should be used in the following cases:
overdose of benzodiazepines, tranquilizers or other drugs that inhibit the activity of the central nervous system;
impaired renal function;
defect in visual fields;
a history of behavioral disturbances and psychosis;
elderly age.
Sabril, instructions for use: method and dosage
Sabril is intended for oral administration.
It is recommended to take the drug between meals (2 hours before or 2 hours after). The daily dose is used at a time or divided into 2 doses.
Treatment begins with a minimum dose and gradually increases it until the desired clinical effect is achieved.
For small children, Sabril is prescribed only as an oral solution prepared from granules. Preparation rules: pour the contents of one packet into a clean glass, add 10 ml of drinking water at room temperature and stir until a homogeneous suspension is formed. In the finished solution, the concentration of vigabatrin is 50 mg / 1 ml. The solution should be prepared immediately before use.
Recommended dosage regimens of Sabril:
adults and adolescents from 16 years of age with complex partial seizures: the initial daily dose is 1000 mg, the maximum is 3000 mg. Further increase in dosage is impractical, since the effect is not enhanced;
children 10-16 years old with complex partial seizures: with a body weight of 25-60 kg - initial daily dose of Sabril - 500 mg, maximum - 2000 mg; with a body weight of more than 60 kg - prescribe doses as for adults;
children with infantile seizures: depending on the clinical picture, the daily dose may be 0.05–0.15 mg / kg.
Adult patients with impaired renal function should reduce the dose of Sabril:
minor violations - by 25%;
moderate violations - by 50%;
severe violations - by 75%.
In children with kidney disease, the pharmacokinetics of vigabatrin have not been studied, therefore, the required dose of Sabril is calculated taking into account the results of laboratory studies.
Side effects
from the gastrointestinal tract: abdominal pain, stool disturbances, nausea, vomiting;
from the side of metabolism: an increase in body weight;
on the part of the central nervous system: drowsiness, weakness, anxiety, aggressiveness, agitation, irritability, tremor, impaired concentration, paresthesia, mental disorders, depression, increased frequency of epileptic seizures, status epilepticus, neurotoxic effects, suicidal tendencies;
on the part of the organ of vision: visual disturbances, visual field defects, nystagmus, peripheral retinal atrophy, optic nerve atrophy;
others: skin rashes, swelling, pain in muscles and joints, flu-like symptoms, menstrual disorders.
Overdose
About half of the known cases of overdose are associated with the simultaneous use of other anticonvulsants. There were violations of the cardiovascular system, weakness and loss of consciousness, up to coma.
Vigabatrin has no specific antidote. After taking an excessive dose of Sabril, gastric lavage and absorbents should be taken. Further treatment is symptomatic.
special instructions
If, within 3 months in adults and 2-4 weeks in children under 2 years of age, the clinical effect of the therapy is absent, Sabril is canceled.
Taking Sabril (regardless of the dosage and duration of treatment) is associated with the risk of developing irreversible vision loss. In this regard, all, without exception, patients during therapy should be regularly checked by an ophthalmologist. According to the data of clinical studies, approximately one third of adult patients had complications such as impaired visual acuity, the effect of tunnel vision, and damage to the retina.
There are no data on the frequency of complications from the organ of vision in children, since there are no objective methods for assessing visual function in patients of this age category. However, it is assumed that the number of such reactions is similar to that in adults. At the same time, medical specialists do not exclude that disorders in children may be more pronounced and severe.
The period of development of visual disturbances is unknown. Complications can occur both a few weeks or months after you start taking Sabril, and after 1-2 years. The maximum safe dose has not been established, but it is assumed that as the dose is increased, the risk of vision loss increases.
If signs of deterioration in vision are detected, the drug is immediately canceled.
To prevent and timely detect disorders of visual function, it is recommended to adhere to several important rules:
Limit the intake of Sabril to patients with a predisposition to pathologies of the optic organ.
Do not use simultaneously drugs that have a negative effect on visual acuity.
Observed by an ophthalmologist: during the first 4-6 weeks of treatment - every 7 days, then every 3 months. In 3–4–6 months after the end of therapy, young children should be checked using automatic diagnostic equipment (tomography, electroretinography and other studies).
Inform your doctor about the slightest visual impairment.
Magnetic resonance imaging (MRI) abnormalities, such as limited diffusion in the thalamus, basal ganglia, cerebellum and brainstem, are often found in children receiving Sabril (every 5 children). However, the results of post-marketing clinical studies indicate that such complications are reversible and disappear after stopping treatment. In adults and adolescents, pathologies were not identified on MRI.
Sabril, like other anticonvulsants, can cause depressive behavioral changes and suicidal tendencies. In placebo-controlled trials of 199 people, only a small difference was found between the vigabatrin group and the control group. However, experts say that the risk of developing suicidal intentions is higher in the first week of treatment with the drug in patients with psychiatric disorders.
Abrupt cessation of taking Sabril can cause withdrawal syndrome, therefore, the end of therapy should be carried out with a gradual decrease in the dose of the drug, under the supervision of a physician.
Influence on the ability to drive vehicles and complex mechanisms
During the period of taking Sabril, patients should refrain from performing potentially dangerous work, which is due to the likelihood of side effects from the central nervous system and the organ of vision.
Application during pregnancy and lactation
During pregnancy, Sabril is contraindicated.
If it is necessary to conduct anticonvulsant therapy during lactation, breastfeeding should be discontinued.
Pediatric use
According to indications, Sabril in the form of granules for the preparation of a suspension for oral administration is prescribed for the treatment of children aged 1 month and older.
Children over 10 years of age are advised to take the drug in the form of film-coated tablets.
With impaired renal function
For functional disorders of the kidneys, Sabril is used with caution. Dose reduction required.
For violations of liver function
Vigabatrin undergoes only a slight metabolism in the liver, therefore its functional impairment does not significantly affect the characteristics of Sabril. There is no indication of the need for dose adjustment.
Use in the elderly
In elderly patients, Sabril should be used with caution. Individual selection of the optimal dosage regimen is recommended.
Drug interactions
Care should be taken with the simultaneous use of other antiepileptic and anticonvulsants.
Sabril reduces the effect of phenytoin.
Joint use of oral hormonal contraceptives is not recommended.
Ethanol does not affect the efficacy and pharmacokinetic parameters of Sabril, but it can worsen the course of the underlying disease.
Analogs
Analogs of Sabril are Algerica, Benzonal, Vimpat, Gabapentin, Zonegran, Ropimat, Topiromax, Torepimat, Topiramat-Vial, Epimax, etc.
Terms and conditions of storage
Store at room temperature out of reach of children.
The shelf life depends on the dosage form of the drug, indicated on the package.
Terms of dispensing from pharmacies
Dispensed by prescription.
Reviews about Sabril
Reviews about Sabril are positive. Despite the lack of the drug on the free market in Russian pharmacies, it is often prescribed for both adults and children. Some patients note that Sabril is the only drug that really helps in the treatment of partial seizures. But it is advised to take it only after consulting a doctor for compatibility with other drugs, especially if complex treatment is necessary.
Despite the considerable number of side effects indicated in the instructions, there are no complaints about their development. The main disadvantages, according to the majority, are the high cost and the need to order the drug from abroad.
Price for Sabril in pharmacies
The price of Sabril is currently unknown, since in the Russian Federation the registration period for the drug ended in 2002. Official programs for the distribution of this drug, which were previously carried out in specialized hospitals in various cities, have been stopped.
The only way to buy Sabril is to place an order in an online pharmacy that sells medicines from Europe. The approximate cost of a package containing 100 tablets or 100 sachets with granules is 6,300-8,000 rubles.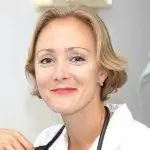 Anna Kozlova Medical journalist About the author
Education: Rostov State Medical University, specialty "General Medicine".
Information about the drug is generalized, provided for informational purposes only and does not replace the official instructions. Self-medication is hazardous to health!
Popular by topic