Table of contents: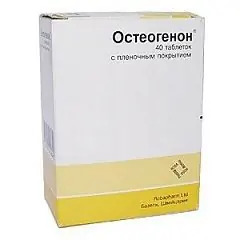 Video: Osteogenon - Instructions, Reviews, Application
Osteogenon
Instructions for use:
1. Composition and form of release
2. Pharmacological action
3. Indications for use
4. Method of application and dosage regimen
5. Contraindications to use
6. Overdose
7. Side effects
8. Application during pregnancy and lactation
9. Drug interactions
10. Special instructions
11. Shelf life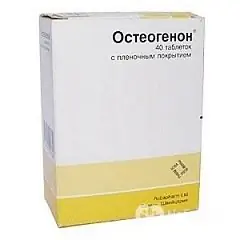 Osteogenon is an agent that regulates calcium-phosphorus metabolism in bone tissue.
Composition and form of release
The drug is produced in the form of oblong, biconvex tablets of light yellow color. One tablet contains:
active ingredient - ossein-hydroxyapatite compound - 830 mg;
auxiliary components: potato starch, magnesium stearate, colloidal silicon dioxide, microcrystalline cellulose.
10 pieces in blisters.
The analogues of Osteogenon are the following drugs: Rost-Norma and Osteobios.
pharmachologic effect
Osteogenon is a drug that affects bone mineralization. Contains components necessary for the synthesis of bone tissue, has a double effect on bone metabolism: inhibits osteoclasts and stimulates osteoblasts.
The preparation contains calcium in the form of hydroxyapatite, due to which it is better absorbed from the gastrointestinal tract. The use of Osteogenon inhibits hormonal resorption of bone tissue, inhibits the production of parathyroid hormone. Due to the slow release of calcium from hydroxyapatite, there is no peak in hypercalcemia.
Thanks to phosphorus, which is involved in the crystallization of hydroxyapatite, calcium is fixed in the bone and its excretion by the kidneys slows down.
The preparation also contains an organic component - ossein, which contains local regulators of bone remodeling (type 1 collagen, osteocalcin, β-transforming growth factor, insulin-like growth factors I and II). Thanks to ossein, when using Osteogenon, bone resorption is inhibited and the process of bone formation is activated.
Insulin-like growth factors I and II promote the synthesis of osteocalcin and collagen.
β-transforming growth factor increases the number of osteoblasts, enhances their activity, inhibits the formation of osteoclast precursors and enhances collagen production.
Collagen Type 1 promotes bone matrix formation.
Osteocalcin stimulates bone crystallization by binding calcium.
Indications for the use of Osteogenon
According to the instructions Osteogenon is prescribed:
for the treatment and prevention of primary osteoporosis (senile, menopausal, premenopausal);
for the treatment and prevention of secondary osteoporosis of various origins (caused by hyperthyroidism, hyperparathyroidism, kidney or liver diseases, rheumatoid arthritis, bone formation imperfecta, immobilization, heparin, GCS);
for the correction of disorders of phosphorus-calcium metabolism and osteopenia, including during pregnancy and lactation;
to accelerate the healing of bone fractures.
Dosing and Administration of Osteogenon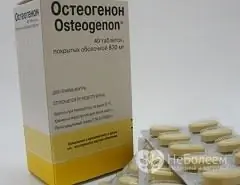 According to the instructions Osteogenon is intended for oral administration.
For osteoporosis, adults take two to four tablets twice a day. For other indications, the standard dosage is 1-2 tablets twice a day.
The duration of treatment is determined individually and depends on the patient's condition.
Contraindications to the use of Osteogenon
Osteogenon is contraindicated according to the instructions for:
hypersensitivity to the components of the drug;
hypercalcemia;
childhood;
severe hypercalciuria.
Overdose
No reviews of Osteogenon regarding overdose have been reported.
Side effects
According to reviews, Osteogenon can rarely cause allergies. With prolonged use of Osteogenon or its analogs, hypercalciuria or hypercalcemia may develop.
The use of Osteogenon during pregnancy and lactation
According to reviews, Osteogenon does not cause negative effects on the fetus. It is prescribed only according to the testimony of a doctor.
Drug interactions
Osteogenon and its analogs inhibit the absorption of iron preparations and an antibiotic of the tetracycline group, therefore, when taken simultaneously, it is recommended to observe an interval between them of at least 4 hours.
In the combination of Osteogenon or its analogs with thiazide diuretics or vitamin D, it is necessary to take into account the risk of developing hypercalcemia due to increased calcium resorption.
special instructions
According to reviews, Osteogenon can be taken by patients with arterial hypertension, as it contains small amounts of sodium chloride.
It is necessary to adjust the dosage regimen of Osteogenon and its analogues in patients prone to urolithiasis, depending on laboratory parameters.
Long-term use of the drug in high dosages is prohibited in patients with impaired renal function.
Storage periods
If the storage conditions are observed, the shelf life of Osteogenon according to the instructions is four years.
Information about the drug is generalized, provided for informational purposes only and does not replace the official instructions. Self-medication is hazardous to health!
Popular by topic