Table of contents:

Video: Onihelp - Instructions For The Use Of Varnish, Reviews, Price, Analogues
Onyhelp
Onihelp: instructions for use and reviews
1. Release form and composition
2. Pharmacological properties
3. Indications for use
4. Contraindications
5. Method of application and dosage
6. Side effects
7. Overdose
8. Special instructions
9. Application during pregnancy and lactation
10. Use in childhood
11. Drug interactions
12. Analogs
13. Terms and conditions of storage
14. Terms of dispensing from pharmacies
15. Reviews
16. Price in pharmacies
Latin name: Onihelp
ATX code: D01AE16
Active ingredient: amorolfine (amorolfine)
Manufacturer: BELUPO, medicines and cosmetics dd (Republic of Croatia)
Description and photo update: 2018-25-10
Prices in pharmacies: from 695 rubles.
Buy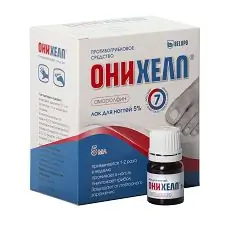 Onihelp is an antifungal drug for external therapy.
Release form and composition
Dosage form Onyhelpa - nail polish 5%: from pale yellow to colorless, transparent [in a glass bottle of dark color 2.5 or 5 ml, in a cardboard box one bottle complete with alcohol wipes (30 pcs.), Nail files (60 pcs.), Applicators (10 pcs.)].
Composition of 1 ml of varnish:
active substance: amorolfine - 50 mg (in the form of amorolfine hydrochloride - 55.74 mg);
auxiliary components: ethanol, ethyl acetate, eudragit RL 100 [copolymer of methyl methacrylate, trimethylammonioethyl methacrylate chloride and ethyl acrylate (2: 0, 2: 1)], triacetin, n-butyl acetate.
Pharmacological properties
Pharmacodynamics
The active substance of Onichelpa, amorolfine, has a fungistatic and fungicidal effect, which is due to the suppression of the biosynthesis of sterols, which are components of the cytoplasmic membranes of fungal cells. As a result, the formation of ergosterol slows down, the accumulation of atypical steric non-planar sterols occurs, and the development of fungal cells stops.
Amorolfine has a broad spectrum of action. It has high activity against both common and little-known pathogens of fungal nail infections:
dermatophytes - Epidermophyton floccosum, Microsporum spp, Trichophyton spp;
molds - Hendersonula spp, Scopulariopsis spp, Alternaria spp;
yeast fungi - Pityrosporum spp, Candida spp, Cryptococcus spp, Malassezia spp;
mushrooms from the Dematiaceae family - Cladosporium, Wangiella, Fonsecaea;
dimorphic fungi - Sporothrix, Histoplasma spp, Coccidioides;
insensitive species - Micorales, Fusarium, Aspergillus;
actinomycetes.
Pharmacokinetics
With local application of Onihelp to the nail, amorolfine almost completely penetrates into the affected nail plate and nail bed within 24 hours. After the first application, the effective concentration of the substance in the nail plate is maintained for 7-10 days. Systemic absorption of amorolfine occurs to an insignificant extent, the indicator of its concentration in blood plasma is less than 0.5 ng / ml (below the sensitivity limit of laboratory methods).
Indications for use
According to the instructions, Onyhelp is indicated for use in onychomycosis caused by dermatophytes, molds, yeasts and other fungi (if no more than 2/3 of the nail plate is affected), as well as for the prevention of fungal infections of the nails.
Contraindications
pregnancy and lactation;
neonatal period and early childhood;
increased individual sensitivity to amorolfine or any auxiliary component of the drug.
Instructions for the use of Onihelp: method and dosage
Onyhelp varnish is used externally - applied to the affected nail plates of the fingers and / or toes.
Before use, it is necessary to process the nail plate using scissors and the supplied nail file, removing the maximum part of the nail affected by the fungus. Then clean and degrease the surface of the nail with the alcohol wipe included in the kit. After dipping the applicator into the bottle, apply the varnish on the sore nail. The bottle with varnish should be tightly closed immediately after use to avoid drying out, wipe the applicator with a napkin, discard used alcohol napkins. The applied varnish should dry within 3-5 minutes.
The procedure must be carried out separately for each affected nail.
Before each subsequent application, remove the previous layer of varnish with a napkin, process the nail with a file, then clean and degrease using a new alcohol napkin.
It is recommended to apply varnish 1-2 times a week, without taking longer breaks, until the complete regeneration of the nail plate. If the planned application is missed, the varnish must be applied as early as possible.
As a rule, the duration of treatment is: for fingernails - 6 months, for toenails - 9-12 months.
If no improvement is observed within the first 3 months from the start of therapy, you should consult a specialist.
Side effects
Side effects and their frequency according to the special classification [very often (≥1 / 10), often (from ≥1 / 100 to <1/10), infrequently (from ≥1 / 1000 to <1/100), rarely (≥1 / 10,000 to <1/1000), very rare (<1/10 000), frequency unknown (cannot be estimated due to insufficient data)]:
rarely: damage to the nail plates, which may be the result of a fungal infection - destruction of the structure of the nail, discoloration, increased fragility, cracks;
very rare: short-term weak burning after applying varnish, contact dermatitis;
frequency unknown: itching, erythema, flickena (superficial bladder with a flaccid lining and serous contents), urticaria.
In case of aggravation of the described side effects or the occurrence of any other undesirable reactions, you should consult a doctor.
Overdose
In case of accidental ingestion of Onyhelp varnish inside, it is necessary to wash the stomach and carry out symptomatic treatment.
special instructions
For diseases / conditions that predispose to the onset of fungal infections of the nails (for example, immunodeficiency, diabetes mellitus, impaired peripheral circulation), as well as in case of nail dystrophy, you should consult your doctor before using Onihelp varnish.
During the period of drug treatment, it is not recommended to use decorative nail polish and false artificial nails.
Since the varnish contains ethanol, incorrect and too frequent use of it can cause irritation / dryness of the skin around the nail plate.
The file used to process the affected nails is not recommended for healthy nails.
Alcohol wipes contain a flammable substance.
When working with various solvents (including kerosene, gasoline, paint thinners), it is recommended to wear impervious gloves to protect the varnished nails.
If you skip the planned application, you should not apply an excessive amount of varnish, you need to continue treatment according to the method of application described in the instructions.
After use, the bottle with varnish must be tightly closed with a lid, and also avoid getting varnish on the threads in order to avoid sticking the lid.
Application during pregnancy and lactation
It is not recommended to use Onihelp during pregnancy and lactation.
Pediatric use
In the first month of a newborn's life and in early childhood, the use of Onyhelp varnish is contraindicated.
Drug interactions
The interaction of Onichelp with other drugs has not been studied.
Analogs
Onihelpa's analogues are: Oflomil varnish, Exorolfinlac and Lotseril.
Terms and conditions of storage
Store in an upright position, away from a heat source, at a temperature not exceeding 30 ° C.
Keep out of the reach of children.
Shelf life is 3 years.
Terms of dispensing from pharmacies
Available without a prescription.
Reviews about Onihelp
Reviews of Onihelpa testify to its effectiveness and ease of use. Patients note that for a complete cure from a fungal infection, regular and sufficiently long-term use of the drug is needed - at least six months.
Price for Onyhelp in pharmacies
The average price for Onihelp (for 1 bottle) is approximately: 2.5 ml - 967 rubles, 5 ml - 1544 rubles.
Onihelp: prices in online pharmacies
Drug name
Price
Pharmacy
Onyhelp 5% nail polish 2.5 ml 1 pc.
695 RUB
Buy
Onihelp nail polish 5% fl. 2,5ml
787 r
Buy
Onihelp 5% nail polish 5 ml 1 pc.
885 RUB
Buy
Maria Kulkes Medical journalist About the author
Education: First Moscow State Medical University named after I. M. Sechenov, specialty "General Medicine".
Information about the drug is generalized, provided for informational purposes only and does not replace the official instructions. Self-medication is hazardous to health!
Popular by topic